Princess Cruises has partnered with Discovery and Animal Planet to bring educational but fun activities to its onboard and onshore programming. Through Discovery at Sea, Princess puts a unique spin on cruise entertainment that's especially appealing to animal lovers and science-and-nature enthusiasts.
What It Is
Media company Discovery, Inc., is the parent organization for popular television channels, such as the Discovery Channel, Animal Planet, Travel Channel, Food Network, HGTV and Science Channel. In its partnership with Princess Cruises -- called Discovery at Sea -- Discovery took inspiration from shows like "Mythbusters" and "Investigation Discovery" to create fun activities for adults and kids alike on Princess ships.
Discovery at Sea activities include the following (offerings vary by ship):
Encounters: This aspect of the partnership offers a guest lecturer program, focused on local naturalists and experts on the history, culture and attractions of cruise destinations passengers visit. Other speakers focus on topics of interest, such as wellness and pop culture.
Featured Videos
Here's What It's Like Onboard the First Large Cruise Ship to Alaska in 21 Months
Perfect Day at CocoCay: Here's How We Spent 2 DAYS at Royal Caribbean's Private Island
Our Celebrity Silhouette Cruise Experience: March 2020 vs. July 2021
Back on Celebrity Silhouette: Here's What It's Like On One Of Our Favorite Ships 15 Months Later
Celebrity Millennium -- Video Tour & Ship Review (2021)
LIVE: Cruise Critic is Onboard Celebrity Apex -- The Magic Carpet
Q&A: Cruisers and Crew Chat About The Joy of Cruising's Return
LIVE: Cruise Critic is Onboard Celebrity Apex -- Eden
LIVE: Cruise Critic is Onboard Celebrity Apex -- The Retreat
LIVE: Cruise Critic is Onboard Celebrity Apex -- Infinite Veranda Cabins
LIVE: Cruise Critic is Onboard Celebrity Apex -- Your Cruise Director
LIVE: Cruise Critic is Onboard Celebrity Apex -- Pools
LIVE: Cruise Critic is Onboard Celebrity Apex -- Embarkation
Live From Adventure of the Seas: What's the Same, What's Different and What's Better?
5 Reasons MSC Cruises' Yacht Club Is Worth The Splurge
Best Spots For Adults On A Disney Cruise Ship
Video Highlights From The Impractical Jokers Cruise 4 (2018)
How River Cruising Allows You To Explore Like A Local
The Most Exciting New Ships In 2021
Inside Look 2018 Ship-Hop: A Cruise Vacation For '90s Lovers
River Cruising: Video Q&A With John Waggoner On American Countess, American Queen Steamboat Company's Newest Ship
The Most Luxurious Cruise Ship Suites at Sea - Video Guide
5 Ways A Seabourn Cruise Will Make You Feel Special - Video Tour
Love Luxury Resorts? Here's Why You Should Cruise Seabourn
5 Best Onboard Spots For Wine And Tapas
5 Crazy Cruise Deck Attractions For the Adrenaline Junkie
Cruise Embarkation Tips: What NOT To Do On Your First Day
MSC Virtuosa Ship Tour: What It's Like Onboard MSC's Newest Ship (May 2021)
Video Scenes From The Golden Girls Theme Cruise 2019
Inside Cabins On Cruise Ships: Whose Is Best?
4 Best Places To Get Craft Beer At Sea - Video Guide
Sneak Peek: "Beauty And The Beast" On Disney Dream -- Behind The Scenes Video
The Himalayan Bridge On MSC Meraviglia - Ropes Course POV Video
Sneak Peek: Disney Fantasy Highlights For Kids - Video Tour
7 Can't-Miss Experiences on Allure Of The Seas
Highlights From Regent Seven Seas Explorer
Harmony Of The Seas Pool And Sports Zone
Harmony Of The Seas Boardwalk
Harmony Of The Seas Royal Promenade
Harmony Of The Seas Entertainment Place
Harmony Of The Seas Cabins - Video Tour - Cruise Critic
Cruise Critic Tries The Ultimate Abyss Slide On Harmony Of The Seas (POV Video)
Plunging Into Adventure On The Tallest Slide At Sea: Royal Caribbean Reveals 10-Story Ultimate Abyss
HRH Prince Phillip Visits Cunard's Fleet
Oasis Of The Seas Flowrider - Cruise Critic Goes Surfing
Oasis Of The Seas Jazz On 4 Performance
Stargazing and planetarium: Princess offers top-deck after-dark Discovery at Sea stargazing instruction on select evenings. In addition, a handful of ships feature pop-up inflatable planetariums that run shows about the planets and stars. (The stargazing experience is not available on Alaska sailings, due to the midnight sun.)
High Seas Heist: This cruise-long mystery game, including video assistance from Detective Joe Kenda of "Investigation Discovery," challenges cruisers to find clues and solve puzzles to determine who stole priceless jewelry.
Can You Survive?: Passengers on just a couple of Princess ships can participate in a game show to see if they have the knowledge to survive in harsh environments around the world.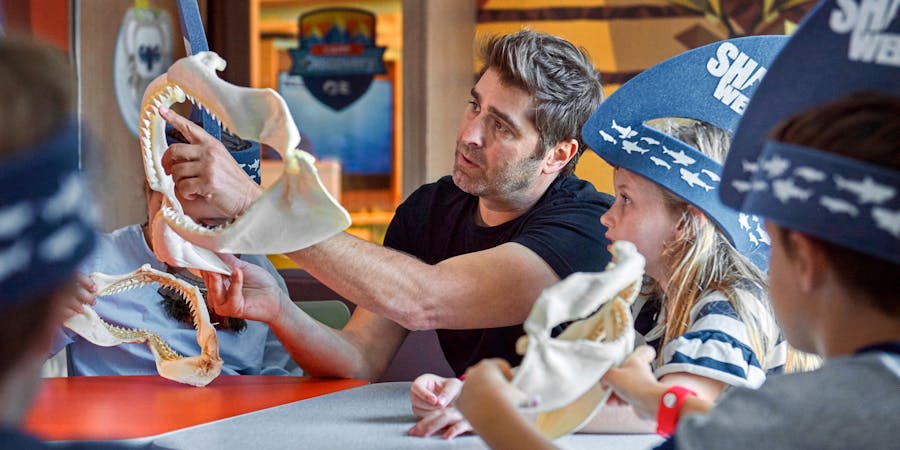 Shark Week: Select summer Caribbean cruises feature Shark Week at Sea, with themed activities for kids and a sneak preview of the year's yet-to-debut Shark Week television shows.
Trivia and kids clubs: Discovery's influence appears in various typical onboard activities. Trivia contests use questions from shows like "Mythbusters" and "How It's Made," while youth activities might be animal-themed in conjunction with "Animal Planet."
On-demand TV: In-cabin on-demand TV features many Discovery shows, including shark- and animal-themed TV programs and movies.
Recommended shore excursions: Discovery and Animal Planet give their seal of approval to Princess shore excursions that focus on animal encounters and education, as well as tours that delve into the culture or natural places in ports of call.
Price
Most onboard activities do not incur an additional fee. Shore excursions range in price based on activity and length of the tour.
Ships
Some Discovery at Sea programming can be found on all Princess cruise ships, but certain games and activities are available on select ships in select destinations only.