You're ready to splurge on a spacious cruise cabin, but how do you choose between a cruise balcony vs. a suite? Cruise ships have many options for high-end rooms, so it's best to assess what you'll get and compare that with what you need or desire in a home-away-from-home at sea.
Cruise Balcony vs. Suite: Similarities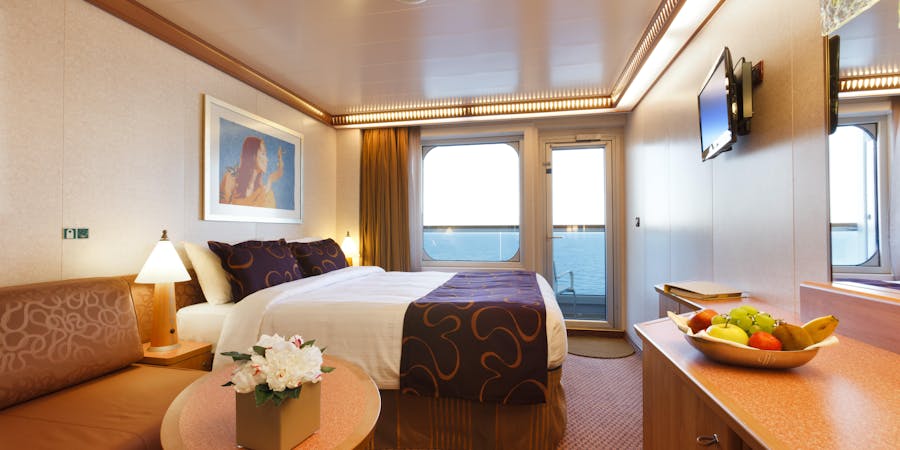 All upper-tier cruise cabins will offer basic furnishings: two twin beds that can convert to a queen or king, a desk/vanity, sitting area, ensuite bathroom and storage space via a combination of closets, drawers and shelves. All cruise ship balcony cabins and the majority of suites offer private verandas, outfitted with places to sit and at least a small table. Both room types are typically found on the upper decks of most ships and offer scenic ocean views.
Standard amenities include televisions, telephones, hair dryers and safes. With the exception of family-oriented rooms, most suites and balcony cabins are set up for two passengers but might offer pull-out sofas or pull-down bunks to sleep a few more people. Both cabin categories are popular and can sell out quickly, especially on peak-season itineraries.
Cruise Balcony vs. Suite: Differences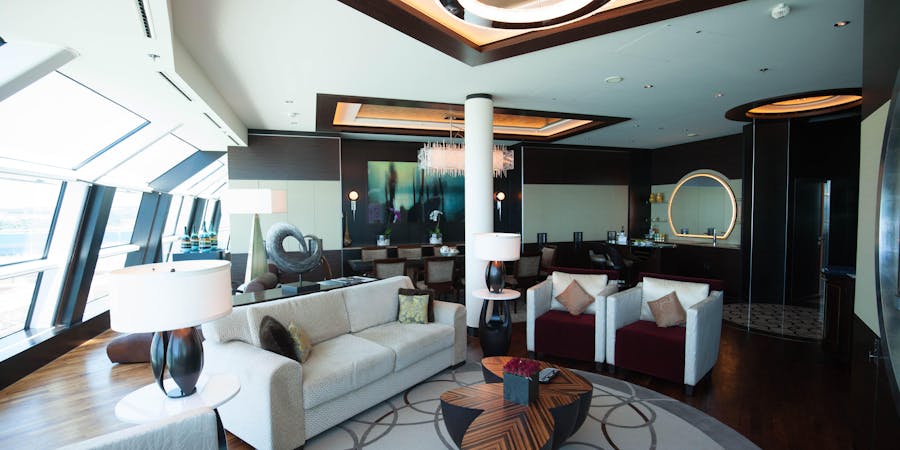 The main differences between cruise ship balcony staterooms and suites are size, perks and price. The interior portion of balcony cabins is usually the same size as most other cabins; they tend to be just large enough to fit a bed, couch and desk with minimal space to walk around. Cruise suites can range from a tad larger than balcony cabins to enormous, multilevel rooms that might be bigger that your home or apartment. Bathrooms will also be spacious, possibly with a tub or dual sinks, and storage space might be expanded to a walk-in closet.
The range of possible balcony cabin sizes on any given ship will be quite small, while suite sizes can vary greatly. In addition, the private verandas found in suites can be huge, with enough space for a hot tub, several loungers or a dining table, compared with regular balconies that fit just two upright chairs and a small table for drinks.
Standard balconies don't receive any special perks. If you book an upgraded class of balcony -- such as a spa cabin or concierge cabin -- you might get a limited selection of perks, such as afternoon canapes, upgraded toiletries or even access to exclusive dining venues. If you want the most extras, book a suite for amenities like butler and concierge service, priority embarkation and tendering, exclusive access to certain lounges and dining venues, free or discounted laundry and Internet, and private parties and happy hours.
Of course, added space and amenities means higher costs for suites, and fares for the most elaborate suites onboard can be quite astronomical.
Cruise Balcony vs. Suite: Bottom Line
Book a balcony cabin if you want a standard room with a bit more space and a private outdoor area for easy access to fresh air. They're best for cruisers with a more constrained budget; if you've got a bit more to spend, investigate special balcony cabins that offer a few more perks.
Book a suite if you want a more luxurious cruise experience, want extra space with separate living and sleeping areas and large bathrooms, and will use and enjoy the offered perks. You should be ready to pay high fares for these rooms, but the value can be worth the money.