Arvia Features New Dining Options and Refreshed Line Favourites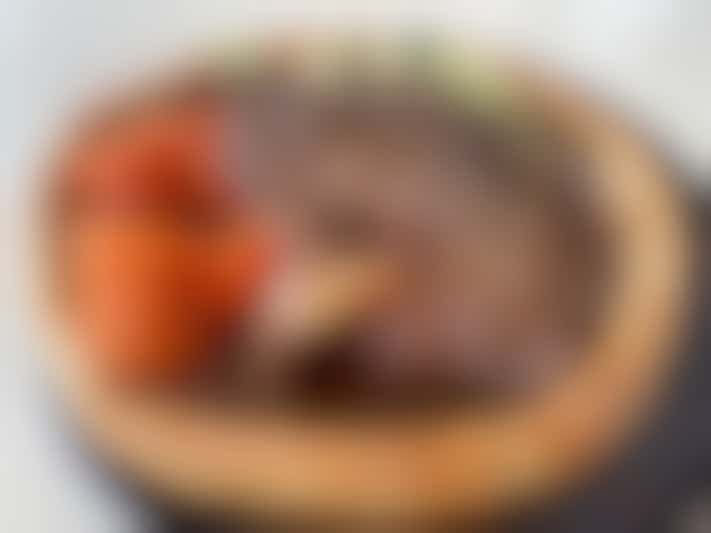 Roast beef in a giant Yorkshire pudding on P&O Cruises Arvia (Photo: Jo Kessel)
Like Iona, Arvia has a game-changing food market called The Quays on Deck 8, the Promenade Deck -- it's a great, quieter alternative to the Horizon buffet on Deck 16. As well as offering a selection of small plates, it has stands serving noodles or fish and chips.
New to Arvia is Roast at The Quays. You can pick whatever components of a roast you fancy -- there's roast beef, carrots, cabbage, parsnips and gravy -- and it's dished up in a giant, flat Yorkshire pudding.
The wines and food served in P&O Cruises' Food Hero Olly Smith's Glass House wine and tapas joint, The Glass House are also stand out. The menu has been revised and, as luck would have it wine guru Smith has been on hand during our sailing (he isn't normally but he's onboard to say a few words at the naming ceremony) to help select drinks.
He suggested a Canadian ice cuvee from Peller Estates that was perfect as an aperitif. We also ordered a £9.75 seafood medley of tiger prawns, Cajun soft-shell crab and lobster mac and cheese. All were superb and went deliciously with a glass of Chateau Miraval rose (again, suggested by Olly) which comes from Brad Pitt's Provencal vineyard.
Overall, the quality of the food has been good, although portion sizes (particularly of sides) seemed smaller then normal, especially on the night we ate at Epicurean speciality restaurant. Service has been slick and friendly, however, and servers swiftly bring you more if required. We're also pleased to say that there have been no reports of problems with wait times to get into restaurants.