(9:31 a.m. EDT) Some things are simply worth the wait. It's been more than two years since Princess Cruises launched a new ship, so we've been eagerly anticipating Sky Princess, a vessel designed to follow in the footsteps of and improve upon the blueprint of Royal Class fleetmates Royal Princess, Regal Princess and Majestic Princess.
The newest ship in Princess Cruises' fleet left Athens on its maiden voyage Sunday and will sail a short Mediterranean season before heading across the Atlantic, where it will homeport in Fort Lauderdale starting in December.
Cruise Critic was onboard for the ship's shakedown cruise, a journey designed to help the crew "shake out" the kinks of a new ship. (Shakedowns like ours often restrict the number of passengers onboard, and some of the services and spaces might not be open.) Here's what we learned during our shakedown cruise on Sky Princess.
The Entertainment is an Evolution For The Line.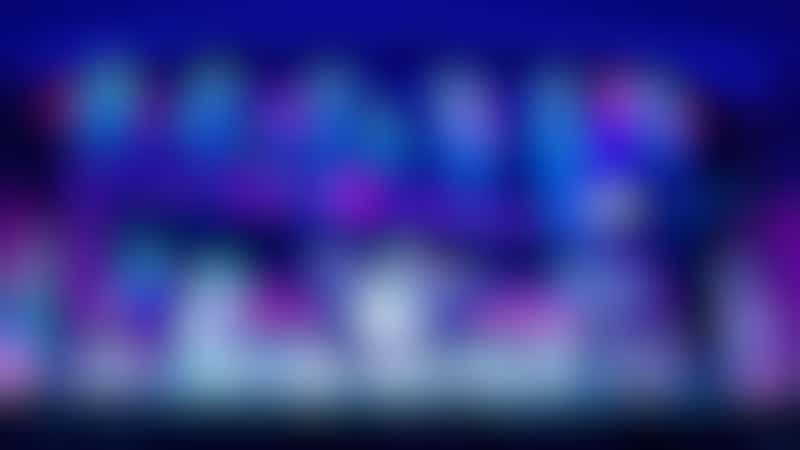 "Rock Opera" is the newest show to Princess. The costumes are dazzling (Photo: Colleen McDaniel/Cruise Critic)
Princess has focused on improving its onboard entertainment over the past several years, encouraging partnerships with the likes of Broadway composer and lyricist Stephen Schwartz and director and choreographer Danny Teeson. The Teeson partnership has led to two new shows on Sky Princess: "Rock Opera" and "5KSIES".
We were treated to "Rock Opera" on our sailing and came away impressed by the innovative costumes, talented performers and overall production, which included a surprising variety of songs, from "The Greatest Show" to "The Sound of Silence" and "I Don't Know How to Love Him." The star of the show was Brian Justin Crum, a finalist on "America's Got Talent," but the ensemble of 13 dancers and four vocalists was also excellent, performing a tricky score that included songs in multiple languages, including sign language -- a first for Princess Cruises. 5SKIES will debut on Sky Princess' maiden voyage.
In addition to the production shows, Sky Princess also offers a resident jazz trio in its Take 5 jazz theater every night. The space is hip and modern, hosting several unique shows each sailing.
Sky Princess also will offer a digital experience escape room, Phantom Bridge. While the activity, which is driven by a gaming engine offering 700 different outcomes, wasn't available on our sailing, it will debut in early December. Also coming soon: A Jim Henson Creature Shop show, entitled "Inspired Silliness." Described as a "lighthearted musical," the puppet show is being directed by John Tartaglia, who did "Avenue Q". Stay tuned, as Princess will work on an adult puppet show next.
The Best-Kept Secret is The Retreat – But Don't Skip The Sanctuary.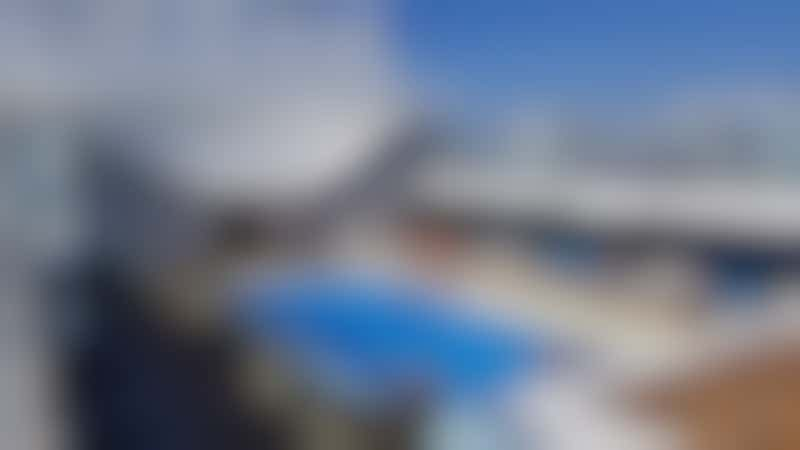 The Retreat Pool is for adults only. It's a quiet, calm space (Photo: Colleen McDaniel/Cruise Critic)
The adults-only Retreat is a hidden gem. Finding it is a bit of a trick: It's tucked away at the front of the ship on Deck 17, and you can miss the entrance to it if you're not looking. (Head toward the suites and keep going until you see the pool.) The Retreat boasts a large pool as well as a two-level sun deck, a fair number of lounge chairs and hot tubs. On our sailing, The Retreat was only lightly used, and it was a quiet alternative to the main pool area. The space has its own shaded bar, too.
But don't forget The Sanctuary. This private, for-fee sun deck has the best views on the ship. It also offers seven cabanas (an eighth is paired with an alfresco spa treatment room) as well as an oversized Jacuzzi. It's a bargain if you're craving a little pampering and a lot of privacy. Lounge chairs are available to rent for $20 for a half day, $40 for a full, and cabanas are $140 for a half day and $220 for a full day. You can order food for delivery in The Sanctuary, though there is a $3 delivery charge, which is waived for those renting cabanas. Cabana rentals come with additional amentias, including soft drinks a bucket of beer, bottle of wine or small bottle of spirits and some snacks.
The Pool Deck is a Hit.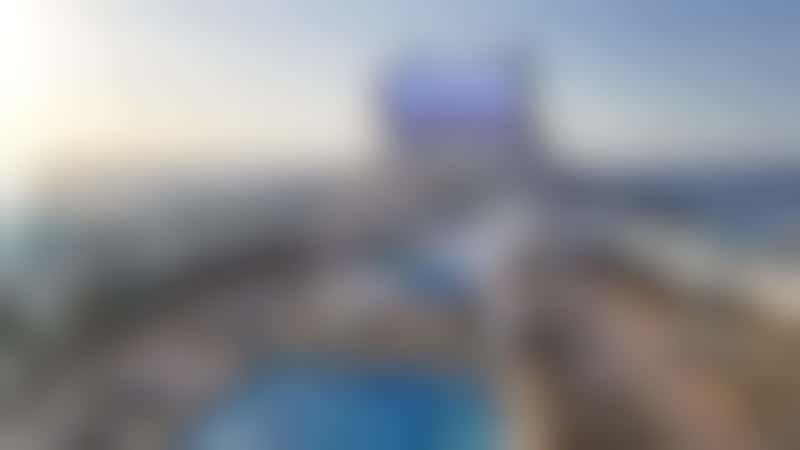 The pool deck on Sky Princess is spacious and well designed, with lots of deck chairs (Photo: Colleen McDaniel/Cruise Critic)
We absolutely love Sky Princess' lido deck, which has two giant pools, lots of space for lounging, two big bars and plenty of shade. It's visually stunning, with grand staircases pouring down from the sundeck above. And then there's the giant LED movie screen, the largest in the fleet, designed to show a variety of programming during the day, and the line's famous Movies Under The Stars at night.
It's the smart layout, which makes clever use of the space. For starters, each side of the deck offers Princess' signature Sky Walk, a glass walkway that cantilevers over the side of the ship. These are smartly incorporated into the flow of the design, with cushiony conversation areas setting them apart from the rest of the deck; this creates separation but doesn't make these wings feel like altogether new spaces.
(For those familiar with Regal and Royal Princess, this is a noticeable difference – and a significant improvement. On both of those ships, a bar takes up the space on one side, and on the other, the walkway is separated by dead space. On Sky Princess, this bar has been centralized under the MUTS screen, and you can catch flair bartending here.)
You'll find spots for conversation all over the lido deck, and the flow makes it easy to navigate, even on busy days.
OceanMedallion Will Make Your Life Easier.
OceanMedallion is Princess' technology approach to streamlining the cruise process. It's designed using onboard sensors and digital displays, a wearable disk (which replaces the standard keycard) and a series of apps. It also comes with super high-speed internet, thanks to its MedallionNet. While it's been rolled out on several ships across the Princess fleet, Sky Princess is the first ship to emerge fully OceanMedallion-equipped from the shipyard.
On our sailing, several pieces of it were still being tweaked, and crew training with the technology still was taking place, but we had a chance to try out some of the features and sit in on sessions designed to show us what the future on Sky Princess -- and with the cruise line -- will look like.
Out of the gate, being OceanMedallion Ready, which required us to download the app and add some details about us (food allergies, favorite activities, passport info) ahead of our sailing, was a time saver. It allowed us to skip the line and check in in less than five minutes. We also loved that our OceanMedallion magically unlocked the door as we approached, no scanning required. We could order a drink using the app, and follow its progress as it was delivered to us. (Tip: Your first drink ordered using the app is free.)
We also heard stories over and over from the crew onboard, many who had worked on other Ocean Medallion Class ships, who talked about how the technology made their lives easier, allowing them to better connect with passengers. Internet also was as fast as promised – we streamed Netflix, no lagging or dropping. Though Princess says you can enjoy the OceanMedallion experience without using the apps, we found we were relying on them more than the touchscreens, even though those screens were widely available. Executives also said they would continue to streamline the apps, as right now, you still need to download four to have the full functionality. And these apps are major space eaters on your devices.
Though OceanMedallion has been slowly rolled out since it was announced in 2017, it's still early stages for the technology, which no doubt will continue to grow and evolve. President Jan Swartz said six more ships will get OceanMedallion in 2020, and the rest of the fleet will be equipped by the end of 2021. Interestingly, Executive Vice President of Fleet Operations Rai Caluori said the cruise line can use OceanMedallion to see passenger flow onboard, which could help influence future design decisions.
The New Sky Suites Have Great Balconies But Are Tight Inside.
The Sky Suite on Sky Princess (Photo: Princess Cruises)
Sky Princess' two Sky Suites are new to the cruise line. Adding these large suites is fairly bold direction for Princess, which never has offered the over-the-top suites you might see on other cruise lines. The roughly 1,000-square-foot Sky Suites come with massive wraparound balconies offering 270-panorama views.
Because the suites, which accommodate up to five, have two bedrooms and two bathrooms, the main living space indoors feels pretty tight, with not much room for entertaining or even just spending time together. Likewise, the bedrooms don't really wow, though the master bathroom, with a large separate tub, walk-in closet and Dyson hairdryer, is impressive. It's clear much of the thought went into the balconies, which are designed to entertain or be entertained (the best seats for Movies Under The Stars are right here). With so much space, it might have been a good idea to add a Jacuzzi tub outdoors. We expect to see some modifications to the Sky Suites on Enchanted Princess, the line's next new ship, which debuts in June 2020. Removing the second bedroom could improve the flow and allow for a bigger master bedroom and more comfortable living space.
The Sky Suites come with a dedicated suite experience manger and the option to add a Celebrate Under The Stars package. New to Princess, this package includes choices like a private stargazing experience, personal celebration host, the ability to choose the MUTS movie you want to see on the big screen, a pizza party and a selection of wine and Champagne.
Princess reports high demand for the suites, and availability for the next year is limited. Fares for a seven-day cruise start at about $7,000 per person.