(4:15 p.m. EDT) -- When Norwegian Joy debuted in 2017, it was purpose-built to sail in China, hosting Chinese passengers. Last year, Norwegian Cruise Line announced it would redeploy the ship in 2019 to the U.S., where the 3,804-passenger vessel would sail itineraries to Alaska, the Mexican Riviera and the Panama Canal. Before it could make that transition, though, the nearly new ship would undergo an extensive renovation that removed the elements created specifically for the Chinese market and replace them with those that would appeal to a decidedly Western passenger base.
The result? The ship feels (and even smells!) brand-new, with a mix of fun spaces, upscale and casual dining venues, and enough activities to fill anyone's dance card. Its facelift, which cruise line President and CEO Andy Stuart says cost "upwards of $50 million," removed private karaoke rooms, numerous shops, a high-rollers casino, a faux-grass Lido Deck park and a couple of Asian-specific restaurants. It replaced them with a variety of new restaurant venues and lounge spaces, and rearranged the layout. The changes are so sweeping, you won't see evidence onboard that this ship was ever dedicated to the Chinese market.
Here are six things we learned on our cruise on Norwegian Joy.
The Galaxy Pavilion is fantastic fun.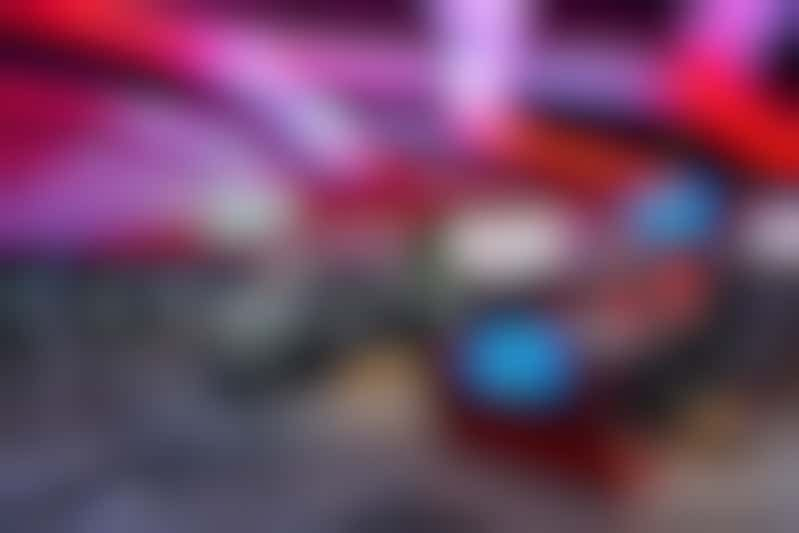 Galaxy Pavilion on Norwegian Joy (Photo: Norwegian Cruise Line)
The Galaxy Pavilion is a spectacular arcade that relies heavily on virtual reality. The large game center, located on Deck 16 all the way at the back of the ship, gives passengers a chance to shoot zombies, drive race cars (or space drones), walk a plank, hang-glide or flee from dinosaurs. It's designed with adults in mind as much as the kids, and its giggle- (or scream-) inducing attractions are a blast, whether you're participating or simply watching. (Be warned: If you're prone to motion sickness, you might want to skip the Galaxy Pavilion, as some people on our sailing reported queasiness associated with the VR experience.)
Exclusive to Norwegian Joy, the Galaxy Pavilion comes with an additional fee of $29 per session, with an option to buy passes for a full cruise. It's a fun way to spend 90 minutes and is family friendly. Joy, in fact, offers a couple of other adrenaline-pumping, for-fee activities, including laser tag and a two-level go-kart racing track. Freebies include waterslides, a kids' water play park and mini-golf.
"Footloose" brings back memories.
Continuing in the tradition of Norwegian's commitment to Broadway-style entertainment, Joy offers "Footloose," a take on the 1984 movie of the same name that saw Ren McCormack try to bring dancing back to Bomont, Oklahoma, where a tragic accident five years prior caused the town to declare it illegal. If you're a fan of the movie, the musical will hit all the right notes, having you singing along to songs like "Let's Hear It For The Boy," "Almost Paradise" and the titular smash "Footloose." Even if you've never seen the movie, you'll enjoy the 90-minute show, which blends comedic elements with dramatic messaging.
The other can't-miss main theater show is "Elements," a memorable visual sensation. This one combines aerial acts with magic, dancing and music.
The cabins offer solid choices.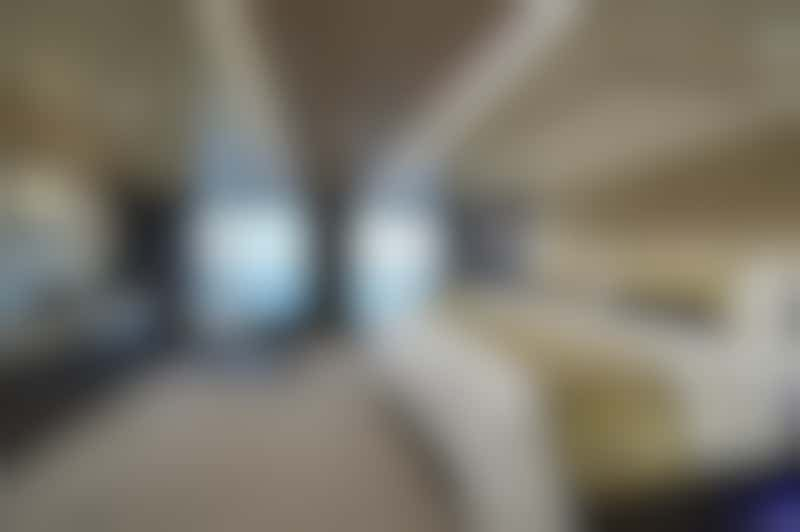 Concierge Family Suite with Balcony on Norwegian Joy (Photo: Norwegian Cruise Line)
Norwegian Joy's sheer variety of cabins means there are options -- and price points -- to suit any style of cruiser. One of our favorite cabin categories on Joy is the Concierge Family Suite, a beautifully laid out stateroom that measures more than 400 square feet and has a large balcony. These cabins accommodate three people. For larger families, we adore the Concierge Family Inside cabin. These cabins come in at more than 500 square feet and include a master bedroom, second bedroom and shared common area. The hit of the cabin is the large virtual balcony, a high-def screen that gives the appearance of having an actual verandah.
New to Norwegian and exclusive to Joy, Concierge cabins come with perks including access to a personal concierge and exclusive access to La Cucina for breakfast and lunch. The ship lacks a dedicated concierge lounge, which feels like a minor miss. But we were so impressed with these cabins, we hope they retroactively roll them on out on older ships as part of the Norwegian Edge refurbishment program.
Notably missing on Norwegian Joy are studio cabins, designed for solo travelers. A number of the cruise line's other ships include both studio cabins and a dedicated lounge for single cruisers.
The pool deck is different.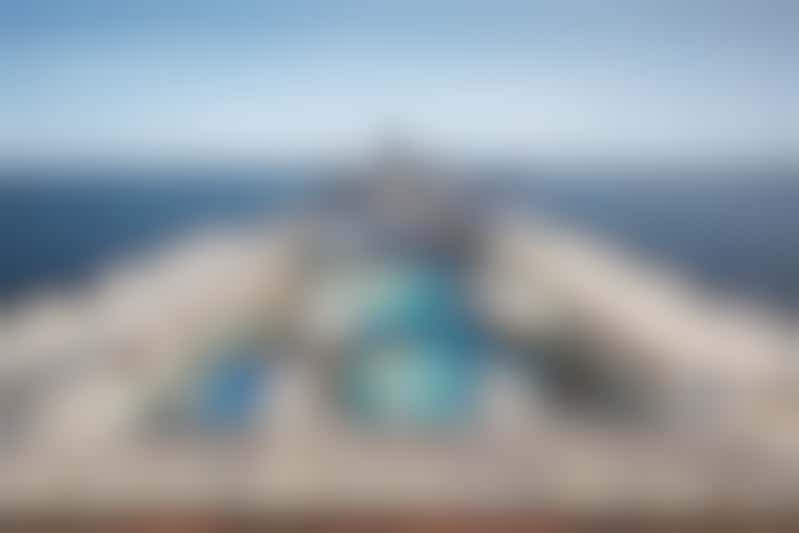 The main pool on Norwegian Joy (Photo: Norwegian Cruise Line)
Because Norwegian Joy was created for the Chinese market, where passengers are less interested in sunning themselves and splashing around in pools, the ship's Lido Deck had a much different look before it was refurbished. When it sailed in Asia, the deck featured two pools tucked off into the corners as well as two hot tubs. The central feature was a Zen park, featuring an artificial lawn, stones, pavers and trees. It was used for picnicking, yoga or tai chi.
To make it ready for a Western market, Norwegian removed the park but was restricted by the existing super-structure. This leads to an odd-looking pool deck, with lots of open space between pools and expansive poured-resin flooring. When it's hot, presumably, the space will be full of deck chairs. But with the ship committed to Alaska through the summer, where weather is mild to cool, we suspect it will be a fairly underused space.
That said, we are fans of the sun deck one level above the Lido Deck. Here, large, white awnings provide plenty of shade. Chairs are arranged around tables, while loungers are arranged to face the ocean. We think this will be the best spot for glacier and wildlife viewing in Alaska.
Norwegian is committed to the U.S. west coast.
In 2019, Norwegian Joy is sailing alongside near twin Norwegian Bliss in Alaska. The pair are sailing roundtrip from Seattle, providing almost 8,000 berths on ships to Alaskan destinations including Juneau, Skagway and Ketchikan. (2,376-passenger Norwegian Jewel also sails one-way Alaska cruises from Vancouver or Seward this season.) Once Joy completes its Alaska season, it will sail a series of cruises to the Mexican Riviera from Los Angeles, as well as several Panama Canal cruises.
The addition of Joy to the West Coast means passengers there have the opportunity to sail on newer ships, something that hasn't happened in years. (Carnival Cruise Line also will join the new-ship West Coast fray with Carnival Panorama, which debuts this fall. Panorama will sail weeklong itineraries to the Mexican Riviera from Los Angeles.)
Spa lovers might miss the thermal suite.
Sister ship Norwegian Bliss has a beautiful spa with an incredible thermal suite that includes heated ceramic lounge chairs, a snow room, a salt bath, an aromatic steam room, a sauna and a variety of showers, among other things. While Joy does have treatment rooms as well as a salon, it has no thermal suite. You can find a sauna and steam room in the locker rooms, but these can only be used by passengers who book treatments. If you love spending time at the spa, you'll probably miss having that space to lounge and indulge.