(9:32 a.m. EST) -- For anyone seeking a quick, tropical getaway out of Miami, there's a new ship in town. Well, technically speaking, Royal Caribbean's Navigator of the Seas is not a new ship. It certainly feels that way, though, after a $115 million refurbishment that completely transformed the top deck and introduced a slew of new activities, bars and restaurants.
On a two-night "shakedown" cruise that ended today, Cruise Critic got a sneak peek of the new additions: most notably, two "new to the line" water slides -- The Blaster aqua coaster and Riptide headfirst mat racer -- as well as a reimagined pool deck, blow dry bar and several new bars and eateries.
Navigator of the Seas will continue to receive finishing touches ahead of its first passenger sailing on March 1 (work previously had been delayed due to poor weather conditions while the ship was in dry dock). In the meantime, read on for our first impressions.
Transformed Pool Deck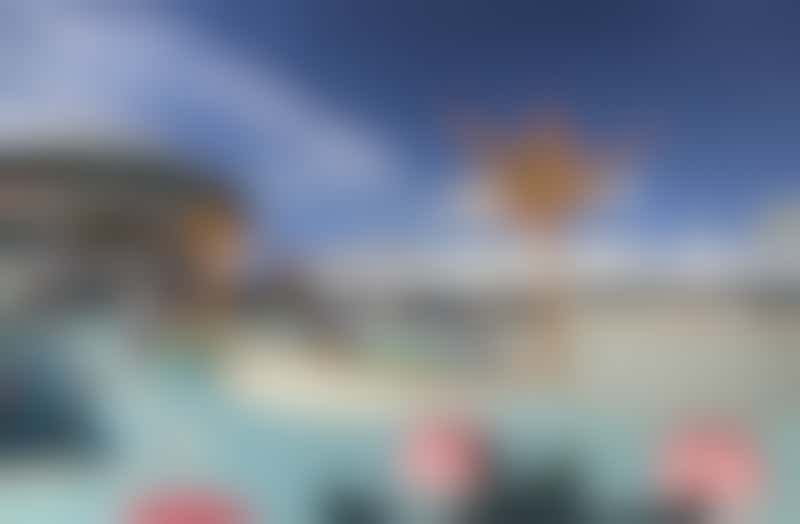 Transformed Pool Deck (Photo: Gina Kramer)
Given the itineraries Navigator of the Seas offers -- three- and four- night Bahamas cruises year-round from Miami, as well as a handful of five-, seven- and nine-night Caribbean options -- it's only fitting the ship boasts a tropical-themed pool deck with even more places than before to catch some rays or cool off -- during the day and into the evening.
"We heard loud and clear from our guests that 'we want the option to go indoors at night; we don't want to be forced …,'" Laura Hodges Bethge, vice president of product development for Royal Caribbean International, told Cruise Critic in an exclusive interview. "We think that's even more important on a short getaway, because folks are always looking for fun in the sun, complete relaxation, no stress, 'don't tell me I have to show up for dinner dressed [a certain] way.'"
The pool deck on Deck 11 was completely transformed, with colorful cabanas (free to use on a first-come, first-serve basis), decorative palm tree-shaped structures, and an "enlarged" pool. The pool boasts a shallow area with loungers for passengers who wish to dip their toes in the water while they sunbathe, and an adjacent splash area for little ones. Additional cabanas, as well as hammocks and clamshell loungers, can be found on Deck 12.
"With the pool deck, the goal is to keep it open right into the evening," Hodges Bethge added. "The vibe will change with music, it will change with lighting; the food will stay open on deck. You honestly don't have to give up your bathing suit, cover up and flip flops all day if you don't want to. You can have Johnny Rockets for lunch and El Loco Fresh tacos for dinner … then you can do dive-in movies with popcorn from our machine."
With the main pool expanded to include the shallow wading area, we noticed an influx of smaller children spending time there, despite the nearby splash area. If you want to take advantage of all the Lido deck action (live music, easy access to dining and themed bars) without so many kids in the vicinity, we recommend heading up one level to Deck 12 where you'll also find two new, canopied hot tubs overlooking the main pool.
Lime & Coconut Pool Bar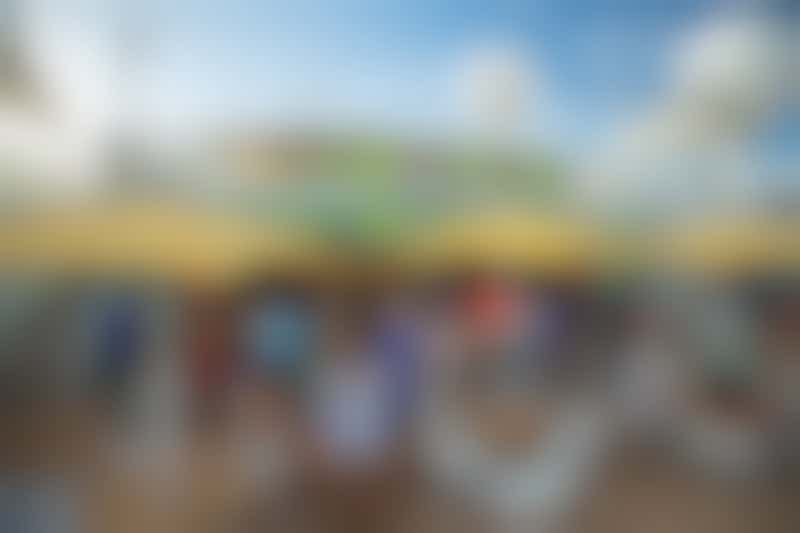 The Lime Coconut (Photo: Royal Caribbean)
This trendy, tropical (and totally Instagram-worthy) bar is not just a pool bar; it's a multi-purpose space that takes on a new look and feel, depending on the time of day.
The bottom of the three-level venue, located on Deck 11, serves as the all-day bar, where passengers can order their favorite umbrella drinks -- or choose to concoct their own with a bicycle pedal-powered blender. (The blender bike is more of a competition-provoking gimmick than a serious means of mixing a drink, but it's still a must-try and an excellent photo op.)
Above the main bar on Deck 12, you'll find a balcony bar that offers more space to soak up the sun, on padded sectional chairs and high-top tables. One more flight of stairs up and you'll reach the Lime & Coconut rooftop, which makes for a more intimate spot to get your daily dose of vitamin D. At night, these two upper areas transform into cozy open-air lounges luminated by string lights -- we felt like we easily could be at a hotel rooftop bar.
To Dry For Blowout and Champagne Bar
Getting ready for the evening festivities on a cruise no longer has to be a time-consuming and tedious process. Conveniently located in the Promenade is Royal Caribbean's first-ever blow dry bar -- a place where ladies of all ages can pamper themselves with a blowout, choosing from a fun menu that includes styles such as Beach Don't Kill My Vibe (natural, messy waves), I Woke Up Like This (classic, tousled curls) and Gold Plaited (where you can add a braid to your do). We're told eyelash extension services also will be offered, in the near future.
Passengers can still hit the salon for a wider range of salon options, but this new venue takes the popular service of hairstyling and turns it into the ultimate girls' bonding experience. The space is glamorous, with hot pink pillow-panel walls and chic furnishings, and boasts a social atmosphere. Despite being located in the Promenade, too, the space retains an intimate vibe, and you won't have that awkward feeling of passersby watching you.
All hairstyles, which include a wash and dry as well as a glass of Champagne (or bottle of water), cost a flat fee of $39; add-on treatments such as Keratin and hair masks are a la carte. (Guests also are welcome to show up with wet hair.) We suggest making appointments as early as possible, as the second night of our sailing was booked solid.
New Waterslides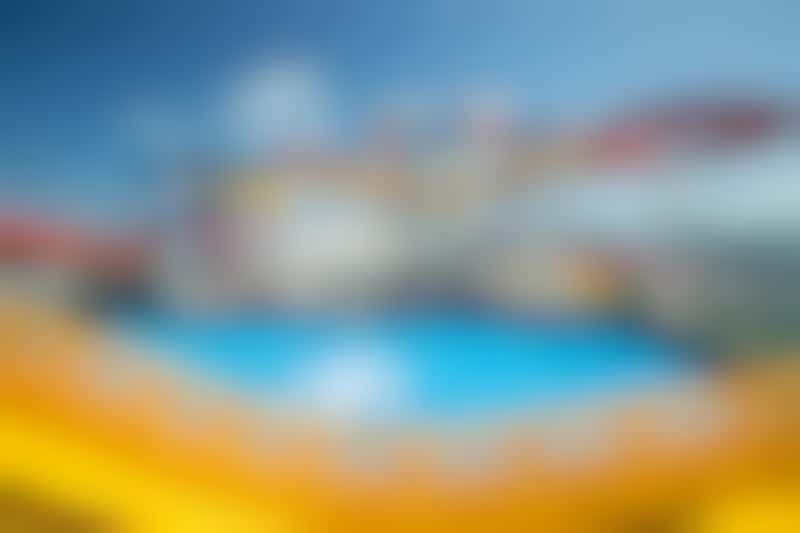 New Waterslides (Photo: Royal Caribbean)
While we didn't have a chance to experience the new waterslides for ourselves (fine-tuning took place for most of our sailing), we expect them to be a big hit.
"We have guests that come back all the time, so we want to give you a reason to try that other ship," Hodges Bethge said. "We know our guests absolutely love our waterslides, and I think the cherry on top, which we've done on Navigator with the Blaster, is the waterslide aqua coaster that you can enjoy together."
Royal Caribbean's concept team visited various water parks across the country, with families in tow, to test out rides and gauge popularity and interest. All agreed the aqua coaster concept was the favorite.
"With the aqua coaster, it's a thrilling ride but also something you can do with kids, without it being too scary," Hodges Bethge said. "We always try to find that balance of great activities for the whole family, and something that's very unique to the vessel."
New Bars, Eateries and More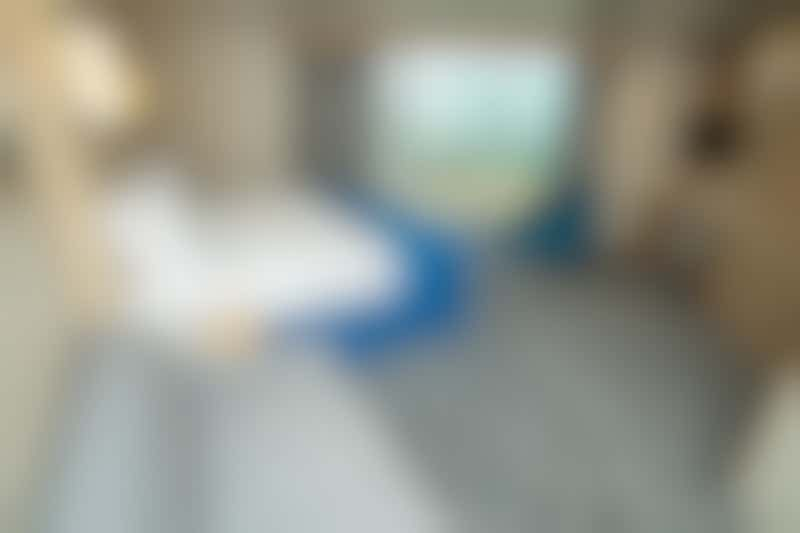 Cabin on Navigator of the Seas (Photo: Royal Caribbean)
In addition to Lime & Coconut, Navigator of the Seas received several restaurants and bars found on other ships. Among them are the Bamboo Room, Playmakers Sports Bar & Arcade, Hooked Seafood and El Loco Fresh.
The family-friendly offerings continue in Navigator of the Seas' Studio B ice-skating rink, where glow-in-the-dark laser tag (a complimentary activity) takes over during the day, as well as in a new escape room-style game room.
Elsewhere, the casino, Windjammer buffet and Star Lounge all received new upholstery, paint and furnishings. Even the cabins were refreshed with new carpets, pull-out sofas and bed mattresses and dressings, as well as new showerheads.
"It's really important to us that we keep our brand at a very high standard," Hodges Bethge said, emphasizing the need to please Royal Caribbean loyalty members and other return passengers while still aiming to make a good first impression on new cruisers.
Navigator of the Seas' fitness center and kids' club are in the final stages of renovation. The kids' club has been completely reimagined and morphed into one shared space for six- to 12-year olds, with separate areas for babies, toddlers and teens (though activities on offer will continue to vary by age).
Note: While the fitness center and The Blaster waterslide were not accessible on our shakedown, they are expected to open sometime during the first sailing. As a temporary alternative to the fitness center, select equipment will be available in the Solarium.
Stay tuned for an updated Navigator of the Seas ship review, and follow our social channels for more photos.