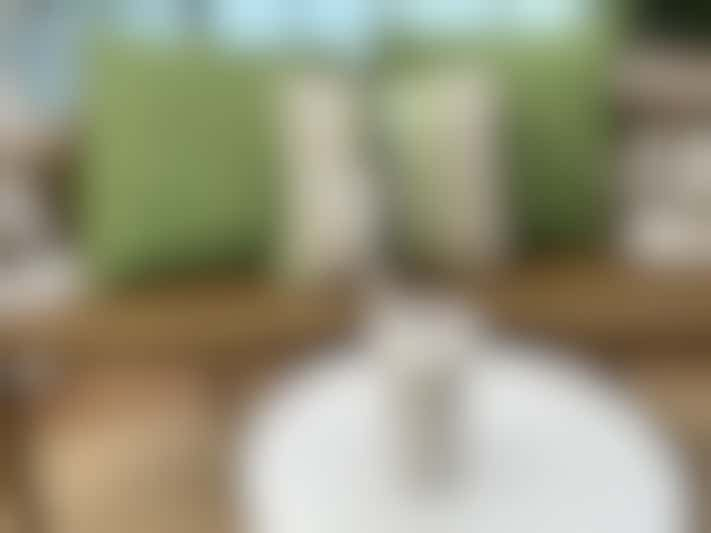 A Juneau Goldbelt Tram cocktail served on Majestic Princess (Photo/Alison Fox)
Cool New Cocktails
Emphasis on "cool." Princess has introduced a series of themed frozen drinks for its Alaskan sailings this year, with the Alaskan polar bear being just one. Other creations from the Princess bartenders include the "Ketchikan Strawberry Shortcake," made with vanilla vodka, heavy cream, Baileys, and a strawberry mix, and the "Juneau Goldbelt Tram," made with salted caramel syrup, Rye, white crème de cacao, and heavy cream.
The drinks are fun and refreshing — with the occasional side of brain freeze — and really livened up a day I spent watching snow-covered mountains go by from the comfort of an indoor lounge.
On those rare sunny days, the drinks can even be enjoyed sitting out on your balcony or on the top deck of the ship, perhaps while you're cuddled up in one of the cozy red and black buffalo check patterned blankets Princess handed out.
If cold drinks aren't your thing, Princess has several new warm ones too, like the spiced rum hot chocolate, the "Gingerbread Breakfast" (made with coffee, spiced rum, and ginger syrup), and the "White Glacier" (made with espresso, Baileys, Kahlua, vodka, and hot steamed milk).
The frozen drinks range from about $15 to $20 (without a beverage package), and hot chocolates range from about $14 to $18.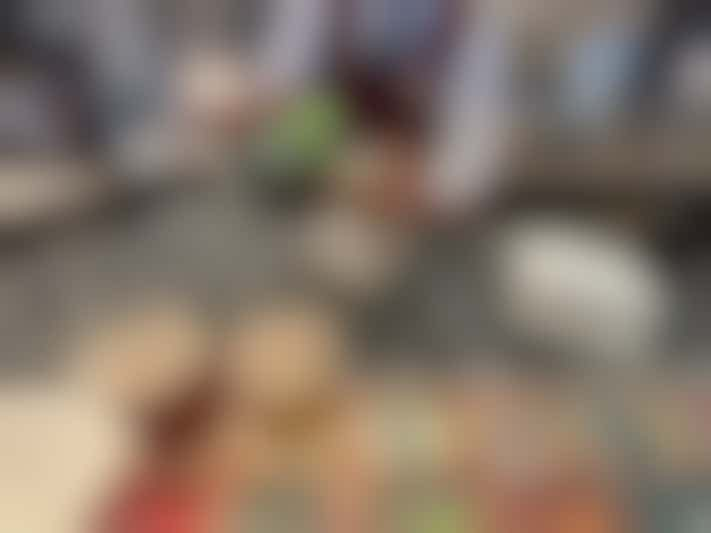 Alaskan beer flight on Majestic Princess (Photo/Alison Fox)
Try New Sips With an Alaskan Beer Flight
I've always been a beer person, so when I found out Princess had a new Alaskan beer flight on board, I couldn't wait to try it. The tastings, which are part of a partnership with the Juneau-based Alaskan Brewing Company, are each served in a chilled glass and come with some history about the beer itself.
The four glasses are then placed on top of a colorful Alaskan Brewing Company placemat with a spot for each tasting.
Each beer tasting costs $22, and is not included in any of Princess' packages.
Currently, four out of seven of Princess' ships in Alaska are serving the tasting, while three are waiting to receive all varieties of the beer, but are expected to have it shortly.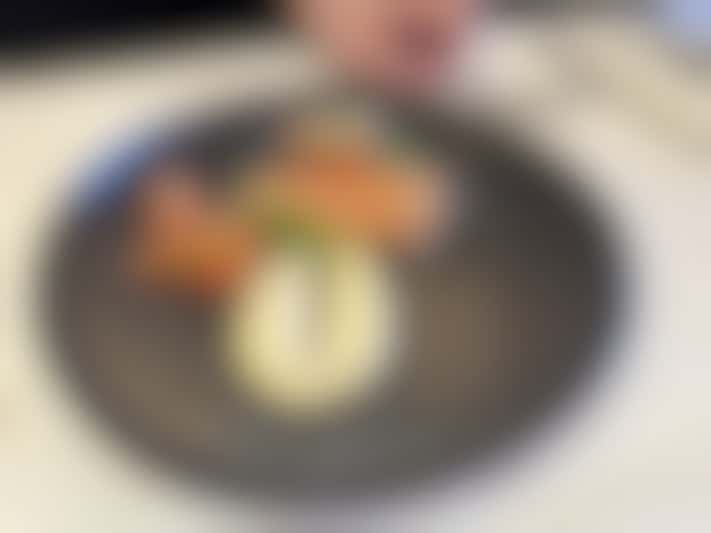 New Wild for Seafood dish on Majestic Princess (Photo/Alison Fox)
Expanded Wild for Alaska Seafood Menu
Last year, Princess introduced a "Wild for Alaska Seafood" menu, helmed by Chef Rudi Sodamin, the cruise line's head of Princess culinary arts. This year, the menu — which offers fresh Alaskan seafood across the ship — has been expanded to include new varieties of fish along with seafood bowls in the World Fresh Marketplace buffet.
New for 2023, Princess will serve up dishes like steelhead salmon carpaccio, king salmon with razor clams, and an Alaskan crab cake in the main dining room. The cruise line's seafood bowls are layered like poke with a base of rice and served with salmon and fresh vegetables like edamame, radish, and onions.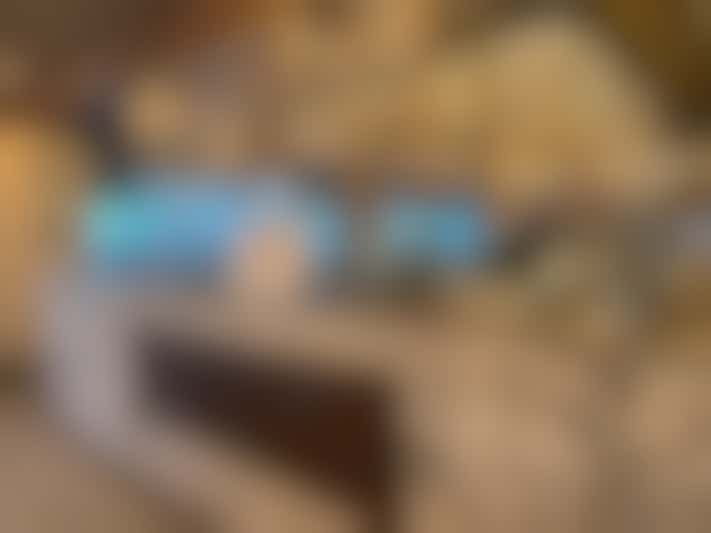 The Catch by Rudi Restaurant on Majestic Princess (Photo/Alison Fox)
Try a New Onboard Restaurant: The Catch by Rudi
This year, Princess introduced a new specialty restaurant, The Catch by Rudi. The restaurant is being rolled out across the Princess fleet, but this marks its first season in Alaska.
I sailed on the Majestic Princess and this seafood restaurant was easily the nicest on board. The restaurant was laid out around a large marble and dark wood bar complimented by white subway tiles on the walls and an ornate brass lattice arch framing the tables by the windows. The decor wouldn't have looked out of place at any high-end New York City restaurant, and neither would the food (in fact, it wasn't just good cruise ship food, it was simply good food).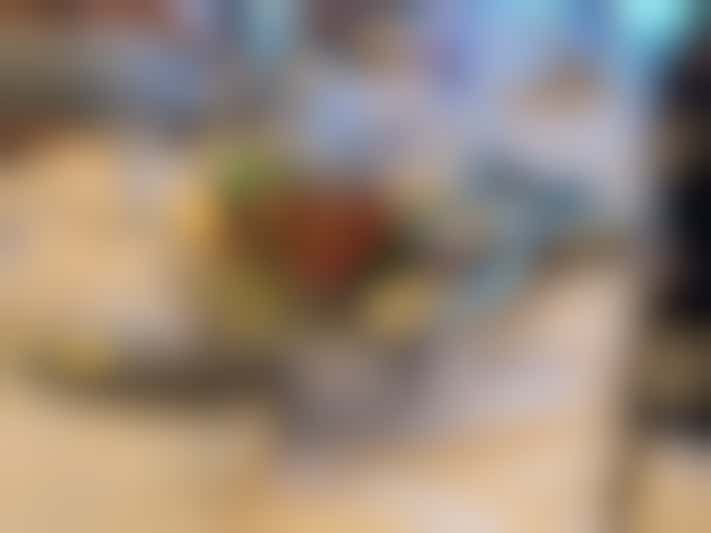 A seafood dish at The Catch by Rudi restaurant on Majestic Princess (Photo/Alison Fox)
Our group ordered plates of perfectly seared tuna, lobster tail served with grapefruit (a combination someone remarked was surprising and yet paired great together), and flawlessly cooked surf and turf with lobster, filet mignon, and a red wine sauce.
In Alaska, The Catch by Rudi is currently available on the Majestic Princess, and will be added to Discovery Princess after the Alaska season in the fall. The restaurant is also available on board Sky Princess and Enchanted Princess, but those ships are not in Alaska.
There are currently no plans to add the restaurant to other Alaskan ships.
Eat From the Garden in Fairbanks
New menus aren't just reserved for the ship. This year, guests who stay at the Fairbanks Princess Riverside Lodge on a cruisetour can experience a new "Garden-to-Table" menu using fresh vegetables planted right outside their hotel window. The garden beds, which thrive in the constant Alaska summer daylight, are used in dishes like Caesar salad made with home-grown romaine.
Each of the beds face the Chena River and sit along a serene river walk, which guests can explore.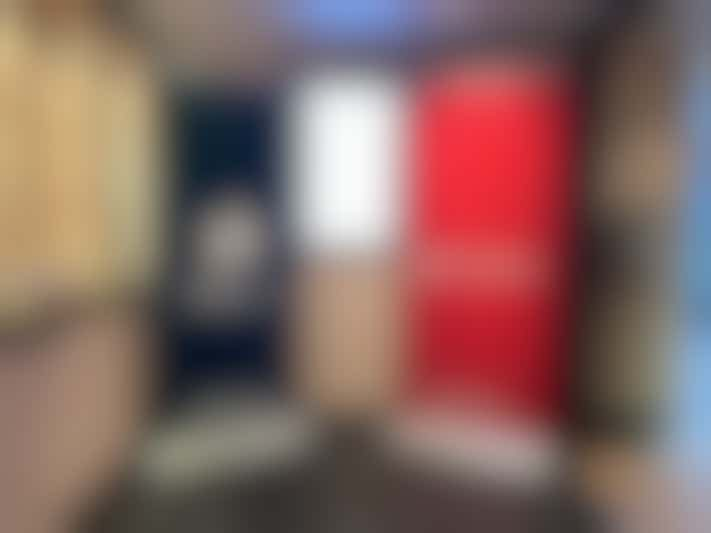 New fitness class on Majestic Princess (Photo/Alison Fox)
Work Off Cruise Pounds With New Fitness Classes
Earlier this year, Princess expanded its onboard fitness classes to include popular options from Xponential Fitness, including Pure Barre, YogaSix, and StretchLab. The classes were rolled out across the company's fleet and this is the first season they are available on ships in Alaska.
The classes start at $30 per session, but two classes are included in any Princess Plus package. Unlimited classes are included in the Princess Premier package.
I tried out a stretch class on our last sea day, and while working out on a cruise ship isn't necessarily my first activity option, it was a nice health-focused break between breakfast and the spa. Stretching as the ship gently rocked from side to side was even more of a challenge than on land, and it made the experience more fun as a result.