The newest cruise line private island, Ocean Cay MSC Marine Reserve, debuted in December 2019 with a decidedly different focus.
Behind the scenes of this complete private island experience is a team of scientists and experts who have worked tirelessly for years to not only restore the island – an abandoned sand excavation site -- for human guests, but to welcome back wildlife and marine life to their natural habitat -- most importantly, the coral surrounding the island.
A preservation-first approach to a private cruise destination signifies a departure from the way islands have historically been developed within the cruise industry. This is what sets Ocean Cay apart, and cruisers will notice a strong emphasis on other environmental impactors including the elimination of plastics, where possible, and the encouragement to only use reef-safe sunscreen.
That being said, time on Ocean Cay is full of fun. We are still recovering from a full 12 hours on the island, where we lounged in the sun; floated, swam, and paddleboarded in the bluest water you've ever seen; climbed a lighthouse, then drank out of a coconut at the bar beneath; noshed on key lime ice cream out of a fish-shaped waffle cone; marched in a Junkanoo parade, then watched a light show beneath the stars. Whew!
Here are some observations to help you make the most of your time at Ocean Cay.
---
The water is hypnotizing -- and enough to fill a day.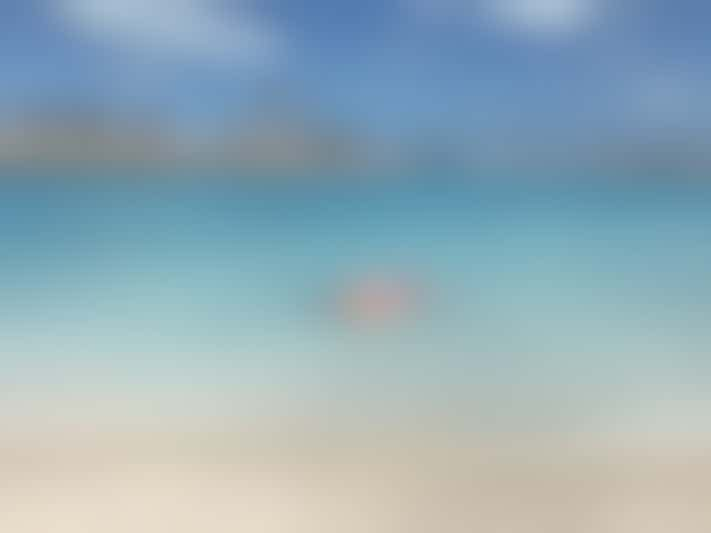 Swimming in Ocean Cay MSC Marine Reserve (Photo: Brittany Chrusciel/Cruise Critic)
The lagoon is so turquoise and clear, it's startling, while the waves that break near the lighthouse on the west side of the island morph from a full spectrum of blue to frothy white foam and back. The water here is so stunning that staring at it -- maybe from a cabana or maybe over a cocktail -- could be a full-fledged activity.
But if you're eager to do more than swim, there are a number of ways to embark on an aquatic adventure. Kayak, standup paddleboards, snorkel equipment and floating mats are available for rent all day, and there are a number of beaches available, including Seakers Family Cove. We recommend booking a snorkel tour that actually takes you to a shipwreck site off the island, and gives you an amazing chance to learn about the coral and sea life that are reclaiming the area.
Shade comes at a premium.
The first thing you might notice looking at the island from on deck or walking ashore is that the trees and plants are still new; therefore they haven't reached maturity and are not providing tons of natural shade at the moment. About 75,000 individual plants or trees were relocated to Ocean Cay to encourage birds back to the island, but this labor of love is still in bloom.
In the meantime, we were hoping to find slightly more relief from the sun, but apart from a few areas -- Seakers Buffet, the bars or waiting areas for the tram -- there weren't designated shaded areas that we noticed. Umbrellas come with a fee, so those who can't stand the sun for long periods of time might find themselves looking for more cover or heading back to the ship for periodic breaks.
Yacht Club guests continue to benefit ashore.
If designated sun decks, a bar and restaurant weren't enough for cruising residents of this private onboard enclave, the gravitas of a gold keycard extends ashore in Ocean Cay. Members of the MSC Yacht Club can enjoy a designated beach with butler service, special food trucks with hot and cold items, and the coup de grace: a private club called Ocean House with shore chic decor, an indoor bar, shaded outdoor seating and a custom lunch menu.
If you're not a Yacht Club member, pay for your secluded serenity by booking a treatment at the Ocean Cay Spa. Treatments are offered (one 30-minute and two 50-minute options) in designated cabanas. Afterward, enjoy the beach here from a complimentary selection of loungers or unwind with a sunset yoga class (fees apply).
The signature drinks and snacks are worth a splurge.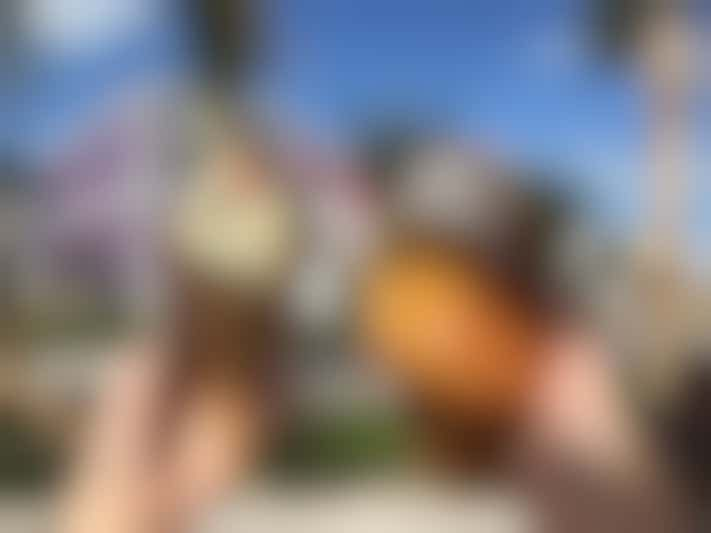 The Smiling Fish ice cream at Ocean Cay MSC Marine Reserve (Photo: Brittany Chrusciel/Cruise Critic)
Throughout the island, you'll notice a variety of bars, as well as the Smiling Fish ice cream and coffee shop. For a special treat, order something unique to Ocean Cay. You'll find the Beat the Heat cocktail at a variety of bars, and be sure to get it in the souvenir golden pineapple cup. It's a refreshing blend of vodka, watermelon puree, pineapple juice, lime juice and fresh mint. (However, it's not included in any drinks package.)
Back at Smiling Fish, pair a variety of fun cone flavors (birthday cake or toasted coconut, for example) with vanilla, chocolate, key lime or coconut ice creams and a variety of inventive toppings and drizzles. Or, order the signature Smiling Fish cone, which is a thick waffle cone shaped like what else -- a fish. If you're running low on energy, you can also order the Ocean Cay Coco-Nilla Latte (hot or iced) made with espresso, vanilla flavoring and coconut milk. If you have the premium drinks package, specialty coffees on the island are included; ice cream is an additional fee.
There are plenty of included options around Ocean Cay if you're not looking to spend more, so find one of the many food trucks for burgers, hot dogs and brownies. Or head to Seakers Court buffet for fresh fruit, juices and a variety of local food -- we recommend the mahi mahi -- and barbecue favorites.
Spend time at the Lighthouse.
The focal point of the entire island is a dazzling red-and-white lighthouse that sits just to the right of the bow when you're docked. Not only is this a scenic part of the island with great shots of your ship, but admission to climb 165 steps to the top of the lighthouse also buys you a 30-minute tour that lends some incredible context to the origination of Ocean Cay, how it came together and the people working there. Admission fees vary by ship, but expect to pay about $12 per person. Our guide, Vanessa, was extremely friendly and knowledgeable and we were able to ask her anything at all about the island.
The climb is broken up into three manageable parts, so you climb 55 stairs at a time before reaching a platform for a rest stop and photo opportunity while your guide gives your group (maximum of 10 at a time) a brief explanation. When you descend, stop in at the Hemingway-inspired bar beneath for a well-deserved drink -- this is our favorite hangout on the island.
Private island nightlife is exciting – and we found a few hacks.
Dance party at Ocean Cay MSC Marine Reserve (Photo: Brittany Chrusciel/Cruise Critic)
Visitors to Ocean Cay are encouraged to head back onboard for dinner, but plan to disembark again around 7:45 and head to Springers Bar. Grab a seat before they fill up and order a drink (if you're feeling festive, get it in a light-up cup to go). Around 8:30, the Junkanoo parade begins, a Bahamian tradition that feels very much like Mardi Gras and a New Orleans second line in one.
First tip: Dance behind the performers and celebrate up until the welcome center where they'll briefly stop. At this point, run a bit ahead and either stop near the stage to catch the parade's climax or grab a seat at the right end of Lighthouse Beach near the last fire pit. We found this to be the best view of the light show, projected onto the Lighthouse, which kicks off at 9.
The show lasts only about five minutes, but the "Luna Libre" dance party begins immediately after. By all means stay and dance. Or follow our second hack: Sneak back onboard before the crowd that comes with all-aboard around 10:30. Back onboard, find a spot along the railing on Deck 15 that faces the Lighthouse. At 10 p.m. another -- and different – light show begins.
The chance to disembark at night lets cruisers experience another aspect of the island -- and Bahamian culture -- and it's an offering we hope continues to catch on with private destinations. Nighttime excursions on Ocean Cay are also offered, including stargazing from the helipad of the ship or even an after-dark "glow" stand-up paddleboarding.