(3:30 p.m. EST) -- Though cruise operations are largely paused, ships around the world are still entering and leaving ports, undergoing drydocks, and sailing the seven seas.
We're keeping an eye on them for you, spotting some of the most interesting cruise ship movements every week and rounding them up for you so you can keep tabs on your favorite vessels.
Here's the ships we're looking at this week.
A Memorable River Transit
Royal Caribbean's newest ship, Odyssey of the Seas, passed a major milestone in its construction this week after transiting the River Ems from the Meyer Werft shipyards in Papenburg, Germany to its docking position in Eemshaven, Netherlands, where sea trials and final fitting-out work will take place.
The journey takes approximately 10 hours and required the use of two tugboats which guided the ship -- backwards -- up the river.
Featured Videos
Here's What It's Like Onboard the First Large Cruise Ship to Alaska in 21 Months
Perfect Day at CocoCay: Here's How We Spent 2 DAYS at Royal Caribbean's Private Island
Our Celebrity Silhouette Cruise Experience: March 2020 vs. July 2021
Back on Celebrity Silhouette: Here's What It's Like On One Of Our Favorite Ships 15 Months Later
Celebrity Millennium -- Video Tour & Ship Review (2021)
LIVE: Cruise Critic is Onboard Celebrity Apex -- The Magic Carpet
Q&A: Cruisers and Crew Chat About The Joy of Cruising's Return
LIVE: Cruise Critic is Onboard Celebrity Apex -- Eden
LIVE: Cruise Critic is Onboard Celebrity Apex -- The Retreat
LIVE: Cruise Critic is Onboard Celebrity Apex -- Infinite Veranda Cabins
LIVE: Cruise Critic is Onboard Celebrity Apex -- Your Cruise Director
LIVE: Cruise Critic is Onboard Celebrity Apex -- Pools
LIVE: Cruise Critic is Onboard Celebrity Apex -- Embarkation
Live From Adventure of the Seas: What's the Same, What's Different and What's Better?
5 Reasons MSC Cruises' Yacht Club Is Worth The Splurge
Best Spots For Adults On A Disney Cruise Ship
Video Highlights From The Impractical Jokers Cruise 4 (2018)
How River Cruising Allows You To Explore Like A Local
The Most Exciting New Ships In 2021
Inside Look 2018 Ship-Hop: A Cruise Vacation For '90s Lovers
River Cruising: Video Q&A With John Waggoner On American Countess, American Queen Steamboat Company's Newest Ship
The Most Luxurious Cruise Ship Suites at Sea - Video Guide
5 Ways A Seabourn Cruise Will Make You Feel Special - Video Tour
Love Luxury Resorts? Here's Why You Should Cruise Seabourn
5 Best Onboard Spots For Wine And Tapas
5 Crazy Cruise Deck Attractions For the Adrenaline Junkie
Cruise Embarkation Tips: What NOT To Do On Your First Day
MSC Virtuosa Ship Tour: What It's Like Onboard MSC's Newest Ship (May 2021)
Video Scenes From The Golden Girls Theme Cruise 2019
Inside Cabins On Cruise Ships: Whose Is Best?
4 Best Places To Get Craft Beer At Sea - Video Guide
Sneak Peek: Disney Fantasy Highlights For Kids - Video Tour
7 Can't-Miss Experiences on Allure Of The Seas
Highlights From Regent Seven Seas Explorer
Harmony Of The Seas Cabins - Video Tour - Cruise Critic
Cruise Critic Tries The Ultimate Abyss Slide On Harmony Of The Seas (POV Video)
HRH Prince Phillip Visits Cunard's Fleet
The 169,000-ton vessel is getting ready for its debut, which Royal Caribbean recently announced would take place in Haifa, Israel for local residents eager to set sail once again. All crew and passengers over 16 years of age will be required to be vaccinated against COVID-19 in order to embark.
A Reprieve for Astoria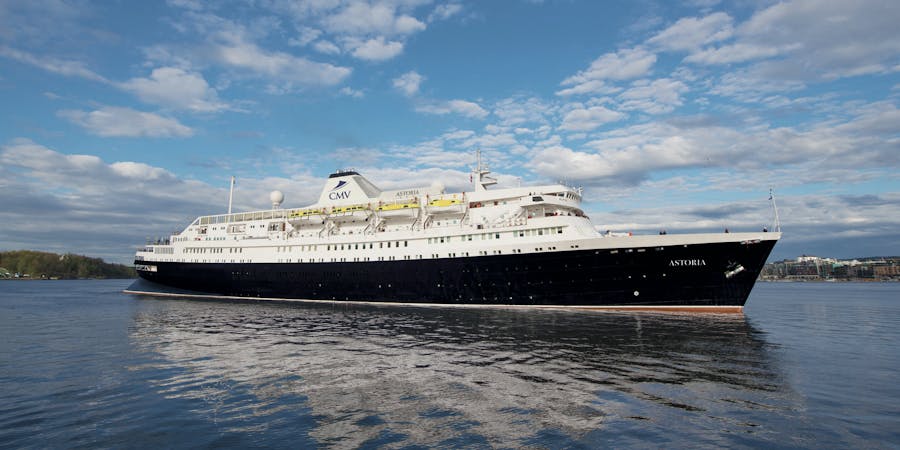 As we reported a few weeks ago, the world's oldest cruise ship was up for auction after the summer 2020 collapse of Cruise & Maritime Voyages. But Astoria failed to meet its minimum reserve price of $12 million, according to an article published on TradeWinds.
The ship -- which famously collided with the Andrea Doria in 1956 as the Stockholm -- was rebuilt as a cruise vessel in the 1990's and has retained a loyal following of maritime afficionados ever since.
No word yet on what will happen to this one-of-a-kind ship, but its fate hasn't been sealed just yet.
Columbus Hits the End of the Line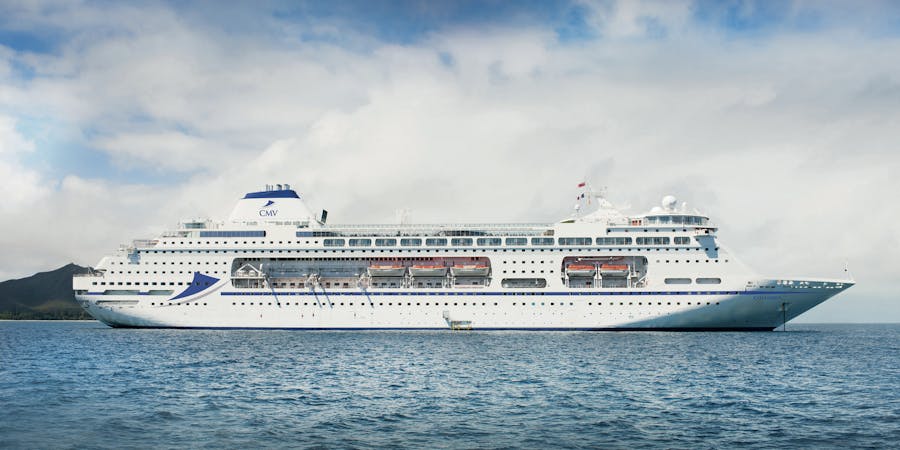 Maybe you sailed aboard this ship when it was Princess Cruises' Star Princess of 1989. Or, maybe you hopped aboard when, in 1997, it began to sail for P&O Cruises as Arcadia. Maybe you're one of the few that remembers its short stint (and wild paint scheme) as Ocean Village. Or, perhaps you discovered this venerable cruise ship as Cruise & Maritime Voyages' Columbus.
Sadly, this week marked the end of the line for the 32-year-old vessel. After being sold to Greek operator Seajets, maritime trade
indicated the ship had been flipped, sold to scrapping interests in India.
It's just one of dozens of ships that have been scrapped since the global coronavirus pandemic began last year.
So as Columbus transits the Suez Canal, bound for its one last port of call, remember that there are other new ships launching all the time. It's always hard to bid farewell to an old favorite, but new ships are out there, too, just waiting to be discovered.