(10.15 a.m. EST) -- MSC Cruises has unveiled the first robotic bartender at sea -- "Rob" -- onboard its newest ship, MSC Virtuosa.
Rob (short for robot) will be the resident barman in the ship's fully immersive new bar experience -- the Starship Club -- which will be unveiled when MSC Virtuosa starts sailing on April 16, this year.
The Starship Club includes 3D holograms, an immersive digital art wall and a 12-seater infinity digital interactive table, designed to give passengers a fully immersive space-style bar experience at sea.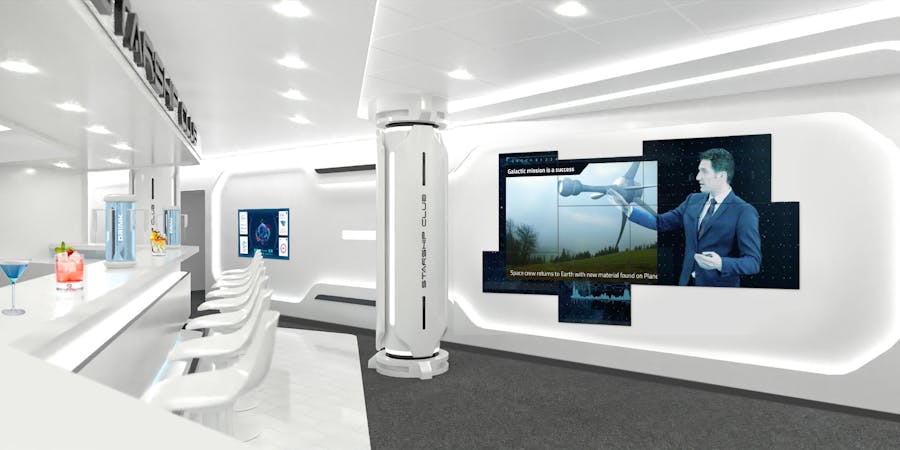 Rob meanwhile will take drinks orders from passengers, mixes them up and even speak to passengers in one of eight languages, depending on which language they placed their drinks order.
Featured Videos
Here's What It's Like Onboard the First Large Cruise Ship to Alaska in 21 Months
Perfect Day at CocoCay: Here's How We Spent 2 DAYS at Royal Caribbean's Private Island
Our Celebrity Silhouette Cruise Experience: March 2020 vs. July 2021
Back on Celebrity Silhouette: Here's What It's Like On One Of Our Favorite Ships 15 Months Later
Celebrity Millennium -- Video Tour & Ship Review (2021)
LIVE: Cruise Critic is Onboard Celebrity Apex -- The Magic Carpet
Q&A: Cruisers and Crew Chat About The Joy of Cruising's Return
LIVE: Cruise Critic is Onboard Celebrity Apex -- Eden
LIVE: Cruise Critic is Onboard Celebrity Apex -- The Retreat
LIVE: Cruise Critic is Onboard Celebrity Apex -- Infinite Veranda Cabins
LIVE: Cruise Critic is Onboard Celebrity Apex -- Your Cruise Director
LIVE: Cruise Critic is Onboard Celebrity Apex -- Pools
LIVE: Cruise Critic is Onboard Celebrity Apex -- Embarkation
Live From Adventure of the Seas: What's the Same, What's Different and What's Better?
5 Reasons MSC Cruises' Yacht Club Is Worth The Splurge
7 Can't-Miss Experiences on Allure Of The Seas
Best Spots For Adults On A Disney Cruise Ship
Video Highlights From The Impractical Jokers Cruise 4 (2018)
How River Cruising Allows You To Explore Like A Local
Inside Look 2018 Ship-Hop: A Cruise Vacation For '90s Lovers
Highlights From Regent Seven Seas Explorer
River Cruising: Video Q&A With John Waggoner On American Countess, American Queen Steamboat Company's Newest Ship
The Most Luxurious Cruise Ship Suites at Sea - Video Guide
5 Ways A Seabourn Cruise Will Make You Feel Special - Video Tour
Love Luxury Resorts? Here's Why You Should Cruise Seabourn
Cruise Critic Tries The Ultimate Abyss Slide On Harmony Of The Seas (POV Video)
5 Best Onboard Spots For Wine And Tapas
5 Crazy Cruise Deck Attractions For the Adrenaline Junkie
Cruise Embarkation Tips: What NOT To Do On Your First Day
MSC Virtuosa Ship Tour: What It's Like Onboard MSC's Newest Ship (May 2021)
LIVE From MSC Virtuosa! Embarkation, the Buffet, COVID Protocols and MORE!
Video Scenes From The Golden Girls Theme Cruise 2019
Video Q&A With MSC Grandiosa's Hotel Director, Giuseppe Pane
Drone Footage Of MSC Grandiosa Docked In Genoa For First Sailing Since The COVID-19 Pandemic
MSC Cruises - Smart Future Of Guest Experiences
First Look At MSC Bellissima
MSC Seaside Video Tour – An Inside Look At MSC's Cruise Ship
Live From MSC Seaside: A Cruise Ship Designed For The Outdoors
MSC Meraviglia Dining Guide
4 Best Places To Get Craft Beer At Sea - Video Guide
The Himalayan Bridge On MSC Meraviglia - Ropes Course POV Video
Pictures of MSC Seaside: Before and After
Harmony Of The Seas Cabins - Video Tour - Cruise Critic
HRH Prince Phillip Visits Cunard's Fleet
Baltic Family Cruise On Disney Magic - Day 5
According to MSC: "Rob has a clear personality that evolves with the surrounding settings and atmospheres. He uses his LED face to convey emotion so that guests can enjoy his performance whilst they sip on their cocktail."
It's not the first time a cruise line has introduced a robotic bartender -- Royal Caribbean pioneered this on their Quantum Class ships with their Bionic Bar -- but this was just an arm, not a whole robot. And Costa Cruises uses "Pepper" as a guest services robot.
However, this is the first time a line has used a humanoid-type robot as an interactive bartender.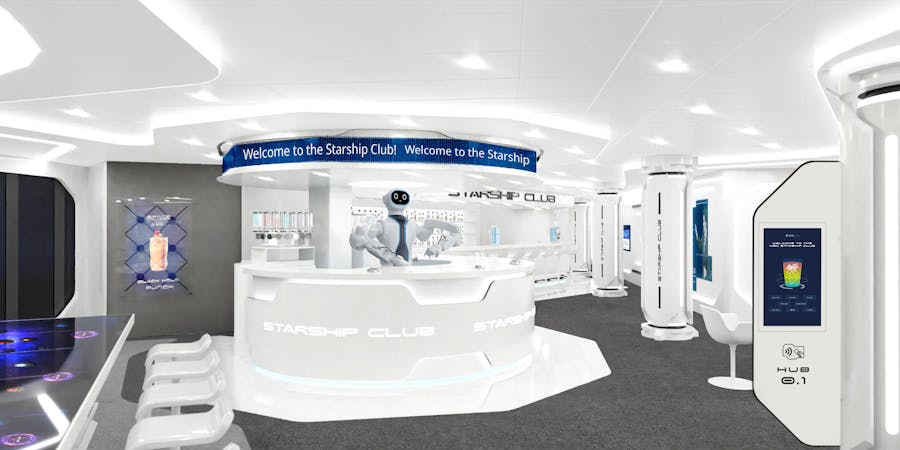 "MSC Cruises is constantly looking to the future for inspiration for the guest experiences, seeking out new ways to employ the latest technology to create something unique, to develop new innovations on board to elevate the guest offering to the next level," the line stated.
"This latest innovation takes cutting-edge robotics and digital technologies to deliver a futuristic, immersive entertainment lounge, completely re-imagining the traditional bar experience to literally transport guests to another world."
MSC Virtuosa is the line's new flagship. After completing a few three, four and five-night cruises in the Mediterranean, the ship will be deployed to Northern Europe in summer 2021 with a range of itineraries to the Norwegian fjords and Baltic capital cities.