(5:55 p.m. EST) -- He's 75 now but George McCrae can still hit the high notes. He proved that recently on the Ultimate Disco Cruise when he performed his 1974 hit "Rock Your Baby." His soft falsetto soared, as strong in 2020 as it was more than 45 years ago.
And the fans filling out Celebrity Infinity's pool deck loved him for it. They danced in the seductive way this atypical disco song inspires. They sang along and joined him in the song's famous yells, which McCrae said were inspired by Tarzan. Like McCrae, these folks were onboard to have fun.
"These are my fans. They grew up with my music, they danced to my music, they made love to my music, they did everything to my music," McCrae said in a post-concert interview. "My music has given them so much joy and pleasure."
McCrae was one of the hosts on StarVista LIVE's second floating disco extravaganza February 10 to 15 that sailed from Miami to Key West and Nassau, Bahamas, then back again. McCrae was hesitant when he was asked to perform on the 2019 inaugural cruise, and decided to come onboard as a guest so he could check things out. By trip's end, he was on stage singing his biggest hit and making plans to return in 2020.
"I saw everything and it was like, 'Wow,'" McCrae said. "It was a big, happy family. Everyone in the world should be like this ship here and treat each other with love and respect."
McCrae -- who divides his time between homes in the Netherlands, Aruba and Florida -- isn't a stranger to cruising. He and wife Yvonne have enjoyed European river trips, Mediterranean and North Sea voyages and longer journeys from Kenya to Mozambique, from England to the Canary Islands. Their adult son, Shaka, joined them on the disco cruise and joined Sister Sledge on stage.
The palpable energy between the audience and the performers makes the Ultimate Disco Cruise special, he said.
"Everybody's partying in different spaces on different floors," McCrae said. "Disco music is powerful. It's international."
The cruise was a reunion of sorts for McCrae. He toured with the Jackson 5 in the 1970s and Harry Casey, the K.C. of the Sunshine Band, cowrote "Rock Your Baby."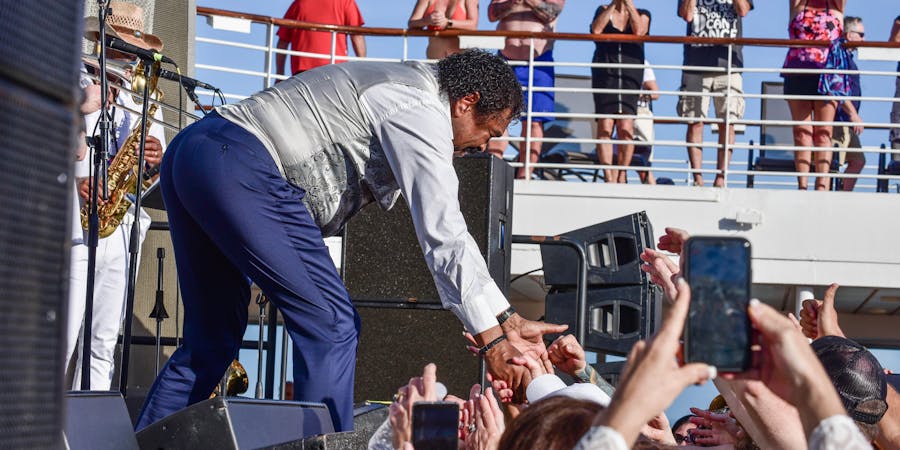 While all of the performers were accessible and friendly, McCrae was especially popular with passengers because he always stopped to pose for photos, easily joined conversations and appreciated that his fans still appreciated him.
During an artist Q&A, McCrae said meeting one of his idols, singer Sam Cooke, taught him a lesson in how to treat fans.
"Sam Cooke held out his hand and took mine. He shook my hand," said McCrae, still sounding a little awed. "I remember that."
There was no doubt McCrae was all in when it came to his performance on the pool deck. He sported a mustache that rivaled the one he'd worn in the '70s, removed the jacket of his blue three-piece suit to show off his yellow vest and danced around the microphone with movements well-suited for his song's seductive lyrics.
Afterwards, in Infinity's corridors, McCrae could barely walk a few feet before someone stopped him for a photo or a quick chat: A woman from Delaware with a broken foot shook his hand and said she'd danced throughout his show, boot and all. Another woman gushed, "I was there in '75 with you and you were so awesome. Your voice is still fantastic."
When a Virginia man wearing a "Navy" hat approached, McCrae talked about his own years in the service and the pair talked for 20 minutes, thrilled by the connection. "If you're ever in Virginia Beach, you've got a place to stay," the man promised, giving McCrae his card.
"Everyone's reminiscing and reliving the good times," McCrae said. "Don't let nobody fool you: the best time in your life is when you're young. That's why I tell my son to enjoy it while he can and live to the fullest so he'll have the dreams to remember when he's older." Sage advice, yet on the Ultimate Disco Cruise passengers young and old were certainly having the time of their lives.
If you'd like to live it up '70s style at sea, you can book the 202 Ultimate Disco cruise on the theme sailing's website. On the five-night cruise, Celebrity Infinity will sail roundtrip from Miami on February 26, 2022.