(3:48 p.m. EDT) -- Royal Caribbean is currently trialing a food delivery service on Symphony of the Seas that is driven by its Royal Caribbean app. Through the "Bring Me" feature on the app, cruisers can order pizza from Sorrento's, burgers and hot dogs from Johnny Rockets, chicken fingers from Playmakers and sushi from Izumi and have it delivered almost anywhere.
The service does carry a fee, with each food item costing different prices. Pizza, for instance, costs $5.95 a pie for either cheese or pepperoni, while chicken fingers with French fries costs $3.95. The sushi is the most expensive, costing $12.95 to $17.95 depending on which rolls you want.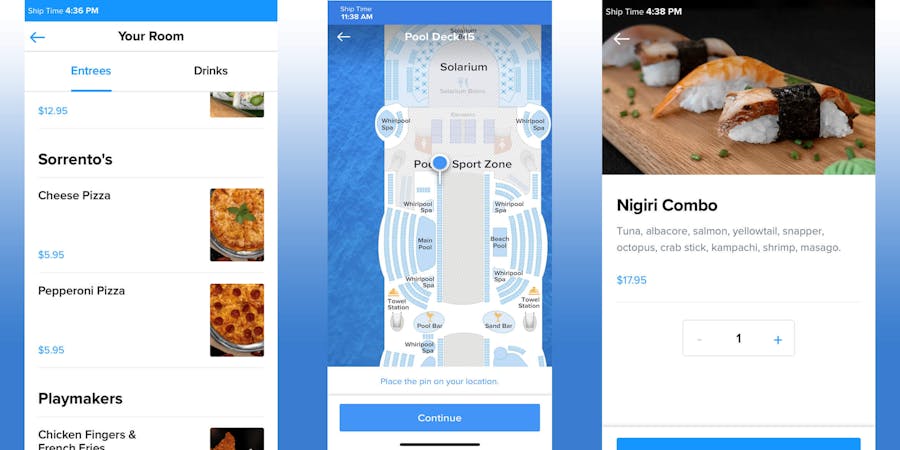 Users can have the food delivered to their room, a la room service, or select where on the ship they want it to be delivered. They do this by dragging a virtual "pin" to whatever location on the ship map they'd like the food brought.  
Royal Caribbean is not the first cruise line to test ways to enable cruisers to order food from both free and extra-fee venues onboard and have them delivered to anywhere on the ship. Carnival allows cruisers to order pizza and beverages via its app, while Princess Cruises has opened up select food dishes and beverages for ordering via its OceanMedallion technology, with only beverages able to be delivered anywhere and food limited to select areas on deck.
Featured Videos
Freedom of the Seas: What's It Like Onboard a Test Cruise? (Cruise Critic & Royal Caribbean Blog
Oasis Of The Seas Ship Tour - Ship Exterior
Here's What We Packed For Our Royal Caribbean Cruise (June 2021)
Celebrity to Restart from U.S. Homeport, PLUS Royal Caribbean Given Green Light for Test Cruises!
Odyssey of the Seas -- From Steel Cutting to Delivery 2021
Video Of Odyssey Of The Seas Conveyance March 2021
Royal Caribbean Group Announces E-muster, Keyless Cabin Check-in And Other App Improvements
Royal Caribbean Odyssey Of The Seas Steel Cutting At Meyer Werft
Shipyard Tour: Royal Caribbean's Symphony Of The Seas Gets Its Finishing Touches -- Video
Harmony Of The Seas Video Tour – Inside Look At One Of Royal Caribbean's Most Popular Cruise Ships
Symphony Of The Seas Video Tour
Royal Caribbean's Spectrum Of The Seas Celebrates Keel Laying
Sea Beyond: An Innovative Cruise Experience By Royal Caribbean
Sneak Peak At Symphony Of The Seas
What's Your Size? Royal Caribbean's Oasis Class Vs. Majesty Of The Seas - Video
Royal Caribbean's Oasis Of The Seas Photo Tour
Spectrum Of The Seas Steel Cutting At Meyer Werft
Royal Caribbean's Enchantment Of The Seas Highlights
Harvest Caye Cruise Port Video Tour
Photo Tour of Royal Caribbean's Allure Of The Seas
What It Means To Be Loyal To Royal
7 Can't-Miss Experiences on Allure Of The Seas
Video Tour of Allure Of The Seas' Bars
Cruise Pier Runners In Cozumel -- Carnival Liberty
Harmony Of The Seas Youth Place
Harmony Of The Seas Pool And Sports Zone
Harmony Of The Seas Central Park On Royal Caribbean International
Harmony Of The Seas Boardwalk
Harmony Of The Seas Royal Promenade
Harmony Of The Seas Entertainment Place
Harmony Of The Seas Vitality Spa And Fitness Center
Perfect Storm Water Slides On Harmony Of The Seas
Cruise Critic Tours Harmony Of The Seas
Harmony Of The Seas Cabins - Video Tour - Cruise Critic
Cruise Critic Tours Harmony Of The Seas
Greased Lightnin': Royal Caribbean Brings Another Broadway Hit
Plunging Into Adventure On The Tallest Slide At Sea: Royal Caribbean Reveals 10-Story Ultimate Abyss
Cruise Critic Flowrider On Royal Caribbean's Freedom Of The Seas
Cruise Critic Tours Anthem of the Seas
Anthem Of The Seas Welcomes Gigi The Giraffe
Oasis Of The Seas Flowrider - Cruise Critic Goes Surfing
Oasis Of The Seas Jazz On 4 Performance
Oasis Of The Seas Royal Promenade (2009)
Oasis Of The Seas Royal Promenade Parade (2009)
Oasis Of The Seas Carousel In Action (2009)
Oasis Of The Seas Ship Tour -- Main Dining Room (2009)