(9:33 a.m. EDT) -- Windstar Cruises has kicked off one of the most ambitious refurbishment programs within cruising to date, beginning the process of "stretching" its three small cruise ships: Star Breeze, Star Legend and Star Pride.
The $250 million Star Class Initiative will take the three ships, currently with a passenger capacity of 212, and essentially pull them apart, inserting a section with 50 staterooms for another 100 passengers.
The extra 84 feet being added will also allow the ships to add two specialty restaurants, a larger buffet area, a larger spa and fitness area, a new elevator onboard, a new tender boarding area and -- perhaps most important on ships that often sail in warm climates -- a new pool that will be five times as large as what the ships currently have.
Star Breeze is the first ship to begin what Windstar Cruises President John Delaney called "the metamorphosis." The ship entered the Fincantieri shipyard in Palermo on October 7, where the delicate process of dismantling all of the pipes, cables and lines started. The actual cutting of 1,500 meters of steel (nearly 5,000 feet) -- along clearly designated lines easily seen on the ship -- was a 24-hours-a-day undertaking that started October 14.
On Wednesday, Delaney cut the final inch of steel with a blowtorch, at a sunset ceremony at the shipyard (before cutting, the Seattle-based executive spent the afternoon practicing with the torch so he could get it right).
Featured Videos
Most Exciting Luxury Cruise Ships For 2021
BOLT: We Try Carnival Mardi Gras' Roller Coaster at Sea
NCL's Restart: What It's Like On The First Norwegian Cruise Ship Back in 16 Months
Inside Cabins On Cruise Ships: Whose Is Best?
Cruise Critic and JJ Cruise : Our Experience Onboard Celebrity Edge (June 2021)
Here's What It's Like Onboard the First Large Cruise Ship to Alaska in 21 Months
The Most Exciting New Ships In 2021
Cruise Embarkation Tips: What NOT To Do On Your First Day
Cruise Critic Tours Harmony Of The Seas
LIVE Q&A: Cruise Critic and Emma Cruises Chat About All Things Cruise
Today, the shipyard begins the second part of the process, by carefully moving the already constructed midsection block into place.
Complicated Process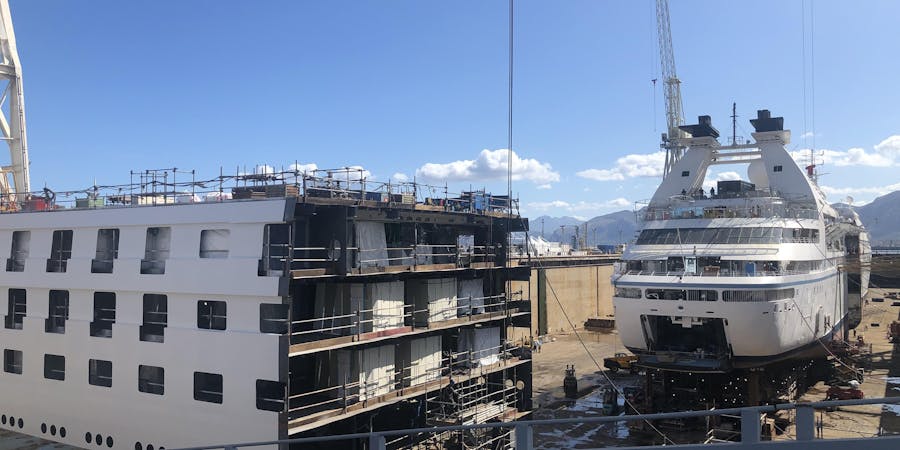 The yard in Sicily specializes in "stretching" projects; it's where Silversea stretched Silver Spirit in 2018 and several other vessels have had similar work done there.
The Windstar project is more complicated, however, because Windstar is not only adding a section to its ships, it is installing completely new engines, with a new fuel-efficient propulsion system replacing the current engines.
"The Silver Spirit was only deck lengthening," said Giorgio Pollina, project manager at Fincantieri. "In this project, we are changing the main engine. It's a more complicated project."
Windstar bought the three Star-class ships from Seabourn and added them to their fleet in 2014 and 2015. At the time, the ships were considered somewhat controversial as they brought Windstar away from the classic masted sailing vessels that had engendered a loyal following.
But Windstar's continued focus on small ship sailing, and unusual itineraries, has won over any detractors. In the past few years, Windstar has doubled down on its culinary offerings by teaming up with the James Beard Foundation on its menus.
At the same time, it has expanded its shore offerings from 600 to more than 2,500 choices, with each excursion vetted by the line itself, as opposed to outside operators, Delaney said.  New programming, such as the Windstar Signature Expedition sailings in Alaska, has garnered some of the highest passenger satisfaction rates, exceeding even those in customer favorite Tahiti and the South Pacific, said Chris Prelog, Windstar's vice president of fleet operations.
The three ships have had many redos over the decades. Still, there's no getting away from the fact that the trio was built in the late 1980s and early 1990s. The current refurb will decidedly bring the ships into the 21st century.
"The re-engineering is a big deal," Delaney said. "This will make us so much more fuel efficient." Having extra fuel capacity has made the line comfortable with adding far-flung ports such as New Zealand to its roster, he said. And while the ships themselves will be bigger, they are still small ships, Delaney stressed -- and as such will still be able to sail to the small ports that are a Windstar trademark, such as the Kiel and Corinth canals and places like Sanary-sur-Mer.  
"There's not a port that we go to today that we can't go to with these ships when they are done," he said.
More Cabin Choices
Once the project is done, the three ships will be remarkably different. One very popular addition are the 50 new suites that have been built in the new midsection. These suites will be configured differently than the cabins that were already on the ship, with beds near the windows. That's a popular feature on the line's flagship sailing ship Wind Surf, Delaney said,
One highlight of the addition: cabins that can be configured into a 1,374-square-foot three-bedroom Grand Owners Suite, which if booked in its entirety has three en-suite bathrooms, a separate dining area, a powder room and a private balcony.
Other new cabin types include a 406-square-foot Deluxe Suite and 277 square-foot Star Balcony Suites, Star Ocean View Suites and Star Porthole Suites. Balcony, in this case, means a French balcony; not one that you step out onto.
The existing cabins on the three ships are not being ignored. All staterooms are getting new bathrooms, most of which will have walk-in showers, new sinks, new mirrors and new tiling.  Balconies will receive new sliding doors.
Passenger response to the new cabin choices has been favorable, said Prelog. In particular, fans of Wind Surf who like sleeping near the window can now replicate the experience on the line's yacht-style ships:  "We can offer both now, and that's really cool." 
Additional Space (and Spaces)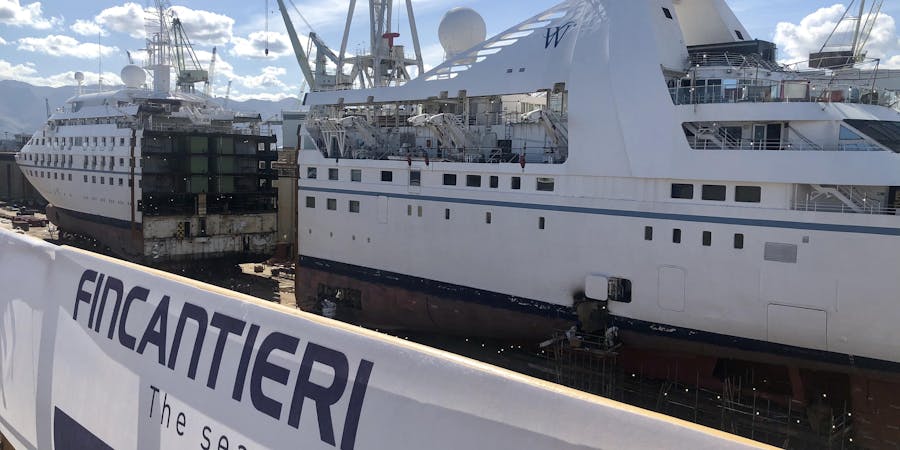 The additional space also allows the line to add true specialty restaurant spaces on its ships. (The Candles alternative dining experience was held in the ship's Veranda buffet area at night). Both of the new dining areas have been developed in partnership with Michelin-starred chefs.
The new stand-alone Spanish restaurant Cuadro 44 by Anthony Sasso is meant to showcase the coastal regions of Spain, as well as the flavors of Andalusia and Jerez in particular. Sasso has worked with Windstar through the line's partnership with the James Beard Foundation, appearing as a past guest chef on one of the themed culinary cruises.
Cuadro 44 will have 38 seats and include a chef's counter and a communal table. Reservations will be required, but there is no fee.
The second restaurant, Star Grill by Steven Raichlen, will be an outdoor restaurant on the pool deck. Raichlen specializes in upscale grilling and barbecue, and the restaurant's menu will reflect that with dishes like Danish smoked shrimp, lemongrass pork skewers and Hill Country brisket. The restaurant will be able to seat 95 at lunch and dinner, with two carving stations.
The Grill is built to take advantage of the increase in deck space, which is perhaps one of the most welcome renovations to the small ship fleet, Delaney said. The new pool, in particular, should wow returning guests. "It's five times the size," he said. "It's a real pool!" Renderings show an attractive, elevated infinity-style layout, with an adjoining hot tub.
The added deck space will also allow the line's signature outdoor barbecue events to shine, Delaney said. More evening entertainment on the deck will also be possible now there's more space.
Because the line goes into many small ports, tendering can be a pain point. The renovation is adding a new tender boarding area in the mid-ship section, along with two new 90-passenger tender boats. And an elevator is being added mid-ship, to make getting around onboard easier.
Finally, another popular change will be the expansion of the Veranda restaurant. The space will now have more indoor seating (which was at a premium in the old configuration). And for those who love Candles, that evening restaurant will continue.  
Launch Timetable
After the mid-section is inserted today, Star Breeze's renovation will continue for the next few months. The ship will be having its first sailing after the project, cruising from Barcelona to Lisbon, on February 20, 2020, followed by a transatlantic cruise. A "maiden" celebratory cruise will begin on March 20, 2020, leaving Miami and sailing to Colon, Panama, after a re-christening on March 19, 2020 in Miami.
Star Legend will begin its stretching process in February 2020, and debut in Barcelona on July 2,2020. Finally, Star Pride will be the last to undergo the transformation, and resume service in Barcelona on November 20, 2020.
The company plans to mark each ship with a ceremony. "We're bringing back the original godmothers," Delaney said. Travel expert Wendy Perrin is the Star Breeze's original godmother, while Nancy Anschutz, wife of the owner of Windstar's parent company Xanterra Parks & Resorts Phillip Anschutz, is the godmother of Star Pride. Gloria Bohan, the CEO of Omega World Travel, rounds out the trio as the godmother of Star Legend.
Needless to say, spirits surrounding the initiative kick-off have been high these past few days in Palermo. "This is a real thrill," Delaney said. "What we've worked hardest at is keeping the intimacy of these small ships."