(2 p.m. EST) -- Let's face it: Cruises are unfairly branded as vacations for out-of-shape people who like to eat their weight in French fries at the buffet. No sailing blows that stereotype out of the water more forcefully, however, than WOD on the Waves.
Although this wasn't an official CrossFit cruise, our itinerary on the first-ever sailing -- held onboard Royal Caribbean's Mariner of the Seas with scheduled calls on Nassau and private island CocoCay -- featured four days packed with workouts and seminars on fitness and nutrition led by athletes who have competed in the annual CrossFit Games. We were pleasantly surprised by how well a healthy lifestyle and cruising can coexist.
There are no official plans for a second WOD on the Waves cruise at this time, but athletes on our sailing told us they are hopeful. If this sounds like your kind of vacation, here are 10 things to know.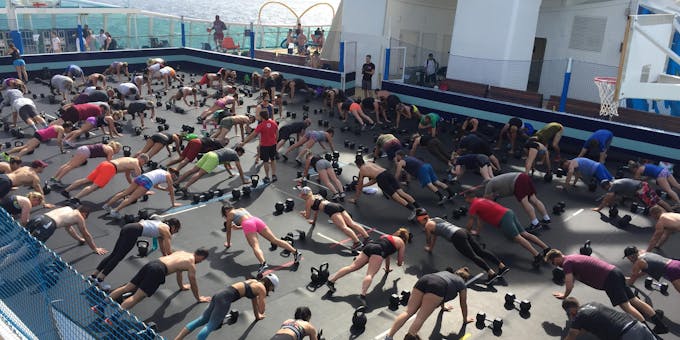 1. We fit right in.
Featured Videos
Wonder of the Seas Construction Update: Sea Trials
Wonder of the Seas Completes Sea Trials
Here's What It's Like Onboard the First Large Cruise Ship to Alaska in 21 Months
Perfect Day at CocoCay: Here's How We Spent 2 DAYS at Royal Caribbean's Private Island
Freedom of the Seas: What's It Like Onboard a Test Cruise? (Cruise Critic & Royal Caribbean Blog
Live From Adventure of the Seas: What's the Same, What's Different and What's Better?
Here's What We Packed For Our Royal Caribbean Cruise (June 2021)
Video Highlights From The Impractical Jokers Cruise 4 (2018)
Celebrity to Restart from U.S. Homeport, PLUS Royal Caribbean Given Green Light for Test Cruises!
Video Scenes From The Golden Girls Theme Cruise 2019
Odyssey of the Seas -- From Steel Cutting to Delivery 2021
Video Of Odyssey Of The Seas Conveyance March 2021
Royal Caribbean Group Announces E-muster, Keyless Cabin Check-in And Other App Improvements
Royal Caribbean Odyssey Of The Seas Steel Cutting At Meyer Werft
Shipyard Tour: Royal Caribbean's Symphony Of The Seas Gets Its Finishing Touches -- Video
Inside Look 2018 Ship-Hop: A Cruise Vacation For '90s Lovers
Harmony Of The Seas Video Tour – Inside Look At One Of Royal Caribbean's Most Popular Cruise Ships
Symphony Of The Seas Video Tour
Royal Caribbean's Spectrum Of The Seas Celebrates Keel Laying
Sea Beyond: An Innovative Cruise Experience By Royal Caribbean
Sneak Peak At Symphony Of The Seas
What's Your Size? Royal Caribbean's Oasis Class Vs. Majesty Of The Seas - Video
Royal Caribbean's Oasis Of The Seas Photo Tour
Spectrum Of The Seas Steel Cutting At Meyer Werft
Royal Caribbean's Enchantment Of The Seas Highlights
Harvest Caye Cruise Port Video Tour
Photo Tour of Royal Caribbean's Allure Of The Seas
What It Means To Be Loyal To Royal
7 Can't-Miss Experiences on Allure Of The Seas
Video Tour of Allure Of The Seas' Bars
Harmony Of The Seas Youth Place
Harmony Of The Seas Pool And Sports Zone
Harmony Of The Seas Central Park On Royal Caribbean International
Harmony Of The Seas Boardwalk
Harmony Of The Seas Entertainment Place
Harmony Of The Seas Royal Promenade
Harmony Of The Seas Vitality Spa And Fitness Center
Perfect Storm Water Slides On Harmony Of The Seas
Cruise Critic Tours Harmony Of The Seas
Harmony Of The Seas Cabins - Video Tour - Cruise Critic
Cruise Critic Tours Harmony Of The Seas
Greased Lightnin': Royal Caribbean Brings Another Broadway Hit
Plunging Into Adventure On The Tallest Slide At Sea: Royal Caribbean Reveals 10-Story Ultimate Abyss
Cruise Critic Flowrider On Royal Caribbean's Freedom Of The Seas
Cruise Critic Tours Anthem of the Seas
Anthem Of The Seas Welcomes Gigi The Giraffe
Oasis Of The Seas Flowrider - Cruise Critic Goes Surfing
Oasis Of The Seas Royal Promenade (2009)
Oasis Of The Seas Jazz On 4 Performance
Oasis Of The Seas Royal Promenade Parade (2009)
Oasis Of The Seas Carousel In Action (2009)
Oasis Of The Seas Ship Tour -- Main Dining Room (2009)
Like many CrossFitters, we work out to stay in shape, rather than to compete, so we were initially worried we'd be among the least fit onboard. Although the demographic was certainly the most buff we'd ever seen, we were encouraged by the variety of fitness levels and body types onboard. Not everybody had a six-pack, and we weren't the only ones who couldn't do a pull-up. Modifications were available for most workouts, so it was possible for everyone to participate.
2. There was more to do than work out.
Although the number of scheduled classes allowed passengers to sign up for as many as three or four workouts a day, there were plenty of other things to do: nutrition and aerobic capacity seminars; shore excursions; and standard onboard activities, such as bingo, trivia and belly-flop contests. Other non-themed active pursuits included rock climbing, surfing and bungee trampolining. Evening music and after-dinner shows also were offered each night.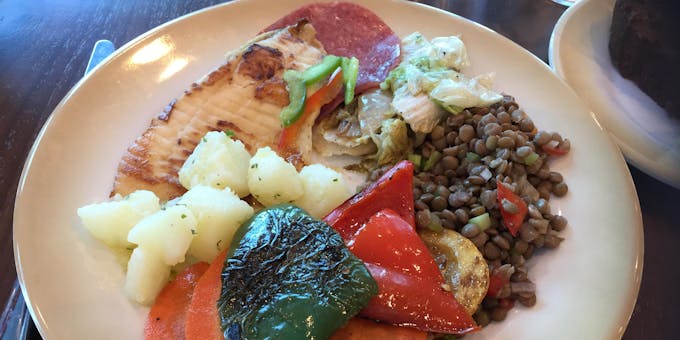 3. Paleo was not a problem; alcohol was.
Anyone who's tried sticking to a diet during a cruise knows just how difficult that can be. We're happy to report paleo- and macro-friendly options were available during WOD on the Waves. They included gluten-free stations, more protein and vegetables, fewer fried items and heavy sauces, expanded salad bar options and even healthy snack selections at Cafe Promenade, the ship's complimentary outpost for between-meal nibbles. For those who still wanted to splurge, burgers, hot dogs, fries and pizza were plentiful. Unlimited alcohol packages, however, weren't available on this cruise. We were told organizers didn't think passengers' healthy lifestyles would generate enough sales. A la carte alcohol was available, but costs tended to add up quickly.
4. Workouts were short, and there were no barbells onboard.
We were extra curious to see how the ship would be adapted for workouts -- particularly ones for which equipment was required and in which a large number of people were participating. Cruise organizers brought echo bikes, medicine balls and boxes onboard, and they outfitted the sports court with stall mats, where dumbbell and kettlebell workouts took place. Sandbag sessions were held on the ship's helipad, and you could find bootcamp on the mini-golf course. Meanwhile, bodyweight classes incorporated the vessel's running track, around which two pull-up rigs were assembled. A large number of ski ergs and rowers also had been set up on outer decks for passenger use.
All classes were kept to 30 minutes or less, and we found they were rather upper-body focused. The onboard gym did have updated fitness equipment, which helped to even out with some leg workouts. We also appreciated the chance to sign up for a pro-athlete-led class at a local CrossFit box in Nassau during our stop there; it allowed barbell-deprived cruisers to get their fix with a round of partner-style double Grace (60 clean and jerks for time, split among two people). Despite instructions to sign up for all classes ahead of time, the on-shore sessions seemed to be the only ones where class sizes were strictly enforced.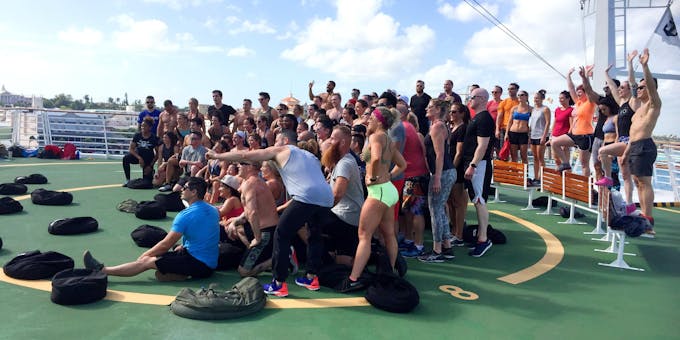 5. Athletes were accessible.
One of WOD on the Waves' biggest draws was the team of well-known CrossFit Games athletes who were onboard to coach classes, help passengers with their form and host seminars on topics ranging from counting macros to determining portion sizes. Among them were Chyna Cho, Josh Bridges, Dain Bailey, Austin Malleolo, Conor Murphy, Spencer Hendel, Kari Pearce, Annie Sakamoto, Pat Vellner, Rich Froning, Margaux Alvarez, Mary Beth Prodromides and Brooke Wells. We ran into each of them at least once during the voyage. They were all exceedingly approachable and gracious, which made this a great sailing for anyone who had hoped to improve their workouts and meet some of their fitness role models.
6. It was OK to be casual.
There were no formal nights during the WOD on the Waves cruise; it was totally acceptable to walk around the ship in workout gear. We saw plenty of fitness fiends in public areas -- females wearing nothing more than Fleo shorts and sports bras and bare-chested men in only their shorts -- all ready to sweat it out at a moment's notice. It wasn't just encouraged; it was expected. At night, passengers traded in their gym clothes for togas and 80s-themed outfits and headed to parties that lasted into the wee hours. The only place where the above dress code wasn't acceptable was in the main dining room, which operated on an anytime-dining schedule for all cruisers at dinner.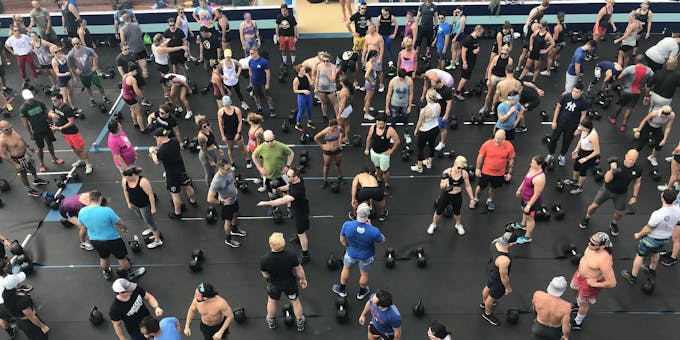 7. Passengers skewed younger and were mostly first-timers.
In an effort to market the inaugural sailing to a more millennial crowd, WOD on the Waves partnered with fitness dating app Datefit -- think Tinder for gym-lovers -- to bring a younger set of toned singles onboard. This drove down the overall age demographic by what we estimated to be about two decades. Twenty- and thirtysomethings were running the show, and it was the first cruise for most, but active gen-Xers and seasoned cruisers certainly weren't out of place. This was definitely not a good cruise for sedentary travelers. Sure, we saw plenty of folks lazing by the pool or on the beach, but the general vibe was one of high energy, grueling physical activity and late-night partying.
8. Branding was key.
When we boarded, we were bombarded with branding. WOD on the Waves had stamped its name across everything from TrueForm Runners to elevator skins and even coasters at the onboard bars. Other fitness brands were on the ship to hand out freebies, including C4 pre-workout beverages, FitAid energy drinks, Treign apparel and Triib swag. Promos for the sponsoring brands ran on a loop on in-cabin TVs, and Reebok had even put together a pop-up store, where cruisers could purchase CrossFit branded gear, as well as tees, tanks and hoodies bearing the WOD on the Waves logo.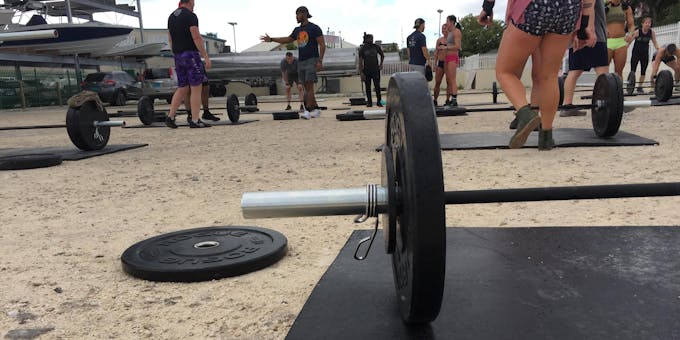 9. Influencers were everywhere.
In a similar vein, WOD on the Waves put considerable effort into spreading the word about its inaugural sailing, inviting roughly 200 social media influencers to join the voyage. Many of them were provided with one additional cabin each to give away on their social media channels. Unfortunately, this led to an influx of passengers who seemed more interested in taking selfies and twerking during workouts than in the workouts themselves. Constant online sharing also caused an extreme slowdown of the onboard Wi-Fi.
10. The itinerary changed.
As with any cruise, there's always the chance for weather to change an itinerary. Our planned visit to CocoCay, Royal Caribbean's private island, was canceled due to rough seas that made tendering too dangerous. That meant we weren't able to run the on-island 5k the organizers had scheduled or take part in much-anticipated beach workouts that were to have been taught by some of CrossFit's most elite competitors. Passengers were disappointed, but all was made right when the events were replaced by a Froning -- as in Rich Froning -- Fireball 10k. Instead of running, passengers were encouraged to form teams of four and divide up the work required to reach 1,000 burpees, 500 calories on an echo bike or ski erg, or 10,000 meters of rowing. Every time 500 meters was reached, cruisers had the option to take a shot of alcohol (at their own expense). We saw few taking advantage of that last facet of the challenge -- probably a good thing, considering water was no more plentiful than usual onboard. (Filling up personal bottles isn't allowed in the buffet for sanitary reasons, and those looking for bottled water had to purchase it.)