(8:34 a.m. EST) -- Crystal Serenity is fresh from a major 28-day dry dock, and we're onboard to see what's new. And there's lot to try, from new restaurants like Silk Kitchen with its wintergarden feel to the new Seabreeze Penthouses and Penthouse Suites and redesigned Palm Court and Stardust Club.
Most of the changes echo Crystal Symphony's 2017 refurbishment, to keep the look and offerings similar across Crystals' two ocean-going ships.
But what especially struck us was how many of the structural ship changes were made to enhance and vary the onboard programming. Serenity's senior officers are quick to use the word "multipurpose" when talking about the refurbished spaces, and the goal is to keep everyone happy and entertained. In short, the spaces and the activities align to ensure that no one is ever bored on a Crystal cruise. And from what we've seen in our few days onboard, we can believe it.
So if you've ever thought that sailing on a smaller, luxury ship -- without the water parks, Broadway shows and crazy activities of a mega-ship -- sounded dull, we're here to tell you why you'll find plenty to do.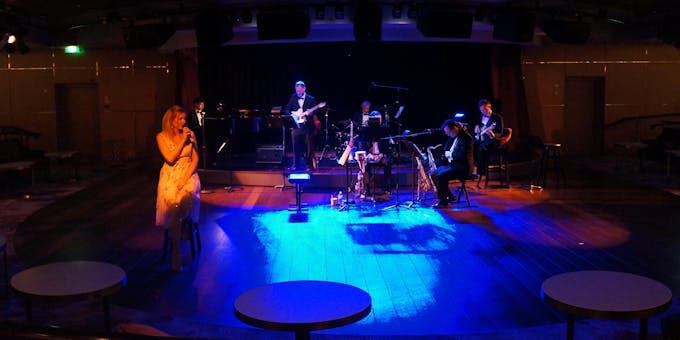 Multi-Purpose Spaces To Keep You Entertained
Three key focal points of Crystal Serenity's refurbishment included The Stardust Club, the Palm Court and the Studio, and each space's redesign was in part to make each venue better support a variety of activities.
The Stardust Club, the ship's secondary show lounge, is now set up with tiered sections of four-top tables surrounding a stage. That arrangement gives it a cabaret feel for the shows that take place here; that's right, Serenity might offer two stage shows on a given evening, one in Stardust and the other in the Galaxy Lounge main theater -- unusual for a 980-passenger ship. It also allows the venue to handle large groups ranging from 25 to 225 people for daytime activities, such as bridge tournaments or meetings, without a need to rearrange the seating between events. The venue can transition seamlessly between events, allowing it to host more activities in a given day.
Plus, on the first and last formal night of each sailing, the space turns into a Supper Club where passengers dine on a greatest hits menu from Waterside while listening to jazz music and performances by the ship's live acts. The evening culminates with passengers hitting the dance floor themselves. This offers yet another dining and entertainment option for guests.
The Palm Court, the ships' main ballroom dance venue, was rearranged to create a permanent space for afternoon tea set-up and service. New TVs were added -- two that come up out of tables -- to accommodate bingo games or live video feeds. This top-deck observation lounge also hosts daytime activities from dance classes to knitting lessons and needlepoint groups.
The Studio has always been the hub of Crystal's enrichment program, and now it's refreshed and enhanced. The main Studio space can be used for classes and meetings, Yamaha keyboard lessons on the world cruise and even as a screening room for high-profile sports games (the TVs get live feeds). Next door is a new dance studio for private dance lessons; the ship's four ballroom instructors now have space to offer lessons from 7 a.m. to midnight without having to search for an empty lounge.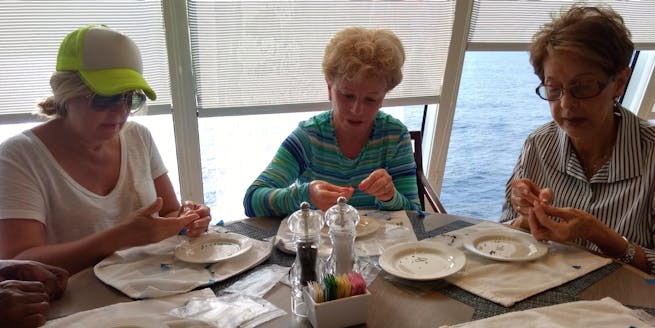 Enrichment and Daytime Activities
Crystal has always excelled at enrichment, but it's not resting on its laurels. We've been amazed at the sheer number of activities, especially learning ones, going on every day.
On the crafty side, passengers on our cruise have the opportunity to paint watercolor tropical reef scenes, knit a small bag, complete a needlepoint project (the line to pick up a kit stretched across the entire Palm Court dance floor) or make beaded earrings with a jewelry designer, whose creations are sold in the Deck 6 boutiques.
A PGA teaching professional is onboard helping passengers with their chip shots and forward swings), while a couple is teaching bridge to beginner and intermediate players. Two former astronauts are onboard giving lectures, a guest chef demo'd Mexican cooking and a naturalist is educating passengers about local wildlife. At the Computer University@Sea, guests can sign up for classes on digital movie-making and the magic of enhancing photos with Adobe Photoshop.
Many of the classes are cumulative, with passengers reporting each day to work on their projects, so they can make progress on their skills throughout this two-week cruise. Plus, Crystal has recognized that passengers want more port-intensive itineraries but don't want to lose the chance to experience the amazing array of sea-day activities, so the line is scheduling more activities than ever before for port day afternoons, when passengers have come back from morning tours.
And if you don't want to zone out in the sun or with a book but don't want to work to learn a new skill, Crystal offers plenty of sheer fun programming, from trivia contests to fitness classes, mah jongg play, afternoon movies in the onboard cinema, bingo and casino tournaments.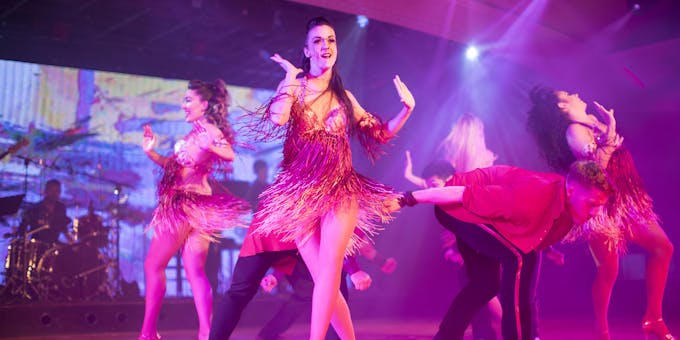 Evening Activities
One of the changes that came with the refurbishment is open-seating dining. Formerly, Crystal passengers ate at one of two set times, and evening entertainment was scheduled to align with these dinner times. To accommodate an "eat when you want" plan, the ship made several related changes. One was to add more restaurants -- such as Silk Kitchen, Churrascaria and the Supper Club -- to take the heat off the Waterside main dining room. But the other was to restructure evening entertainment so that there's always something going on before and after your chosen dinner time.
Whereas most luxury lines will offer one show each night, with one or two showtimes, Crystal Serenity often has two marquee shows scheduled. There might be a guest musician or comedian with two shows in the Galaxy Lounge, plus the ship's singers and dancers doing a cabaret show in the Stardust Club or an event like Irish Pub Night with live music in the Avenue Saloon. There's also a nightly movie screening in the cinema.
Live music is everywhere, with three soloists or duos taking turns in the Crystal Cove, a dance band in Palm Court or Stardust Club and piano music in the Avenue Saloon. And the music is good --we stopped by the Crystal Cove for a quick drink and stayed much longer listening to a duo sing and play guitar and piano. (You can find DJ'd music in the Pulse Nightclub, but, honestly, not many people have found the Pulse Nightclub on our sailing.) Add the casino and an ever-expanding catalog of on-demand movies offered by your in-suite TV, and at any hour, any passenger can find a way to while away the evening.
We dare you to try, but with these changes to Serenity's spaces and programming, we don't think you could ever be bored on Crystal.