(11:16 a.m. EST) -- Holland America is onboard with all the right people, and it's never been more apparent than on its newest ship, Nieuw Statendam. This week we're sailing aboard the ship and evidence of Holland America's hard-won partnerships is abundant -- from a brand-new Music Walk sponsorship from Rolling Stone Magazine to the longstanding link with the talented chefs who represent the brand's Culinary Council.
Holland America president Orlando Ashford told Cruise Critic the line is geared toward "explorers, food-lovers and music-lovers."
"Partnerships allow us to establish and elevate these concepts quickly."
But Holland America is not looking to reinvent cruising with its partnerships. Rather, the company wants to hone what they've already established. (After all, Holland America has a long maritime heritage that it's careful to preserve.)
For a line heavily based in tradition, the Pinnacle Class (which includes sister ship Koningsdam) isn't a departure, but rather a mark of "Holland America 2.0," as Ashford phrased it -- expanding upon the "swim lanes" of entertainment, enrichment, culinary and service for the modern explorer.
We couldn't agree more. We've found Nieuw Statendam to be quite a beautiful balance, much like a well-blended wine, which of course you can blend yourself through -- what else -- a partnership with Washington State winery Chateau Ste. Michelle.
The following are just a few of the partnerships you can find onboard Nieuw Statendam (and in some cases, fleetwide) that are making the best use of Holland America's assets.
Rolling Stone/BB King's/Billboard/Lincoln Center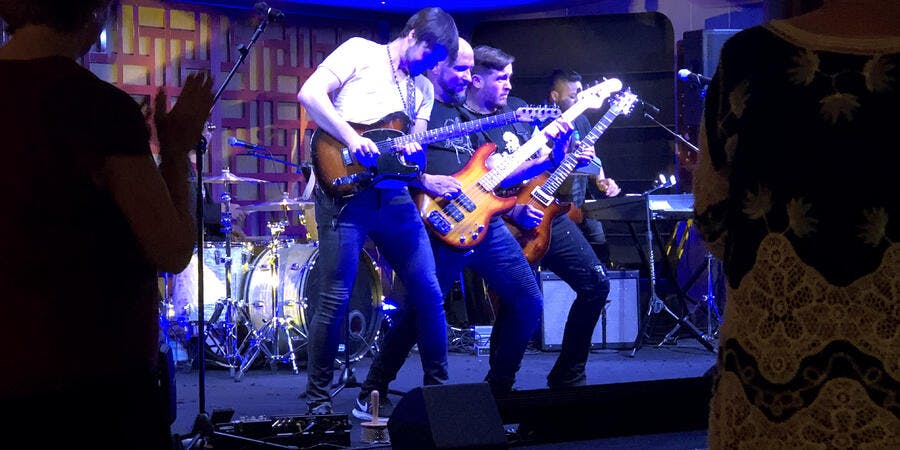 Holland America's
Music Walk
is growing with the addition of the Rolling Stone Rock Room on its Pinnacle Class. The new venue brings a five-piece band of musicians to the stage who rock songs of the last few decades. Ashford told us that a few passengers had mentioned that they booked this cruise based largely on the recognition of Rolling Stone and their interest in the music.
Existing partnerships with Billboard and BB King's bring pop hits to tandem piano performances and the very best R&B musicians to bring the house down. Rather than shopping guides dispersed throughout your stateroom on Nieuw Statendam, you might find an informational (not sales!) brochure about Lincoln Center showcasing the incredible classical musicians who play onboard.
Replacing roving ship performers and nightclubs blasting house music, these live music venues bring an artistic integrity and energy to the Holland America nightlife scene, especially on Nieuw Statendam.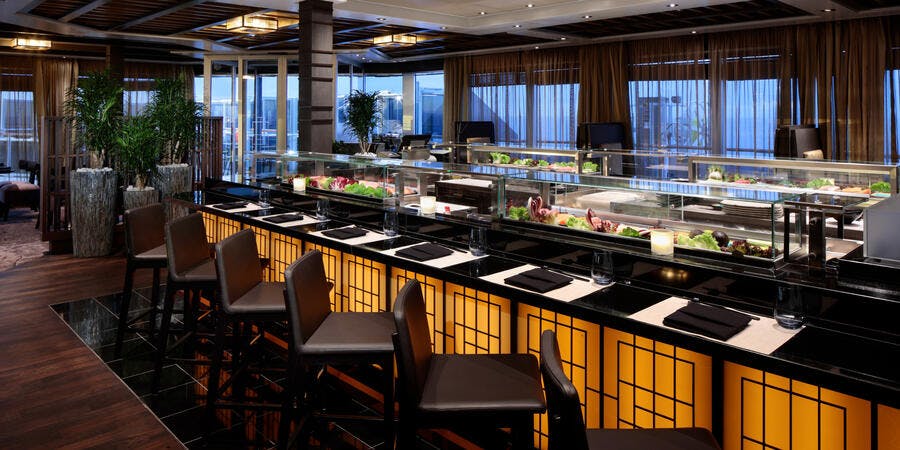 The Culinary Council isn't new to Holland America, but Frits van der Werff, vice president of food and beverage, told us that the line recently relaunched the concept to infuse new life into the program and to "make the best use of our experts and generate excitement." Led by extroverted executive chef Rudi Sodamin, you'll find dishes and touches from these chefs throughout your voyage onboard. Notably, the sushi bar inside of pan-Asian restaurant Tamarind has been broken out onboard Nieuw Statendam and renamed Nami Sushi with a new menu created by Chef Andy Matsuda. Across the fleet you'll find dishes from American chef David Burke in the Pinnacle Grill; in the Main Dining Room you'll find influences from Chef Elizabeth Falkner (with restaurants in San Francisco and Brooklyn) and Chef Ethan Stowell of Seattle.
Chocolatier Jacques Torres is the mastermind behind Holland America's "Chocolate Surprise" -- an event that includes copious amounts of cacao -- but we won't ruin the surprise.
On the beverage side, decorated mixologist Dale DeGroff leads the cocktail program and James Suckling, known as one of the world's most influential wine critics, has been recently recruited to curate onboard wine lists.
If you can't get enough culinary, a partnership with America's Test Kitchen offers free demos throughout your cruise with more intimate lessons for a nominal fee.
O Magazine & the Oprah Empire
There is perhaps no greater level of fame than that held by the mononymous Oprah, and Nieuw Statendam has the privilege of calling her its godmother. While this is the first ship that will be christened by Oprah, the partnership with O Magazine and her brand began in early 2017 and has rolled out fleetwide to include her popular book club, wellness initiatives like a morning meditation and a variety of Oprah's "favorite things" available in the onboard shops. Oprah will embark on her second sold-out sailing in 2019, which will be a Girls' Getaway cruise with special guests from best friend and editor-at-large Gayle King to creative director Adam Glassman, who will host style and shopping presentations. This lifestyle brand is aimed at cruisers looking to "live their best life."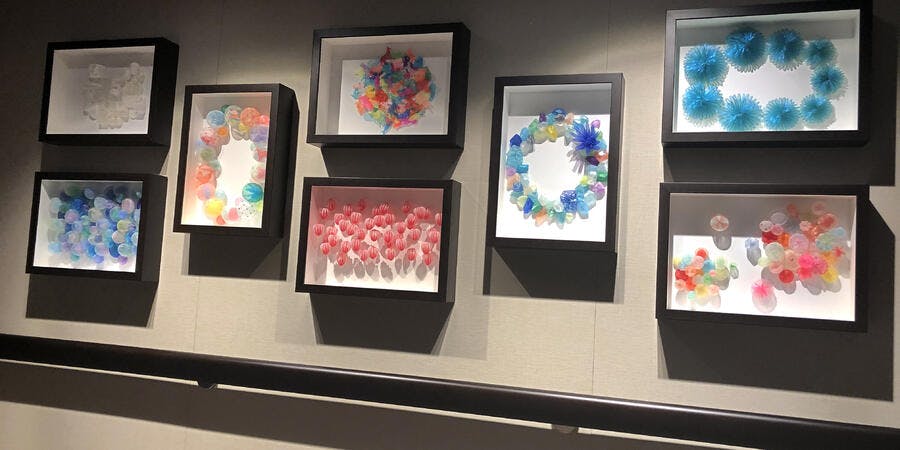 One of Holland America's least advertised but maybe most exciting partners is one of its art curators, ArtLink. The once-fledgling and now international company represents young and emerging artists, a market that CEO and founder Tal Danai tells us "did not exist 20 years ago." Nieuw Statendam marks the fourth cruise ship with an art collection curated by both ArtLink and Norwegian-based company YSA Design, and plans for future Holland America ships are already in the works. Unique to Nieuw Statendam is an art gallery that sells rather than auctions pieces that are entirely from emerging artists native to the destinations that the ship visits. What's more is that the company aims to make art accessible and affordable, with many works less than $500.
An exciting new artist-in-residence program is set to kick off on future voyages of Nieuw Statendam that will bring a local artists onboard to discuss their art and hold workshops that passengers can take part in.
A huge component of the Holland America experience is its EXC excursion program, and Food & Wine magazine marries small-group port tours with culinary expertise. Now in more than 50 ports, the Food & Wine excursions allow passengers to shop with a local chef in Barcelona or combine fine art with street food at the Uffizi in Livorno. Ashford told us you can never visit a destination enough times that you have seen everything, and that in-depth tours such as the Food & Wine excursions allow you to "put a lens over the top of that city, whether it's through the food, art, etc.," which will help you get the most out of that port.
Also found in the EXC Lounge are online destination guides, created by a partnership with experiential travel brand AFAR, that help guide cruisers through the researching and planning process for ports of call.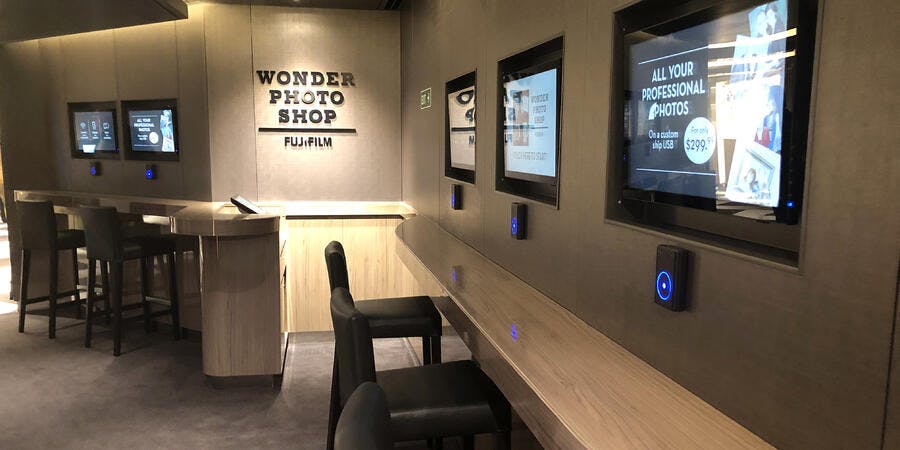 Quietly launched onboard Eurodam in June, Wonder Photo partners with Fujifilm to allow passengers to take advantage of evolving technology in order to create tangible memories from their personal photos. The fully digital touchscreens can create anything from mugs to mousepads using pictures on a mobile phone or memory card, a concept that comes from a brick-and-mortar Wonder Photo in Manhattan. The format, which is being rolled out to many ships in the fleet, not only creates a unique shopping opportunity, but eliminates the chemical and waste associated with printing so many formal photos onboard. "On early tests, both the enrichment and revenue aspects of Wonder Photo rated highly," said Ashford.