(10:45 a.m. EST) -- It took two attempts to break the Champagne bottle, but in the end, all was well as Lindblad Expeditions named its newest ship, National Geographic Venture, on Friday, November 30, at historic Treasure Island Pier 1 in San Francisco. National Geographic Venture, is a sister ship to National Geographic Quest, which launched last year.
Following a completely casual but touchingly personal welcome ashore, CEO Sven Lindblad and senior vice president Pamela Fingleton stepped aboard the vessel and walked to the bow on Deck 4. Shouting to the audience of Lindblad employees, travel partners and journalists, Lindblad asked everyone to raise their glasses. Then, Fingleton threw the bottle, attached to the ship by a long black rope, overboard. The moment it left her hands, she cried "Oh no!" as the bottle completely missed the ship.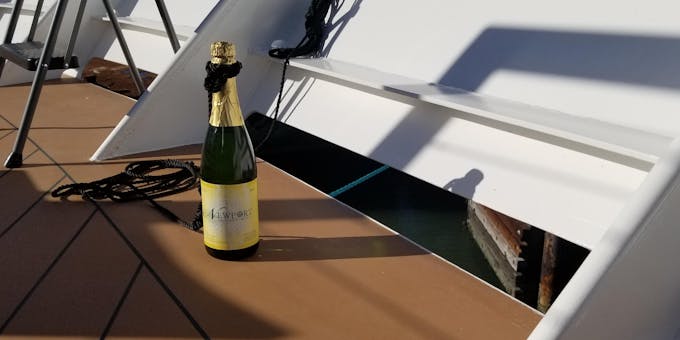 After reeling in the bottle, Fingleton gave it another heave. This time, her aim was true, and the Champagne successfully smashed against the shiny new navy blue hull of NatGeo Venture.
The moment was sweet and funny -- completely in line with a company that isn't married to formality. Most in attendance at the christening wore jeans, and there wasn't a tie in sight. In fact, the entire ceremony lasted less than 30 minutes, a stark contrast to flashier christening ceremonies for many cruise ships these days.
Sven Lindblad welcomed the attendees and thanked his National Geographic partners, including Gary Knell, chairman of National Geographic Partners, who spoke briefly as well. Captain Andrew Cook, a 13-year Lindblad employee who has served as master of two other vessels in the fleet, also spoke, praising the company and new ship, which he called an embodiment of all the things Lindblad aims to do.
National Geographic Venture carries 100 passengers in 50 cabins, almost half of which have balconies. Venture, and sister ship National Geographic Quest, are the first ships in the line's fleet to have family accommodations. Other spaces onboard include a fully equipped fitness room and a spa, a restaurant and a lounge with bar, facilities for presentations, as well as a fleet of onboard sea kayaks and paddleboards. The ships also carry full warm- and cold-water diving gear and underwater cameras for onboard experts to bring back images with.
Lindblad Expeditions is a company that focuses on the spirit of exploration and discovery. The cruise line puts passengers on more than a dozen vessels, visiting destinations including Alaska, the Arctic, Antarctica, the Galapagos and the South Pacific. National Geographic Venture will sail itineraries along the coast of California and into Baja and the Sea of Cortez during the winter before heading to Alaska next spring.