(9:30 a.m. EST) -- When MSC Seaside -- MSC Cruises' first ship custom-built for warm weather cruising, and first dedicated to year-round cruising in North America -- debuted in December 2017, Cruise Critic was sufficiently wowed to name the 4,132-passenger vessel New Cruise Ship of the Year. The gorgeous ship won our hearts with its stunning spaces, excellent food (including two gelato venues!) and abundance of amusement park attractions.
Every new ship has its growing pains, even more so when the vessel is the first in a new ship class, and Seaside was no exception. Eleven months later, Cruise Critic is back onboard MSC Seaside and we're happy to report that the ship is better than ever, thanks to improvements made by the cruise line.
Here are just a few of the ways MSC Cruises has improved the experience on MSC Seaside.
Improved Service
Among the most significant changes we've noticed has been with the service onboard. This is one area where Cruise Critic members have left mixed reviews over the past few months, but we can safely say that service is night and day from when the ship first launched.
The company set about improving three factors that contributed to the poor service reviews in the ship's early days at sea. First, the ship was understaffed when it arrived in Miami from its European inaugural. Second, the crew were unfamiliar with the ship's layout. Third, MSC had not yet invested heavily in training.
Since stepping foot onboard MSC Seaside last Saturday, we've hardly had a service blip. According to Richard Sasso, CEO of MSC Cruises (USA), the line has upped its crew training with a new facility and classes that focus on improving staff's English language and service skills.
We will add, however, that friendly is not necessarily a part of the service description. Not everyone has a smile plastered on their face; you may or may not receive a "good morning" in the hallways, and there will be times when the line's more formal European heritage shows. Americans may find that disconcerting, but all in all, we'd have to say the training is paying off. Except for a few disinterested bartenders, everyone we've interacted with has been helpful and attentive.
More English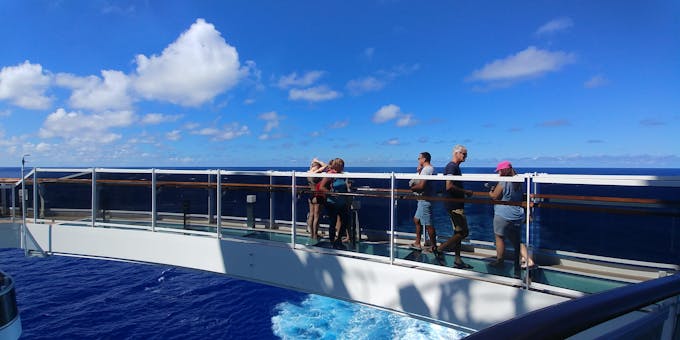 Another change Americans will appreciate has been to the onboard public announcements, which are now only in English. That's a departure from most MSC ships, where you hear several languages over the loudspeaker. MSC Seaside debuted with multilingual announcements, but at Sasso's direction, the ship has put a halt to most of that. You'll only hear multiple languages during the muster drill (and then only to describe how to put on a life jacket), and at the start of each night's show. Beyond that, all public announcements are made in English only. Additionally, every crew member we encountered spoke English.
Larger Dinner Buffet
You'll find two buffets onboard MSC Seaside, a boon at lunchtime when cruisers crowd into both locations to grab a bite to eat. At dinnertime, however, only one of the two is open. When Seaside debuted, it was the Deck 16 Biscayne Bay Buffet & Pizza location, the smaller of the two, which Sasso admitted was not the right choice. The line quickly switched it to the Deck 8 Marketplace, cutting down on wait times for food and tables.
Coffee and Beer in the Main Dining Rooms
Deny Americans beer with dinner or coffee with dessert and you're going to get an earful, and that's just what happened on Seaside. At MSC Seaside's debut, drinks in the main dining rooms were limited to wines and a featured cocktail or two -- no beers and no coffee with dessert. Cruisers were not pleased and changes were made. Today, in addition to the cocktails and wine, you can choose from a handful of beers and can order coffee, including espressos.
Au Revoir French Dining
One noticeable difference to anyone who was on a sailing in the first 10 months or so is the elimination of the French specialty restaurant Bistrot La Boheme. Originally located on Deck 8 in a space inspired by French street cafes, the venue was far from the galley, making the logistics of getting food to diners a difficulty the line was never quite able to surmount, leading to long wait times and unhappy cruisers. You can still sit here and order a drink, but the restaurant aspect of the space has been axed.
Other Changes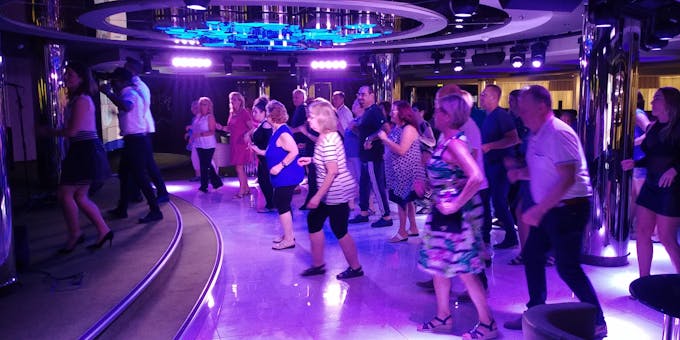 Other changes resulted from figuring out the best logistics of the ship's operation and not necessarily from passenger feedback. For instance, MSC had originally envisioned three shows in the main theater per night, with each showing being a different production. This proved too difficult to maintain; there are still three shows per night, but they're the same show on each individual night.
The line also increased the number of dinner seatings in each of the main dining rooms from two to three, giving people more choice about when they'd like to eat, and allowing them to more easily synch up with when they'd like to see the production shows. This also forces the dining crew to be more efficient, and cuts down on the lingering aspect of dining that servers who have worked on the line's European ships are used to.