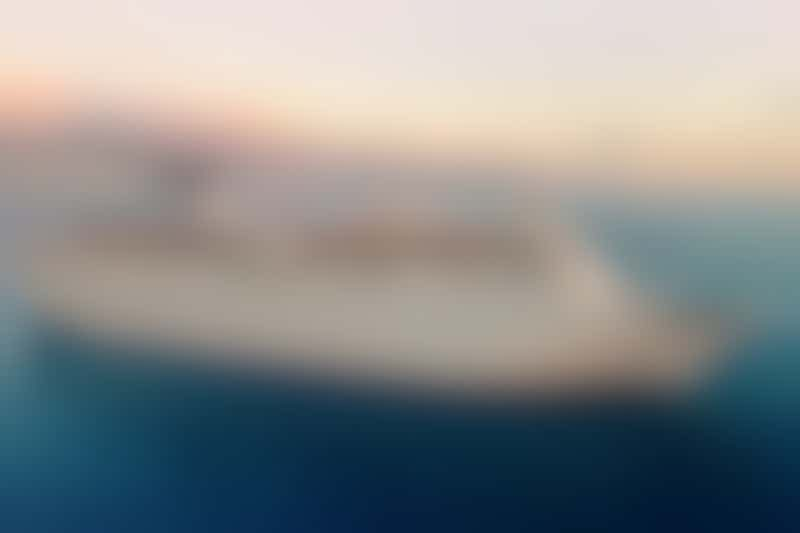 Grand Celebration at sea (photo: Bahamas Paradise Cruise Line)
We were a bit skeptical as we stepped aboard Bahamas Paradise's Grand Celebration. We weren't sure what to expect on such a short sailing onboard a 30-year-old ship that had been passed around the cruise industry. (Prior to its purchase by Bahamas Paradise, it sailed as Carnival Celebration and then was transferred to Carnival Corp. sister line Costa.)
Turns out we had no reason to be concerned. Bahamas Paradise not only offers an overall experience that's fun and affordable, but the line has found an untapped niche that caters to a specific market of drive-to passengers. Read on to see why a cruise on Grand Celebration might (or might not) be for you.
Take a cruise on Grand Celebration if:
You're Looking for a Quick Getaway
Grand Celebration sails two-night cruises that leave from the Port of Palm Beach every other day, making it easy for potential passengers to schedule. If work is getting you down, it also means you can call in sick, take a cruise and be back in the office before your boss even knows you were gone.
You Like the Bahamas
Grand Celebration's itineraries aren't varied, but they are reliable. The ship sails exclusively to Freeport in the Bahamas, shuttling between the island and the mainland every evening. (There are no sea days.) In addition, Bahamas Paradise Cruise Line offers two-, four- and six-night Bahamas resort stays through a partnership with the Grand Lucayan in Freeport, so you can extend your time ashore. If you dig the island lifestyle or just feel like lying on the beach for a day of sun and sand, it's a tried-and-true bet. While you're there, you can choose from excursions that include beach breaks, dolphin swims and snorkeling. If you choose to stay at the resort, shopping, bars and restaurants are right across the street, and the property has restaurants, bars, beach access and an extensive wraparound pool area on site.
You're on a Budget
Whether you want just a cruise or a longer Bahamas getaway, a trip on Grand Celebration is an affordable vacation. A two-night cruise starts from about $130 (plus about $65 in taxes and fees) per person. A four-night trip (one-night sailing from West Palm to Freeport, two-night resort stay and one-night sailing from Freeport back to West Palm) starts from less than $280 per person, and off-season deals add to the value. (Know that, unlike previous cruise lines in this market, you can't cruise for "free" by attending a timeshare pitch.)
You Like to Gamble
Bahamas Paradise might not offer a cruise line loyalty program, but it does have a rewards system for avid gamblers. The program, which has two tiers (gold and platinum), allows passengers to earn points, which can be cashed in for complimentary game play, free photos and gratis spa treatments, among other freebies. The more points cruisers earn, the higher their VIP status. Members of the program are also entitled to cruise discounts, express check-in, one complimentary drink per sailing and other perks. The onboard Par-A-Dice Casino isn't extensive, but it provides hassle-free gaming, and the trip is a good deal compared with other destination casinos with accommodations, meals and other entertainment included in the cruise fare. Several regulars join the ship monthly -- or even weekly -- to try their luck at the tables and slot machines.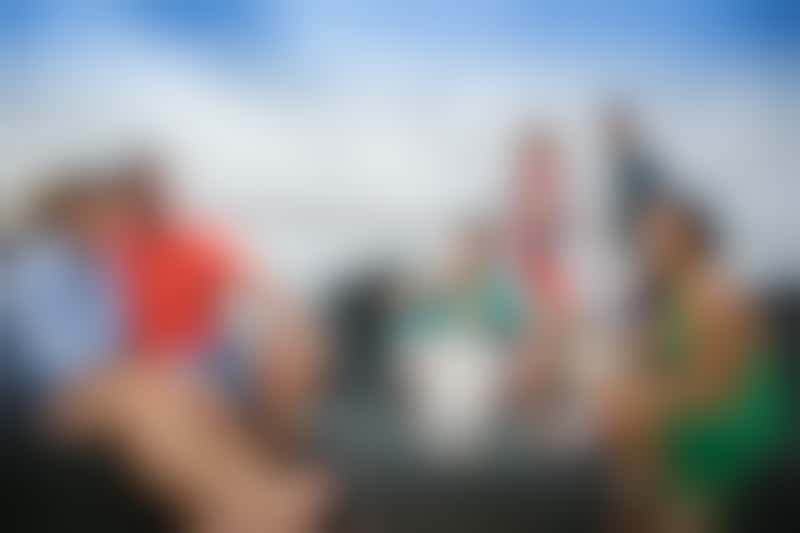 Grand Celebration keeps a relaxed dress code. (photo: Bahamas Paradise Cruise Line)
You Hate Pretense
If thoughts of formal nights or snooty suite passengers make you cringe, you'll feel right at home on Grand Celebration. Demographics skew a bit younger than what you'll find on other mainstream cruise lines, everyone is treated the same regardless of how much they paid to get onboard and thanks to the ship's ultra-casual dress code, you can leave the tuxes and ball gowns at home. This is truly a ship for carefree relaxation and fun in the sun.
You Live in Florida
West Palm is an easy drive from most places in Florida, making Grand Celebration accessible for many residents who take advantage of the line's modest pricing and the fact that no flights are needed.
You're a Fan of All Things Retro
Onboard restaurants are chic, and cabins have been refitted to include modern touches and color palettes, but Grand Celebration is still a nostalgic example of how cruise ships were built three decades ago. Ceilings are low; bars, lounges and the theater are excessively glitzy (think old Las Vegas); and the buffet looks like a cafeteria. (Don't worry -- the food is exceptional, considering the venue's small size.) There's something endearing about it all, though. The brightly colored pool deck is a throwback that prompts unabashed fun, and those who remember the bygone days of cruising will appreciate touches like the beanbag toss area and the midnight buffet.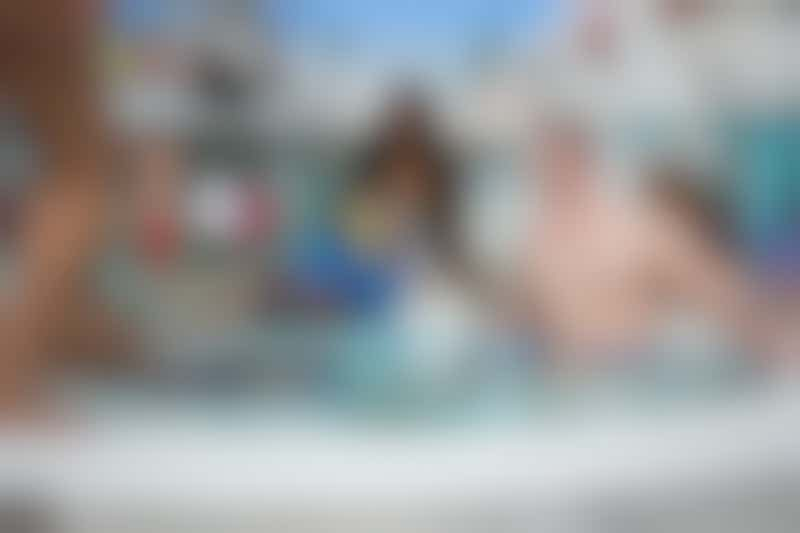 Relaxing in the hot tubs on Grand Celebration (photo: Bahamas Paradise Cruise Line)
You're New to Cruising
If you've never cruised but want to see what it's all about, a Grand Celebration sailing is an ideal way to test the waters (pun intended). You can experience cruise life for two days at a fair price, which means that you won't have invested a ridiculous amount of time or money in something you aren't even sure you'll like.
Think twice about a cruise on Grand Celebration if:
You Want a Luxury Experience
If you absolutely must have gourmet cuisine, free drinks and a balcony cabin, this isn't the ship for you. Let us be clear: food is decent, service is friendly and efficient, and it's possible to purchase more inclusive options, but if you're used to sailing with lines that offer the biggest, best and most cutting edge of everything, you might be disappointed. Plus, due to Grand Celebration's older design, only 12 of the ship's 751 cabins have balconies, and all 12 of those cabins are suites.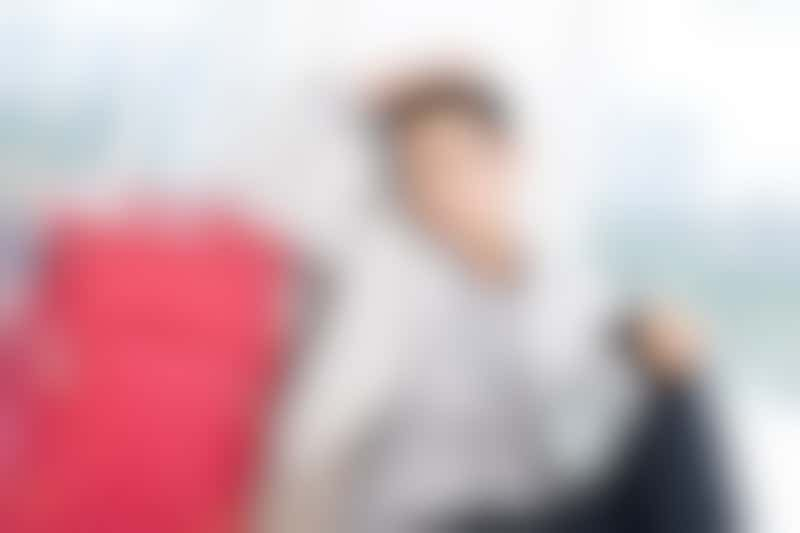 Having to fly into Florida may damper your experience (photo: Dragon Images/Shutterstock)
You Have to Fly to Florida
Because Bahamas Paradise's pricing is so low, you might find that, if you live too far away to drive, and you're only planning to take a two-night cruise, you'd pay more for airfare to get to the port than you would for the voyage. Unless you're already in Florida for some other reason or you're opting for a cruise and resort stay, it likely won't be worth your while -- particularly if you're on a tight budget.
You Need Lots of Diversions
Entertainment onboard Grand Celebration is impressive in its own right, and we felt there was plenty to do for such a short sailing. However, keep in mind that the ship is mainly used as a means of transportation to the Bahamas. If you're a fan of the latest in high-tech stage productions or you just can't do without bumper cars and ropes courses, this ship probably isn't your best option.