Launched by globe-trotter Bruce Poon in 1990 to provide authentic vacations in a responsible and sustainable manner, G Adventures has grown from a one-man show to a global tour operator with 2,000 employees. Based in Canada, the company has offices in Australia and the U.K. and provides 24/7 service. It attracts English-speaking travelers from around the world and offers six different "styles" of land and water-based travel, with its small-ship marine program covering ocean and river cruises.
Here are 10 reasons to love G Adventures for an expedition or river cruise -- and some that might mean it's not the company for you.
---
Get Off the Beaten Track
G Adventures offers cruises to some of the world's least explored and lesser-known destinations, which is a big draw if you prefer not to follow the crowd. It offers ocean voyages in the Galapagos, polar regions, Sri Lanka, Indonesia, Thailand, Cuba, Croatia, Montenegro, Greece, the British Virgin Islands and Maldives, along with river cruises along the Amazon, Mekong, the Burgundy waterways in France and India's Ganges -- where it charters two of only five boats on the river.
---
One Company, Three Ways to Sail
If you're undecided as to what type of vessel you want to sail in, G Adventures covers most bases. It offers an expedition ship, a fleet of yachts and catamarans and riverboats. The company website has useful sections where you can see and compare the different vessels with facts and figures about their size, where they sail and the number of passengers -- which leads us on to the next point.
---
Small Ships, Big Crew
G Adventures ships are tiny in comparison with other lines and the number of staff is extremely high -- on some river cruises there is a 1:1 crew-to-passenger ratio. Its expedition ship, the G Expedition, carries 134 passengers, and that's as big as it gets. The sailing ships carry between 16 to 22 passengers and the highest number of passengers you will find on the river vessels is 30. You will be on a first-name basis with your shipmates from day one and crew members will quickly get to know favorite drinks and any personal preferences. In many instances, passengers will dine at the same table as the guides and naturalists accompanying the trip, which creates a really intimate and immersive onboard atmosphere.
---
No Single Supplement
Solo cruise passengers are often hit in the wallet for traveling alone. Not so with G Adventures, which believes singles should pay exactly the same as couples in the group. Most cruises do not carry a single supplement, and if you are traveling on your own you will be paired up with a roommate of the same sex in a twin-bed cabin. An optional service for solos that want their own space is "My Own Room." This allows solo travelers to request their own private cabin for an additional fee. Note: To travel independently, passengers must be at least 18 years of age.
---
Sustainable Tourism
G Adventures supports local entrepreneurs and small businesses to strengthen communities and raise the overall quality of life in destinations where many people live below the poverty line. Its river vessels are fitted out in locally sourced sustainable wood and decorated with artifacts and materials made by local craftspeople. Passengers will find eco-friendly policies in place, such as being requested to fill up water bottles from the purified water container provided onboard in order to reduce plastic waste. They are also asked not to give money to children living in rural areas and villages who have little experience of tourism and have not learned to beg. Passengers who wish to make a contribution can donate through Planeterra, G Adventures' nonprofit foundation. Planeterra supports the provision of sustainable social and environmental solutions to help combat poverty. G Adventures matches all individual donations and pays all administration costs, which means that 100 percent of each donation is doubled and goes directly to the various projects.
---
Authentic Experiences
The small-group cruises visit lesser-known destinations, some of them only accessible by ship. G Adventures promotes "face-to-face" travel that takes passengers to off-the-beaten-track places, including some where Western visitors are a rarity. Rather than spend money on lavish hotels and pricy Western-style meals on the land elements of a trip, G Adventures works with locally owned businesses rather than big international chains. Similarly, on some shore excursions it will use local transport, such as tuk-tuks and rickshaws, rather than a minibus.
---
National Geographic Journeys
G Adventures has teamed up with National Geographic to offer the option of greater hands-on exploration and insider access, all with upgraded accommodations and more inclusions than standard tours. Selected cruises, such as a Ganges river cruise, are offered as National Geographic Journeys. Taking passengers deeper into the cultures and habitats of places visited, these tours offer even more interactions with local experts, along with additional freedom to roam independently within the structure and security of a small group tour.
---
Guaranteed Departure & Lifetime Deposit
Once your cruise booking is accepted, there is a 100 percent guaranteed departure, even if few passengers book the sailing (on our Ganges River cruise, there were just seven passengers on a vessel that carries 24). G Adventures claims to be the first travel company in the world to guarantee every single one of its departures. It also offers lifetime deposits, so if passengers have to cancel or delay a cruise for any reason the deposit will be held and remains valid until you are ready to rebook another date. The deposit can also be passed on to a friend or family member.
---
Animal Welfare
G Adventures has adopted the recommendations developed by the Association of British Travel Agents (ABTA) in conjunction with the Born Free Foundation, a third-party organization with a mission to protect vulnerable animals from abuse. It aims to ensure that all animals encountered on tours are treated humanely. The company uses the guidelines of these organizations as well as others, including World Animal Protection, to make informed decisions regarding which activities to include or exclude in shore excursions. G Adventures opposes and discourages practices that are illegal or have a negative impact on animal protection and welfare. The company does not include activities where travelers come into direct contact with animals meant for the wild, particularly where animals are touched or fed by visitors or are used as props for photo opportunities. It also doesn't include any tourist activities that are unnatural to wildlife or endanger animals, such as elephant or ostrich riding, unlicensed zoos, snake charming or any sanctuary that practices breeding for commercial trade.
---
No Upper Age Limits
Some tour operators impose an upper age limit on adventure tours. There are no restrictions on G Adventures' cruises, although travelers with pre-existing medical conditions are required to complete a medical questionnaire. As a result, the cruises are very diverse, and you are just as likely to find someone aged 18 on the cruise as you are someone of 80 plus.
---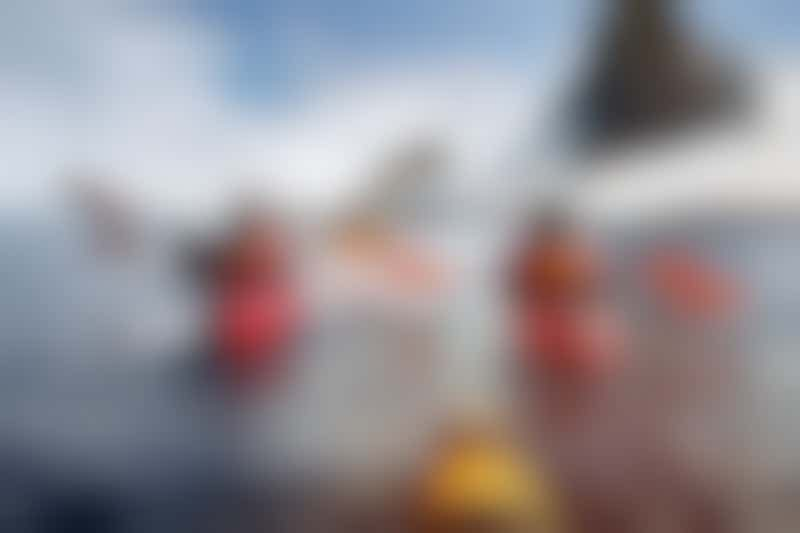 Kayaking in Antarctica (Photo: G Adventures)
G Adventures is an adventure travel pioneer offering a selection of affordable small-group cruises to out-of-the way places. However, this isn't for everyone so here are some reasons why the company might not be for you.
Variable Schedules
When you travel on a large ocean ship or mainstream river cruise, things run like clockwork, with shore excursions leaving and arriving back at the ship on the dot. With G Adventures, you have to be prepared to -- quite literally -- go with the flow and adopt a laid-back and flexible attitude. The nature of many of the destinations visited means that schedules can change on a day-to-day basis, sometimes at very short notice, due to the vagaries of river or ocean conditions that affect small ships or the land-based element of the itinerary. For example, the planned six-hour train journey to reach the vessel on our Ganges cruise turned into an 11-hour road trip as the train was canceled. So, if this is the stuff of your nightmares, the cruises won't suit you.
---
Adventure
The clue is in the name, and it is the very thing that draws passengers to G Adventures in the first place. The company specializes in offering authentic travel experiences at a grassroots level, so none of the excursions are contrived or feature sanitized theme park-style attractions specifically aimed at tourists. Boats might moor at places where there are no docks and the only access to the destination being visited is up a muddy bank. Of course, members of the crew are always on hand to help, but the trips will take some people out of their comfort zone.
---
Local Foods
In order to keep fares reasonable, the company invests money in local businesses and people. Aside from items such as cereal, omelets and oatmeal at breakfast, the onboard cuisine will be regional, and when ashore, passengers will be taken to local cafes rather than expensive Western-style restaurants. So, G Adventures will not appeal to anyone who craves a taste of home when they are away.
---
Modest Lodgings
All of the ships are comfortable and offer high standards rather than all-out luxury. Similarly, any hotels used during land stays will be good but not five-star. Anyone seeking sumptuous surroundings and butler service will need to look elsewhere.
---
Limited Entertainment
You will not find glitzy entertainment on G Adventures' fleet of small ships. Local dancers, singers and even magicians might hop aboard on some evenings, and members of the crew stage things such as cooking demonstrations and napkin-folding classes. The main entertainment comes from stepping off the boats to experience the real world.