I've heard that cruise ships always have a buffet. What kind of buffet is it?
The buffet restaurant on a cruise ship is typically one of two primary onboard dining venues that are included in the cost of a cruise. (The other is the main dining room.) It's a casual setting where mostly pre-prepared food is served at different stations and passengers get in line to take the food they want before sitting down. Most major cruise lines offer a buffet restaurant, nearly always on the same deck as the pool. Passengers can help themselves to food, salad-bar style, or -- in some cases -- the food will be laid out, but servers behind the counter will dish out food per a passenger's instructions. Some food stations do offer made-to-order menu items; these may include a deli sandwich counter or wok, pasta or omelet station and vary by cruise ship. While some cruise ships employ trays, so you can carry multiple dishes at once, others have gotten rid of trays, so you might need to make several trips to get all the food you want.
What kind of food can I get at a cruise ship buffet?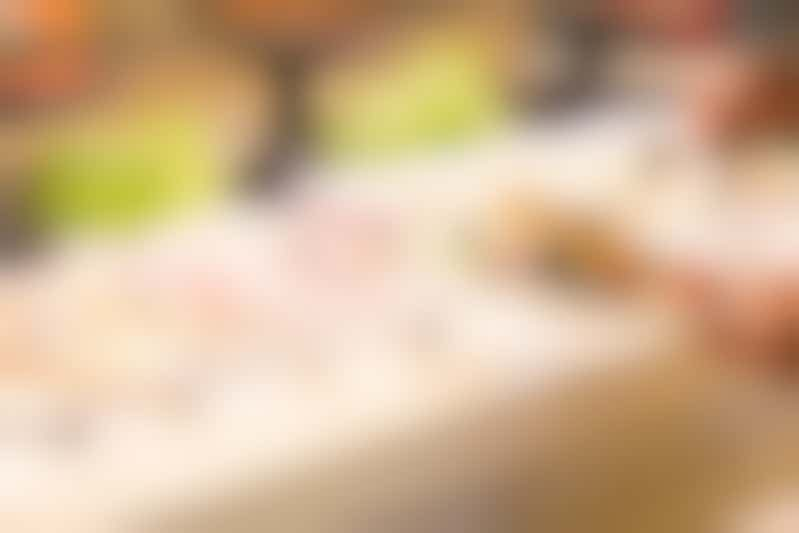 Carnival Breeze's Salad Bar in Lido Marketplace (Photo: Carnival)
Most buffets serve breakfast, lunch and dinner; some will also offer midday or late-night snacks, while others have select stations open 24 hours a day. Breakfast could include early- and late-morning continental breakfast, plus eggs, pancakes, waffles, breakfast pastries and breads, breakfast meats, cereal, yogurt and fresh fruit. Lunch will typically have hot entrees, a deli or sandwich area, pizza station and often some sort of international or themed menu, as well as an array of desserts. Dinner will also feature hot entrees (often similar to the main dining room's offerings), possibly international offerings (like sushi or tandoori), a pasta station, a meat carvery and desserts. Some might have a special ice cream section or soft-serve dispenser.
Midday snacks, if available, might include cheese and crackers, cookies, ice cream, scones and jam (for a buffet version of afternoon tea) or hot appetizers. Typically, the outdoor grill is open all day long offering hot dogs, hamburgers and French fries. Post-dinner snacks might be pizza or pasta, finger foods like sandwiches and fruit, or special setups that change nightly (like a nacho bar or sundae stations).
Again, most of the food will be already prepared, and you can help yourself to (or request) servings. The made-to-order stations typically have longer lines.
How is the buffet laid out?
Different cruise ships do things differently. Some put all the stations in one row, back-to-back, and you make your way through one long line. Others set up separate stations or service areas, so you only need to queue in the food area that appeals to you. Typically, a buffet will have two sides and a cross-over in the middle or back; sometimes the stations on either side are mirror images and sometimes they are different, so it's always best to familiarize yourself with your cruise ship's particular layout, so you don't miss anything.
Will meal selections be the same every night or will there always be something new?
While certain food items will be available every day -- such as scrambled eggs at breakfast or sandwich fixings at the deli counter -- there will always be a changing assortment of hot entrees and daily specials. Also, station themes -- international, pasta, breakfast pastries, etc. -- will stay the same, so you can learn your way around the buffet, but individual dishes within those stations can change from day to day.
Are cruise buffets self-service or are there waiters?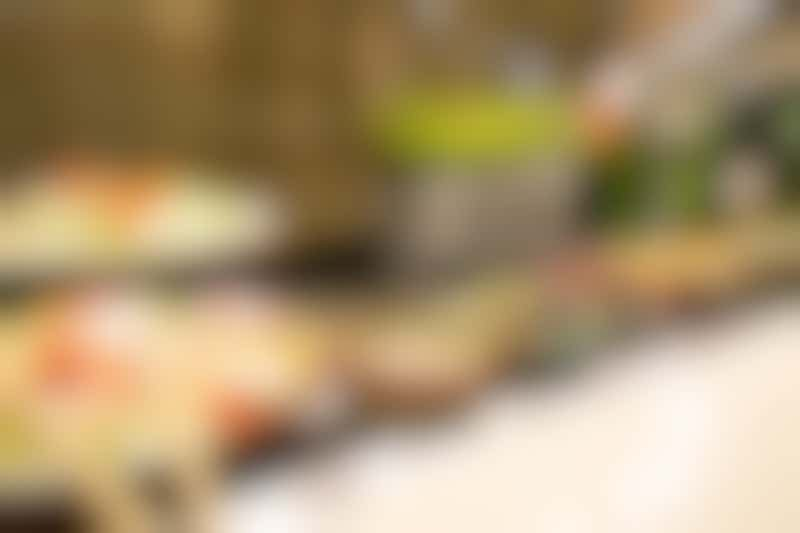 Salad Bar on Carnival Breeze (Photo: Carnival)
The main food areas are either self-serve, or there is a crewmember behind the counter, who will dish up food at your request. However, most buffets do have wait staff who come around to bus dishes or take drink orders. Some luxury cruise ships do have casual restaurants that combine a buffet with a small menu, and you can request the made-to-order items from a waiter, who will bring them to your table.
In addition, some regular buffets become casual sit-down venues at night with waiter service.
Are drinks served in the buffet?
Yes. Free-of-charge drinks are available from dispensing machines. They include water, juice (maybe an iced tea or lemonade), coffee, tea (hot and iced) and hot chocolate. Milk and chocolate milk are usually available at breakfast, either from a dispenser or in cartons on the buffet. Buffets tend to have bars and waiter-based drink service, so you can order soda, wine, beer, cocktails and other alcoholic beverages, usually for an extra fee.
Where do I sit?
The buffet restaurant will feature chairs and tables, as well as booths or banquettes, for seating, and in most cases, passengers are on their own to locate an empty table. Finding a table can get tricky during peak times, such as lunch on embarkation and sea days. In addition, there is usually alfresco seating, either out by the pool or behind the buffet at the very back of the ship. Finally, no one will stop you if you make a plate of food and carry it elsewhere on the ship, such as your cabin.
Most mainstream cruise ships will have high chairs available; ask a crewmember if you can't locate one.
When can I eat in the buffet?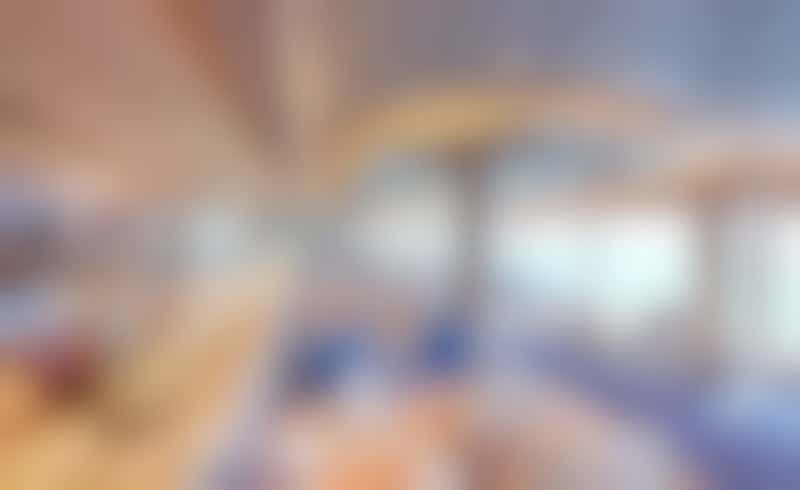 Lido Restaurant on Cunard (Photo: Cunard)
Dining times will be posted in your ship's daily newsletter. Some cruise ships open the buffet only for meals and close in between. Others are open 24/7, or open from early breakfast through late-night snacks, only closing in the middle of the night. Some buffets keep their self-service drink stations open all night, even if no food is on offer. You can get food and drink in the buffet anytime you want during open hours, take as much food as you like and go back multiple times, and even get food from the buffet if you've already eaten (or plan to eat) in the main dining room or another onboard restaurant.
I've heard of the famous cruise ship midnight buffets. Do cruise lines still do this?
It used to be a cruise ship tradition to have a midnight buffet, a late-night smorgasbord laden with fancy desserts, ice sculptures or just greasy comfort food. Most lines have done away with these feasts as they created too much food waste, though many cruise buffet restaurants have limited snacks available late at night.
How do I have to dress to eat in the buffet?
The buffet restaurant is usually the most casual onboard restaurant. Rules about appropriate dress are less stringent at the buffet. Casual dress is always acceptable, and unlike the main dining room, shorts, flip flops and beach cover-ups are all acceptable attire. It's requested that you do wear a shirt and shoes to the buffet -- and dry off between swimming in the onboard pool and grabbing a bite to eat.
What if I have a food allergy or dietary restriction?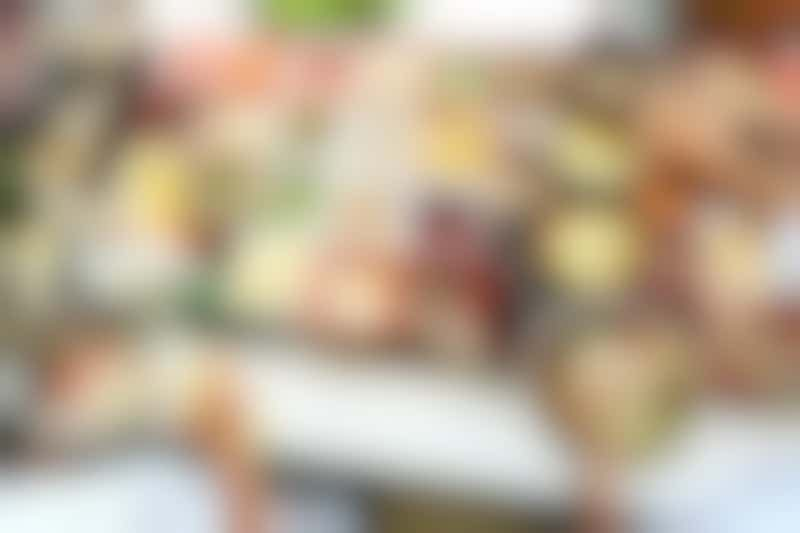 Multipurpose Salad Bar on Carnival Breeze (Photo: Carnival)
Cruise ship buffets usually have a few vegetarian items available; some lines mark these and gluten-free items, but more often, you need to ask the server manning each station if a food item meets your needs. In general, the buffet is not as good as a sit-down restaurant for people with food allergies because dishes can become contaminated when tongs are put back incorrectly or food drops from a serving utensil into another dish. You can ask for a dining room manager to show you the available options, but if you're very concerned, it's often best to dine elsewhere.
What if I have mobility problems, how can I get my food and bring it to a table?
A disability should not keep you from dining at the buffet. If a travel companion cannot assist you, simply ask a server or other crewmember for assistance, and someone will be able to carry a plate for you.
How can I learn more about the buffet and dining onboard a cruise ship?
You might like the following articles:
Don't Move the Tongs: The 10 Commandments of Cruise Ship Buffet Etiquette 10 Tips for Cruising with a Dietary Restriction -- and Eating Well Eat This, Not That: Tips for Eating Healthy on a Cruise What's Cooking in Onboard Cuisine
The What to Expect on a Cruise series, written by Cruise Critic's editorial staff, is a resource guide, where we answer the most common questions about cruise ship life -- including cruise food, cabins, drinks and onboard fun -- as well as money matters before and during your cruise and visiting ports of call on your cruise.