What is not included in my cruise fare?
On most cruise ships, crew gratuities, shore excursions, spa treatments, casino play, internet and purchases in the onboard shops will all be additional costs. Expect to pay extra for certain restaurants and food items, including room service on some cruise lines, special menu items like surf 'n' turf or a la carte snacks like pastries and sushi. Alcoholic drinks, specialty coffees, bottled water and freshly squeezed juices all come with a price.
There are fees for accessing some areas of the ship, including limited-access sundecks and some spa pools. Services like laundry and dry cleaning, baby-sitting, baby care items ordered in advance, and some fitness classes may also show up on your bill as extras. And while your cruise fare includes most entertainment, arcade games and selected shows and entertainment or onboard activity experiences carry an additional cost.
As a reminder, meals in the main dining room and buffet, water and juice from buffet or pool-area dispensers, select fitness classes and use of the gym, kids and teens facilities, some onboard workshops and seminars, the main pools, most entertainment and your room are included in the price you pay for your cruise.
Select cruise lines -- mostly luxury -- are more inclusive; your cruise fare might cover excursions, specialty meals, most drinks (excepting the priciest wines and liquors), gratuities, Wi-Fi and more.
What can I prepay?
Several additional-cost elements of your cruise experience can be paid for before you get on the ship. Crew gratuities can be paid up front, rather than tacked on to your account at the end of the cruise, as can beverage and specialty dining packages. Laundry packages also can be pre-purchased if you anticipate needing extensive laundry services for the duration of your cruise.
Shore excursions and meals in extra-fee restaurants can usually be booked in advance; some lines require that you pre-pay for them.
Special extras, such as sparkling wine, flowers, canapes or cabin decorations, can also be arranged prior to your sailing, so they'll be waiting for you (or someone special) when you arrive.
How do I pay for purchases onboard?
All onboard purchases are paid for using your cruise card, which doubles as your room key. This card is set up before boarding and serves as your ID to get on and off the ship, provides you access to your cabin and makes for easy swiping when you decide you need a pina colada.
You can either link your card to a debit or credit account, or provide cash up front to fund your onboard spending. Be aware: If you link to a credit or debit account, the line might put a hold on your account until after you disembark the ship.
Some cruise lines also use wearable and/or smartphone technology ranging from a casino chip-sized medallion to wristbands that manage onboard payments, security and even open stateroom doors rather than traditional cruise cards.
Can I pay for anything (including tips) in cash?
None of the onboard shops, restaurants, bars, spas or other facilities on your ship will accept cash, but it isn't uncommon to leave a few dollars for a room steward, your waiter or another crewmember who you feel has demonstrated exemplary service. Typically, this is done at the end of your cruise. For more about onboard tipping, see our tipping article.
Can I set a spending limit?
Yes. The best way to do that is to put a set amount of cash into your onboard account at the beginning of your cruise. When it runs out, it runs out. This is especially helpful with kids and teens who might get swipe-happy at the arcade, candy store or onboard shops.
How do I settle my account?
You will receive a paper statement at the end of your cruise (usually the last night) alerting you to the balance that will be charged to your account. You can also keep an eye on your tab throughout the cruise. On some ships your account information is available for viewing on the in-cabin entertainment and information system on the TV. On others, you can visit an automated onboard kiosk or the reception desk to get a copy of your bill.
If you have an issue with a charge, guest services is also the place to settle it. It's much wiser to dispute or discuss a charge while you're still onboard; don't wait until you're headed home to declare you didn't buy that second beer.
Are there ATMs onboard?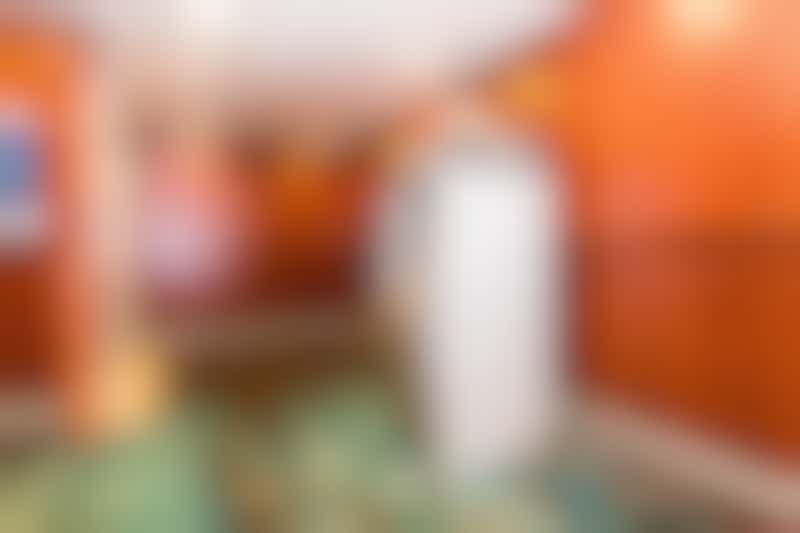 ATM on Pride of America
Yes, on most large cruise ships, you'll find ATMs, but they carry heavy surcharges to use. On smaller ships or riverboats, don't expect to find many (if any) machines.
What currency is used onboard if I'm sailing overseas?
Onboard currency depends on the cruise line with which you're sailing. If it's an American cruise line, the onboard currency will be the dollar; if you're sailing a European line, expect the onboard currency to be the euro. It's always best to check with your line before boarding.
Can I pre-purchase onboard credit or spending money?
Yes. Whether you're buying onboard credit as a gift or for personal use, it's available for purchase before your cruise or once onboard. Find out how to earn onboard credit for free before springing for it yourself.
Are there truly all-inclusive cruises?
That depends on what you consider all-inclusive. Certain luxury and river cruise lines include things you would typically have to pay for on a mainstream line, such as beer or wine with meals, top-shelf cocktails, shore tours, specialty dining venues, internet, concierge and butler service, crew tips and more.
How can I learn more about onboard expenses?
You might like the following article:
---
The What to Expect on a Cruise series, written by Cruise Critic's editorial staff, is a resource guide, where we answer the most common questions about cruise ship life -- including cruise food, cabins, drinks and onboard fun -- as well as money matters before and during your cruise and visiting ports of call on your cruise.