Can I bring my kids on a cruise?
Yes, family cruises are a great vacation option, though cruise lines do not permit you to bring infants younger than 6 months old on typical sailings. (On most exotic and transoceanic sailings, children must be 1 year or older.) In addition, some small, adventure-focused ships and luxury lines that don't cater to youngsters discourage bringing children younger than school age onboard. Check with your cruise line regarding its age policies.
Are fares discounted for babies and kids?
This one gets complicated. With some rare exceptions, most cruise lines make children pay full fare. (This is because mainstream cruise lines tend to offer low fares and make more money on onboard purchases -- drinks, casino play, specialty dining, etc. -- that many children won't be buying.)
However, you can find promotional sales offering discounted or free kids' fares. MSC Cruises, for example, always offers free fares for kids younger than 2, with free passage for kids ages 2 to 17 on select cruises or with limited availability. These only apply if the kids are sharing a stateroom with two full-fare-paying adults, so if you want to put your children in an adjoining room, the deals don't apply.
Also, if you are planning on a sharing a cabin, you can save money on your family vacation by looking for discounted third- and fourth-passenger fares that apply to anyone.
And while cruise fares might not be discounted, kids often pay a reduced rate for shore excursions and specialty restaurants, and babies and toddlers are often free.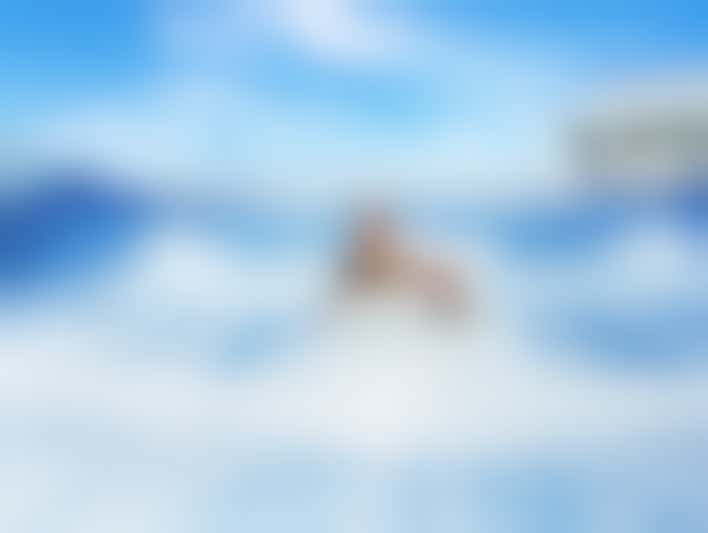 Royal Caribbean's Flowrider Surf Simulator (Photo: Royal Caribbean International)
Are there activities for kids on a cruise, or will they get bored?
Mainstream cruise lines that promote family cruises (think Royal Caribbean, Carnival, Disney, Princess and Norwegian) will have tons of activities for kids of all ages. Ships generally have pools, dance classes, video games and arcades, Ping-Pong, basketball courts and mini-golf.
Many ships even have water slides and water play areas. A few have ropes courses, climbing walls, ice skating rinks, surf pools, skydiving simulators, carousels, bumper cars, go-karts, laser tag and ziplines.
In addition, these cruise lines offer kids clubs that are dedicated play spaces with camp-like programming, where counselors lead activities from arts and crafts to scavenger hunts, cooking classes, science experiments, sports tournaments and late-night theme parties. Some even have nurseries or soft-play areas for babies and toddlers.
Luxury lines typically put on activities during summer and holiday sailings with an unusually high number of kids onboard, but only a few ships have dedicated play areas for children. River and expedition cruise lines might have specific family sailings, usually aimed at school-age kids, with special activities. Solid options include Adventures by Disney, in partnership with AmaWaterways, and Tauck's family-focused Tauck Bridges sailings.
Is there kid-friendly food on a cruise?
Whether your kid prefers chicken fingers or caviar, he will definitely find food he'll like on a cruise. On the biggest ships, the main dining room will typically have a kids menu with all the staples (pizza, pasta, chicken fingers, fish sticks, etc.), and the buffet will usually have a pasta station, deli sandwich station (plus fixings for PB&J) and a pizza counter.
Fruit, ice cream and dessert are plentiful, and breakfast favorites (hot and cold cereal, eggs, pancakes, waffles, yogurt) will satisfy anyone.
If your child is more adventurous, she can order off the adult menu (request a half portion if necessary) or dine with you at specialty restaurants serving Asian, Italian, French, Brazilian and other cuisines. On some lines, kids can eat for a discounted rate at the extra-fee venues.
Cruise lines are aware of a whole host of dietary restrictions and do their best to accommodate. If your child is vegetarian or vegan, gluten-free or diabetic, or has any other food allergy or restriction, simply let your cruise line know in advance of sailing, and talk to the maitre d' on embarkation day.
Dining staff onboard can point you toward safe food choices. They can even bring you the next day's menu early so you can indicate what you'd like to order, and the chefs can adapt it to your kids' requirements. (Same goes for adults, too!)
What if my kid can't sit through a whole dinner?
Dinners in cruise ship main dining rooms and specialty restaurants usually run more than an hour -- longer than the typical family meal at home. Older children might handle this just fine, and you can always bring a book or portable video game (as long as it can be used with headphones) to entertain fidgety kids.
If you think your little ones won't make it through, talk to the dining staff about expediting service. (You might need to put in your food orders in advance.) Or ask if they can have a fruit salad ready for your child as soon as dinner begins. Try to request an early dinner seating, or show up early for anytime dining, if you have young children used to eating early.
If your kid just can't last through a formal dining experience, you still have plenty of choices. You can eat at the buffet restaurant or order room service to your cabin, though room service dinner might incur a fee on some lines. (Many parents will feed their kids early in a casual venue, send them to evening activities in the kids club and then enjoy a leisurely dinner on their own.)
Some cruise lines, such as Royal Caribbean, offer a program in which kids and parents go to the dining room together, the kids get served quickly, and then they're picked up by youth program staff, who take them to the kids club for activities while parents enjoy the rest of their meal. Other lines might have special kid lunches and dinners as part of the youth programming, though typically kids clubs close during mealtimes.
For more about onboard dining, see our piece on cruise food.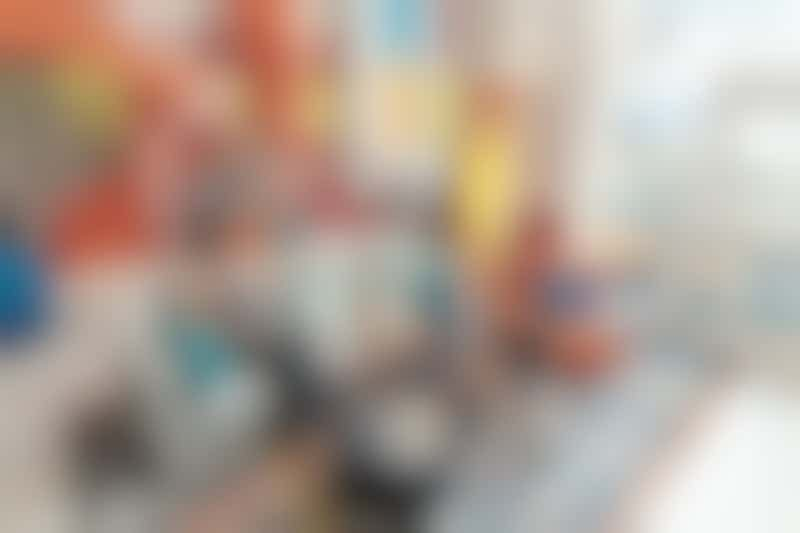 The Ultimate Family Suite on Symphony of the Seas (Photo: Royal Caribbean)
Can my whole family fit in one cabin?
It depends on the size of your family. Standard cabins fit two, but many can fit three or four with pull-out sofas and upper bunks that pull down from the ceiling. Designated family cabins can sleep five or six, and some upper-tier suites can fit as many as 14 in a series of interconnected rooms.
Sleeping four to a cabin can often be the most economical way to go, but you'll be in close quarters, sharing one bathroom, and storage and floor space will be tight. Many cruise lines will let you put children of a certain age in an adjoining room or a cabin across the hall.
Does the ship provide cribs, strollers, bottles or purees for my baby? What about diapers, baby meds and other kid necessities I forget to pack?
Most cruise lines will provide portable cribs (usually Pack 'n Plays) on request; let your travel agent or cruise line representative know as soon as you book. High chairs are typically available in dining areas. A few lines will puree food for new eaters, but not all, so it's best to check.
Generally, cruise lines won't provide strollers, diaper pails, bottles or bottle warmers for your little ones. (Disney offers a few of these things, but it's the exception.) You usually can get a mini-fridge in your room to store milk, but double check whether you need to request one or if they come standard. Learn more about cruising with babies.
A few cruise lines sell diapers and wipes, but most do not sell baby items or children's medicines. You can likely find items like regular toothbrushes and toothpaste, sunscreen and after-sun lotion, and kids T-shirts. Learn more about shopping on cruise ships.
Will the ship show kid-friendly movies and TV shows?
Most mainstream cruise lines will offer a range of TV channels on the in-room TVs, often including the Cartoon Network or a movie channel with kid-friendly options. (Disney Cruise Line will play its signature cartoons and both animated and live-action movies.)
In addition, some cruise lines have movie theaters or giant poolside movie screens. These will play a mix of kid-friendly and adult movies, often saving the more grown-up films for later at night.
Can my kids bring their portable game players onboard?
Portable game players, e-book readers and laptops of all sizes are permitted onboard. (You won't be able to bring a full-size video game system and hook it up to your cabin's TV.) If you bring a lot of electronics, you'll need to be strategic about charging since many cruise cabins only have one or two outlets.
To be respectful of other passengers, make sure kids use them with headphones in public areas. In addition, many cruise ships will have Wii or other game systems set up in the kids clubs and occasionally in public areas for tournaments.
Will there be activities or venues that are not appropriate for my children?
Yes, cruise ships will have bars, casinos and night clubs that are not geared toward children, especially at night. (Sometimes, cruise ship staff will use a bar area for an activity like trivia during the day.) Some ships have adults-only pool or sun deck areas, where children are not permitted; look for signs. R-rated comedy shows and adult game shows are common, but these take place late at night and typically are marked 18+.
It's pretty easy to keep kids away from any age-inappropriate activities, especially since many take place after bedtime. However, they will see plenty of people drinking alcohol by the pool, in a centrally located bar or at dinner, should that be a concern.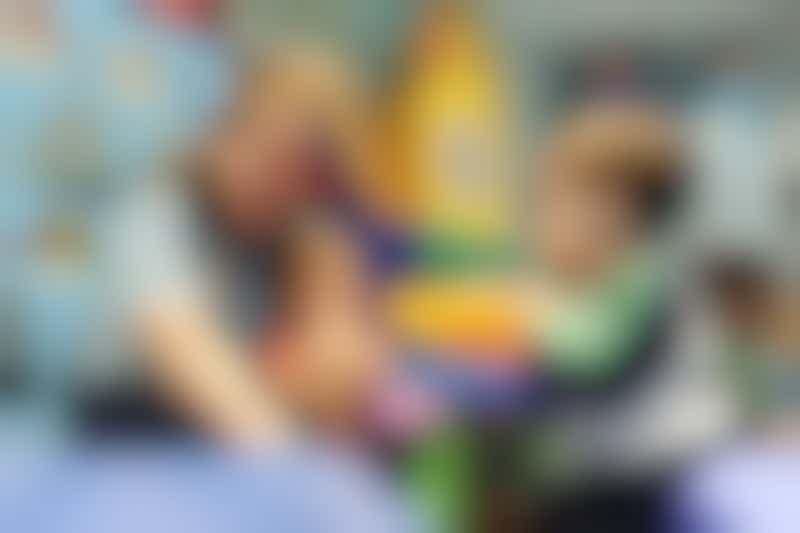 It's a Small World Nursery on the Disney Dream (Photo: Disney)
Is there babysitting?
Most big-ship lines offer group babysitting in the kids club until midnight or later. "Camp" activities tend to be free during the day and early evening, but late-night drop-off playtime usually incurs an hourly cost.
Very few lines offer in-cabin babysitting. It tends to be based on staff availability, and children must be one year or older.
In addition, cruise lines differ as to whether you can drop off your kids at the club on a port day and then leave the ship. Some require at least one parent or guardian to remain onboard if the children are at the kids club.
Can my kids go on the cruise line's shore tours?
Yes, families can sign up for excursions in port together, as many tours and activities are family-friendly. Some cruise lines, such as Disney, tag certain tours as family-friendly excursions, but beach breaks, water sports and museum trips can all be interesting to kids, depending on their age and personality.
Some tours do have age or height/weight restrictions, so read descriptions carefully. Younger kids (usually 3 to 12) might be charged a discounted rate, and kids younger than 3 years old sometimes tour for free as lap children (meaning they ride on their parents' laps on the bus).
Will my kids be safe exploring the cruise ship on their own, or do I have to stay with them at all times? Alternatively, will they be safe in the cabin on their own?
Cruise ships are like floating cities, carrying thousands of people you do not know. You should take the same precautions you do at home, at a hotel or resort on land, or in any city worldwide.
That might mean that you keep the littlest kids with you at all times, allow older kids to leave the kids club on their own only if they go directly to you or your room, and let teens have free range. Or you might choose differently, based on your family's customs and personalities. Certainly, you will want to instruct kids or teens allowed to roam freely on using common sense to avoid danger. (Don't climb the ship's railings, don't go to secluded places with unfamiliar adults, etc.).
We advise against leaving babies and young children alone in a cabin, but you will need to use your judgment as to at what age this is permissible, and if whether the kids are asleep or awake makes a difference. Know that your cabin steward does have access to your room.
You will be provided with junior-sized life jackets in your cabin, if necessary, and in case of a real emergency, cruise ship staff have procedures for bringing kids from the kids club to meet you at your assigned lifeboat stations.
You can learn more in our story about staying safe on a cruise ship.
What happens if my kids get sick onboard?
Large cruise ships have medical centers onboard; riverboats are never far from an on-land hospital or medical center. If your child gets sick or injured, he or she will be treated by the ship's doctor. If the child is seriously ill, the doctor may require you to disembark the ship and seek treatment on land.
Onboard doctors don't take insurance, though you might be able to get reimbursed through your medical or travel insurance provider. To avoid high onboard medical bills, you might want to pack a thermometer and children's meds (Tylenol, Pedialyte, etc.) to bring with you so you can handle minor colds and fevers on your own.
To avoid common vacation maladies, make sure your kids wear sunscreen, stay hydrated (especially on hot days) and wash their hands before and after eating or playing in the kids club. For more, see What to Expect on a Cruise: Getting Sick on a Cruise.
How can I find out more about cruising with kids?
You might like the following stories:
The What to Expect on a Cruise series, written by Cruise Critic's editorial staff, is a resource guide, where we answer the most common questions about cruise ship life -- including cruise food, cabins, drinks and onboard fun -- as well as money matters before and during your cruise and visiting ports of call on your cruise.