Will my cruise ship have a pool?
All mainstream and luxury cruise ships have at least one pool; river and expedition ships often do not. In general, cruise lines put their pools on the topmost deck, referred to as the Pool Deck or Lido Deck. ("Lido" is a 19th-century term meaning a fashionable beach resort.)
In general, you'll find at least one pool, flanked by one or more hot tubs, plus showers for rinsing off and rows of lounge chairs for sunbathing. Pools are typically small and no deeper than 5 or 6 feet. Diving and jumping is not permitted; you are welcome to swim laps, but each lap will be short, and the pools will likely be crowded at peak hours.
A handful of cruise ships also have a secondary pool area at the back of the ship, overlooking the wake, and some have a swim-against-the-current pool for laps. Almost all cruise ships will have pool lifts for passengers with mobility difficulties.
What else is on the Pool Deck?
The main pool area often has a stage for live bands or for entertainment staff to lead games or line dancing, a cleared-off bit of deck for dancing and at least one bar. Roving bar staff will also wander around the deck taking drink orders and bringing buckets of beer or fruity cocktails to your lounge chair, so you don't need to move.
Many large ships also have one or more waterslides, including basic slides, side-by-side racing slides and innertube rides.
The main pool is often in the center of the ship, with the casual, buffet restaurant on one end and the spa or fitness center at the other -- though this is not always the case. Adjacent to the pool is often a station for grilled food (burgers, hot dogs, fries, etc.), pizza or other hot and fast fare, as well as an ice cream serving station or self-serve soft-serve ice cream machines.
The pool area will typically have some tables with chairs for alfresco dining or playing games poolside, as well as Ping-Pong or foosball tables and shuffleboard courts.
On some ships, there will be above-pool giant movie screens that show concerts or sports events by day and movies by night.
Where can I sunbathe by the pool?
Cruise ship pools are surrounded by rows of lounge chairs for sunbathing. The deck immediately above the pool is often more like a balcony that rings the main pool area. There, you'll find additional rows of lounge chairs overlooking the pool or the ship's railing out to sea. More sun deck space might be found forward or toward the back of the ship on these upper decks.
Can I reserve a lounge chair?
The lounge chairs around the pool are open to all passengers and may not be reserved. Many people place towels or other personal items on the chair to hold their spot, but cruise ship policies usually limit the time away from a lounger to a half hour before personal items are removed.
People who disregard cruise line rules and try to reserve loungers for long periods of time are referred to as "chair hogs."
If you want to guarantee your own space, some cruise ships offer private cabanas, occasionally adults only, for rent. They might be outfitted with a sun bed, canopy, iPod, water misters, fan and access to fruit skewers and other refreshing treats. They can be reserved by the day or by the cruise.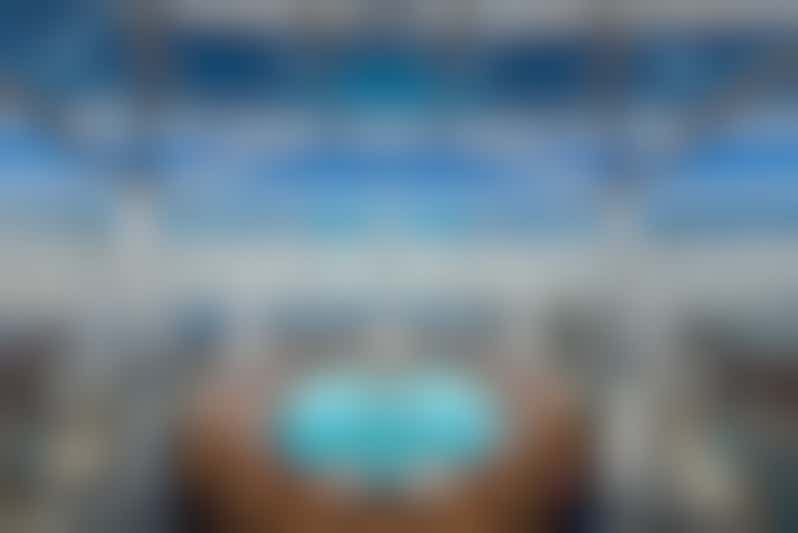 The Solarium on Oasis of the Seas (Photo: Cruise Critic)
Do cruise ships have indoor pools?
Some cruise ships have covered pools or ones with retractable roofs so the pool can be used in cool or rainy weather. Additionally, some cruise ship spas offer indoor thalassotherapy pools (a spa pool with mineral-heavy water and jets, supposedly good for muscle and joint pain).
Can I smoke on the pool deck?
Usually one side of the pool and sun decks allows smoking. Look for signs onboard.
Can children use cruise ship pools?
Children may use the main pools and waterslides, but they must be toilet trained. Swim diapers are not allowed. (The only exceptions are onboard splash areas or shallow pools designed for tots, if available.) These rules are for sanitary reasons and should be heeded.
On many ships, children are also allowed in hot tubs; however, on ships where they're technically not allowed, the rules are not always enforced.
Are any pools adults only?
Some cruise ships have an adults-only pool and sun deck area, often with nicer lounge chairs or even a thalassotherapy pool. Most are free to use, but some lines sell day or cruise-long passes to these adults-only enclaves.
Are there lifeguards?
Note that cruise ship pools generally DO NOT have lifeguards. The only lines that employ lifeguards are Disney Cruise Line, Royal Caribbean and Norwegian Cruise Line.
You are responsible for your own safety and that of your family and traveling party. There have been incidents of drowning, so keep a close eye, especially on children, when in the pool.
How can I find out more about cruise ship pools?
For more information on what you'll find on the pool deck of your cruise ship, read Cruise Critic's ship reviews, look at a deck plan, or contact your cruise line or travel agent.
For more about cruise ship pools in general, you might like the following articles:
The What to Expect on a Cruise series, written by Cruise Critic's editorial staff, is a resource guide, where we answer the most common questions about cruise ship life -- including cruise food, cabins, drinks and onboard fun -- as well as money matters before and during your cruise and visiting ports of call on your cruise.