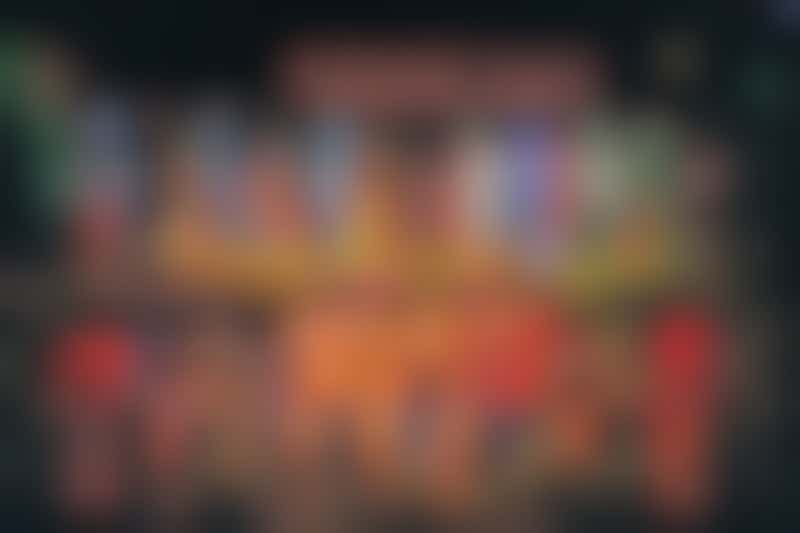 Dancers performing in Tropicana in Havana, Cuba (photo: The Visual Explorer/Shutterstock.com)
Editor's Note: Effective June 5, 2019, Americans are no longer permitted to travel to Cuba by cruise ship due to U.S. government policy changes.
Showgirls in skimpy sequins outfits and feather headdresses may be a Las Vegas cliche, but few people know that the tradition was actually born at Havana's Tropicana Club. The cabaret dates back to 1939 and served as the center of Cuba's jet-set nightlife during the 1940s and 1950s, when it was also a casino (with extensive ties to the American mob; pop culture enthusiasts may know it primarily for a scene in "Godfather II"). Cruise ships that visit Havana offer evening excursions to the show, at fairly hefty prices.
What It Is
Get ready to step back in time; the Tropicana revue has all the features that you'd associate with the showgirl era. Be warned that the experience is not cheap: expect to pay about $169 per person.
Our Experience
On our first cruise to Cuba, we skipped the Tropicana in favor of live music; one of the excursions offered by Celestyal that took passengers to a show featuring alums from the Buena Vista Social Club. This time around, we ignored our general dislike of shows that force women to dance around in lace bodysuits or thongs with butt bows, and give it a try.
The Tropicana is located in the Miramar neighborhood, the most glamorous section of Havana during the 1950s. Our cruise group arrived via coach and things turned old school quickly. As we walked in, women were handed roses while the men received cigars (we've since read that if you're female and want a stogie, go ahead and ask).
Tropicana is, famously, an outdoor venue (although there's a less impressive indoor hall that hosts shows when it rains). Patrons are ushered to long tables, each seating about two dozen people. The set, surrounded by lights and huge tropical palms, is pretty spectacular, with a riser for the full orchestra, platforms around the edges and a catwalk above for lines of dancers, and a large middle stage.
The show didn't start until 10 p.m. so our group had about an hour to kill. What to do, what to do? Tropicana has an answer: Drink. Our excursion package included a glass of sparkling wine when we arrived and even more booze came soon after, in the form of a full bottle of Havana Club rum for every four people. The people at our table gasped when it was set down, followed by raucous laughter. "What, are we in college?" one woman in her 60s said. "We're never going to drink that." (She was right, at least at our table. We did see more than a few empties at others by the end of the two-hour show, however.) Each person was also given an individual bowl of nuts and soft drinks as mixers (or to drink sans alcohol). Bring a bottle of rum from the ship with you, if you can.
Shortly after 10 p.m., the lights darkened, the orchestra tuned up and we were plunged into two full hours of what filmmaker Baz Luhrmann would call "a spectacular spectacular!" Feathers! Sequins! Gyrations! Bare midriffs! Thongs! Beautiful people, of both genders! The huge song and dance acts are all you'd expect, and more -- imagine 50 or so performers doing their thing, in headdresses that defy gravity, with smiles that never quit. It's Vegas on steroids, sung completely in Spanish.
If you're of a feminist bent, the throwback elements of the Tropicana will start to wear on you after a while; our breaking point came when the dancers came out with actual chandeliers on their heads (what, are women reduced to furniture now?) But the audience ate it up, clapping loudly when the dancers sashayed through the aisles and rushing to snap photos with them after the show ended. With at least 20 acts, the show delivers excitement and pizzazz, and we can see why Tropicana inspired so many imitators.
We boarded the bus around 12:30 a.m. and arrived back to the ship at 1. With Havana tour excursions that left early the next day, a night out at the Tropicana can be a wearing experience, particularly because it comes early in the cruise. But sometimes, you gotta live a little – and perhaps witnessing the sheer energy of the Tropicana dancers will put a little sass in your step the next day.
Singer performing in Tropicana in Havana, Cuba (photo: The Visual Explorer/Shutterstock.com)
Worth a Try?
Sure, if you like and appreciate old Vegas-style reviews. While almost all the passengers we spoke to complained a bit about the cost, people said they were entertained and were glad they had gone.
Things to Note
Tropicana is outside and the elements may pose some difficulties with your enjoyment. Havana is notorious hot and humid, so you may find yourself wilting before the show even begins.
There's a 5 CUC charge to take photos. You'll pay the fee at the door and will be given a slip to show that you paid (we weren't asked).
There's a dress code at the Tropicana of "casual elegance." Women shouldn't wear shorts, and men are asked to wear long pants (not jeans), a collared shirt and closed shoes.
The cruise lines don't advertise this, but you can go to the Tropicana show on your own, for about half the price. You can buy online ahead of time (or through a local hotel or travel agent); the most expensive ticket is about 95 CUC (it also includes the rum and nuts that you get in the cruise excursion package). If you choose this option, make sure to budget enough local currency to get a cab there and back.