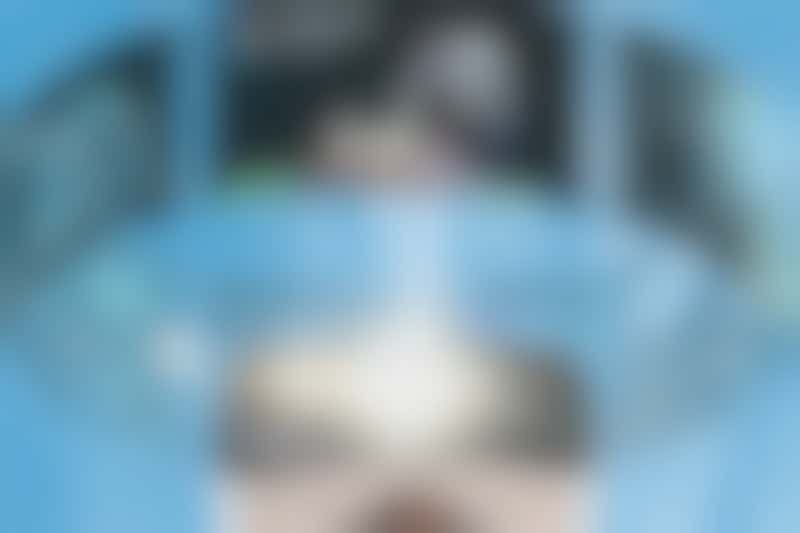 The Virtual Reality Experience on TUI Discovery 2 (Image: Thomson Cruises)
What It Is
The Virtual Reality Experience makes its debut on TUI Discovery 2, replacing the Break Out and Escape Room on sister ship TUI Discovery, and unlike that attraction (which carries a £10pp charge), it is complimentary. Located deep down on Deck 3, it is set within a suite of studio rooms, two of which are used for portrait shots by the onboard photographers, and one which houses the Green Screen Experience, a photo booth where users pose against quirky backdrops for pictures. Inside the Virtual Reality Experience room are dual wall-screens adjacent to each other, enabling two users to play at any one time while kitted out in VR headsets and headphones.
---
Our Experience
I tried, and failed, to book a session as it was only open for two hours a day -- so became fully booked very quickly -- but managed to organise an exclusive try-out for Cruise Critic. The room is supposed to be manned by a member of staff trained on how to use the programme, but as he wasn't around, so I and a couple of others followed the instructions on the wall and went for it! The programme was still in the experimental stage, but there were about a dozen different options, some of which were static, where we were just immersed in the surroundings, but didn't actually do anything. After watching one of my companions walking along the seabed, observing the marine life, I was itching to try something more interesting -- more proactive. I donned the headset, picked up the hand controls and immediately became immersed in a battle with space aliens, dotting and darting around and zapping me from all angles. For a few minutes, I was completely absorbed in this intergalactic world of Space Pirates as I blasted them into fireballs.
But then the programme changed to the Waltz of the Wizard and I found myself in a shadowy stone-walled chamber. A voice in my ear instructed me to throw a coloured ball from the nearby table into the bubbling cauldron.
As I did, splashes and sparks flew out; magic was in the air. Every object I touched transformed into an orange butterfly and in seconds I was surrounded by a cloud of these delicately fluttering creatures.
Enthused, I grasped another ball and tossed it into the cauldron. This time, everything I picked up became weightless so I threw some candlesticks at an armoured knight watching me menacingly from a doorway; laughing as they crashed into him and he furiously lobbed them back.
It was hilarious and fabulous fun, but it was only when I crashed into the wall while enthusiastically flailing around that I was catapulted back to reality with a surprising jolt; and hastily wrenched off the headset to get my bearings.
It was almost as amusing watching my friends as they tried the robot workshop programme and I couldn't help laughing as I saw them quaking in fear as an angry robot marched towards them on the attack.
---
Worth a Try?
I had such a fun time in here, I didn't want it to stop, yet our 45-minute slot was up all too soon. The special effects are extremely realistic and really do transport users into another world -- while onlookers can sit and watch their progress on the large screens. It was a brilliant diversion and leaves you wanting more -- well, it did me, anyway. I can see it being a huge hit with passengers; in fact, it's already becoming popular as word spreads among passengers.
---
Things to Note
Get your booking in early as time slots are limited and fill up fast. It's easy to get carried away in your virtual world -- but be careful; one over-enthusiastic user lashed out and accidentally broke one of the screens.
It's fun to do this with a gang of friends as it's so sociable, and they can watch your reactions and see what you're seeing on the big screen -- though the more of you there are, the less chances you'll have to try it yourself.
Thomson aims to expand the experience by introducing shore excursions, so passengers can experience them here first. It may also introduce user-generated content too.