Since P&O added Pacific Explorer to the Australian fleet in 2017, it's been one of the most talked-about ships. Were the cabins refurbished? Is the food free? What should I pack? Find out all you need to know before your cruise with our top ten tips.
1. Enjoy cheaper prices.
Since Pacific Explorer launched last year, the cost for some items has actually come down. The general entry for Love Riot (see below) is now $10, reduced from $15, and Luke Mangan's burger bar has slashed its prices -- twice. The truly delicious burgers are now $5, fries are $3 -- that's less than McDonald's for far superior food.
2. Don't miss Love Riot.
Our favourite experience was the risqué burlesque show, Love Riot. Although it may seem un-Australian to charge for entertainment on a cruise, you won't regret it -- and the fee includes a cocktail and a souvenir glass to take home. The adult content may be too outrageous for some people so read our review before you book. We're not kidding about the nudity and 18+ themes.
3. Get the blues.
The best live music on Pacific Explorer is Blues@Blue when the ship's most talented musicians and singers get together for an hour-long jam. Keep an eye out in the daily program because, sadly, it's just one gig per cruise. Arrive early to snag a good seat because only half of the venue has a decent view of the stage.
4. Treat yourself to a special meal.
We've heard mixed reports about the free restaurants on Pacific Explorer, but we honestly loved Dragon Lady (Asian) and Angelo's (Italian). In The Pantry, we particularly liked the Curry House. But if you're cruising for a week or two, it's worth mixing it up a bit. Lots of passengers raved about the Korean fried chicken burger at Luke's, but our pick is the Salt Grill breakfast burger ($5 each). The dinner before Love Riot is also good fun for an extra $19 on top of the ticket price. Brace yourself for the dessert: a sphere of chocolate topped with popping candy floss, which is melted open by hot caramel sauce to reveal a pomegranate mousse inside. If your holiday budget can stretch to $99, A Taste of Salt is the ultimate indulgence and highly recommended. It's seven courses with seven matching wines. There's no free pizza on Pacific Explorer (boo!) but the gourmet pizzeria is top notch. A pizza costs $13 via room service or $10 if you eat it in the family-friendly 400 Gradi restaurant.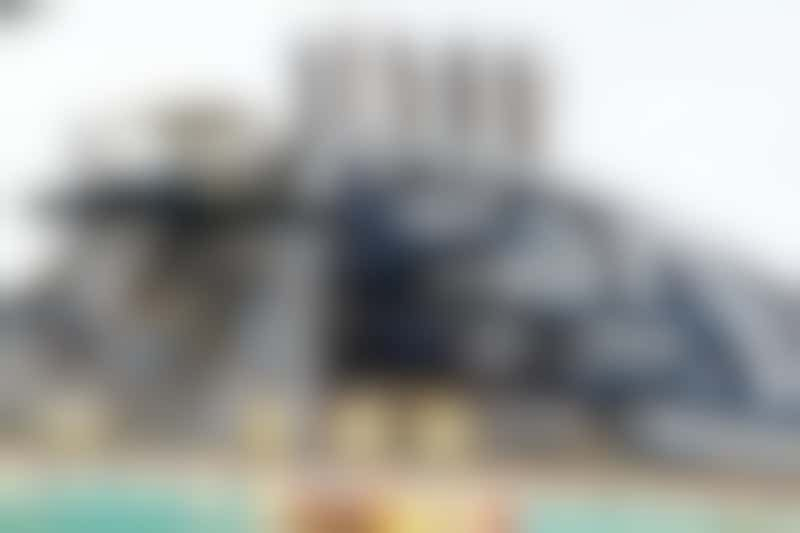 The waterslides on Pacific Explorer (Photo: Tim Faircloth/I Love Cruising)
5. Lean back on the waterslides.
P&O has introduced two side-by-side slides, enhanced with lights and music, which are fairly mild in terms of speed and thrills. Make sure you give yourself a good push off at the start, then lean back and cross your ankles; otherwise you might stall halfway down.
6. Pack for the parties.
Up to three sets of themed outfits are required if you want to join in the (optional) party nights. Cruises of two or more nights have a Bianco party, which calls for white clothes. White accessories are sold onboard the ship to jazz up your look. Cruises of three or more nights also have a Gatsby party. For ladies, a 1920s headband-making session ($12) is held to help complement your sparkly, flapper dress; men can get away with black trousers, braces and a white shirt or you could check out your local charity shop for a second-hand vintage suit and hat. Cruises of five nights or more have a Back to School theme, so drag out your old uniform. None of it is compulsory but it's fun.
7. Prepare for one power point
Pacific Explorer's cabins were not touched in the refurbishment. This means local power points were not added, leaving only one Australian outlet per cabin. The old American and European outlets are still there, left over from the ship's early days, so you could bring two travel adapters to plug your devices and chargers into them. Power boards are also allowed if in safe working condition. When the cabins are fully revamped in future, we'd like to see more Australian power points and USB outlets, especially in these modern days of people travelling with phones, iPads, Kindles, cameras, laptops and hair styling devices.
8. Pack some but not all toiletries.
Soap, shower gel and a conditioning shampoo are provided free of charge. In the higher category suites, you get a better brand (Mor) as well as tubes of body lotion and hair conditioner. Shower caps aren't automatically placed in cabins but if you need one, you can ask your steward. An old-school hairdryer is fixed to the wall next to the mirror near the bed. Its high setting is not overly strong but it will be good enough for most people. You can also BYO hair dryer, hair straightener, curling iron or shaver if they are safe (no frayed wires or faulty mechanisms).
9. Try something you can only do at sea.
We're not huge fans of paying extra for onboard activities but if you get a good deal on your cruise fare, consider investing some of the savings at P&O Edge. Walk The Plank is legitimately scary on a windy day, while the Titanic Experience allows you to live out your urge to yell "I'm king of the world" on the ship's bow. It's easy to dismiss the adventure area but the experience will make your cruise more memorable.
10. Be gentle with the toilet.
Built in 1997, the ship does not have the latest and greatest plumbing system. Aside from toilet paper, do not place anything else down the toilet or you can look forward to blockages.
Show Pacific Explorer Prices