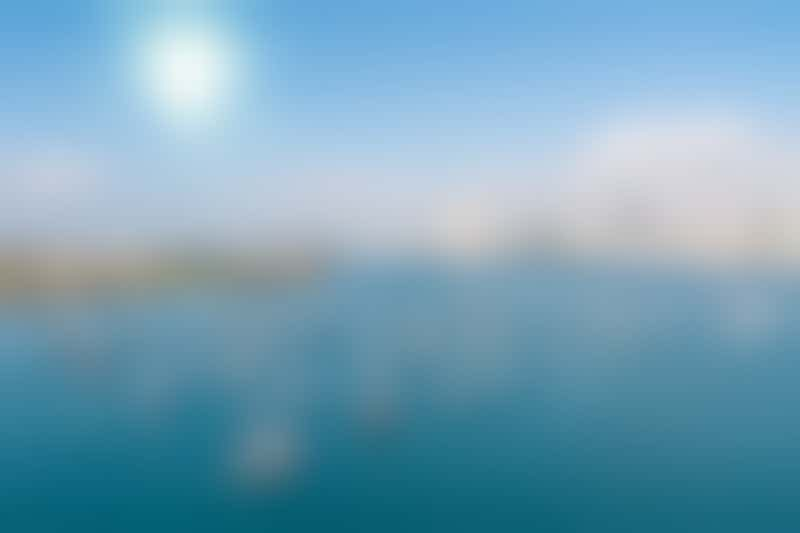 San Diego skyline and Waterfront (Photo: View Apart/ Shutterstock)
San Diego's moniker, "America's Finest City," is certainly fitting for one of California's most beautiful coastal cities. The Port of San Diego, where cruisers set sail on exotic vacations to places such as Tahiti and Mexico, is close to many popular tourist attractions and historic neighborhoods. If you'd like to visit adjacent towns, such as La Jolla and Encinitas, you could easily tack on a week more of vacation after your cruise. There are so many ways to create a perfect day in San Diego, but the simplest way to cover a lot of ground in a limited time is hopping on an Old Town Trolley tour.
The two-hour tour (without getting off) has hop-on and -off privileges and covers 25 miles of San Diego and Coronado in 10 different stops. You can take as little or as long as you like at each stop as trolleys arrive every 30 minutes. Check the schedule as operating times change, depending on season. You can book Old Town Trolley Tours tickets online or purchase through your cruise ship and board the trolley at the harbor ticket booth (stop B), just a short walk from the cruise ship terminal.
Here is how to plan out a sublime day in San Diego:
First Stop
C or Seaside Village: This quaint village is a waterfront shopping and dining complex with cobblestone streets to wander and street performers to watch. Pick up your San Diego-centric souvenirs here. And don't miss a photo op with the Kissing Statue -- a 25-foot-tall sculpture of a lip-locked sailor and nurse.
Breakfast Option 1: With views of the San Diego Bay, Edgewater Grill (861 Harbor Dr.) serves up excellent morning classics like fluffy pancakes and eggs Benedict.
Second Stop
F or Gaslamp Quarter: Founded in 1850, the historic Gaslamp neighborhood is home to a variety of art galleries, retail boutiques and trendy restaurants and bars.
Breakfast Option 2: Near the Gaslamp district, fuel up for the busy day ahead at Cafe 22 (802 5th Ave.). Standouts include the corned beef hash, made fresh every morning, or Food Network star Bobby Flay's favorite: the peanut butter-and-banana stuffed French toast.
Third Stop
H or Coronado Ferry Landing: Take in soaring views as you drive over the famous Coronado Bridge, then get off the trolley at the Coronado Ferry Landing stop. Voted one of the nation's best beaches, Coronado Beach is an easy walk to the nearby waterfront park; alternately, you can rent a bike and explore. Also, don't miss a tour though the historic Victorian-era Hotel Del Coronado (1500 Orange Ave.), one of San Diego's top attractions.
Lunch Option 1: With all the seaside sights, a craving for sushi is to be expected. Stop at Saiko Sushi's Coronado location (116 Orange Ave.) for an affordable fresh fish lunch with the spicy tuna combo.
Fourth Stop
I or Balboa Park: Go for a stroll through the beautiful botanical gardens or marvel at the museums, which include the San Diego Natural History Museum, San Diego Museum of Art and Museum of Photographic Arts.
Lunch Option 2: There are a plethora of lunch spots, from casual to fine dining, in Balboa Park. A few standouts include: The Prado (1549 El Prado) for upscale California cuisine or Casa 1915 (1649 El Prado) for casual Latin-inspired favorites like build-your-own burritos, salads and rice bowls.
Fifth Stop
A or Old Town: Erected in the mid-1800s and known as the birthplace of California, Old Town offers much to experience: historical buildings, museums, unique gift shops and daily free entertainment. Highlights include indulging on a giant margarita at Casa Guadalajara restaurant (4105 Taylor St.) and walking around El Campo Santo cemetery (2410 San Diego Ave.)
Dinner Option 1: As far as Mexican cuisine, there are a lot of options in Old Town. Beyond Casa Guadalajara, other favorites for authentic Mexican are Barra Barra Restaurant & Saloon (4016 Wallace St.), a period saloon with traditional fare, or Casa de Reyes (2754 Calhoun St.), which boasts a beautiful alfresco courtyard.
Sixth Stop
B or Cruise Terminal/Embarcadero: Back at home base, depending on time, stop at the Maritime Museum of San Diego (open until 9 p.m. in the summer) to see a world-class collection of historic vessels, including the restored 1863 Star of India sailboat, or simply stroll along the waterfront for beautiful sunset views.
Dinner Option 2: A waterfront landmark since 1989, Fish Market Seafood Restaurant (750 N. Harbor) is a great spot to grab a sundowner cocktail at their upstairs Top of the Market restaurant. Views of Point Loma to the Coronado Bridge cannot be topped. Or, on the first floor of the Fish Market Seafood Restaurant, feast on seafood favorites such as oysters, grilled fresh catch-of-the-day fish and sushi in a sophisticated setting.
Nightlife: If you're looking for great craft cocktails, hail an Uber back to the Gaslamp Quarter --home to a buzzing bar scene. Or, in the city known as "Broadway West" with over 150 stages, catch a play after dinner. Historical theaters with bones as impressive as the show are Spreckels Theatre, The Old Globe and Balboa.