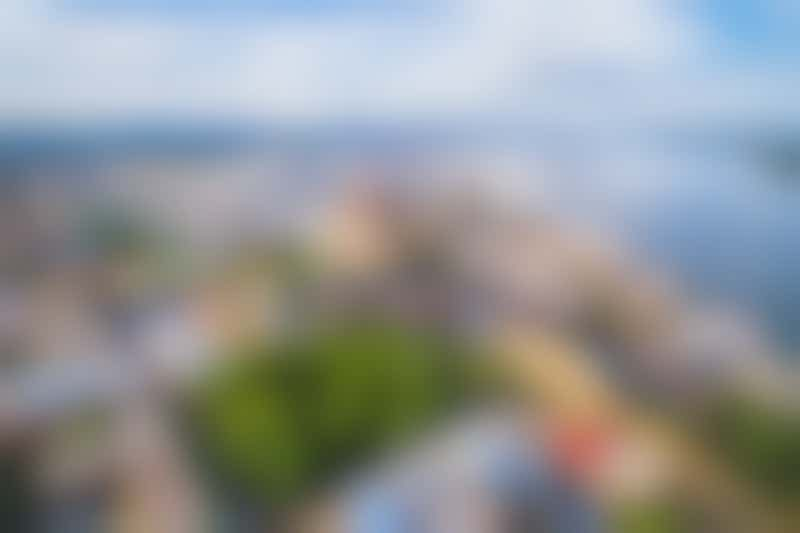 Quebec City skyline (Photo: R.M. Nunes/Shutterstock.com)
English-speakers might refer to Quebec with the denomination of "City," but in their heart, local Quebecers pride their home for being quaint, friendly and familiar. The boundaries of the city (in a province of the same name) have expanded over the past few decades as suburbs develop around the land just outside of downtown, but the small-town spirit is intact. This includes the spirit of local First Nations tribe Huron-Wendat, with unique cultural offerings for visitors, just outside the city center.
Cruise ships visit Quebec City mainly during fall Canada/New England cruises, although the region is courting more than just one season of calls. The overwhelming charm of Quebec in the cold, with the city's well-known Winter Carnival, presents both challenges and opportunities for potential cruise ship passengers. But the vibrant summer months, when the streets come alive with festivals and alfresco seating, is more of a no-brainer.
"Local" is what keeps businesses in Quebec humming year-round. Residents boast that with so many restaurants (reportedly more per capita than even New York City), there are no places that are just for tourists; the only way for a restaurant to survive all seasons is to serve food that appeals to locals and visitors alike. Thus, if you have never truly experienced Canadian cuisine -- we're talking more than a doughnut hole at Tim Horton's -- Quebec is a perfect place to be gastronomically adventurous.
Quebec is a North American city with European appeal, and celebrated 400 years in 2008. This history is a constant companion as you stroll the streets -- one of which, Quartier Petit Champlain, is the oldest commercial district in the continent. In fact, Vieux-Quebec (Old Quebec) is the best example of a fortified colonial town north of Mexico, which is one of the reasons it's become certified as a UNESCO World Heritage Site.
Even if you have an overnight call in Quebec, it's worth taking an additional day or two to explore the nooks, crannies and walls of the city, including an escape to nearby Ile d'Orleans to spend a bucolic afternoon. We break down 48 hours in and around Quebec City, so you can get the most out of your time there, before or after your cruise.
---
Le Monastere des Augustines (Photo: Felix Lipo/Shutterstock.com)
DAY 1: Exploring in and Around the Old City
Breakfast/Brunch
Brunch is crazy in this town -- literally. Diagonal from one another in the very core of Old Quebec, Cochon Dingue and Le Lapin Saute roughly translate to Crazy Pig and Jumpy Rabbit.
The flagship Cochon Dingue location, on 46 Boulevard Champlain, opened its doors on Bastille Day in 1979. Since then, it's gained popularity serving quirky dishes in a Parisian bistro-style setting. Have your eggs in an omelet, a sandwich, a casserole, a crepe, a Benedict or even a poutine; or don't have eggs at all and opt for pancakes, French toast or a flower-shaped waffle with their signature house maple cream. Cochon serves from 7 a.m. during the week, and from 8 a.m. on Saturday and Sunday.
At 52 Rue du Petit Champlain, Le Lapin Saute is dishing up Benedicts made with orange zest or a signature cassoulet. Rabbit is heavily represented on the menu, and you will find shredded rabbit with poached eggs, potatoes, homemade maple and beer ham, local cheese, crepes and maple cream; or a dish aptly called "the brunch" made up of rabbit rillettes, local cheese, baked white beans, bacon, sausage, maple and beer ham and an egg fried in maple syrup. The ambiance is that of an inn from the early 20th century. At Lapin, breakfast and lunch both begin at 9 a.m. on weekends, and at 11 Monday through Friday.
Morning
Quebec has art, history and scientific curiosities in spades; choose a museum or two that best suits your interests and take the morning to dive a little deeper into Inuit artwork, how the brain works or how three sisters came to New France with one trunk in the 17th century and built an entire monastery and hospital.
Museum National des Beaux-Arts du Quebec (MNBAQ): The city's fine arts museum has an estimated 25,000 works produced in Quebec or by Quebec artists. Even the pavilions are designed with unique architectural styles, incorporating the history of the adjacent battlefields along with design that reflects updated urban life. (179 Grand Allee Ouest; 10 a.m. to 9 p.m. Wednesday through Friday; until 6 p.m. Saturday through Tuesday)
What else to do in the area: The aforementioned battlefields are actually a sprawling park called the Plains of Abraham. The location of the epic clash between French and British forces in 1759 is now a place for people to gather under the sun. Exhibitions, guided tours and reenactments give a glimpse into the important conflicts that took place here, while outdoor concerts in the summer make use of 255 acres of green space.
Le Monastere des Augustines: The Augustine Monastery is a striking blend of old and new. The Augustine sisters came to Quebec from France in 1639 to build a hospital for the aboriginal people and European settlers in New France. The building is painstakingly preserved, with lopsided stairwells, stone walls (including a morbid drop for abandoned babies) protected by glass outside walls and a door that's contended to be one of the oldest in the country. As of 2015, the monastery is now one of the top health and wellness retreats around, providing spare rooms in a boutique hotel atmosphere. Yoga, meditation, spa treatments and green juice abound. A museum provides a look at the monastery's medical curiosities from its early days as a hospital, and a lovely chapel is also open to the public and connected to the current hospital. Currently, eight nuns still live and pray at the monastery. (77 Rue des Remparts; hours vary, but guided tours are usually available at 11:30 a.m. and 2 p.m.)
What else to do in the area: There are plenty of cafes, parks and shops in this part of town. Simons department store (20 Cote de la Fabrique) is the place to shop in Canada, and this is their flagship location. For something different, head to the Cafe Felin Ma Langue Aux Chats, Quebec's own cat cafe, located in Vieux-Port. Come for the free Wi-Fi, rustic decor complete with tartan armchairs, vegan and gluten-free treats -- oh yeah, and the cats! Enjoy a coffee and a snack while new furry friends le meow and snooze in the window. (307 Rue Saint-Paul; 9 a.m. to 8 p.m. Tuesday through Thursday; until 9 p.m. Friday and Saturday; 8:30 a.m. to 6:30 p.m. on Sunday; closed Mondays.)
Musee de la Civilisation: Inquisitive minds will easily spend a few hours absorbing the fascinating exhibits at this museum that looks at sociocultural movements, ancient civilizations and science to formulate studies on the human brain, nanotechnology or what your pets are really thinking. (85 Rue Dalhousie; 10 a.m. to 5 p.m.)
What else to do in the area: The Civilization Museum is very close to the cruise port (same street). If you're wondering what's in the immediate area, take a walk over to the Place des Canotiers park, rent a bike and head out along the river, or grab a glass of wine (and free Wi-Fi) inside of the terminal at the Cafe du Monde, which provides waterfront views. (Open 11:30 a.m. to 10 p.m. weekdays and from 9 a.m. on weekends)
Morrin Centre: A stately cultural center in the heart of Old Quebec, Morrin's mission is to educate the public about the contributions of English-speakers in the region. It contains a gorgeous library on the grounds of present-day Morrin College, but what's more captivating is its history as a prison with gruesome public executions. Take a guided tour, and if you're lucky enough to be visiting on a Sunday in the summer, stop in for tea in the library. (44 Chaussee des Ecossais)
What else to do in the area: Like almost everything in this part of town, Morrin is centrally located, making it easy to see many of Quebec's other main attractions. Wander over to the Fortifications of Quebec National Historic Site (2 Rue d'Auteuil; open daily 10 a.m. to 6 p.m.) for a closer look at the city's walls that once served as its main defense from 1608 to 1871.
Lunch
If you feel like taking part in a Quebecoise tradition, visit Aux Anciens Canadiens (34 Rue Saint-Louis; open at noon). The restaurant here has been open for business for more than 50 years, but it's located in a red-and-white house, Maison Jacquet, that's been standing for more than 330 years. Author of the novel "Les Anciens Canadiens," Philippe-Aubert de Gaspe, lived here in the 1800s. Today, this rustic eatery still serves country fare in the heart of Old Quebec; think onion soup, wild caribou and a meat pie with homemade fruit preserves.
For a more modern meal, Chez Victor (300 Rue Saint-Paul; open at 11 a.m.) serves six types of poutine in addition to 17 different burgers. Choose from chimichurri chicken, duck on bao bread, wild boar, a pork and bacon patty, lamb, salmon and beef patties. There are a handful of vegetarian options, including a tofu burger. If you like beer, opt for the ale pairing. The restaurant is spacious, with exposed wooden beams, lots of light and a long table for groups.
Afternoon
Old Quebec is a huge draw for shopping and dining, but Quebec City has lots of other neighborhoods to explore, as well. If the spirit moves you this afternoon, take a few hours to browse elsewhere.
We recommend the Saint-Roch district, just a few minutes northwest of Old Quebec. This neighborhood has been revitalized in recent years, and an infusion of young blood from tech startups and local art schools means plenty of unique and trendy shopping opportunities featuring modern storefronts with offbeat aesthetics. Benjo (550 Boulevard Charest E) is probably the most famous toy store in the city (it once closed its doors so Celine Dion could go on a shopping spree for her children). Hungry but can't quit shopping? Deux 22 (222 Rue Saint-Joseph E) won't make you choose -- it's a clothing boutique, a bar and a taco shop all in one.
Avenue Cartier is another fabulous street for window-shopping, snacking and walking. Oversized lampshades hang above a portion of the road, and they are routinely switched out, featuring various colorful designs from different local artists. Be sure to grab a midday treat at Chocolats Favoris (65 Boulevard Rene-Levesque), a Willy Wonka-inspired sweets shop that features ice cream cones dipped in a decadent chocolate shell.
If you have a mini-fridge where you're staying, end the day with a trip to the market or grocery store and stock up on hyper-local delicacies. Epicerie J.A. Moisan (699 Rue Saint-Jean; open until 7 p.m.; 9 p.m. on Thursday and Friday) is one of the oldest continuously running groceries in North America (since 1871). This gourmet food store is a wonderland for the senses, and hasn't changed one bit; we could have spent hours perusing its shelves of jams and candies, barrels of local wine, cases of fresh and local meats and cheeses -- honestly, you name it. Marche du Vieux-Port de Quebec (160 Quai Saint-Andre; 9 a.m. to 6 p.m. -- 5 p.m. on Saturday and Sunday) is the main local market for Quebec City. Sample slices of pork, cups of ice cider, maple fudge and other farm-fresh offerings from rows of stands. What you'll find is dependent on the seasons. Editor's Note: The city plans to relocate this market.
Drinks
Dinner at Quebec's most famous landmark, the Fairmont Le Chateau Frontenac (15 Rue des Carrieres), is grand, but drinks at its bars is just as nice a way to experience the inside of the most photographed hotel in the world (so they claim). The 1608 Bar a vin & fromage is a gem for wine and cheese lovers (right next door is an entire climate-controlled room for more than 30 local cheeses, after all). Bookshelves and fireplaces give the space a sophisticated air -- the circular bar itself is a dazzling spectacle. Although 1608 has a focus on wine, classic cocktails like whiskey sours and hurricanes can be found.
The shimmering bar inside Le Bistro Sam Evolution specializes in inventive cocktails and the menu is always changing based on seasonal ingredients. Jam' Le Sam is a concoction of vodka, pink pepper and cranberry jam, lime and a custom maple syrup. Order the chip basket as a perfect salty snack while you sip.
Before or after dinner, stroll the Dufferin Terrace just outside the hotel and take in the views of the Saint Lawrence River. You'll pass green-and-white-striped canopies, a ramp used for sledding in the winter and plenty of great people-watching spots. Don't resist the urge to add to the chateauesque hotel's growing photo collection.
Dinner
La Buche (49 Rue Saint-Louis; dinner is served from 4 p.m.) has mastered a balance of trend and tradition, serving Quebecoise food and spirits with gusto in a sugar shack-inspired venue. (A sugar shack is where maple sap is boiled down into syrup.) Try the deer tartare and the deconstructed shepherd's pie. Kalibou is a modern take on an old drink made with caribou blood -- not to worry, though, this one is mostly wine and spices. Make sure to head downstairs to check out the bathroom before you leave (and sign the wall).
For an upscale evening, treat yourself to either of renowned chef Jean-Luc Boulay's eateries: for a seasonal Nordic experience, try Chez Boulay Bistro Boreal (1110 Rue Saint-Jean; open until 10 p.m.), or for French flair, opt for Le Saint-Amour (48 Rue Saint-Ursule; 5:30 to 10 p.m.)
Chez Boulay has drawn on local ingredients like Labrador tea, arctic char and elderberries to uncover the boreal region of northern Canada since 2012. Expect plenty of fish and game meats, with creative vegetarian options in light and airy modern digs. One dish is a seared salmon in puff pastry with spinach, a beurre blanc sauce with gin and juniper berries, watercress and a sunflower seed pesto.
Le Saint-Amour has been a Quebec City institution since 1978, and is a mainstay on awards lists and for celebrity sightings. Again, local ingredients are employed to amaze palates with plates like elk carpaccio with local blackcurrant vinegar, mascarpone cheese foam, a melting quail egg, an "acidulated" King Eryngii spaghetti and specialty cheese shavings. Sweetbreads and wild shrimp are a classic. The dining room here is vintage in style, with a plenty of oversized hanging plants and a skylight.
Evening
Quebec is a relatively low-key city; if you're staying local, take in the scenery and let the world pass you by around Place-Royale by having a coffee and treat at La Maison Smith (23 Rue Notre-Dame; open until 9 p.m.). In good weather, have a seat on the terrace. Macarons, huge lattes, ice cream, hot chocolate in charming jars, cakes and sandwiches are all available. The cobblestoned square is also home to Notre-Dame des Victories, the oldest stone church in North America (1688). At night, ghost tours are held on its steps by the light of a lantern.
For anyone even remotely curious about Quebec's First Nations culture, we highly recommend a visit just a few minutes out of town to the Hotel-Musee Premieres Nations (5 Place de la Rencontre) in Wendake, the Huron-Wendat reserve. Here, on the grounds of this gorgeous hotel and retreat, is a First Nations museum and a traditional longhouse where cultural activities take place. Partake in a storytelling session and learn how to make native foods like bread cooked over an open flame. Be sure to save your meal for the hotel restaurant, La Traite (open until 9 p.m.); executive chef Martin Gagne serves surprising and world-class cuisine incorporating First Nations' flavors. It's an experience not to be missed. (On the menu are eel and smoked salmon in a pumpkin dressing, roasted Quebec sea scallops in melted sea urchin butter and Blackburn cheese shavings and even a selection of Aboriginal teas.)
---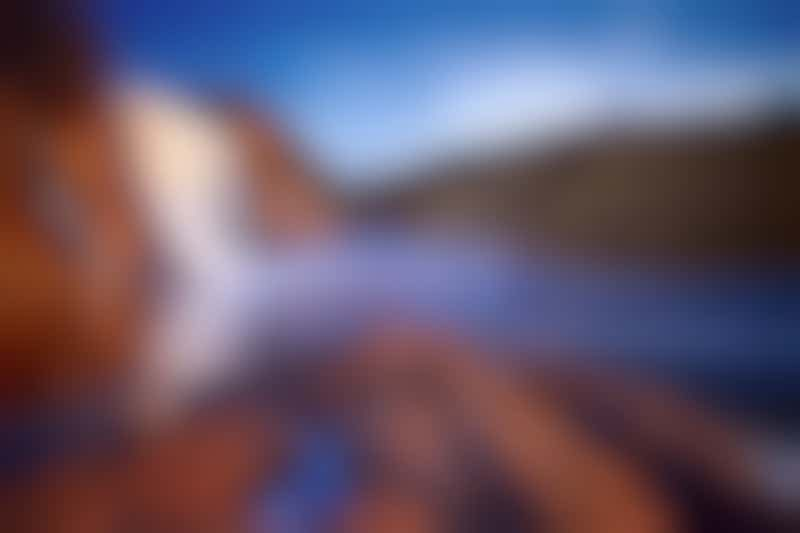 Montmorency Falls near Quebec City (Photo: Magnus L/Shutterstock.com)
DAY 2: Ile d'Orleans
Breakfast/Brunch
Today is largely centered on bacchanal pleasures, so maybe opt for a light breakfast (yeah, we said it -- easy on the poutine). Blender Juice Bar (655 Rue Saint-Jean; open 8 a.m. to 8 p.m.) is one of the city's first, and blends juices and smoothies into works of art. Drink your breakfast, topped with designs made of fresh fruit and chia seeds, or order a healthy snack.
For something more substantial, consider a traditional breakfast at Buffet de L'Antiquaire (95 Rue Saint-Paul; 6 a.m. to 9 p.m. daily). Don't be fooled by its French name -- this gem is not a buffet at all, but a Canadian diner dishing up country-style eggs, potatoes, toast and crepes. The inside has multiple levels, and in good weather there is seating on the terrace. The name is a nod to the many antique shops peppered along the same street.
Morning
After fueling up on some coffee (or juice) and eats, drive about 20 minutes north to Montmorency Falls (5300 Boulevard Sainte-Anne; hours vary). It's true, many cruise lines sell this trip as a shore excursion, but heading in on your own -- if you are not opposed to renting a car -- gives you more freedom to explore this spectacular site (taller than Niagara Falls) at your own pace.
Leisurely walk a circuit around the falls, along the bridge and down the stairs. Cable cars are a great way to head up or down to the falls area. A double zipline is a unique way to experience Montmorency (and catch a little mist), see the view and ride along with another companion. For the truly thrill-seeking, a via ferrata (cliff-walking) route is available in the summer, and ice climbing in the winter. And for those looking to ease into the day, head to the manor -- formerly the home of the Duke of Kent, originally built in 1781 -- on the gorgeously landscaped grounds. There, you can shop the boutique or enjoy a cup of tea.
After sufficiently admiring the falls, head just across the bridge and cross over to the Ile d'Orleans.
Lunch
Eating on this island is a marathon not a sprint. Prime your palate for an afternoon of tasting, with a distinctive meal at Panache Mobile (10 a.m. to 6 p.m. daily), a gourmet food truck parked at the Vignoble Ste-Petronille winery (8705 Chemin Royal; open until 8 p.m.). Start your visit with a flight in the tasting room (so you can pair your lunch with the proper wine; we recommend a rose).
Here, at the Panache Mobile, enjoy the same culinary standards as its brick-and-mortar location in Quebec City being poured into a gourmet grilled cheese or lobster roll with views of the sprawling vineyard. It's the ultimate upscale picnic -- just remember to save room for samples.
Afternoon
Warm up the GPS and prep for an afternoon of farm-hopping. (It's about an hour to circumnavigate the island, if you're looking to see the whole thing, but build in plenty more time for all the stops.)
First up is Tigidou (5508 Chemin Royal; 9 a.m. to 5 p.m.), a jam producer. The location can't be quainter -- on a hill in a barn furnished with delightful robin egg blue cabinetry and rustic but chic decor. (If you're interested in staying the night on the island, there is even a stunning Airbnb here.) All jams are made with local berries, organic fair trade sugar, herbs form the garden and spices from northern Quebec.
Les Fromages de l'isle d'Orleans (2950 Chemin Royal; 10 a.m. to 6 p.m. June through September, 11 a.m. to 5 p.m. in the offseason) is the home of the first cheese produced in North America -- and the proprietors are in period costume to boot. Snack on terrine, pickles and local honey (with a spruce beer) on the covered terrace. Grab a bag of curds to eat in the car.
Cidrerie Verger Bilodeau (1868 Chemin Royal; 9 a.m. to 6 p.m.) is a cider house, making it the idyllic place in the autumn for apple-harvesting, ice cider, sparkling wine and maple products -- even a petting zoo.
Polyculture Plante 1987 inc. (8684 Chemin Royal; 8 a.m. to 5 p.m.) is a local favorite, overflowing with seasonal produce -- not to mention maple products and cider. Honeycrisp apples are in high demand. You might recognize Polyculture's baskets of strawberries and other vegetation from their stand at the Marche du Vieux-Port.
Drinks
Take some time to check out Cassis Monna et Filles (1225 Chemin Royal; 10 a.m. to 4:30 p.m.). Sure, you could lump it into one of the farms on your tour, but so much thought has been dedicated to the space -- now run by the owner's two daughters -- and the resultant atmosphere is worth dallying awhile. Cassis is essentially blackcurrants, and the many uses for this sensual fruit range from soaps and spicy mustards to France's famous kir liqueur. After browsing the shop, getting a lesson in the tasting room and exploring the Economusee (a museum dedicated to learning about the artistry of liquor-making), indulge in a kir royale (creme de cassis and Champagne) and stare out into the fields on the patio or from the cozy loft inside. Enjoy a warm goat cheese salad with blackcurrant jam from La Monnaguette, the on-premises eatery. And don't miss a chance to check out the onsite dairy bar -- as you would imagine, the cassis gelato is beyond heavenly.
If you're heading back in to town, consider the Cafe-Bar Artefact (11 a.m. to 11 p.m.) at the Auberge Saint-Antoine (8 Rue Saint-Antoine). It's an epic hideaway inside a Relais & Chateaux that displays historic artifacts that have been found in the area. The top-notch French restaurant here is Chez Muffy (formerly Panache), the fuel behind Panache Mobile -- see how the day came full circle? This cafe and bar is filled with curious objects from six time periods, usually lined along large windows. Enjoy a classic and signature cocktail menu, with house favorites like a kir panache: Chambord, maple syrup and sparkling wine. Local beer and wine are also available, with a respectable menu of aperitifs and digestifs, and an extensive list of whiskies to keep warm during the long winters. Every Thursday night live jazz is featured from 8 to 11 p.m.
Dinner
After a day full of fresh food, if you're still feeling peckish, finish out your truly Quebecoise culinary experience with a picnic-style meal of all the goods you purchased from the market and the grocery store the day before. Quebec is the only province in Canada where it is legal to drink in public, so take advantage by plopping down in a scenic patch of grass, or a bench overlooking the river, and tuck into a nice bottle of Quebec wine and a charcuterie to match.
For something easier, Matto (71 Rue Saint-Pierre; 5:30 to 10:30 p.m.) will tickle your taste buds with some serious Italian eats inside of Hotel 71, a former bank. (There are many notable bars and restaurants inside of hotels and they're all quite good!) Chef Rocco Cortina blends his mother's Italian recipes with Quebec twists like spaghetti carbonara made with fresh salmon caught in the Gaspe Peninsula.
Evening
If you haven't eaten yourself into a coma, consider swinging by one of Quebec City's cabaret-style clubs for a nightcap and a little entertainment. Le Bistrot Pape Georges (8 Rue du Cul de Sac; 11:30 a.m. to 3 a.m.) is a wine bar with a stone facade dating back about four centuries. On weekends (and Thursdays in the summer), take in a show of French cabaret or the live music du jour.
In Saint-Roch, Le Cercle (228 Rue Saint-Joseph; 4:30 to 11:30 p.m., until 3 a.m. on weekends) is a mix of everything: bar, restaurant, gallery and concert venue. Come for the wine, the tapas, the art, the experimental music or the eclectic atmosphere.
Show Canada & New England Prices