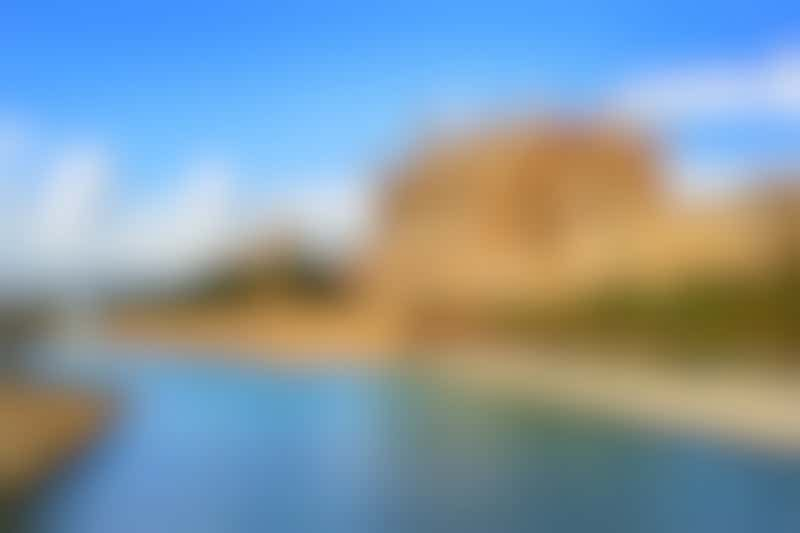 La Seu in Palma de Mallorca (Photo: Boris Stroujko/Shutterstock.com)
Summer Itinerary
Day One
Morning: Make the best possible start to the day with an alfresco breakfast at the Sky Bar at Hostal Cuba. You can set yourself up with a delicious buffet breakfast from this superb rooftop terrace accompanied by views over La Seu cathedral and marina. Once you've had your fill, cross over the road and take a stroll past the monumental fountains in Feixana Park and to the Es Baluard Museum of Contemporary Art (Placa de la Porta de Santa Catalina, 10). The building alone is worth the visit, with sleek 21st-century architecture integrated into the ancient city walls. Stroll around several floors of artworks by the likes of Picasso, Barcelo and Miro, and emerge onto the rooftop ramparts, featuring spectacular panoramas over the bay. You can also stop for a coffee in the gallery's excellent restaurant, with a sunny patio and comfy sofas.
Lunch: If you're still hungry for views, then one of the finest vantage points can be found from the top of the aptly-named Bellver (beautiful view) castle -- overlooking the western edge of the city. There are several ways to climb the hill, depending on your fitness level. The easiest option is jumping in a cab -- it's about 10 minutes including the winding driveway up to the summit. Alternatively, there are footpaths that cut through pine forests, and take 20-30 minutes, or the super-fit can power up the 450 steps straight to the top. Whichever way, the vistas are superb, plus history buffs can chart the city's often turbulent history in the medieval castle's museum. Take a break and a bite in the surprisingly good cafe, which serves huge hunks of (reasonably-priced) tortilla next to traditional island pastries.
Afternoon: While you're this side of town, descend the hill and jump in a cab (there'll be plenty around the five-star Gran Melia Victoria nearby) and ask the driver to whisk you the 10 minutes to the Miro Foundation (Carrer Joan de Saridakis, 29). It is a must for any art lover, complete with not only a permanent exhibition of his work, but also his studio where he used to paint -- left exactly as it was when he died. A lovely little garden provides a pleasant spot for a refreshment in the sun.
Dinner: Back in town (and probably after a bit of a rest at the hotel) make a point of having a stroll around the old town before dinner. The Placa Major (main square) is a good enough place to start and don't worry about losing your way a little, it's the best way to explore the lovely narrow lanes and you'll hit the busy Avenidas ring-road that circles the Old Town if you wander too far. If you'd rather not walk, flag down a taxi, which are numerous and cheap. When you're done, avoid eating at the super-touristy main square and aim for the smaller Placa Cort -- it's still very central and buzzy but a smaller and more attractive plaza overlooked by the wonderfully ornate town hall and an ancient olive tree. And to take advantage of the (likely) balmy evening, treat yourself to a table at the alfresco terrace of the Hotel Cort (Placa Cort, 11) -- a popular meeting point for locals and non-residents alike and a lovely spot to while away the evening.
Day Two
Morning: Just along from Placa Cort is another one of the city's lovely squares -- Placa Santa Eulalia -- offering a choice of three cafes with breakfast menus. The best known is Cafe Moderno (Placa de Santa Eulalia, 5) a real institution and with the largest terrace that spills out onto the square. Meals are usually accompanied by a busker playing the accordion and overlooked by the impressive Santa Eulalia church -- well-worth a quick look in after breakfast.
But it's Palma's iconic cathedral that is the city's main must-see attraction and just a five-minute stroll away (go via the Bishop's Garden for the more scenic route). You enter the gothic cathedral (also known as La Seu) though a ticket hall (€7) and a museum stuffed with religious artefacts that even includes bones of saints. In the cathedral nave look out for Gaudi's most striking contribution -- a huge crown-of-thorns canopy over the altar. At certain times during the summer the upper terraces are also open to the public, though these need to be booked in advance. (http://catedraldemallorca.org/es/visitas-terrazas)
Lunch: From the cathedral you can stroll along the old city walls eastwards, though the Parc de la Mar (a saltwater lake surrounded by pretty gardens) and over the road to the seafront promenade. Just a little further along starts the city beach (Playa C'an Pere Antoni) a long stretch of sand popular with local residents and -- unlike many Mallorca beaches -- large enough to rarely feel overcrowded over the summer. The beach tends to get nicer (and away from the traffic) the further along you walk, and there's a pleasant row of restaurants overlooking the far end. If you're not quite ready for lunch, continue on until you hit the pretty former fishing village of Portixol. Here you have a choice of posh dining at the eponymous Hotel Portixol (Carrer Sirena, 27), or with views over the small beach from the more reasonably-priced Cocco (C/ Vicario Juaquin Fuster, 53).
Afternoon: You now have a choice of three beaches within easy walking distance. Portixol has a small bay with coarse sands flanked by rocks, and particularly calm water. Continue along the coast for some stretches of fine sand with man-made breakers creating swimming pool-like areas of water, or just head back to the city beach and claim your patch.
Dinner: Once de-sanded and ready to hit the town again, Palma's buzzing Santa Catalina neighbourhood is one of the best spots for dining out.  While there's no shortage of restaurants to choose from, in the hotter months it's best to aim towards its long, pedestrianised Carrer de la Fabrica. It's lined with all types of eateries -- all with outside seating -- from with the bistro-style Amaya Restaurant standing out from the crowd.
Evening: While you're in Palma's hippest quarter, it would be silly not to experience some of the nightlife. You'll find most of the bars a couple blocks away on Carrer d'Annibal, with throngs of revellers spilling out onto the street at the weekends and late into the night.
---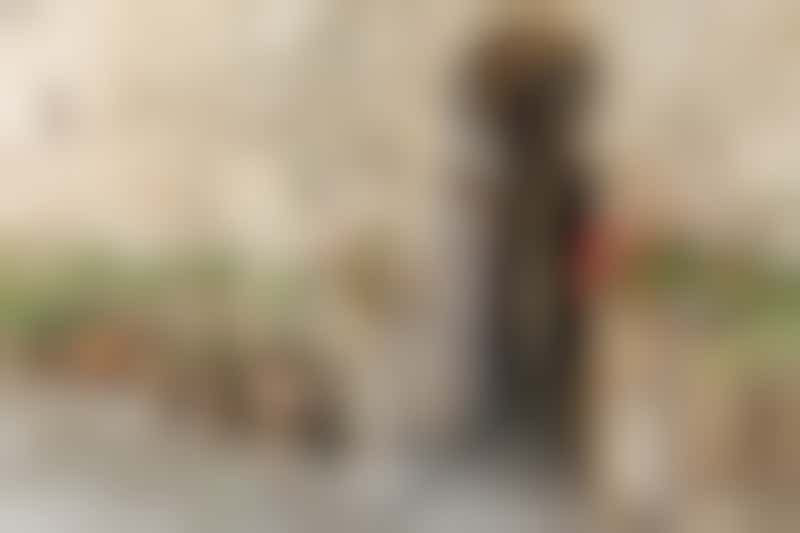 Arab Baths (Photo: joan_bautista/Shutterstock.com)
Winter Itinerary
Day One
Morning: No trip to Palma is complete without visiting its oldest eatery, C'an Joan de S'Aigo (Carrer de Can Sanc, 10). Tucked away among the warren of narrow lanes in Old Town, it's not the easiest place to find, but it's certainly worth the effort. The place dates back to early 18th century and it feels like little has changed since. Don't leave without trying an ensaimada -- a traditional Mallorcan pastry -- dipped in thick hot chocolate.
Take a right when you leave, and two blocks away is the Sant Francesc Church (Placa de Sant Francesc, 7) possibly the most ornate in Palma and usually free from tourists. If you have time, also squeeze in a trip to the Arab Baths (Banys Arabs), less than five minutes' walk away; this 10th-century hammam offers a fascinating insight into the ancient city. Entry is just a couple of euros, though don't expect functioning steam baths, it's very much a ruin (albeit with pretty gardens).
Lunch: Not sure exactly what you fancy for lunch? Jump in a cab (otherwise it's a 25-30 minute walk) to the Mercado Gastronomico San Juan in the north of the city. Its fabulous cornucopia of food stalls offer everything from Mexican, Thai, and Italian, to traditional Mallorcan cooking and freshly prepared seafood. While there's plenty of outside seating, the hall is covered with a fun buzzy atmosphere and regular live music.
When you're sufficiently stuffed, stroll over to the nearby bull ring or Coliseu Balear (Avinguda Gaspar de Bennazar, 32) as it's known due to its impressive Coliseum-style building. While still controversially hosting the occasional bullfight, it's more known as a concert venue nowadays.
Afternoon: If you're with kids who need to burn off some energy indoors, Palma Jump is a short taxi ride away (P.I Son Moix, Calle Textil, 3) and has a whopping 57 trampolines, as well as various balance beams, inflatable cushions, and sponge pits. Child-free couples, however, are likely to be far more interested in a trip to Palma Hammam (Carrer de Costa i Llobera, 20) -- a serene Arabian Nights-flavoured sanctuary with pool and steam room. Slots must be booked in advance.
Dinner: Popular without being too touristy, the pedestrianised lane of Carrer dels Apuntadors is located in the charmingly historic Lonja neighbourhood and offers a wide choice of cosy, indoor eateries. Traditional tapas restaurants make up the majority, with most doubling as bars for late-night nibbling. More of a tourist trap, but still definitely worth a look-in is nearby Bar Abaco (Calle San Juan, 1) where you can sip (overpriced but punchy) cocktails next to piles of fruit in genuinely unique surroundings.
Day Two
Morning: A fabulous spot to start the day is the El Perrito coffee shop, in Santa Catalina neighbourhood. It has an outstanding breakfast (and brunch) menu and a fun, laid-back Swedish vibe. It is also located just opposite the Santa Catalina food market, which is a great place to browses the colourful fruit and veg stalls, as well as buy some local produce to take home from its various delis.
Noon/lunch: There are a couple attractions just outside Palma that are certainly worth the trip, especially if the winter weather isn't holding up. Around a 10-minute drive westward are the Coves de Genova (Carrer del Barranc, 45) one of many cave systems in Mallorca but the closest to Palma. It's not huge, but the grottos are certainly beautiful, with dramatic columns 36 metres (118 feet) underground. Back on the surface, there's also an excellent restaurant serving Mallorcan specialities, and even some fine views.
Alternatively, claustrophobes (or sea-life enthusiasts) will prefer the 10-minute drive in the other direction to Palma Aquarium. Open year round, it features the largest shark tank in Europe which you can float across in a glass-bottomed boat or -- for the more brave -- even scuba dive with the sharks. The aquarium also has a choice of two family-friendly restaurants, and a kids' play area.
Afternoon: Head back to the city centre and be sure to visit the cathedral (see Day 2 of the Summer Itinerary), and if you have time pop into one of the two neighbouring museums -- one located in the Royal Palace of La Almudaina and the other in the Bishop's Palace, and both a great way to while away an hour or so.
Dinner: Those looking to splash out a little shouldn't leave Palma without a meal at Sadrassana (Placa de la Drassana, 15). This fabulous restaurant occupies a wonderfully-restored 19th-century mansion house, with lush interiors that have been the backdrop to several films and TV shows. It is also part of a functioning gallery, so you can experience various artworks and installation to and from the bathroom.
Evening: After dinner, you'll find yourself just round the corner from another city institution, the Jazz Voyeur Club (Carrer Apuntadors, 5). It's a great little live music venue that attracts the best of the island's talent in an intimate, friendly atmosphere. If you fancy your nightlife a little livelier, however, a 10-minute stroll down to the Paseo Maritmo is a string of options between the Shamrock Palma Mallorca (raucous Irish-theme pub) and the legendary Tito's International Club -- famous for its full-on, late-night parties.