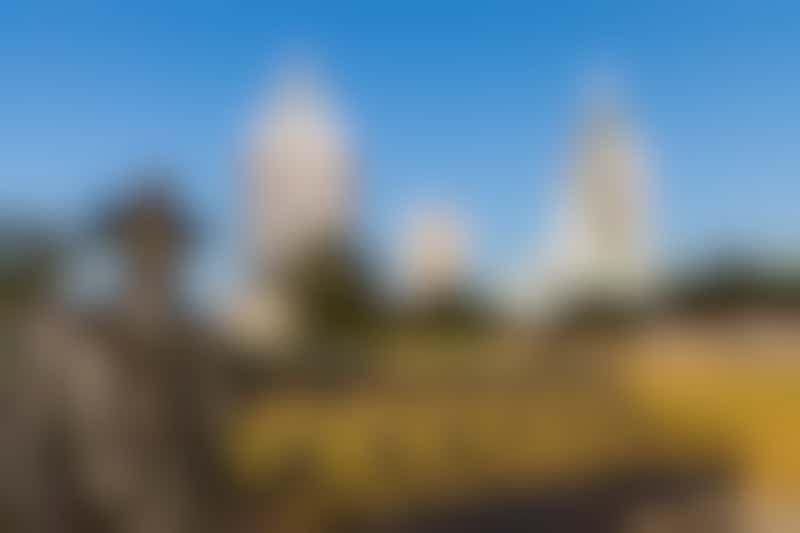 Downtown Mobile, Alabama (Photo: Fotoluminate LLC/Shutterstock)
The City of Mobile spans 159 square miles and is within easy driving distance of the blue-green waters of the Gulf of Mexico and the glitzy casinos of Biloxi, Mississippi. Located on Mobile Bay and sharing architecture and attitude with its sister city, New Orleans, the "Port City" is a juxtaposition of old and new. It has Alabama's tallest building, the RSA Battle House Tower, its glittery facade nestled in a centuries-old downtown that's not unlike the French Quarter. Founded by the French in 1702, Mobile has a history that's evident all around you: Civil War-era homes; picturesque, preserved cemeteries; ancient live oaks; and war fortifications.
Although the city sprawls to the west for miles, there is really no need to venture far west of Broad Street, which borders the historic downtown. Once downtown, you can opt to ride the WAVE Transit System's electric trolley, LoDa (Lower Dauphin) moda!, which is available, free of charge, Monday through Friday from 7a.m. to 6 p.m. and Saturday from 9 a.m. to 5 p.m. (Look for the "LoDa moda!" umbrellas to find trolley stops.)
If you have extra time and a vehicle, Dauphin Island, with public beaches and a Civil War fort, is approximately 45 minutes south. Gulf Shores, which bustles with condo high-rises and boasts beautiful white-sand beaches, is a little over an hour southeast. If you have only a day, however, downtown Mobile offers more than enough to keep you busy as you take a stroll through history, dine on some of the freshest seafood you'll find anywhere and learn a little about what gives this city its charm.
Breakfast
Hotel breakfasts, including those at Mobile's upscale Riverview Renaissance Plaza Hotel (64 S. Water Street) and The Battle House Renaissance Hotel & Spa (26 N. Royal Street), are plentiful and delicious, offering Southern fare in elegant settings. But these also come with hefty price tags. A better bet is to try one of downtown's breakfast institutions, which offer everything from pastries and coffee to elaborate omelet dishes.
If it's gourmet coffee you're craving, you can't go wrong at Serda's Coffee Co. (3 N. Royal Street) only steps away from many hotels and about a half-mile from the cruise terminal. Espressos and lattes that have won national awards are prepared by baristas with care in a cozy atmosphere that is a true taste of old Mobile, with exposed brick and cast-iron pillars. Local artwork hangs on the walls and bags of specialty coffee (whole bean and ground) are available for purchase. Serda's has your standard breakfast sandwiches as well as distinctive items such as bananas Foster French toast and Green Eggs and Ham (scrambled eggs, honey ham and quinoa). The menu changes frequently in this family-owned joint, depending on what's in season. Prices range from around $2 to $10.
Another good breakfast option is Mostly Muffins (105 Dauphin Street), right around the corner from Serda's. A favorite of downtown office workers for decades, it's beloved for its giant, made-from-scratch muffins such as bacon and cheddar. You can have your muffin heated, which definitely helps bring out the flavor.
In the mood for a more hearty breakfast? Spot of Tea (310 Dauphin Street) has outdoor seating underneath the oaks on Cathedral Square and offers an array of signature dishes. One of its most popular is Eggs Cathedral, a grilled English muffin topped with a crabcake, scrambled eggs and seafood sauce made with grouper and crawfish. More than enough to share, this dish is a bargain in the $12 range.
Morning
The Gulf Coast Exploreum Science Center (65 Government Street) is a great place for families with its educational and fun exhibits and IMAX theater. Carnival cruisers can get the full Exploreum experience for a flat rate of $12, which gives you access to all the exhibits as well as an IMAX movie. Closed on Mondays, the Exploreum opens at 9 except Sunday, when it opens at noon.
After breakfast, Church Street Graveyard (next to the Ben May Main Library at 701 Government Street) is a great place to take a stroll. It's a little over a mile from the cruise terminal, so a walk is doable if you're up to it. Surrounded by an early-1800s brick wall, it contains elaborate markers, above-ground crypts and is the resting place of local celebrities such as Joe Cain, widely regarded as the founder of Mobile Mardi Gras, and author, Eugene Walter, famous for the line, "Mobile is sweet lunacy's county seat."
Within a 20-minute drive to the west you'll find the 720-acre Mobile Municipal Park (4901 Zeigler Boulevard), a great place to watch a wide variety of birds (pelicans, swans, Canada geese and more) swim and hunt for fish in a large pond.
On the edge of the park you'll find the Mobile Museum of Art (4850 Museum Drive), which has both permanent and rotating exhibits. (It's closed on Mondays.)
Lunch
Mobile is famous for its bountiful, fresh Gulf seafood, oysters in particular. Mobile institution Wintzell's Oyster House (605 Dauphin Street) offers them "fried, stewed or nude (raw)" and is a destination for tourists. Operating since the 1930s in an 1891 clapboard building, Wintzell's has thousands of sayings and witticisms from founder Oliver Wintzell hanging on the walls next to fishing trophies and autographed photos of local celebrities. Speaking of oysters, check out downtown's Oyster Trail, a series of a dozen 4-foot-tall replica oyster shells painted by local artists that provide interesting facts about oysters and their role in the Mobile economy.
Downtown Mobile is about far more than just seafood, with restaurants running the gamut from Southwestern to soul to sushi. Where Dauphin meets Spring Hill Avenue on the western edge of downtown, OK Bicycle Shop (661 Dauphin Street) has evolved from an almost-divey bar with a small Mexican/Southwestern menu to a bustling family-friendly destination with two full restaurants: Dauphin Street Taqueria and Liquid Sushi Lounge. The taqueria has specialties such as a smoked duck tostada and crawfish quesadillas (and handmade margaritas with fresh lime), while Liquid offers an array of imaginative sushi rolls.
On the opposite end of the spectrum, Mama's on Dauphin (220 Dauphin Street) is a popular lunch spot offering generous portions of stick-to-your-ribs soul food such as collard greens, cornbread, fried chicken and pork chops, along with array of seafood platters.
After lunch, follow the aroma of fresh-roasted nuts to A&M Peanut Shop (209 Dauphin Street). This little hole in the wall has been tempting patrons with candy and not only peanuts but also pecans, Brazil nuts, hazelnuts and so on since the 1940s. Your purchases, which could include kid favorites like gummies or local treats like pralines, are weighed on old-fashioned scales before being rung up. Walk across the street and enjoy your treats on a bench under the oaks in Bienville Square (and share with the friendly squirrels if you like).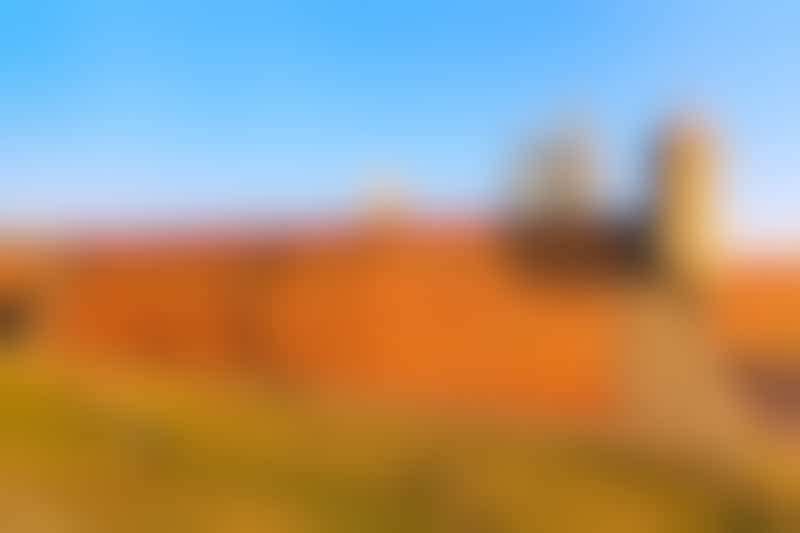 Fort Conde in Mobile, Alabama (Photo: Fotoluminate LLC/Shutterstock)
Afternoon
There are lots of ways to pass the afternoon in downtown Mobile, many of which don't cost a thing. Self-guided walking tours (for which brochures are available at the Downtown Mobile Alliance -- 261 Dauphin Street -- or online at downtownmobile.org) will you lead you to notable examples of Italianate, Federal, Queen Anne and Art Deco architecture, as well as unique shops where you can buy items such as jewelry crafted by local artisans. Many downtown buildings have elements such as wrought-iron balconies, arched windows and scrolled medallions and cornices.
The Battle House Lobby features a stunning domed skylight dating back to 1908, when the hotel was rebuilt after a fire. Its ceilings and walls feature elaborate portraits of Louis XIV, George III, Ferdinand V and George Washington. Be sure to take a look inside.
Another taste of history can be found at The History Museum of Mobile's Fort Conde (150 S. Royal Street; open 8:30 a.m. to 4:30 p.m., daily), an interactive exhibit where visitors can learn about Mobile's first settlers. The fort is adjacent to the city's oldest structures that form Fort Conde Village on a handful of brick-paved public streets. Many of these buildings from the 1800s have been converted into businesses.
A fun, reasonably priced and uniquely Mobile way to spend the afternoon is with a visit to the William & Emily Hearin Mobile Carnival Museum, located at 555 Government Street, steps away from the center of downtown in a bright yellow 1870s brick mansion. The Italianate/Greek Revival house has been lovingly restored, and you'll recognize it by the pair of larger-than-life Mardi Gras jesters on the front porch. Admission is a mere $5 for adults and $2 for children 12 and younger. Here, you can take a walk through Mobile's 300-plus-year Mardi Gras history through displays that include photos dating back to the 1800s; costumes of Mardi Gras royalty with their scepters, crowns, rhinestone-encrusted gowns and trains; and life-size floats you can actually "ride." The city, is, after all, the birthplace of Mardi Gras (contrary to the widely held belief that it was New Orleans). Hours are from 9 a.m. to 4 p.m., Monday, Wednesday, Friday, every other Thursday and Saturday. The museum is closed on Tuesday, Sunday and for most major holidays.
Dinner
If you're in the mood for a fancy, old Mobile experience, try Noja Fine Dining (6 N. Jackson Street, which is just off Dauphin) for filet mignon, fois gras, smoked duck and lamb chops in a candlelit, exposed brick atmosphere. Don't miss the romantic brick courtyard with a fountain. Noble South (203 Dauphin Street) and Dumbwaiter (167 Dauphin Street) also offer upscale dining experiences with a Southern flair.
For those on a budget, there are two good options, almost across the street from one another on Dauphin. Mediterranean Sandwich Co. (274 Dauphin Street) serves up classic Greek gyros with a local flair, such as the Redneck Gyro featuring local Conecuh sausage and smoked Gouda. Offerings are all under $7, including salads, from a counter with limited indoor and outdoor seating. (Closed Sunday, open until 9 p.m. Monday through Wednesday, and until 2 a.m. Thursday through Saturday.)
Loda Bier Garten (251 Dauphin Street) is a large, two-story affair that offers giant juicy burgers and specialties such as soft handmade pretzels with a beer-cheese dipping sauce. Its draft beer list is simply mind-boggling. Burgers are in the $10 to $13 price range, but are large enough to share, especially if appetizers and beer are involved. The Bier Garten hardly ever stops, open seven days a week from 11 a.m. until 2 a.m.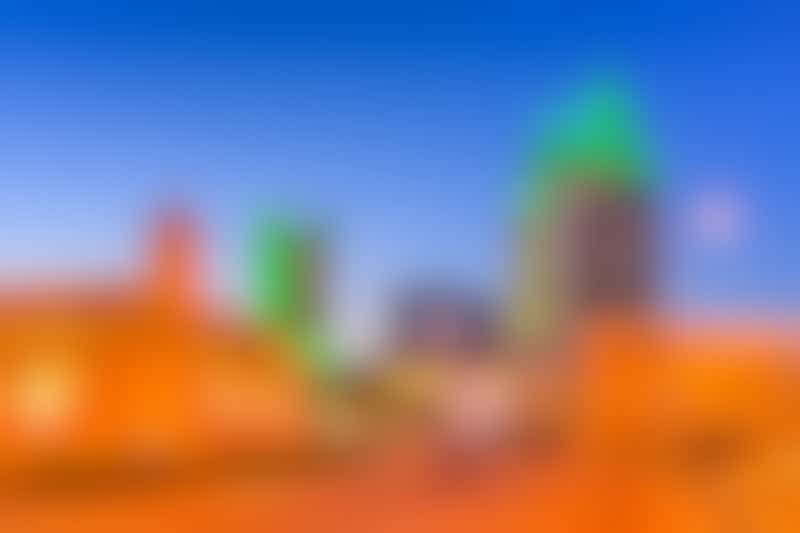 Downtown Mobile at night (Photo: Sean Pavone/Shutterstock)
Evening
If it's a unique show you're looking for, performances by acts from Weird Al to the Mobile Symphony Orchestra can be found at the Saenger Theater (6 S. Joachim Street). Check the calendar at mobilesaenger.com.
For cocktails, you can go either classy or divey. The Haberdasher (113 Dauphin Street) offers handmade cocktails, craft beer and a limited, gourmet menu. For a dive that has a welcoming vibe regardless of age or hipness, you can't beat Hayley's (278 Dauphin Street), which has been serving up stiff drinks and fun since the early '90s. You can't miss its signature pink stucco facade, neon sign and sticker-covered door. If you get a shot, you're pretty much expected to throw your (plastic) shot glass over your shoulder onto the floor when done. Somewhere in between Haberdasher and Hayley's is the Merry Widow (51 S. Conception Street), located in a small, historic building with a wrought-iron balcony. This cozy venue features late-night local music with an alternative, punk-rock tendency.
Keep in mind that most downtown bars, including the Haberdasher and Merry Widow, are nonsmoking; Hayley's is not.