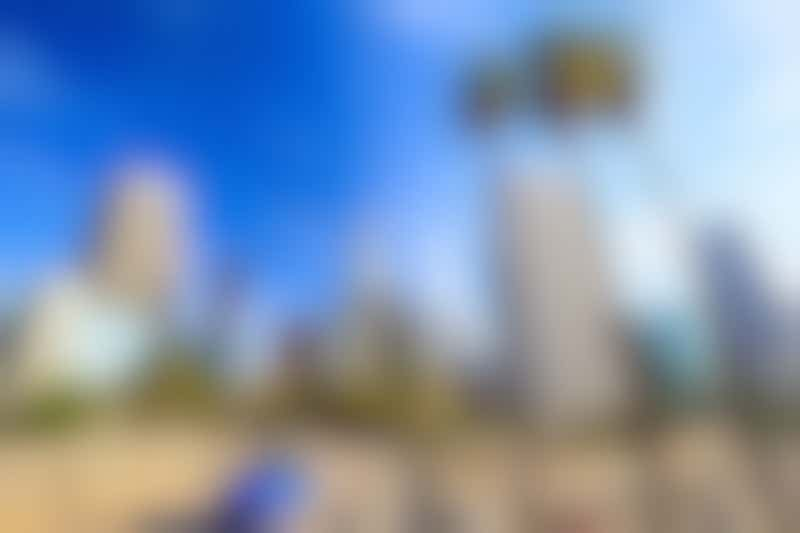 Downtown Los Angeles Skyline (Photo: f11photo/ Shutterstock)
Los Angeles welcomes thousands of cruise passengers to both Long Beach Carnival Cruise Terminal and World Cruise Center in San Pedro. Covering more than 34,000 square miles, the city has much to see -- from movie studio tours to Rodeo Drive shopping to the Venice Beach boardwalk. With the new Blue Line metro, it's possible to catch the Metro Rail line near both ports. However, to cover as much ground as possible in the City of Angels, it's best to rent a car or hire a driver so you can move about the city with ease --of course not accounting for the traffic! Here's a sample itinerary of a perfect day in LA that includes surf, shopping, celebrity and sports:
Breakfast: Beginning the day at Venice Beach is pure bliss --it's quiet and tranquil, offering the best opportunity to rub elbows with locals -- be it import Silicon Valley folks from Yahoo or Google, bodybuilders from Gold's Gym or yoga/guru/artists. Two places to grab breakfast and experience this are right across the street from each other: Rose Cafe (220 Rose Ave., Venice)offers a gourmand menu with croissants, quiches and espresso drinks or Firehouse (213 Rose Ave.), a Venice landmark diner for more than a quarter-century.
Morning: After breakfast, walk two blocks toward the beach on Rose Ave. to explore one of LA's most eclectic scenes. Featured in thousands of movies, the Venice Beach boardwalk is all show with street performers, Rastafarians and bleach-blonde bikini-clad women on roller-skates. It's also a great spot to pick up iconic Venice Beach T-shirt souvenirs. For an active tour, rent a bike from one of the many boardwalk vendors and cruise the bike path. Whether on foot or bike, stop at nearby Santa Monica Pier (corner of Ocean Ave. and Colorado Blvd.) for a ride on the old-fashioned Ferris wheel; it offers stunning coastal views and is fun for the whole family.
Lunch: In the mood for the good things in life? Experience an elevated fine-dining seafood-centric meal with panoramic ocean views at The Lobster (1602 Ocean Ave.), located at the entrance to the Santa Monica Pier. For more casual eats and a whopping dose of SoCal color, head to the dive-bar-meets-chophouse at Chez Jay (1657 Ocean Ave.) that's been keeping locals happy since 1959.
Afternoon: Depending on your interests, two neighborhoods offer quintessential Los Angeles encounters. Love shopping? Head to Rodeo Drive in Beverly Hills. From Hermes to Prada, the world's most famous couture fashion designers are concentrated in one area. Don't miss the iconic photo op of the Rodeo Drive signage (9480 Dayton Way, Beverly Hills). Keep your eyes open; you'll most likely see celebrities here, especially if you visit the nearby luxury department stores such as Barneys and Saks Fifth Avenue.
Speaking of celebrities, the other afternoon option is in Hollywood along Hollywood Boulevard's Walk of Fame (7018 Hollywood Blvd.). The stars of David Bowie, Michael Jackson and Elvis Presley are popular spots to snap a picture. While you're there, don't miss spotting Charlie Chaplin's or Marilyn Monroe's shoe and handprints in cement among other iconic movie stars at Grauman's Chinese Theatre (6925 Hollywood Blvd.). For more celebrity-centric activities, the stars' home tour via an open-top van is entertaining and informative, plus you'll explore many of LA's most illustrious residential neighborhoods, such as Bel-Air and Hollywood Hills.
Dinner: Downtown LA has undergone a massive overhaul over the last decade. It's now one of the most exciting neighborhoods in the city with plenty of dining, museum and shopping options. LA Live (800 W. Olympic Blvd., Los Angeles), a complex of restaurants and performance venues across the street from the Staples Center, has something for everyone--from sushi to steak.
Evening: Catch live music or a movie at LA Live or watch a Lakers' basketball or Kings' hockey game -- depending on the time of year -- at Staples Center. If a nightcap is in order, DTLA is teeming with bars featuring talented mixologists and alluring atmosphere. A few within a short taxi ride from LA Live are Honeycut (819 S. Flower St.), a darkly lit lounge with a colorful dance floor, and Standard Hotel's rooftop bar (550 S. Flower St.), offering stellar cityscape views.