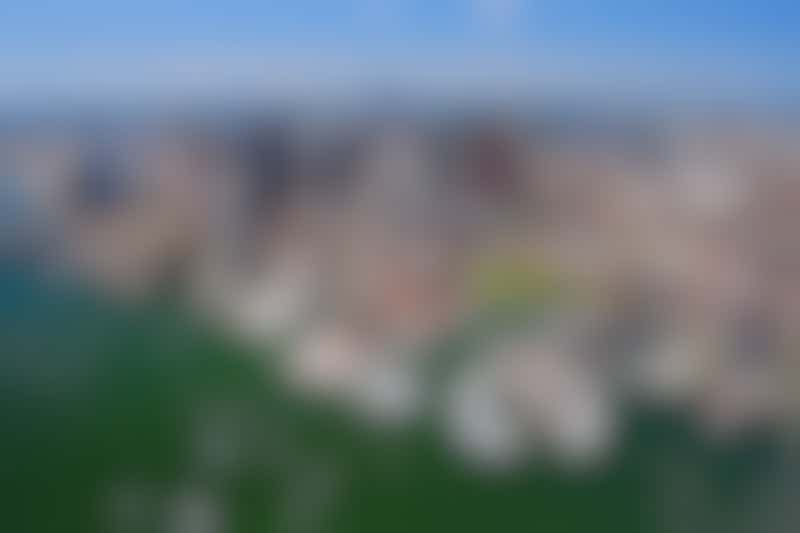 Aerial view of Boston (photo: Richard Cavelleri/Shutterstock.com)
In 2014, a golden lion statue was removed from atop Boston's Old State House for cleaning and restoration -- and a time capsule, more than a century old, was discovered hidden inside. Boston is that kind of place: surprising and mysterious, with history at every turn. With 400 years behind it, Boston offers a unique window into America's past, but has kept pace beautifully with modern times, making it an ideal port city to explore. It has been a cruise port since 1986, but a 2010 overhaul of the Black Falcon Cruise Port facilities brought it right up to current cruiser standards, and anyone wishing to depart from the New England port will find Bermuda, Caribbean and Canadian itineraries. (Bonus: If you sail from Boston's shores in the summer, you might even be able to do a bit of whale-watching.)
Despite its lack of happy hours (a law banned them more than 30 years ago), there's an unmanageable amount of things to do, see, eat and even drink in the city affectionately known as Beantown. What's even better is that Boston is highly walkable, and it's not hard to find your way from one end of town to the other with the help of trolleys, cabs, rideshare services, public transit (the subway is called the "T") and good ol' GPS. Don't forget the Freedom Trail, a 2.5-mile-long path that passes 16 significant historical locations around the city, and serves as a spectacular walking tour through the heart of downtown Boston.
Despite a healthy number of neighborhoods to explore, it's still possible to fit an impressive number of things into a weekend. That's why we're offering 48 hours' worth of suggestions to make the most of your time before or after your Boston cruise.
Day One
Back Bay, now an epicenter of dining and entertainment, didn't exist until the mid-19th century when swamp land was filled in to create additional space in the growing city. Today, it's one of the only areas in Boston that follows a grid. Rows of beautiful brownstone mansions, streets filled with shops and restaurants and proximity to major Boston attractions like the John Hancock Tower (tallest tower in New England), make Back Bay a common backdrop for TV and movies -- and the perfect place to center a day before or after your Boston cruise. For your first day in town have a morning meal and then pick up the Freedom Trail, which will teach you a bit about the American Revolution and will guide you through some of Boston's most popular neighborhoods in the process.
Breakfast & Brunch
If you prefer a little book-browsing with your first meal of the day, Trident Booksellers & Cafe (338 Newbury Street) has you covered. This tiny little spot, part bookstore/part restaurant, has a thoroughly local feel paired with amazing all-day brunch foods -- lemon ricotta French toast is offered alongside ramen bowls, omelets, skillets, scrambles, six different burgers, seven salads, a dozen sandwiches and a long list of fresh juices, frappes, smoothies, teas and coffee. It's basically bound to have something to please everyone in your party. (Open every day 8 a.m. to midnight.)
The name might evoke images of childhood school lunches, but there's nothing juvenile about Cafeteria (279 Newbury Street), which dishes out trendy American comfort food morning, noon and night. Particularly noteworthy is the brunch menu (available on weekends only), featuring items like truffled scrambled eggs, a smoked salmon platter and breakfast pizza. You might have had a mimosa, but have you ever tried a lilosa? It's Cafeteria's take on early-morning imbibing and replaces orange juice with grapefruit juice and a pour of prosecco. (Open 11 a.m. to 11 p.m. Monday through Thursday; 11 a.m. to 1 a.m. on Friday; 9 a.m. to 1 a.m. on Saturday; and 9 a.m. to 11 p.m. on Sunday.)
Back Bay Social Club (867 Boylston Street) has a street-side patio for people-watching and munching in good weather. Chicken and waffles, lobster Benedict and a Belgian blueberry waffle are available here for brunch, as well as three varieties of bloody marys and a gluten-free menu. (Open 11:30 a.m. to 2 a.m. weekdays; open at 11 a.m. on weekends.)
People-watching and patio dining is on the menu for lunch at Stephanie's on Newbury (190 Newbury Street). On the actual menu at this Boston bistro are tuna melts, burgers, PEI mussels and a lobster guacamole; if slightly upscale comfort food is what you're after, this local institution won't disappoint. (Open 11:30 a.m. to 3 p.m. for lunch on weekdays; 9 a.m. to 3 p.m. for brunch on weekends; 3 p.m. to 5 p.m. daily for afternoon fare.)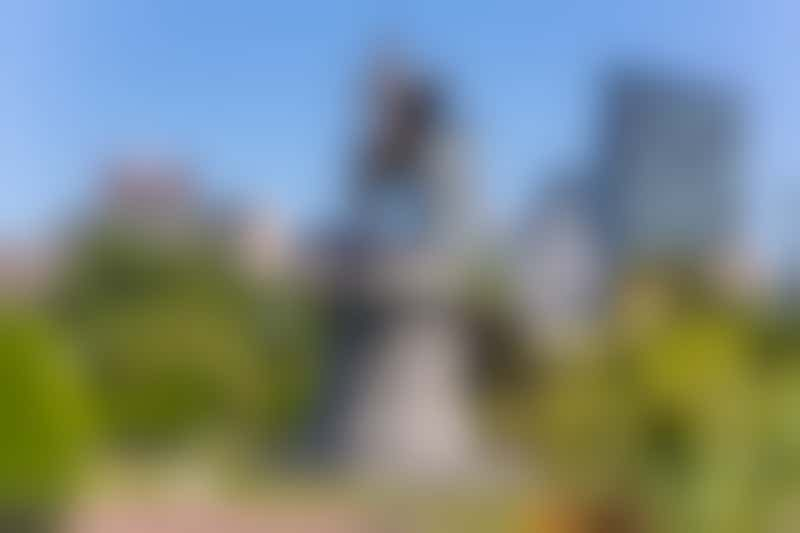 Boston Common George Washington monument (photo: holbox/Shutterstock.com)
Morning
Since you'll already be on or near bustling Newbury Street, spend some time sauntering past the shops, cafes and -- in the spring and summer months -- open-air bars and restaurants. This part of town is perfect for getting in some shopping. In addition to the high-end chain stores, check out Boston-based comic book and novelty gem Newbury Comics (332 Newbury Street), or a cupcake and designer T-shirt shop in one, Johnny Cupcakes (279 Newbury Street).
Grab a to-go coffee or cider and embark on another perfectly enchanting morning stroll (during the autumn, fall foliage is an added bonus) down Beacon Street. This area, known for its affluent residents, is teeming with gorgeous and antiquated homes covered in ivy and attracting longing looks from passersby.
Boston Common is the Central Park of New England, and the oldest city park in the United States (founded in 1634). Apart from stepping on the same ground as George Washington, Charles Lindbergh, Martin Luther King, Jr. and Pope John Paul II, a visit to Boston Common has areas to rest, play baseball or tennis, rent swan paddleboats or simply pass through to enjoy the sights and sounds. "Make Way for Ducklings," is an adorable sculpture based on a children's book about a family of ducks who take up residence in the Boston Public Garden. Pick up the Freedom Trail at the Boston Common Visitor's Center (139 Tremont Street) for a walk-through of churches, state houses, old bookstores and burial grounds. Break for lunch near Faneuil Hall.
If you prefer movies to history, uncover which of your favorite films and shows have used Boston as a backdrop ("Black Mass," "Spotlight," "American Hustle" and plenty more) on a movie tour. On Location Tours (888-649-8836) is highly rated and offers bus and walking tours of Beantown's most famous locales from the bar featured in "Good Will Hunting" to the rooftops of "The Departed." Tours depart from Boston Common.
Lunch
It's unthinkably easy to eat your way through the Quincy Market (South State Street) as there's an alphabet of vendors inside -- bubble tea to Indian kebobs. (Open Monday through Saturday from 10 a.m. to 9 p.m., noon to 6 p.m. on Sundays.)
The original Cheers location (84 Beacon Street), in Beacon Hill (20 minutes west), was established in 1895 -- well before the '80s sitcom. Previously known as the Bull & Finch, this pub was considered by producers of the show to be the ideal American bar, and thus a legend was born. A newer -- and probably better-known -- replica of Cheers can be found in the Faneuil Hall Marketplace, but for the "authentic" experience, head to the original. (Open every day except Christmas, from 11 a.m., children allowed until 10 p.m.)
Afternoon
Get back on the trail and head to the Paul Revere House (19 N. Square), in the heart of the North End, where Revere departed on his legendary ride. You might know the story of the Revolutionary War, but did you know Revere was a master craftsman? Examples of his work with silver are on display at the house museum. (Open daily 9:30 a.m. to 5:15 p.m.)
The trail, if you took it the entire way, ends at the Bunker Hill Museum in Charlestown. If weather and time are favorable, you can take a cab ride (not even 10 minutes) to Cambridge for a Charles River boat tour. The Charles Riverboat Company (617-621-3001) can be found at the back entrance to the CambridgeSide Galleria (100 CambridgeSide Place) at the Lechmere Canal Park. Boat tours last about an hour, are narrated for history and context, and are less than $20 per person (unless you take a specialty tour).
When you're done exploring the area by water, spend some time in nearby Harvard Square. Home to the oldest and most selective Ivy League school, Harvard Square is where students and residents alike let their hair down; it's a cultural and social center chockfull of eateries, shops, theaters and events. If you're looking for a good picnic spot, the grassy grounds and historic gates of Harvard Yard are adjacent. If you end your first day in Boston here, dinner and entertainment are no-brainers; there's something on every corner. Otherwise, head back across the bridge into the North End and nearby neighborhoods for drinks and dinner.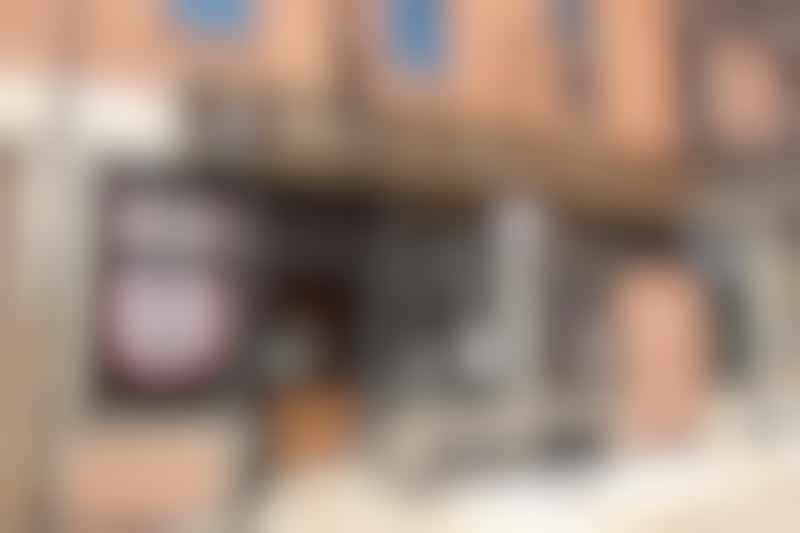 The historic Bell in Hand Tavern (photo: debra millet/Shutterstock.com)
Dinner, Drinks & Nightlife by Neighborhood
North End
Welcome to Boston's Little Italy.
The first pour at the Bell in Hand Tavern (45 Union Street) was in 1795; Paul Revere used to drink here, and that should be reason enough to pop in for a brewsky and a bowl of chowdah. Samuel Adams Beer (based in Boston) even created a Bell in Hand Ale specifically for the establishment -- it's always on draught. Even though it was once an important 18th-century watering hole, don't be surprised to encounter a young college crowd here with DJ music on the weekends. (Open daily from 11:30 a.m. to 2 a.m.)
Italian is on the menu at every street corner, so take your pick of more than 100 eateries in this intimate neighborhood. Our pick is Giacomo's Restaurant (355 Hanover Street), for calamari and homemade pasta. It's cash only and there's typically a line, but it's worth the wait for this small and charming spot. (Open from 4 p.m. nightly; until 10 p.m. Monday through Wednesday, midnight Thursday through Saturday and 9:30 p.m. on Sundays.)
After dinner, dessert and a cappuccino are a natural fit for the North End. Take a cannoli tour and see for yourself who wins the battle: Mike's Pastry (300 Hanover Street), Modern Pastry (257 Hanover Street) or Maria's Pastry (46 Cross Street) -- the best is the subject of hot debate.
Back Bay
For a concentrated section of trendy hangs, stick to this hood.
To shake all those nostalgic feelings of Americana, head down to Lolita Cocina & Tequila Bar (271 Dartmouth Street) where you'll find the best variety of tequila in town, set in a sexy Gothic lounge. Dinner, dessert and a late-night menu are served; all have a Latino flavor. Cocktail-drinkers opting for bourbon, gin or rum will find them -- along with nonalcoholic frescas -- on the menu as well. (Open daily 5 p.m. to 2 a.m.)
FiRE+iCE (205 Berkley Street) is the epitome of family-friendly dining where you create your own dishes and watch them being prepared in lively stir-fry shows. Huddle around what the restaurant claims is the largest Mongolian grill in the world, while chefs cook up a creation you hand-picked from an impressive buffet of items. There's also a location in Harvard Square. (Open daily 11 a.m. to 10 p.m.; dinner service starts at 3 p.m.)
For date-night ambiance, Sonsie (327 Newbury Street) is a sweet spot that exudes refinement without being pretentious. An international menu is executed with delicate flair and draws on seasonal ingredients. Brick-oven pizzas, meat, fish, salads, pasta and plenty of fresh vegetables are complemented by a thoughtful cocktail and wine list. In warm weather, French doors are flung open and the two-tops closest to the outdoors maintain a patio dining feel. (Open for dinner from 6 p.m. daily until 11 p.m. Sunday through Thursday, and until midnight on Friday and Saturday.)
If you're looking for music, there's a place in Boston for any taste. For a true Bostonian experience with all the literal bells and whistles, attend a Boston Pops or Boston Symphony Orchestra concert at Symphony Hall (301 Massachusetts Avenue). Call (888-266-1200) or go online (bso.org) for information on performances and events.
The Beehive (541 Tremont Street) hosts near-nightly music acts with a focus on jazz. A bar and restaurant as well, Beehive does not charge a cover for its entertainment, which can run the mill from reggae to burlesque. (Open until midnight Monday through Wednesday and Sunday; 1 a.m. on Thursday and 2 a.m. on Friday and Saturday.)
Fenway/Kenmore
Even if you're not catching a game, it's hard to strike out hanging around Fenway.
New England goes Southern at Sweet Cheeks Q (1381 Boylston Street) in the Fenway Triangle. This barbecue joint serves family-style cooking in trays -- a choice of two meats is $24 and three is $26. Fried green tomatoes, buckets of biscuits and meat by the pound -- check, check and check. (Open for dinner 5 p.m. to 10 p.m. Monday through Thursday and Sunday; until 11 p.m. on Friday and Saturday.)
Lucky Strike Jillian's (145 Ipswich Street) is a three-story bowling alley/billiards/club near Fenway, and it's adults only. Each floor has a different focus -- one is for pool, darts and Ping-Pong, another offers 16 bowling lanes and yet another is a spring break-themed club with a full restaurant; all three floors have a bar and lounge. (Open until 2 a.m. nightly)
If a frozen dessert is more your thing, Boston does homemade ice cream well. JP Licks has locations on Charles, Boylston and Tremont Streets. Flavors stay current and intriguing (we found a flavor with raspberry and Pop Rocks, inspired by a Roald Dahl book), but also include the classics like maple walnut; opt for fro-yo and ditch chocolate or vanilla for coffee chip or oatmeal raisin.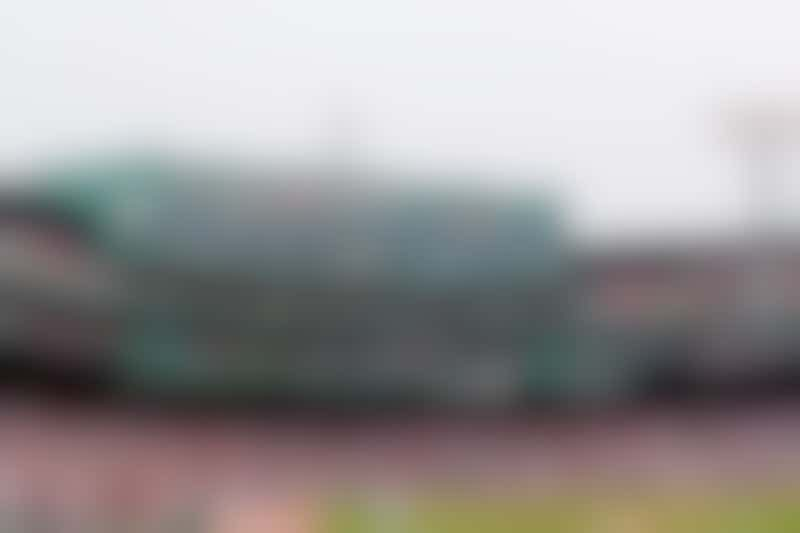 Fenway Park (photo: Joyce Vincent/Shutterstock.com)
Day Two
Your second day in Boston will focus on the scenic Seaport neighborhood along the Fort Point Channel for the morning, followed by a trip out to Fenway for an afternoon of museums and baseball. Explore the edges of town and soak in some waterfront views to get you in the mood (or to remind you) of sailing on the high seas.
Breakfast & Brunch
Flour Bakery (12 Farnsworth Street) is hailed as one of the best bakeries in Boston. With three other locations in the South End, Central Square and Back Bay, it would be difficult to miss a morning coffee and pastry, afternoon snack or evening nosh here. Try a cinnamon cream brioche, curried tuna sandwich or quinoa salad. Nut-free and gluten-free menus are available. (Open from 7 a.m. Monday through Friday; 8 a.m. on Saturday and 9 a.m. on Sunday.)
You can't go wrong with the South Street Diner (178 Kneeland Street), a 24-hour townie diner in a tin can. (There's a giant coffee cup on top, can't miss it.) All the standards are here: eggs just about any way, blueberry pancakes and plenty of sizzling bacon. Originally built in 1947 for blue-collar workers, it's now been featured in a number of films starring names like Kevin Spacey, Steve Martin and Jon Cryer.
Committee (50 Northern Avenue) is the Seaport spot for brunch, specializing in Greek fare. Step out of the typical brunch routine and try a Greek breakfast pie, snack on meze like olives or feta covered in sesame seeds and drizzled with honey, and indulge in creative cocktails while choosing between breakfast (Greek yogurt pancakes) and lunch (spanakopita grilled cheese). Drool. (Open from 11:30 a.m. on weekdays, 11 a.m. on weekends.)
OK, we know you can probably get this at home, but before you sail away or fly back, stop by a Dunkin' Donuts (all across the city) and have a Boston cream doughnut where the chain first started.
Morning
Walk the Rose Fitzgerald Kennedy Greenway, a park that connects several downtown Boston neighborhoods, for a peaceful path through the city with a focus on the arts rather than history. The Greenway is peppered with fountains, art installments, a carousel, the Boston Public Market and, in good weather, various outdoor markets. Not only are you out in relative nature, but the park provides free Wi-Fi while you walk.
While some might go out of their way to avoid the touristy tours, you'd be doing yourself a disservice if you didn't partake in a Boston Duck Tour (open 9 a.m. to 5 p.m. or 6 p.m. on weekends). An excursion that can traverse both land and water, Duck Tours are possibly the most family-friendly way to see Boston and tours depart regularly from the Museum of Science, Prudential Center and New England Aquarium (all great places to check out immediately before or after your tour). Rates run about $40 per adult and $30 per child for an 80-minute tour.
From the aquarium, cab it the 10 minutes to the Boston Children's Museum (308 Congress Street) if you have little or curious ones in tow. Play spaces and interactive displays will keep everyone busy for a few hours. (Open 10 a.m. to 5 p.m. daily -- until 9 p.m. on Fridays.) Or, if you're a group of adults, head to the small but provocative Institute of Contemporary Art (25 Harbor Shore Drive) for modern exhibits and contemporary performances. (The ICA is closed Monday and Tuesday; open 11 a.m. to 8 p.m. on Wednesday, until 6 p.m. on Thursday and Friday, and until 5 p.m. on Saturday and Sunday.)
Lunch
If you time it just right, you'll have your pick of the day's catch at James Hook & Co. (15 Northern Avenue), a seafood shack specializing in shellfish. Open 10 a.m. to 5 p.m. (6 on Fridays but 3 on Sundays), you only have a few hours to elbow your way to a lobster or crab roll, but boy is it fresh. There's some outdoor seating in the yard in front of the shanty.
Bring shades to The Barking Crab (88 Sleeper Street), which provides a nice view of the harbor and financial district. Unsurprisingly, the menu is seafood heavy, with four different types of crab up for grabs. Make things interesting with a glass (or pitcher, if you're feeling bold) of watermelon habanero sangria. (Open until 9 p.m. on weekdays and 10 p.m. on weekends.)
A quick and healthy option to get you through the afternoon is the salads and iced teas at Sweetgreen (800 Boylston Street). All food is made with local and organic produce, and if you don't go for any of the 12 delectable salads on the menu, you can create your own. (Open every day 10:30 a.m. to 10 p.m.)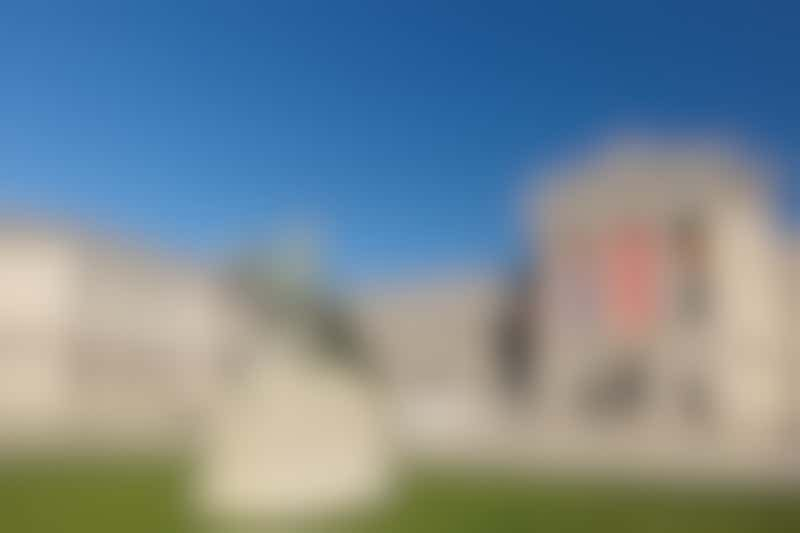 The Museum of Fine Arts in Boston (photo: Jay Yuan /Shutterstock.com)
Afternoon
Overwhelm yourself with an afternoon of culture at one or two (or as many as you can manage) of Boston's fantastic art museums. The Isabella Stewart Gardner Museum (25 Evans Way) is housed in a building designed in the style of a 15th-century Venetian palace, and contains the impressive 2,500 artworks and objects that Gardner collected during her lifetime, including correspondences with authors T.S. Eliot and Oliver Wendell Holmes. Despite your refined surroundings, admission is discounted to anyone wearing Red Sox gear. If you are visiting on your birthday or your name is Isabella, even better -- admission is free on both accounts. (Closed Tuesdays; open every other day from 11 a.m. to 5 p.m.; museum stays open until 9 p.m. on Thursdays. Admission is $15 for adults with student and senior discounts also available.)
A hop and skip from the ISGM is the Museum of Fine Arts Boston (Avenue of the Arts, 465 Huntington Avenue). This museum offers a more comprehensive collection of art with more than 350,000 objects ranging from abstract landscapes to the importance of the monkey in Japanese art. (Open 10 a.m. daily; until 5 p.m. Monday, Tuesday, Saturday and Sunday; until 10 p.m. Wednesday through Friday. Admission is $10 for anyone under 17; $25 for adults and $23 for students and seniors.)
Boston loves baseball. Fenway Park (4 Yawkey Way), the home stadium of the Red Sox, was built in 1912 making it the oldest stadium in Major League Baseball. An iconic venue, Fenway is worth a tour (and a game if the stars align). Tours are held daily at the top of the hour, 9 a.m. to 5 p.m.; tickets are typically $18 for a one-hour tour. If you don't make a tour and don't have tickets to a game, never fear: Bleacher Bar (82A Lansdowne Street) is a bar and restaurant with a unique view of Fenway's center field. The bar is open all day (11 a.m. to 1 or 2 a.m.) every day except Christmas, and a ticket is not required -- it's a fun place to gather, even if the Sox are playing an away game.
Drinks
Parker's Bar and The Last Hurrah are located inside of the Omni Parker House Hotel (60 School Street), the longest continuously running hotel in the United States, open since 1855.  Malcom X, Ho Chi Minh and Emeril Lagasse all worked here. It's even known as the home of Boston cream pie. Choose between the reputation of one of the best whiskey bars in the country at Last Hurrah or the atmosphere (and maybe a slice of that pie with your nightcap) at Parker's Bar. Or don't choose and try both. (Open 5 p.m. to midnight on weekdays, noon to midnight on weekends.)
There's no confusing what the main activity is at Drink (348 Congress Street in Back Bay), but what to drink is between you and the bartenders. There is no menu at this custom cocktail bar. Instead, patrons answer a few questions about their personality and the mixologists work their magic into tailor-making a concoction based on what your answers might reveal about your preference of poison. (Open daily until 1 a.m.)
Dinner
If you're staying at one of the many hotels on or off Atlantic Avenue, there are plenty of solid options, including famed steakhouse chain Smith & Wollensky (260 Franklin Street #240). Consider Trade (540 Atlantic Avenue) for a more eclectic assortment of small plates like a lamb sausage flatbread or falafel pancakes and cocktails with ingredients ranging from beet juice and chamomile tea to saffron. (Open 11:30 a.m. until 11 p.m. Monday through Thursday; midnight on Friday and Saturday; and 5:30 p.m. to 10 p.m. on Sunday.)
Or, grab a bite at a gastropub helmed by celebrity chef and TV personality Ming Tsai. His stylish Asian establishment, Blue Dragon (324 A Street), offers dim sum, noodles and Vietnamese banh mi sandwiches. Four versions of the menu rotate throughout the day, but dinner begins at 5 p.m. (Open Monday through Friday 11 a.m. to 1 a.m.; Saturday 4 p.m. to 1 a.m.; closed on Sundays.)
Sportello (348 Congress Street) is the restaurant upstairs from Drink. It might seem a little like a hole in the wall at first, but squid ink pasta and a pork chop with strawberries and pistachios is what makes this Italian take on a modern diner worth paying attention to. Sportello is Italian for "counter service," so it's fitting. (Open Sunday through Wednesday 4:30 to 10 p.m. and until 11 p.m. Thursday through Saturday.)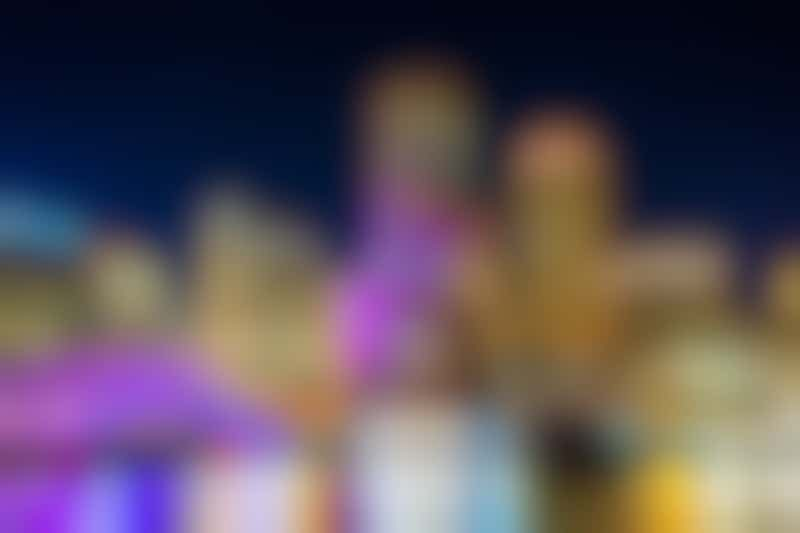 Boston skyline at night (photo: ESB Professional/Shutterstock.com)
Evening/Nightlife
Plenty of hotel patios and rooftop bars can be found along the Fort Point Channel. Head to the top of the Envoy Hotel for stellar views from its Lookout Rooftop and Bar (70 Sleeper Street). Covered areas and outdoor heaters keep the scene alive even into cooler temps. The specialty cocktail list offers about a dozen libations across five spirits for a dozen dollars each. (Last call is 11:30 p.m. Sunday through Wednesday and 12:30 a.m. Thursday through Saturday.)
Legal Harborside (270 Northern Avenue) is technically a restaurant, but has a huge outdoor patio. Its third floor hosts a rooftop lounge with a retractable glass roof and walls for year-round waterfront views. (Open daily until 2 a.m.)
Bar hop down the street to the Whiskey Priest (150 Northern Avenue) for another lovely rooftop deck, an energetic crowd and live music on the weekends, with DJ sets every Thursday night. (Open daily until 2 a.m.)
If you didn't get enough of Howl at the Moon (184 High Street) on your last Norwegian cruise, there's a land-based outpost of the rowdy dueling piano bar less than 2 miles from the cruise port. Shows start between 6 and 8 p.m., depending on the day. (Open daily until 2 a.m.)