Stepping on a cruise ship can sometimes feel like walking into a Caribbean straw market, with vendors hawking their wares left and right. Book your extra-fee restaurant here; pony up a few more dollars for dinner theater there. Don't forget to snap up a spa special before they're gone.
With so many cruise ship dining venues and activities carrying surcharges, it's easy to forget there's still a lot of things to do that don't cost a single cent. If you'd like to say "yes!" to adrenaline-fueled activities and culinary indulgences -- and  still ring up a total onboard expense of $0.00 -- check out our list of the best free cruise offerings.
---
1. Catch a Flick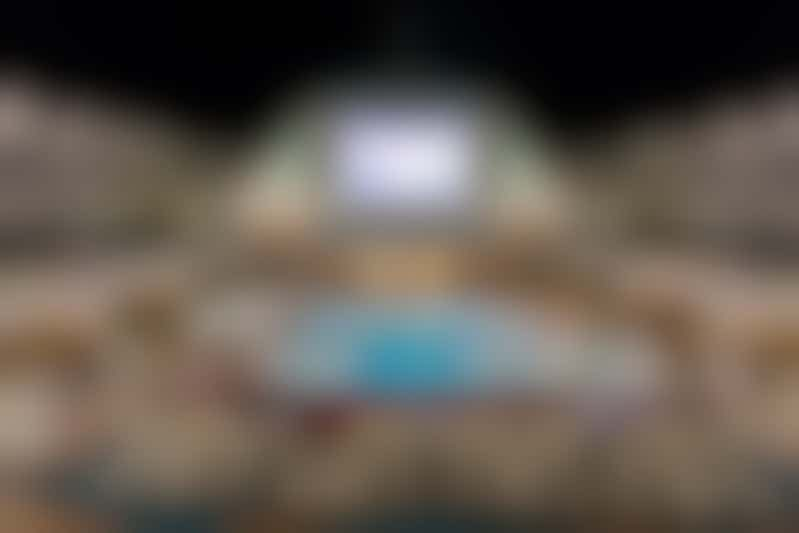 Movies Under the Stars on Crown Princess
The movies might not be first-run, but admission is free, and you can bring in treats from your cabin or the buffet without having to smuggle them under your jacket. Outdoor lido deck movie screens, which can be found on virtually all cruise lines these days, are even more romantic than the real deal, with prime viewing from the pool by day and on snuggly loungers covered with warm blankets at night, popcorn included. Princess Cruises' Movies Under the Stars sweetens up the experience even more, serving chocolate chip cookies with milk, plus other snacks during show time.
In addition to movies on the pool deck, Disney Cruise Line plays everything from new releases to Disney classics in its indoor Buena Vista Theater, available across the fleet.
2. Drink!
Who wouldn't want to drink for free throughout his or her cruise? While several luxury lines offer alcohol-inclusive fares, most mainstream cruise lines do not. However, Norwegian Cruise Line frequently runs a "Free at Sea" program that allows passengers to choose from a list of inclusions -- one of which is an unlimited beverage package -- when they book sailings. (Note that passengers are still responsible for service charges associated with the "free" perk.)
3. Surf the Internet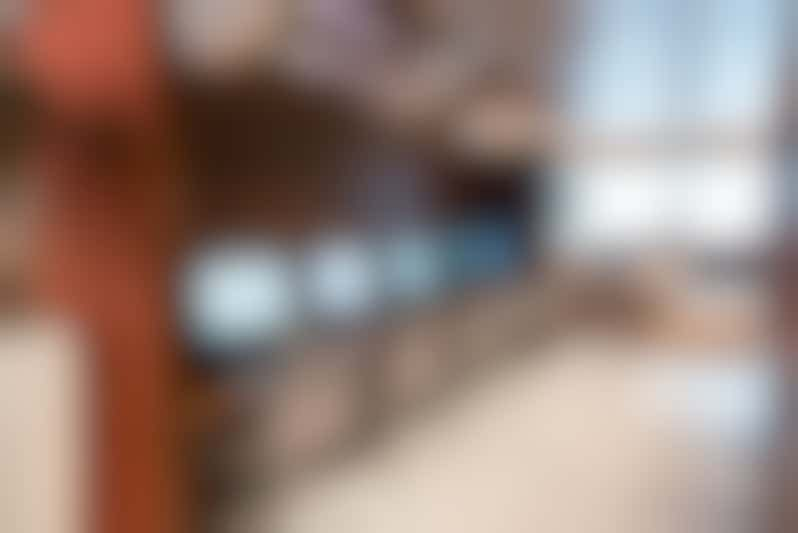 Internet Cafe on Viking Sea
Staying in touch with friends and family while on a cruise has never been cheap. Internet has traditionally cost a pretty penny, but that's changing. As more cruisers demand internet, companies have responded with faster, cheaper access to Wi-Fi. A select few are even going so far as to serve up the internet for free. Viking Ocean Cruises, Regent Seven Seas, Crystal Cruises, Oceania Cruises and most river cruise lines offer unlimited connection at no extra charge.
4. Dine at a Celebrity Chef-Affiliated Restaurant
Several cruise lines have partnered with celebrity chefs to offer extra-special dining experiences that would be nearly impossible (or very expensive) to have on land. But, those experiences usually come with an extra price tag.
Not so on Carnival, Crystal, Oceania and Seabourn. On Carnival, you can fill up on juicy burgers at Guy's Burger Joint, the brainchild of Food Network chef Guy Fieri. (On select Carnival ships, Fieri also helms Guy's Pig & Anchor Bar-B-Que Smokehouse, and on Carnival Horizon and Carnival Panorama, an expanded version dubbed Guy's Pig & Anchor Smokehouse and Brewhouse.)
Caribbean Princess, Crown Princess and Sky Princess also treat passengers to the Salty Dog Grill (a complimentary offshoot of the Salty Dog Gastropub found on other ships). Helmed by celebrity chef Ernesto Uchimura, the venue serves up complimentary burgers (except the chef's namesake "Ernesto" burger, which costs $5), street tacos, hot dogs and other snacks.
Crystal offers each of its passengers one free dinner at Umi Uma and its sushi bar, developed by famed chef Nobu Matsuhisa. On Oceania's Marina and Riviera, cruisers can dine at Jacques, the creation of French chef Jacques Pepin. (Pepin's dishes are also available in the main dining room, for lunch.) Meanwhile, Seabourn's The Grill by Thomas Keller treats diners to innovative steakhouse fare created by Thomas Keller, known for his Michelin-starred restaurants, such as New York City's Per Se and The French Laundry in Napa Valley.
5. Take in a Broadway Show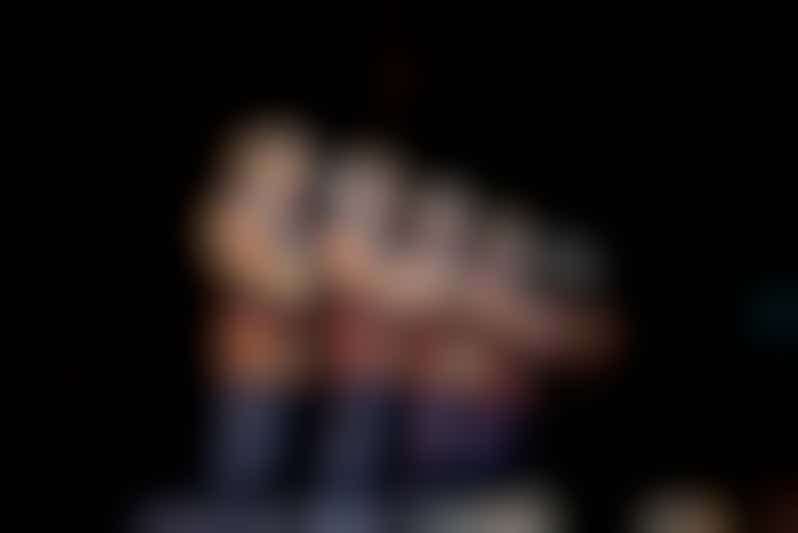 "Jersey Boys" in Bliss Theater on Norwegian Bliss
Snagging tickets to a Broadway show is rarely affordable -- unless you're doing so at sea. On the wide-open waters of the ocean, you can see "Grease," "Mamma Mia!," "Hairspray," "Cats" and "Saturday Night Fever" on select Royal Caribbean ships or "Jersey Boys," "Rock of Ages," and "Priscilla, Queen of the Desert" on select Norwegian Cruise Line ships -- for nothing more than the cost of your already-paid cruise fare.
6. Have a Slice of Pizza
Carnival, Princess, Holland America and Royal Caribbean loyalists disagree as to who's got the best slice of pizza at sea. Carnival cruisers argue the thin crust pies from Pizza Pirate are the best, while Royal Caribbean fans vote for the cheesy yumminess that is Sorrento's. Princess cruisers say Alfredo's Pizzeria has the best hand-thrown slices, bar none. Holland America passengers think the line's New York Pizza venue gives other cruise lines' pies a run for their money. What all can agree on is the price: free for one and all.
7. Surf, Skydive and SkyRide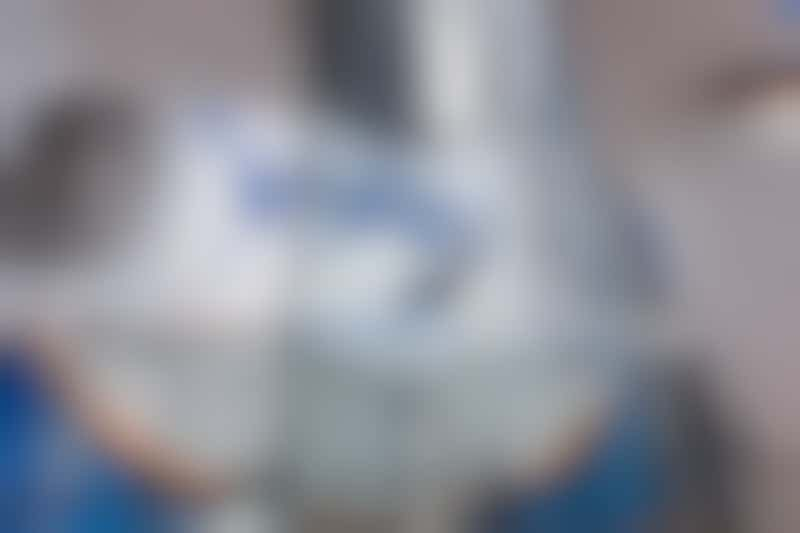 RipCord by iFly on Anthem of the Seas
Get your adrenaline pumping without putting a dent in your wallet on Royal Caribbean with free surfing and skydiving. More than half the ships in the line's fleet have FlowRider surf simulators; three of these also offer iFly by RipCord "indoor" skydiving. With the FlowRider, you can give surfing or Boogie boarding a try for free as many times as you like, but you'll only get one complimentary go on iFly by RipCord.
Meanwhile, Carnival offers free mid-air fun with its SkyRide -- a self-propelled recumbent bike-style ride that's suspended above the outdoor decks on Carnival Vista, Carnival Horizon and Carnival Panorama. Two SkyRide tracks run parallel to one another so you and a friend can race.
8. Scale a Ropes Course
It's not just those with acrophobia who might find their knees knocking while making their way through these high-in-the-air obstacle courses. If you find yourself stuck halfway through, just remember the $0 price tag means you can stop without losing anything (except, perhaps, a little pride).
For these cheap thrills, you'll find Carnival's 16-piece SkyCourse on Carnival Breeze, Carnival Magic, Carnival Sunshine, Carnival Vista, Carnival Horizon and Carnival Panorama. Norwegian's massive ropes course (which includes the "plank," a narrow band of metal that extends 8 feet over the side of the ship) is on Norwegian Breakaway, Norwegian Getaway and Norwegian Escape.
9. Putt-Putt to Your Heart's Content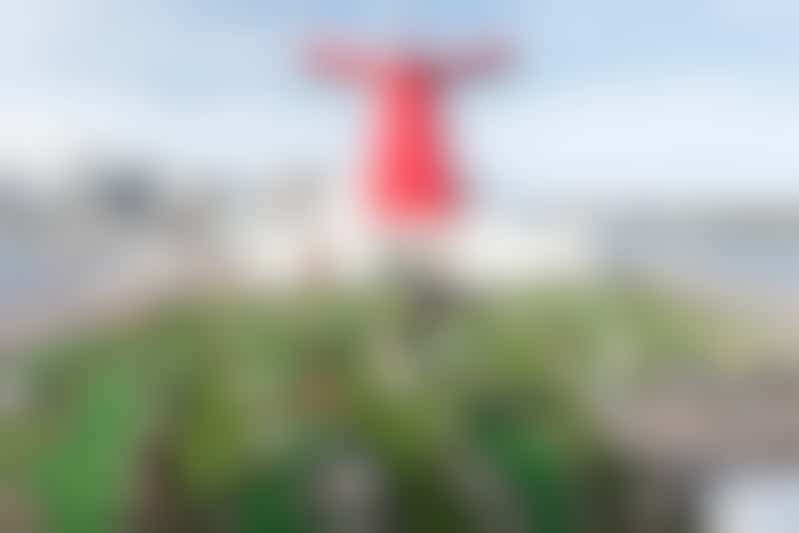 Mini-Golf on Carnival Dream
A favorite activity for families and couples, you'll find top-deck mini-golf courses on all of Carnival's cruise ships, most of Royal Caribbean's vessels, Norwegian's Breakaway- and some of Breakaway Plus-class ships and Disney Cruise Line's Disney Dream and Disney Fantasy.
Most courses are just nine holes, but you can play them again and again without paying a penny -- perfect for when you're trying to cultivate your hole-in-one swing or need a rematch against your opponent. For an even more competitive twist, join a mini-golf competition if one is offered.
10. Snuggle Up in a Bathrobe
Carnival takes a proletarian approach to most of its cruises -- apart from some of the line's newest ships, there are no 1,000-square-foot suites with wraparound balconies on the Fun Ships, nor do suite passengers get much more than extra space. But everyone gets a bathrobe, so, snuggle up on the couch in your cabin while watching TV, or throw the robe on for the walk up to the spa. (Just please don't wear it to the buffet for breakfast.)
Note: Other cruise lines generally will include bathrobes in higher-level cabins. If there are no bathrobes in your cabin, you can always request one from your steward. We've heard stories from Cruise Critic members who've requested bathrobes on other mainstream lines like Royal Caribbean and Norwegian, and were provided with them at no extra charge.
11. Detox in the Sauna or Steam Room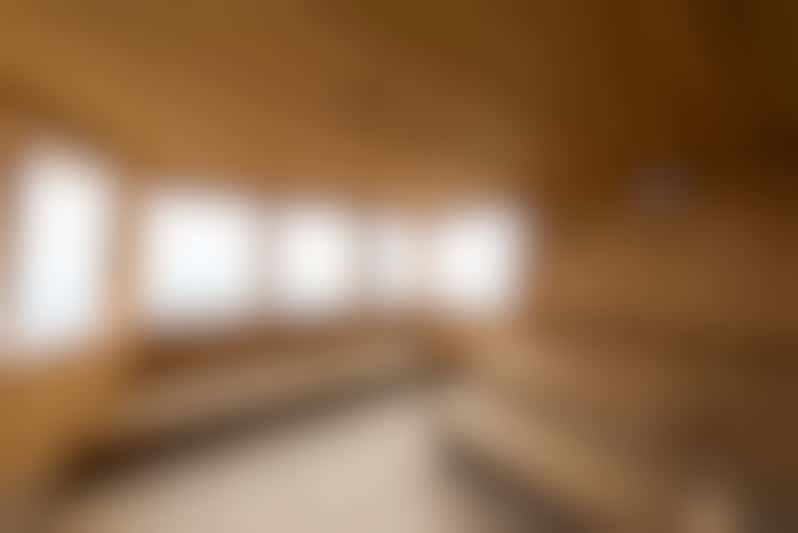 Sauna at Mandara Spa on Norwegian Pearl
Between all the binge eating and bumming around on the sun deck, you might find yourself yearning for a detox. One little problem: You didn't budget for a spa day. Luckily, Carnival's entire fleet, as well as a handful of luxury ships, have free saunas and steam rooms. (Most lines charge for the steam room or require you to purchase a spa pass.) Celebrity and Princess (with the exception of its Royal-class ships) allow access to only the sauna at no extra charge.
Another honorable mention is Viking Ocean Cruises, whose facility -- complete with a handful of hot and cold therapies, including a snow grotto -- is free to all passengers. Bear in mind: While most cruise lines (including Carnival, Princess and Celebrity) offer separate saunas/steam rooms for both males and females, thermal suites like the one on Viking are typically coed.
12. Enjoy a Backyard Bash
Where can you sip lemonade on an Adirondack chair and play a game of bocce over real grass while sailing the seven seas? Only at Celebrity Cruises' Lawn Club. Found on all Solstice-class ships, the top-deck oasis feels like you've stepped into a classy summer soiree, where you and your fellow passengers can play games, enjoy a picnic or just relax and soak up the views as a guitar player serenades you with soft tunes.
13. Lie on a Hammock and Catch the Sea Breeze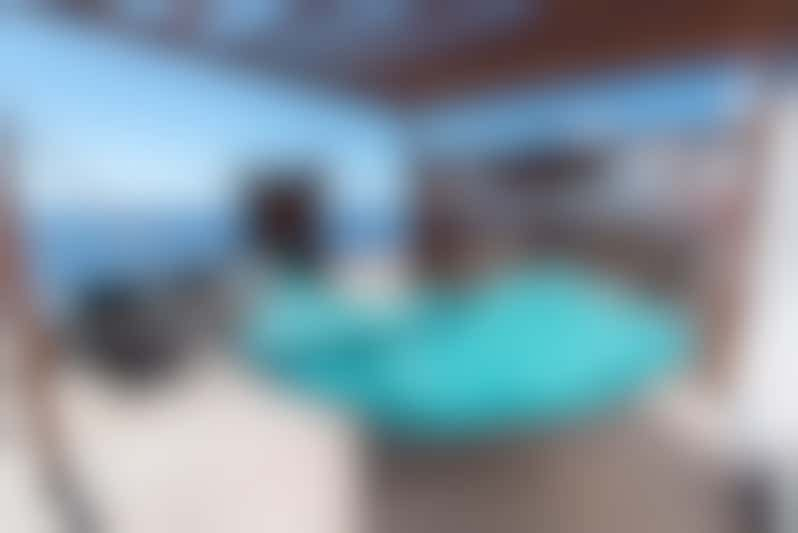 Serenity on Carnival Liberty
There's something about lying on a hammock that conjures up peace and tranquility. On most Carnival ships, passengers have access to padded hammocks on the free, adults-only Serenity deck. Passengers booked in Havana Cabanas on Carnival Vista and Carnival Horizon also have their own private hammocks or hammock chairs on their outdoor patios.
Celebrity Cruises has them tucked away in various parts of its ships -- including faux wicker one-person hammocks at the Lawn Club and cushioned two-person ones by the main pool. Additionally, Virgin's first ship, Scarlet Lady, offers private hammocks for passengers who book balcony cabins (which make up 86 percent of the ship's accommodations).
14. Rock Out to Live Music Inspired by Legendary Performers
Lovers of live music don't have to go to Memphis to enjoy the sounds, tastes and energy of the iconic B.B. King's Blues Club. On select Holland America ships, the Queen's Lounge transforms into the land-based venue named after "The King of Blues" himself. An eight-piece band rocks the stage with hits like Sam Cooke's "Twistin' the Night Away" and Martha & the Vandellas' "Heat Wave," while the venue -- decked out with B.B. King's memorabilia -- serves up specialty cocktails inspired by those served in the clubs on land. The best part: There's no cover charge.
If Royal Caribbean is more your speed, rock 'n' roll fans can sing and dance along with tribute bands covering everything from Boston and Bon Jovi to the Police and Lynyrd Skynyrd at the Music Hall on all Quantum-class ships, as well as Oasis of the Seas and Allure of the Seas.
15. Go Stargazing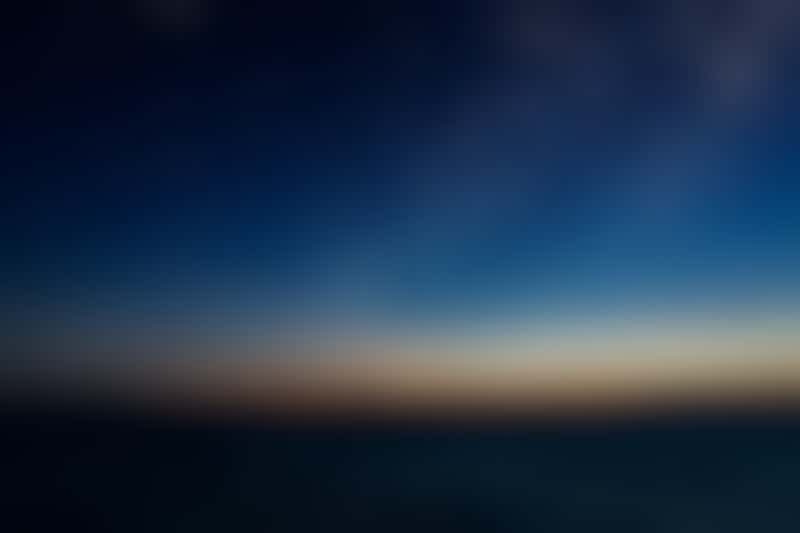 Stargazing at sea (Photo: NOPPHARAT STUDIO 969/Shutterstock.com)
A cruise ship in the middle of the ocean is one of the best vantage points for stargazing. When you're far away from the illuminated cities ashore, and the skies are clear, find a spot on the ship with unobstructed views and as little lighting as possible. (Tip: The closer you are to the front of the ship, the better, as you're less likely to have smoke from the stacks obstructing your view.) Observation decks are a great place to start.
Royal Caribbean ships also keep their helipads open for all passengers, as long as it's not too windy. Princess Cruises takes its own approach, with stargazing tours offered through its Discovery at Sea program, while Viking Orion, Viking Jupiter and Cunard's Queen Mary 2 offer virtual stargazing with free astronomy shows held in the ships' planetariums. For a more private stargazing experience, check out the spa deck on Oceania's Marina and Riviera -- a hidden gem at night.
16. Order Room Service
Unlike hotels, some cruise lines offer room service free of charge. Princess and Holland America offer complimentary 24-hour room service on all their ships. (Note: There are a few caveats. For example, Princess' Ultimate Balcony Dining experience, as well as items from Holland America's specialty restaurant sampling room service menu, cost extra.)
Meanwhile, Carnival and Celebrity allow passengers to order room service, without a fee, between 6 a.m. and 10 or 11 p.m. (In other words, overnight orders will bear an additional charge.)
17. Watch the Sun Set Over the Ocean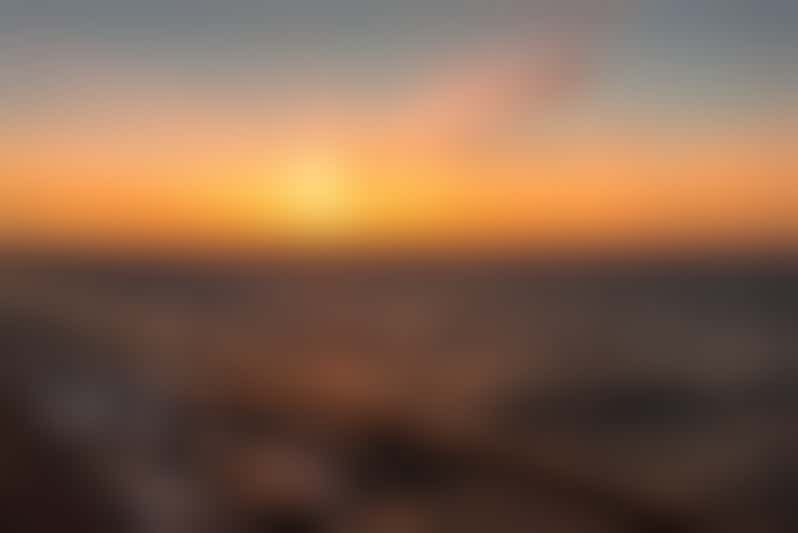 Watching the sun set over the sea is a quintessential cruise experience (Photo: Cruise Critic)
It's one of the most beautiful sights in nature, and it doesn't cost a dime. Grab a loved one's hand (or your favorite cocktail), walk over to the ship's railing, and take a deep breath. You've seen it before, sure, but watching the sunset over the ocean never fails to give you that, "I'm on vacation, and life is good" moment. Enjoy.