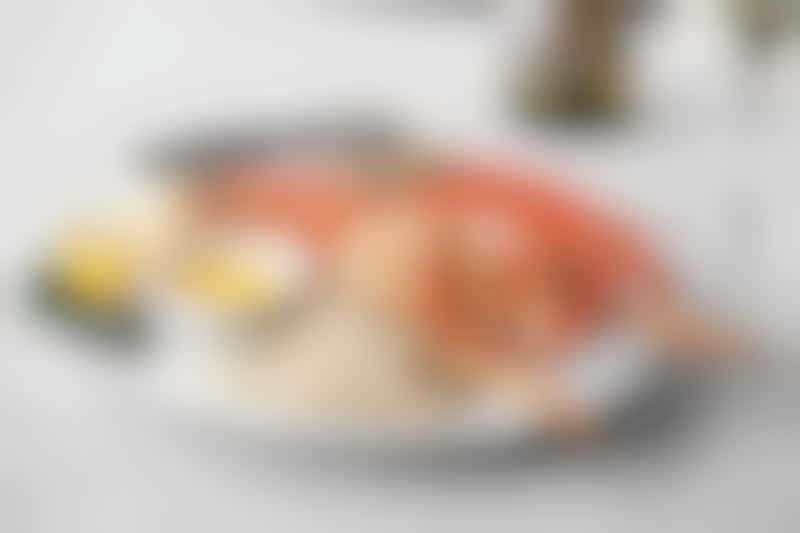 Lobster entree served on a Princess Cruise (Photo: Princess Cruises)
Seafood is a natural fit for cruise ships, and Princess brings the flavors of the Northeast U.S. seacoast to life at this paradise for shellfish lovers where mussels, clams, scallops and shrimp rule the menu.
Ambiance
Located indoors at the back of the ship, Steamers Seafood is a casual eatery with plain wooden block tables and light fixtures that hang from thick fisherman's ropes. Its come-as-you-are vibe emphasizes good eats and conversation over decor and ambiance. It's only open for dinner, though at lunchtime there's a complimentary choose-your-fixings ramen bar in a corner of the restaurant.
Meals
Dinners at Steamers Seafood start with small bowls of Bahamian tomato-lime scallop ceviche placed on the table along with rolls and sun-dried tomato or smoked salmon cream cheese spreads.
Starter choices are a chopped Caesar salad or clam and smoked ham chowder. Pescatarians can ask to have the vegetarian chowder offered at Planks BBQ, located across from Steamers.
For the main meal, diners can choose from three options. The first is a pot full to brimming with black and blue mussels with scallops and kielbasa sausage, plus corn on the cob, green beans and crispy, seasoned fries. Another choice is a similarly full pot of steamed clams with shrimp and andouille sausage with a choice of three sauces; this also comes with corn on the cob, green beans and crispy seasoned fries.
The third, and most popular choice, is the "Princess Broiler," which comes served in a large skillet pan and includes broiled scallops and shrimp, and a crab-stuffed flounder, with a side of crispy seasoned fries. (Should someone who doesn't eat shellfish decide to dine at Steamers, the chef can cook a plain flounder without all the shellfish.)
Diners can add lobster tail and crab to any of the entrees for an additional fee.
Dessert choices are strawberry shortcake or Key lime pie in a jar, or you can ask for a scoop of chocolate or vanilla ice cream.
Also on the menu at Steamers Seafood are specialty cocktails with names like Mermaid's Wish (with Chambord, Absolut Citron and house sparkling wine) and Captain's Bounty (with Bacardi Limon, Malibu rum, Bacardi Oakheart, Cruzan dark, sweet and sour pineapple juice and Coca-Cola).
Menu
Please note that this menu is a sample; actual menus vary by ship and itinerary.
Price
Steamers carries a cover charge of $12 per person, which includes a starter, entree and dessert. Diners can also choose to upsize their meal by adding 4 ounces of lobster tail and 4 ounces of king crab for an additional $10.
Ships
Steamers Seafood is only available on Caribbean Princess.
Explore Princess Cruises