There's a reason so many cruise ships stop in St. Thomas (and it's not just because its two ports, Havensight and Crown Bay, are big enough to handle up to six vessels at a time). While compact, the hub of the U.S. Virgin Islands contains plenty of beaches -- and enough room to handle the inevitable crowds that arrive on cruise ship days; all beaches are public, so nothing is technically off-limits (although some of the most popular charge a fee for maintenance).
But, which beach to choose? Do you join the masses in Magens Bay, seek out your own space at Secret Harbour or throw a blanket down at Brewers Bay Beach? Or, should you take the ferry to St. John, where the beaches are protected by Virgin Islands National Park? "Which beach" is a question that's frequently asked and oft-debated among Cruise Critic readers. Here's our rundown of the best beaches available during your typical port stop in St. Thomas.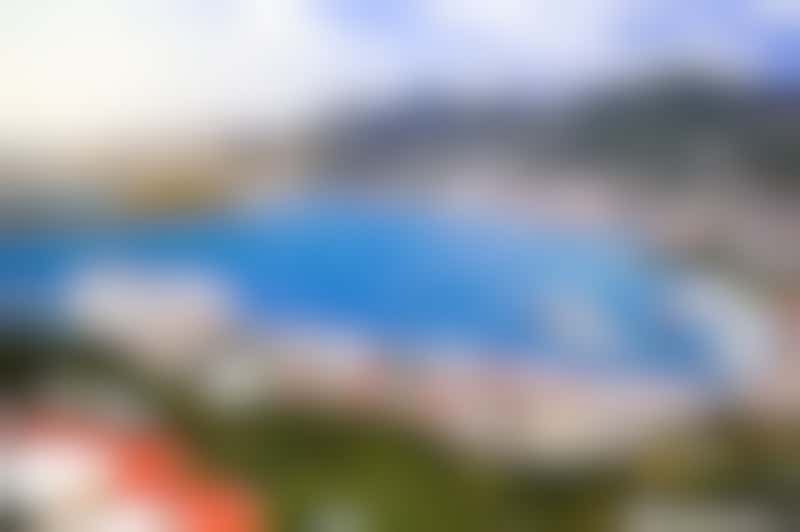 St. Thomas Cruise Port (Photo: Randy Stedwell/Shutterstock.com)
St. Thomas
All beaches in the USVI are open to the public, including those at resorts, which are generally the best ones. The beaches of St. Thomas were impacted by Irma and Maria, the back-to-back hurricanes of 2017, and some -- such as Morningstar and Bolongo -- closed. Information on what's changed since the storms is included here.
Best for Traditionalists: Magens Bay
Why go: It's one of the Caribbean's most famous, award-winning beaches and, indeed, Magens Bay has a lot going for it. For one, it's an expansive, 1-mile stretch of sand located in a horseshoe-shaped bay. The water is calm, making it a safe stop for children and toddlers. However, on Little Magens Bay to the north you will find nude sunbathers.
Fee: $5 for adults and children 12 and up; children younger than 12 are free.
Distance from pier: Magens Bay is on the north side of St. Thomas, about a 30-minute taxi ride from Havensight Pier (depending on traffic).
Crowds: They're not bad if only a handful of ships are in town, because the beach is big. If there's more than three ships docked, things start to get hectic.
Facilities: Restrooms, changing rooms, lifeguard, picnic tables/shelter, nature trail and taxis. Lounge chairs are available to rent for $8, beach chairs are $6, a snorkel mask is $10. Deposits are required on all equipment, which must be returned by 4:30 p.m.
Restaurant: Beach bar onsite has spacious deck and drink delivery service to the beach when crowds warrant it. Breakfast, salads, pizza and sandwiches average about $10.
Effect of 2017 hurricanes: Royal Caribbean Cruises, Ltd. stepped in with funds and trees to repair this popular beach. Food and water sports concession facilities are all new.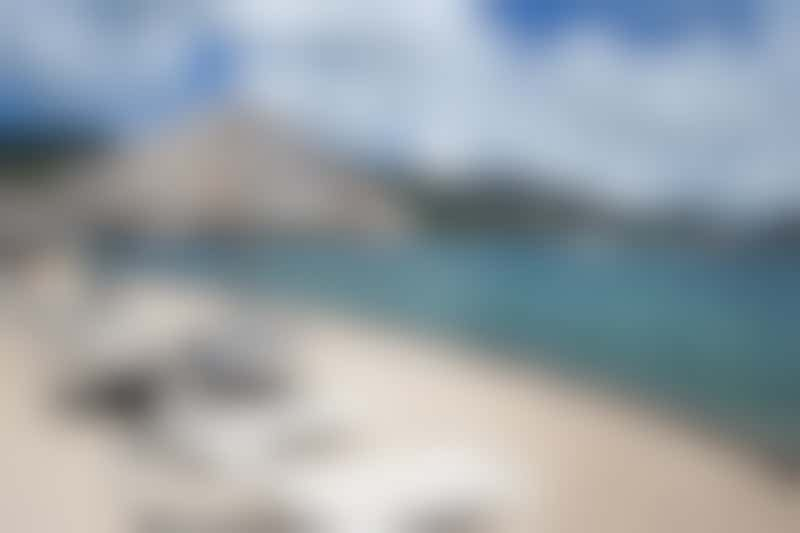 Empty beach chairs in front of Lindbergh Bay on St. Thomas (Photo: Ramunas Bruzas/Shutterstock.com)
Best for Crown Bay Cruisers: Emerald Beach (Lindbergh Bay Beach)
Why go: Home to the Emerald Beach Resort, Lindbergh Bay has all the things you want in a beach, while being located close to civilization. The airport isn't far, so the beach provides the extra attraction of watching planes take off.
Fee: None.
Distance from pier: Lindbergh Beach is on the southwest side of the island, not far from the airport. For this reason, it's more popular with cruisers coming from ships docked in Crown Bay, which is about 15 minutes away.
Crowds: Much fewer than at beaches on the eastern side of the island. A fair number of locals go there too.
Facilities: Restrooms, although you'll have to rent a room at the resort if you need a changing room and shower. Arrange a pickup time with your taxi or see whether someone at the hotel will call one for you. JetSkiVI rents Jet Skis, kayaks, standup paddle-boards, pedal boats and snorkeling equipment. Chairs rent for $7 without an umbrella, $10 with.
Restaurant: The menu at the resort's Caribbean Fusion restaurant is fairly complete, with salads, pizzas, burgers and tacos. Expect to pay about $15 for lunch.
Effect of 2017 hurricanes: The availability of water sports concessions has slightly narrowed.
Best to Avoid the Crowds: Brewers Bay Beach
Why go: If you think it's impossible to have a beach to yourself on St. Thomas, a stop at Brewers Bay Beach will prove you wrong. Even on the busiest days, the beach remains delightfully deserted; when five ships were in port, we only saw a handful of people on blankets. Most seemed thrilled with the view of airplanes, and sailboats moored in the waters protected by lovely verdant hills. A number of trees provide shade along the long, coved stretch.
Fee: None.
Distance from the pier: Farther west than the airport, Brewers Bay Beach is about 20 minutes from Crown Bay port at the campus of the University of the Virgin Islands. Arrange for a taxi to come back to pick you up or you might find yourself stranded.
Crowds: Absolutely none.
Facilities: Restrooms and outdoor showers. No rentals.
Restaurant: Food trucks are set up during the day. You can get an authentic island lunch of a conch patty and johnnycake for less than $10.
Effect of 2017 hurricanes: None.
Best for an Off-the-Beaten-Path Party: Abi Beach
Why go: A relative secret on the St. Thomas beach scene, Abi's funky beach bar makes for a good-time party scene on a nice stretch of beach with some unusual attractions. The long, steep, rocky road that leads to the beach weeds out crowds. Be sure to make arrangements with your taxi driver to pick you up for the return trip. The beach around the bar is a little rocky; walk to the west for sandy bottom.
Fee: None.
Distance from the pier: Some boating excursions will take you here. By taxi, it's about 15 minutes.
Crowds: Moderate.
Facilities: Restrooms, picnic tables, a little beach shop inside a shipping container, games like horseshoes and corn hole, and a beach concession. Rent beach chairs for $10; there's also umbrellas, kayaks and paddle-boards. Live music plays Thursday, Saturday and Sunday afternoons.
Restaurant: The beach bar's food menu changes according to availability, but it usually serves burgers and some sort of tacos for about $15 each. On select days, the bar offers all-you-can-eat crab legs or barbecue. A Sunday brunch buffet runs from 11 a.m. to around 5 p.m. Check out its Facebook page for more info.
Effect of 2017 hurricanes: None.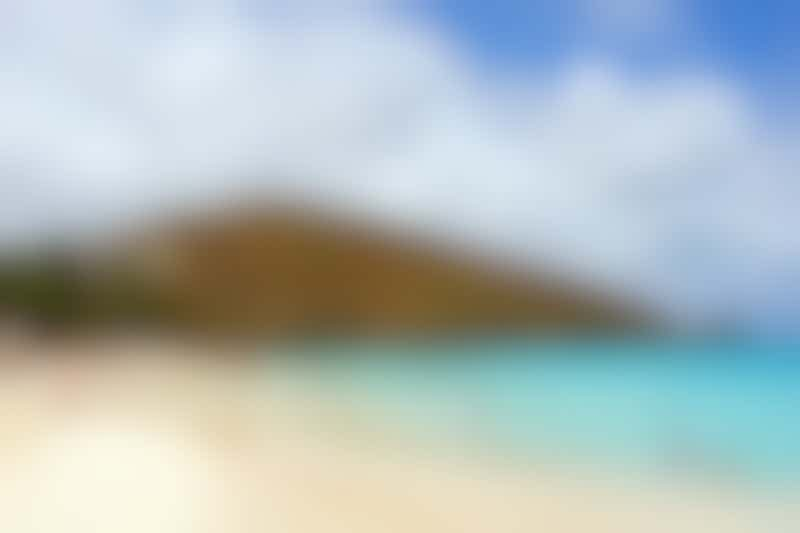 Coki Beach on St. Thomas (Photo: Juneisy Q. Hawkins/Shutterstock.com)
Best to Be in the Thick of Things: Coki Beach
Why go: Next to Coral World, Coki Beach ranks among the most popular attractions on St. Thomas -- and has the crowds to prove it. The beach itself isn't that large, which adds to the crowded feeling. So, what's the draw? Quality from-the-beach snorkeling and scuba diving, which tend to be better on the island's eastern end. You also have a view of Thatch Cay.
Fee: None.
Distance from pier: It takes about 20 minutes to reach Coki Beach, on the island's east end. Taxis wait there, so getting a lift back to the pier shouldn't be a problem.
Crowds: Coki is not a large beach, so it can quickly feel packed.
Facilities: Restrooms, changing rooms and several competing vendors renting equipment and selling beach clothing and jewelry. Chairs with umbrellas range from $15 to $20, snorkel masks and floats cost $5 to $10. Coki Dive Center offers a range of from-beach dives and courses.
Restaurant: Several vendors sell beer, rum drinks, ice cream and snacks; competition keeps the prices low. Lunch will be about $15 but judging from what we saw on the beach, many visitors go for the liquid variety -- which will up your cost.
Effect of 2017 hurricanes: Adjacent Coral World has mostly recovered from the storm but only opens for cruise ship days and prearranged activities. Not all of the beach bars at Coki are back up and running at full capacity.
Best for Partying with the Locals: Sapphire Beach
Why go: Once a perennial favorite with cruisers because of its snorkeling and views of St. John and the BVI, Sapphire Beach's popularity lagged before the hurricanes brought a refresh to the casual beach with a view. A nearby reef, rocks and gorgeous water attract snorkelers and swimmers alike.
Fee: None.
Distance from the pier: About 30 minutes.
Crowds: Busy with a partying expat crowd, especially on weekends.
Facilities: Watersports Rentals has single and double kayaks, Boogie boards, floats and life jackets. Snorkel sets rent for $5 an hour or $10 a day; chairs for $9 a day. Deposits are required.
Restaurant: The bar and grill serves burgers, dogs and a full range of beer and cocktails in a newer facility next to a derelict lean-to of yore. Meals cost around $10. Musicians perform during busy days.
Effect of 2017 hurricanes: Sapphire Beach is revitalized since the hurricanes with new food and water sports concessions and live music.
Best All-Around: Secret Harbour
Why go: Our choice for best beach on St. Thomas, Secret Harbour has it all -- and yet no one seems to know it, as only a small condo development is there. Calm waters and decent snorkeling make the beach a primo draw but bring plenty of sunscreen, as the southern location lacks shade.
Fee: None.
Distance from pier: Located between the cruise pier and Red Hook, Secret Harbour is surrounded by a fairly affluent neighborhood of hilltop villas. While taxis pass by occasionally, you'll want to arrange transportation back to the ship.
Crowds: Minimal.
Facilities: The Aqua Action Dive Center rents snorkel gear for $20, as well as kayaks and standup paddle-boards. Chairs cost $10. Scuba trips are also available.
Restaurant: The Sunset Grille is a full-service restaurant with a large deck overlooking the beach and a menu of pizza, burgers and seafood dinners. Expect to pay about $12 to $18 for lunch.
Effect of 2017 hurricanes: The restaurant has changed names and rebuilt.
St. John
You catch the ferry to St. John from Red Hook, which is about a 20- to 30-minute taxi ride from the cruise ship pier, depending on traffic. The ferry costs $12 round trip for adults, $2 for kids ages 2 to 11 and free for children younger than 2 years old. It leaves Red Hook every hour, on the hour.
The closest beaches to the ferry landing line the island's north shore and are part of the Virgin Islands National Park. That means the beaches on St. John are well maintained, under normal circumstances, but require measures to safeguard guests, habitat and wildlife; this includes the use of reef-safe sunscreen and no glass bottles.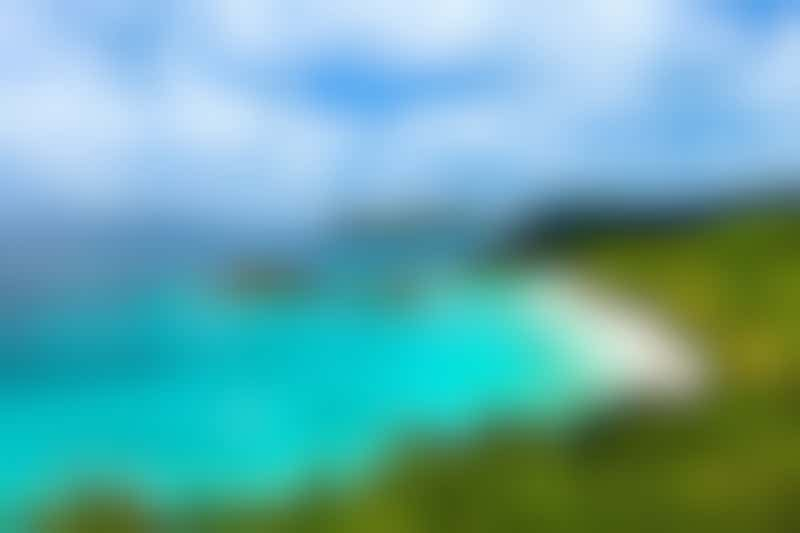 Trunk Bay on St. John (Photo: BlueOrange Studio/Shutterstock.com)
Best for Beginning Snorkelers: Trunk Bay
Why go: Gorgeous Trunk Bay is one of St. John's primary draws with views of the BVI and an underwater snorkel trail. However, its clear water and white sand beach has sparse shade available. It appeals to active families and groups.
Fee: Before the hurricanes, Trunk Bay charged $5 for adults; children younger than 16 were free. Currently there are no admission fees, but that could change as services are restored.
Distance from pier: Once you dock in Cruz Bay, it's another 10 minutes to Trunk Bay. Taxis are readily available.
Crowds: It's not as crowded as Magens Bay on St. Thomas but when cruisers come to St. John, this is most likely where they're headed, so expect a full house.
Facilities: Restrooms, changing rooms and equipment rentals. A full snorkel set rents for $10 as well as beach chairs. You'll have to pay cash and a deposit, and rentals are due back between 3:30 and 4:30 p.m., depending upon the day's traffic patterns and cruise ship schedules. Picnic tables, shelters and barbecue grills are also available here.
Restaurant: Currently closed due to the storms. Bring food in with you from Cruz Bay.
Effect of 2017 hurricanes: The beach bar is closed and the former $5 adult fee is waived until it reopens. Bring cash; the water sports rental concession might not accept credit cards if the phone connection is not restored. Less vegetation stands by way of shade.
Best for Swimming: Cinnamon Bay
Why go: The good news: The beach and water are still gorgeous here, if you want to share your beach with fewer people than at Trunk Bay; it's located slightly north.
Fee: None.
Distance from pier: Cinnamon Bay is another five minutes past Trunk Bay (about 15 minutes from Cruz Bay). Arrange return trip transportation.
Crowds: Currently light because the lack of facilities, although Cinnamon Bay is still on the beaten path. Its size means more people can spread out.
Facilities: Restrooms. Bring your own water sports equipment.
Restaurant: Closed due to the storms; carry in your own food from Cruz Bay.
Effect of 2017 hurricanes: The platform tents, cottages, beach bar, restaurant and water sports concession were destroyed. A few porta-potties replace the nonfunctioning restrooms. Uprooted vegetation and rubble is noticeable on the beach. The sugar factory ruins trail, across the road, is closed as is the park's archaeological lab.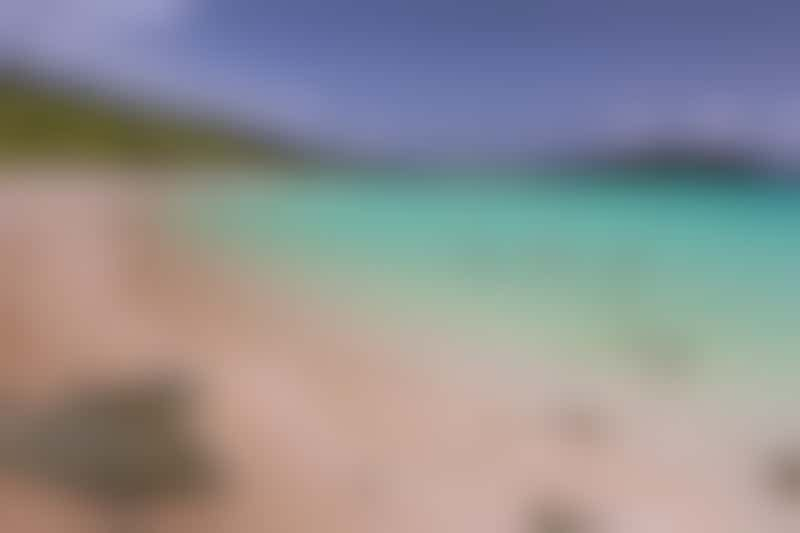 Hawksnest Bay, St. John, U.S. Virgin Islands (Photo: Tom Zeman/Shutterstock.com)
Best for Picnickers: Hawksnest Beach
Why go: Few cruise passengers park themselves at Hawksnest Beach -- and that's just fine with the locals, who go there for snorkeling. There's not a ton of beach, but shade is plentiful when you're ready for a break.
Fee: None.
Distance from pier: Hawksnest is about five minutes from Cruz Bay. Taxis don't stop there, so you'll have to arrange to have someone come back to pick you up.
Crowds: Minimal.
Facilities: Restrooms with pit toilets, covered picnic facilities and barbecue grills are available, and that's about it.
Restaurant: None; you'll have to bring your own food.
Effect of 2017 hurricanes: Fewer shade trees.
Most Easily Accessible: Maho Bay Beach
Why go: Right alongside the road, it's easy to reach. Parking is a problem but a new parking lot is under construction. Snorkeling is tops, with reports of lots of fish and sea turtles in the seagrass beds. It's natural, coved harbor means views of bobbing boats and a long strip of sand to walk. Its calm waters make it popular with families.
Fee: None.
Distance from pier: Another five minutes past Cinnamon Bay. Make taxi arrangements for your return trip.
Crowds: Mostly locals use the beach, which makes it busy on weekends.
Facilities: None.
Restaurant: None.
Effect of 2017 hurricanes: It's important to note that the bathrooms are gone, meaning no facilities onsite.
Best for Privacy: Francis Bay Beach
Why go: On the island's northern end, calm water make Francis Bay a popular spot for private sailboats to dock. Beachgoers like the snorkeling and often see turtles in the water. However, it's yet another beach where you'll need to bring in your own equipment.
Fee: None.
Distance from pier: This is the farthest national park beach on the north shore, so it could take 25 minutes to get there. The narrow, .2-mile road into this beach is bumpy and parking can be difficult; it's better if you're in a Jeep. Taxis don't stop there, so make arrangements for your trip back.
Crowds: Locals favor the beach for family outings on weekends, but during the week it's quiet.
Facilities: A small, pit-toilet restroom.
Restaurant: None; bring your own food.
Effect of 2017 hurricanes: The nature trail is closed and clumps of downed trees decorate the beach; beachgoers have twisted them into makeshift driftwood shelters and sculptures of sorts. The picnic tables are gone.