Trampoline-jumping is fun for kids and great exercise for adults. You can find the first trampoline park at sea on a Carnival Cruise Line ship.
What It Is
Sky Zone on Carnival Panorama is the first at-sea version of the popular, land-based trampoline park of the same name that offers lanes of trampolines and other fun trampoline-based activities.
Carnival's version of Sky Zone is smaller than the one you might have visited at home, consisting of a dozen connected trampolines on one side (with basketball hoops for dunking, aka SkySlam). A separate area features tug-of-war; Battle Beam, a balance beam on which you joust with foam rods; SkyLadder, a low-hanging climbing ladder; and an augmented reality rock wall. Mini dodgeball tournaments are also held on the trampolines.
Open Jump is available most days, morning, noon and night to anyone age 6 and older, but is broken into groups of ages 6 to 14, and ages 15-plus. Toddler Time is for children age 5 and younger, and is available for about two hours in the morning and one hour in the afternoons.
Evening Glow parties are typically late at night, divided by times into the same age ranges. Jumps last for one hour.
All activities are supervised, but an adult must be present at all times during the toddler sessions.
Our Experience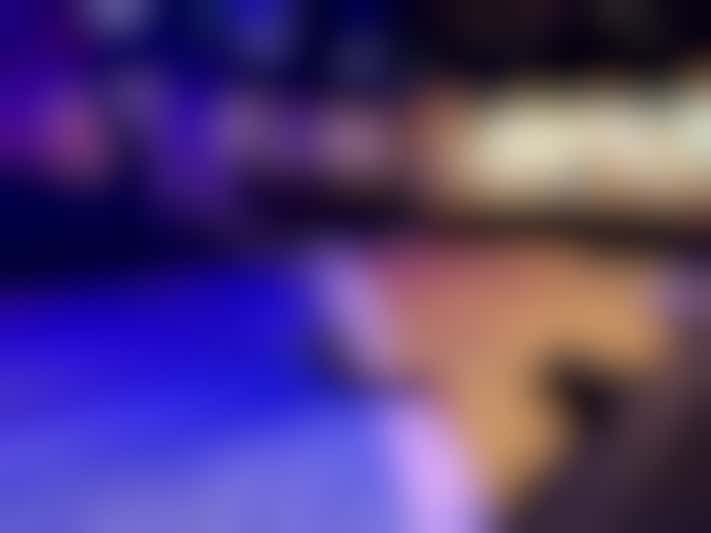 We swung by the bright orange space on Deck 7 forward to make a reservation on one of the two touchscreens; you'll need to fill out a waiver when you make the reservation. We opted for the Glow party on the second night of our cruise, which didn't begin until a rather late 11 p.m.
Fifteen minutes prior to your Sky Zone session, you check in with the desk and they will issue you Sky Socks (mandatory, with grippy bottoms). Cubbies and also lockers are available for your belongings (you can't jump with your phone, but you can take photos or videos on the side or from the seating area). T-shirts are issued for the Glow party that you get to keep.
We joined a group of a dozen or so adults, and after a short safety briefing, we embarked to get off our feet and jump around. Without the energy of a child, the exertion of jumping starts to take its toll after a few minutes.
There are four other obstacles to try that don't include jumping, including a giant rock wall with an interactive screen. During your climb you can participate in various games; we tried chasing an owl -- much easier to do when you tag team it with a friend. Up to two can play on the wall at once but the protrusions are hard for socked feet. (The weight requirements for the wall are a 40 lb. minimum and 250 lb. maximum.)
We attended the Glow Party, which uses blacklights and lasers plus loud music to enhance the party atmosphere. It was fun, but we felt that we had seen and done everything we wanted to after a half-hour.
We were also disappointed by the lack of water fountains or even a cooler to purchase cold drinks. Be sure to bring some water -- you might be surprised how much you'll need it!
Sky Zone activities are more fun when playing and jumping with family or friends so book multiple spots at once. The ship accommodates more than 100 slots per day, even on port days, so jumps rarely sell out, though space is more limited for toddlers and evening parties.
Sky Zone is definitely an activity to try at least once, regardless of your age (and if your health allows). Kids, especially the younger ones, will love it and will probably want to return several times. But for the adults, we can't see returning all cruise long; the activities don't really change.
Price
One hour of Sky Zone "Open Jump" costs $12 for ages 6 and up; the evening Glow party is $18 per person. Toddler Time is $5 per child 5 years of age or younger, and requires an adult to be present who must also pay a $5 cover. Socks are included for all jumps; a special T-shirt is included in the price of the Glow party only.
Ships
You can find Sky Zone on Carnival Panorama.