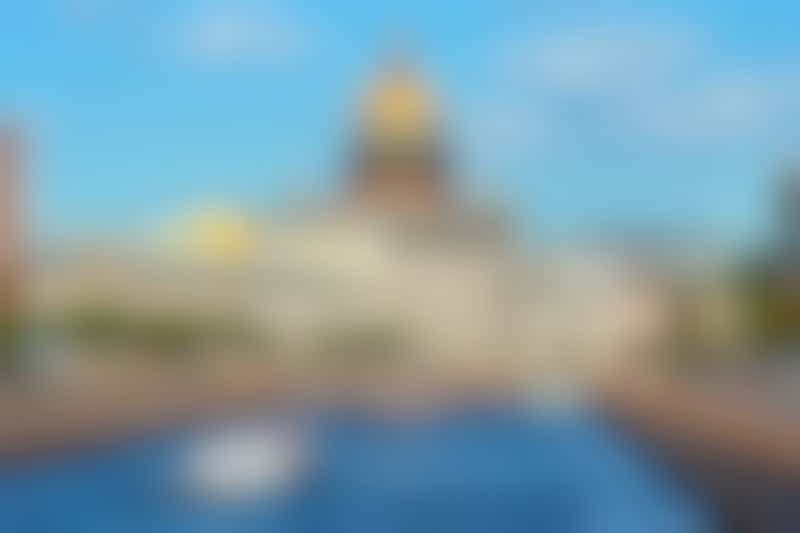 Saint Isaac Cathedral across Moyka river (Photo: Roman Evgenev/ Shutterstock)
Once unthinkable as a vacation destination, Russia has become more accessible than ever, with cruise stops available along the country's interior lakes and rivers (not to mention the Baltic and Black Sea ports available on oceangoing cruise itineraries).
For river cruise fans accustomed to European voyages, the Russian experience will have noticeable differences. The ships themselves have a unique feel, for one. Built to handle the larger lakes that the routes traverse (Lake Ladoga is the largest freshwater body of water in Europe), the vessels usually have five decks, and most are refurbished instead of being brand-new.
The itineraries are activity-intensive in St. Petersburg and Moscow, the traditional embarkation and debarkation ports, with long periods of sailing and little time on shore in the middle. While the landmarks and cultural experiences in the urban areas are the "stars" of most itineraries, cruising the rivers in between has its own charms. Smaller "Golden Ring" cities, so called because of their historic significance, are full of fresco-bedecked Orthodox churches and icon-riddled monasteries. Most lines hire local program directors and fill the sailing days with lectures on the country's rich history, language lessons and cooking demonstrations. After the hectic schedule you'll have in the major cities, it's nice to have time to process what you've seen -- and dig deep into a culture that, at times, is still foreign.
Best Time for Russian River Cruises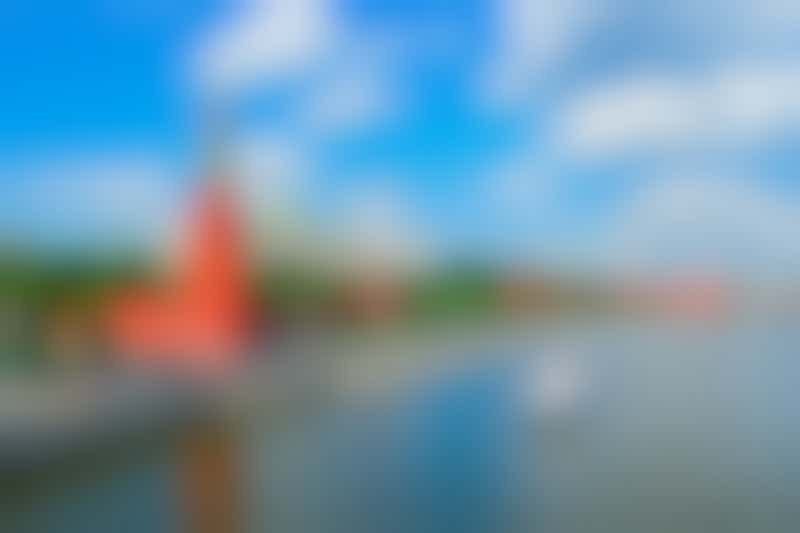 View of Moscow Kremlin and Moscow River, Russia (Photo: PhotoRoman/ Shutterstock)
Compared with other river cruise routes, Russia has a short season. Ships start in early May and finish by the end of October, with high season being June (known as White Nights because of the near-endless daylight), July and August.
There are some advantages to going early or late, even if the weather is a little chilly. For one, you'll beat the crowds that can make visiting the Hermitage or getting Bolshoi tickets a bear, and, in May, you'll still be able to take advantage of long daylight hours. Most museums in Russia lack air-conditioning, and while Russia's climate is generally temperate, Moscow can experience high humidity heat waves in the summer.
Russian River Cruise Lines
Many of the major river cruise lines, including Uniworld, Viking, AMAWaterways, Vantage, Scenic Tours and Grand Circle offer Russian itineraries. At press time, Viking is the only one of them that currently owns its own ships instead of chartering them.
Russian River Cruise Itineraries
A river cruise provides the best way to have extended time in both Moscow and St. Petersburg, while also getting to tour culturally significant cities in the interior. The route traces the canals and lakes that connect the two cities, including some of Europe's largest lakes (Lake Ladoga and Lake Onega) and culturally significant rivers, such as the Volga.
Most of the companies' tours are identical, with the only difference being stops in Mandrogi -- a tourist-centric town with arts, crafts and shopping -- or Petrozavodsky, a historic town in the Republic of Karelia. (Only Grand Circle stops there.)
Because the itineraries are so similar, customers choosing between the different lines should look at how the ships spend their time within St. Petersburg and Moscow. Some river cruise lines have their passengers stay onboard their ships, which can be as far as an hour out of both cities, while others put their customers up at hotels near the city center, with several meals at the customer's expense.
You can learn about oceangoing cruises to Russia in our Northern Europe Cruise Tips and Black Sea Cruise Tips stories.
Russian River Cruise Port Highlights
St. Petersburg. Although two days is not long enough to see everything in this city built by Peter the Great, intrepid passengers will usually be able to hit the Hermitage, one of the world's largest art collections; admire the 19th-century architecture on a canal tour; take in a cultural performance; and visit one of the Versailles-style palaces in the surrounding countryside (Peterhof or Pushkin).
Moscow. Moscow's heart lies in Red Square, which contains St. Basil's Cathedral, Lenin's Tomb and the GUM Department Store. The red walls of the Kremlin also border the square; inside the fort, you'll find the Armoury, which contains the Faberge eggs, as well as nine onion-domed churches. Art-lovers can seek out the Pushkin Gallery or take in a show at the Bolshoi Theatre.
Yaroslavl. One of Russia's historically significant Golden Ring cities, Yaroslavl is the biggest city you'll visit during the middle of a river cruise, as well as the most beautiful. It has onion domes and gorgeous churches to spare. (Don't miss the icons and frescoes inside the Church of St. Elijah the Prophet.) It's also got several pedestrian-only streets full of cafes and shops, as well as a lovely embankment that locals use as a park.
Scenic cruising. The landscape along the Russian waterways changes slightly with the latitude. On the northern end of the trip, expect pine and birch trees along the banks; flowers emerge once you get closer to Moscow. The ship's route does pass several small towns, where you can see traditional wooden architecture, as well as large vacation homes owned by the newly wealthy.
Russian River Cruise Tips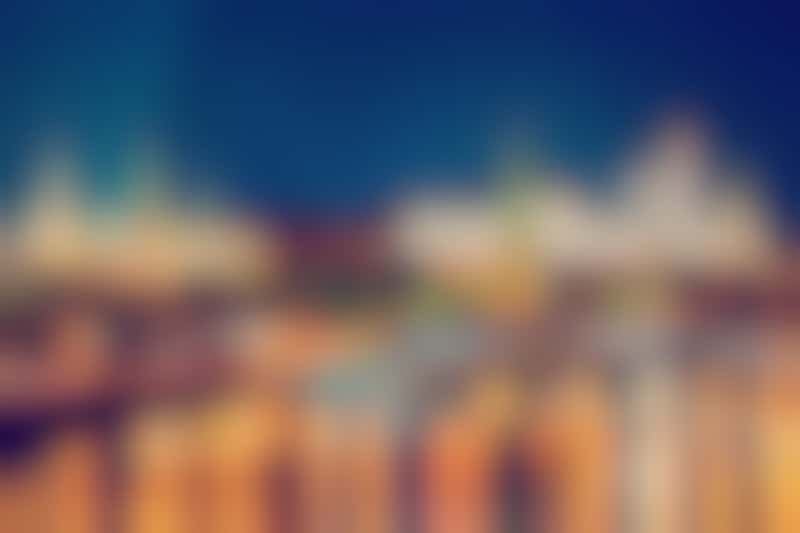 Moscow Kremlin at night (Photo: Mikhail Starodubov/ Shutterstock)
If you're taking a river cruise or planning to tour independently, start thinking about your Russian tourist visa at least two months before your trip. This will give you enough time to fill out the paperwork, which includes a lengthy online application for each traveler, and send your passport in. The cost of using a visa processing service -- the process usually recommended by river cruise lines -- runs about $233 per person for the visa, plus the processing fee. If you wait too long, expediting fees will add another $195 per person to your total cost.
You'll pay a little less if you get your visa in person in cities that have Russian consulates(San Francisco, Seattle, Houston, New York and Washington D.C.). You'll have to make an appointment online, and your passport will still be held for several days. Note that if you take this route, your payment can only be done with cash, money orders or cashier's checks; credit cards and personal checks are not accepted.
What else do you need to know before you travel abroad? Read up on Travel Rules and Regulations and Travel Resources for Cruisers.
The Russian language uses the Cyrillic alphabet, and even in the cities, it's rare to find signs in English. Learning some of the letters and a few phrases before you go will help you get around, as well as foster good will. While Russians are not known for their friendly demeanor, you might get a smile if you offer "thank you" or "good morning" in their own language.
Most river cruise ships have thick curtains to block out the long summer sunlight, but if you're sensitive to the Midnight Sun, an eye mask or an over-the-counter sleep aid might help.
Russians do **dress nicely for the theater.**This is one river cruise where men might want to bring a sport coat, and women should pack a nicer dress.
Check out our Ultimate Guide to Packing for a Cruise.