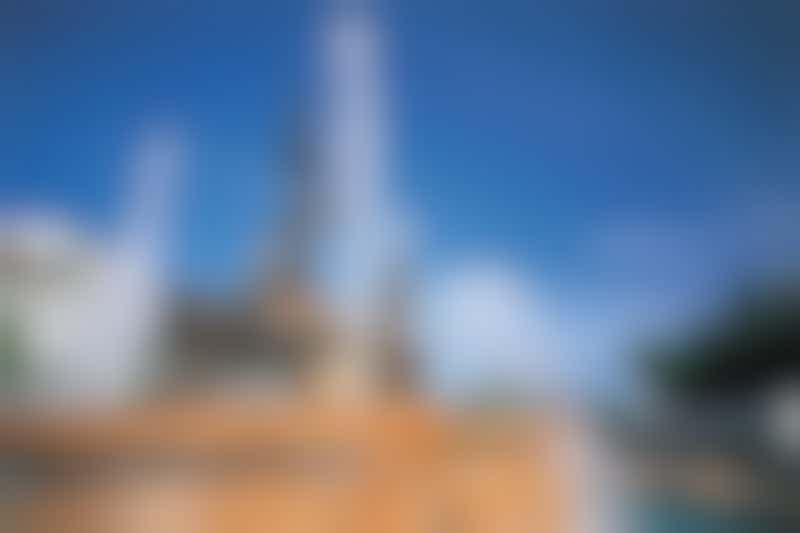 That's a shame because of all the islands in America's Caribbean, Puerto Rico offers the most exotic aura. The melange of indigenous Taino culture combined with European and African influences in San Juan (and all of Puerto Rico, for that matter) is one major factor. Add to that its own influences in areas ranging from cuisine to music and from history to art.
For most folks who either visit San Juan as a stop on a Caribbean itinerary or begin or end a cruise there, the island's biggest appeal is the old city. Cruise ships dock right in the heart of Old San Juan, which dates back to the 16th century. The old, walled city has, particularly in the past few years, been exquisitely preserved and, between visiting its sprawling forts and its narrow, cobbled streets filled with antique shops and art galleries, it's definitely a first-stop on any new visitor's sightseeing agenda. Its mainstream attractions include the imposing El Morro fort, which dates back to 1539; the Cathedral of San Juan, where the island's first governor, Ponce de Leon, is buried; La Fortaleza, the oldest governor's mansion on U.S. soil; several colonial plazas; and the triumvirate of Calle del Cristo, Calle San Jose and Calle Fortaleza streets for the best shopping. Calle del Cristo, in particular, is chock full of art galleries, artisan studios and distinctive boutiques (for more details, visit Cruise Critic's San Juan port profile).
But if you're a been-there-done-that visitor to Old San Juan, there's much more to explore. And there's one more thing to keep in mind, particularly for cruises that begin in San Juan: because airlift is more limited to San Juan than, say, port cities like Miami or Ft. Lauderdale, cruise ships typically wait until the last minute -- sometimes as late as 10 p.m. or even beyond -- to sail away. This makes it possible to sample some of the city's vibrant nightlife (as long as you keep an eye on the clock). Here, we spotlight fresh ways to see the same-old -- plus suggest new ideas that encourage you to venture beyond the old town's borders.
Offbeat Tours of Old San Juan
Already experienced the cruise industry's "standard" tours of Old San Juan?
Then try an alternative via a bicycle tour along Paseo la Princessa. The tours, offered during daylight hours, wind their way past La Princessa Fountain, La Princessa, the former prison that now houses the Puerto Rico Tourism Company and Gallery Hall, Casa Rosada (pink house), and the famous La Rogativa statue, commemorating a religious procession credited with saving the island from a British invasion. If you wish, you can leave your bikes locked up, and take a tour of La Fortaleza, or the quaint Dona Fela Museum. Bikes come with side baskets, so you can comfortably carry a camera, water and small day-pack.
Interested in other offbeat tour options? Since Old San Juan is never more romantic than at sunset, the "Sunset Walk" leads you along the winding sea-fronting promenade of the Paseo la Princessa, with its benches, side parks and old-fashioned light posts. In the evening, the views of San Juan Bay are especially lovely, and you'll see brown pelicans swooping down into the water to scoop up dinner. The walk takes you past some of the same sites on the bike tour, northwest to San Juan Gate. The gate is the only survivor of six original entrances to the walled city. Next, you'll proceed along the old walls of the city up to the El Morro fort. On weekend evenings, the Sunset Walks include free entertainment, courtesy of guitar musicians and folk dancers who perform on the promenade.
And still another option is the "San Juan Night Tales" tour. The tour, which begins at 6 p.m., and takes two hours to cover a two-mile loop, offers a different visits historic sites tied to legendary romances and ghost stories of the island. You'll hear about the tragic maiden in love with one of the fiercest bandits of the 1750s. She killed herself upon learning that her own father (the town executioner) had sent her true love to the gallows. The Night Tales tour also provides a rare glimpse inside the gated courtyards of Old San Juan's historic mansions.
The Bicycle Tour and Sunset Walking Tour are offered by PR Natural Cultural Papo, and require advance reservations and a minimum of four persons per tour. Both tours last three hours, and cover approximately three miles. For reservations and further information, contact victorpaporivera@hotmail.com. For info and booking the "San Juan Night Tales" walk, go to www.legendsofpr.com.
This tour is great to take without a guide: The Rio Camuy Cave Park, which is the third largest cave park in the world, covers 268 acres. Its caves were carved out by the Camuy River more than a million years ago and boast some really unique species of fish. There are plenty of trails to explore, as well as picnic areas, food facilities, an exhibition hall and a souvenir shop. The park is open Wednesdays through Sundays and holidays, 8 a.m. to 4 p.m. For more information, call 787-898-3100 or 787-763-0568.
Gourmet Adventures
Long before "fusion" became a buzz word in contemporary cooking, the melting pot that is Puerto Rico created a cuisine unlike anywhere else on earth. Even if you're only in San Juan for an afternoon, make sure to sample the local cuisine for lunch or an early dinner.
In Old San Juan, the latest urban hangout is SoFo (south of Fortaleza Street). Trois Cent Onze (311 Calle Fortaleza, 787-725-7959), garners raves for its French Provencal fare. The trendy Aguaviva (364 Calle Fortaleza, 787-722-8635) features eclectic seafood dishes, with a "nuevo latino" flair.
If you're searching for a more traditional dining experience, La Fonda del Jibarito, (280 Calle Sol, 787-725-8375), is an Old San Juan institution. Though off the beaten path, this lively, family run restaurant is renowned for serving some of the best home-style cooking, known as "Comida Criolla" in town. Try the conch ceviche, lechon asado (pork) and arroz con gandules (rice and peas).
Another great traditional hangout is LaBombonera, (259 Calle San Francisco, 787-722-0658). It's a bit of an "old" San Juan time warp; this 100-year old bakery/cafe is known for its version of a local delicacy, called a Mallorca (it's a round, donut-like pasty covered in powdered sugar). The locals like them toasted, with slices of ham and cheese inside. Whichever way, wash 'em down with a cup of La Bombonera's famous (and strong!) coffee -- the restaurant grows and roasts its own coffee, and serves it from a custom-made dispenser that has been sitting on a gleaming chrome counter outside the kitchen for 80 years. The contraption, a hodgepodge of spouts, spigots and tanks, looks like a "Mr. Coffee" machine designed by Jules Verne. It's worth a visit just to watch the bow-tied waiters reaching over, under and around one another to refill their coffee pots from this steaming mechanical octopus.
The restaurant scene may be more concentrated in the old town but it's not limited to that part of San Juan. Venture further beyond Old San Juan to try Pamela's, located in a quaint hotel, the Numero Uno Guesthouse, in nearby Ocean Park, (1 Santa Ana, Ocean Park, 787-726-5010 ext. 2). It's definitely worth the short taxi ride from the pier to try some innovative Caribbean specialties, such as plantain-encrusted crab cakes. Trendsters flock to Tangerine, the Pacific Rim restaurant at the Water Club, a chic boutique hotel minutes away in the beach resort area of Isla Verde (2 Tartak Avenue, Isla Verde, 787-728-3666). In addition to great food (try the Asian herb lamb chops), you'll find breathtaking ocean views, and a sleek, minimalist decor inside the restaurant (be sure to check out the waterfalls -- behind glass -- in the hotel elevators!). Pikayo restaurant in the Museo de Arte in San Juan's Santurce neighborhood (299 Avenida Jose de Diego, 787-721-6194), is another hot dining spot, known for its French-Caribbean fusion dishes.
Nightlife
Old San Juan has so many venues for live music and dancing it's worth it to arrive a day early just to check out the scene (if you go on embarkation night, just make sure to keep an eye on the time!). In particular, weekends are fabulous -- the streets around the main plazas are usually packed with revelers going from club to club. Sometimes, impromptu bands play in the plazas, as well.
Salsa is the quintessential Puerto Rican music, characterized by the driving "get off your feet and dance" rhythm of the wooden clave sticks. You'll also hear Bomba, the "drum beat" music and dance brought to the island by African slaves who worked on sugar plantations. Plena is music reflecting the influence of the Tainos. Cool clubs to check out include Nuyorican Cafe (312 Calle San Francisco, 787-977-1276), which showcases a different salsa band every night, and is always packed with locals on the weekend and the Rumba Night Club (152 Calle San Sebastian, 787-725-4407), the most popular spot for salsa dancing. Cafe Bohemio at the venerable El Convento Hotel (100 Calle del Cristo, 787-723-0754), serves tapas during the day. By night, it's a great place to hear live jazz and have a cocktail. Carli Cafe Con[c]ierto, (Banco Popular Building, 206 Tetuan Street, 787-725-4927), is owned by a former back up musician for the Beach Boys, and is the quintessential laid-back jazz venue in Old San Juan. It also has a beautiful view of San Juan harbor.
San Juan's recently reestablished a reputation for hipsters who are heading to The Water Club (2 Tartak Avenue, Isla Verde, 787-728-3666), the boutique hotel that's also among the city's hottest places for sophisticated dining and nightlife -- its rooftop fireplace bar is a spectacle in its own right.
Casinos
Can't wait to get on board before you start gambling? No problem here. While the Sheraton Old San Juan (100 Brumbaugh Street) is the most convenient, right across from cruise ship pier 4, we recommend heading out to Las Vegas-on-the-Sea or, more specifically, San Juan's Isla Verde and Condado neighborhoods, where glamorous high rise hotels, complete with glittering casinos, line the beach front. Great choices in Isla Verde include: The Ritz Carlton San Juan Hotel, Spa & Casino, (6961 Avenue of the Governors) and the Wyndham El San Juan (6063 Isla Verde Avenue). Both offer European-style casinos, elegantly appointed in dark woods, marble floors and crystal chandeliers.
In Condado, try your luck at the San Juan Marriott Resort & Stellaris Casino (1309 Ashford Avenue), or the Wyndham Condado Plaza (999 Ashford Street), the island's largest casino. If you want to rub elbows with locals, check out the Diamond Palace Hotel (55 Condado Avenue) or the Radisson Ambassador Plaza Hotel (1369 Ashford Avenue).
The Arts
San Juan is busy establishing itself as the cultural center of the Caribbean with two notable new additions to the arts scene -- and, fortunately for travelers, they're both conveniently clustered in the city's Santurce neighborhood. Just launched late last year is the Museo de Arte Contemporáneo de Puerto Rico (MAC); it houses some 700 post-1940s works from Puerto Rico, the Caribbean and Latin. Not to be missed, either, is the Museo de Arte de Puerto Rico (299 de Diego Avenue, 787-977-6277), which underwent a four-year, $53 million renovation; highlights include the island's largest collection of paintings by Puerto Rican and other Latin American artists, some dating back to Colonial times; sculpture, ceramics and folk art exhibits, plus a 5-acre garden. If all the art makes you hungry, save time for lunch or an appetizer of warm goat cheese, plantain and onion tarts at the Museum's restaurant, Pikayo, (see "gourmet adventures").
Spa Indulgence
Luxurious day spas are a hot-and-growing trend in San Juan (even for the cruise-bound) because of their customized treatments that incorporate local ingredients, Caribbean graciousness, and prices significantly lower than you'll find onboard. Pamper yourself at the Zen Spa in Condado (1054 Ashford Avenue, 787-722-8433) known for its eucalyptus steam room and "green tree" facials. The Ritz Carlton San Juan Hotel & Casino (6961 Avenue of the Governors, 787-253-1700) in the beach resort neighborhood of Isla Verde features a marble spa facility with sweeping views of the ocean. Signature treatments include the "Cafe con Leche," a body scrub made with grounds from locally grown coffee. Or, try "Parcha Massage" treatment, which includes an application of a passion fruit elixir. The Olas Spa in the Caribe Hilton (Los Rosales Street, San Geronimo Grounds, 787-977-5500), offers outdoor massages on a balcony overlooking the beach.
Beach Bumming
The long stretches in the Condado and Isla Verde neighborhoods, lined with high-rise hotels, are a great convenience, not only to the cruise port (allow about 20 minutes for a taxi ride) but also because they're chock-a-block with restaurants, water sports operators and bars. Want something more "local"? You'll need a full day (and a rental car) but Carolina Beach, a 30-minute scenic drive on the way to El Junque Rainforest, is a Puerto Rican haunt -- and full of colorful shacks selling snacks, beer and rum.
Day-Tripping
Ponce, on Puerto Rico's southern coast (and an easy 1.5-hour drive over the mountains), is the island's second largest city -- and the home of everything from "most like New Orleans" look-alike honors to the Caribbean's best ice cream. Ponce's hub is the Plaza de las Delicias, an urban square that features the historic Cathedral of Our Lady Guadeloupe, Las Bombas, a historic (and wacky) red-and-black striped fire station (now a museum), and plenty of gardens and fountains. The city's most interesting buildings are located on or near the plaza -- you'll notice they are a mix of styles, ranging from art deco to Creole. Also plaza-adjacent is King's Cream, a 40-year-old Puerto Rican institution where you can get handmade ice cream made with natural fruits. Beyond the plaza, check out the Serrallez House, a plantation-museum that was once owned by the family that founded Don Q Rum, the brand overwhelmingly favored by Puerto Ricans (they leave Bacardi on the shelves for the tourists).
Market Shopping
The Santurce marketplace at the Plaza del Mercado (called "La Placita") has been around forever, and it's a great local scene. Every morning, throngs of women carrying mesh shopping bags descend on the market to buy fresh fruits and vegetables. In addition to produce, you'll find handicrafts there, ranging from wooden santos (figures of saints) to handmade mundillo lace and carnival masks made of papier mache.
On Thursday, Friday and Saturday, the marketplace does double duty: After the vendors have shut down their stalls, people gather for one large block party. There's music, food, laughter, and of course, dancing in the streets.
Plaza del Mercado is a 20-minute ride from Old San Juan, either by bus (Take the #1, and get off at stop 18), or by taxi, readily available at the main cruise ship pier. The bus ride will cost you 50 cents, and the taxi will run about $12.