After several days of touring cultural sites on our Hong Kong to Singapore cruise, I was looking for something a bit more adventurous and action-oriented when our ship reached Sihanoukville, Cambodia. Enter quad biking. I found an operator with great reviews on TripAdvisor, Woody's All-Terrain Ventures, and signed up for a daylong tour.
What It Is
Quad bikes are motorized vehicles, similar to a scooter, that have four wheels. This makes them easier to stabilize than a motorcycle, although you have to be careful that you don't make sharp turns. You can take them off road or on regular streets.
Tour operator Woody and his partner Nigel have developed half- and full-day quad bike safaris for the increasing number of cruise ship passengers who are coming to Sihanoukville. (We paid $100 per person for a full-day tour.) Better known as a beach resort for backpackers, Sihanoukville has some cultural attractions for cruisers, but not too many active options. I hoped that the experience with Woody would give my husband and I something different to do in a developing port.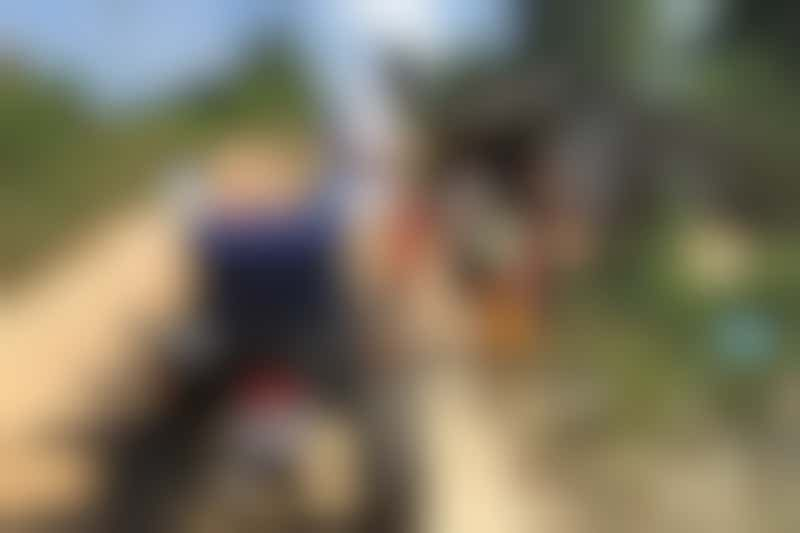 Nigel speaking with Cambodian children (Photo: Chris Gray Faust)
Our Experience
We had traveled to Cambodia before, so my husband and I knew how desperately poor the country has remained since Pol Pot and the Khmer Rouge committed genocide in the 1970s. Still, I was a bit shocked to see how many taxi and tuk tuk drivers surrounded us when our port bus dropped us off outside the gate.
Thus Nigel, an Englishman who is easily 6'3", appeared as a godsend to clear the crowd. "This? This is nothing," he said of the vendors, as he helped us into the company's vehicle, an open-sided truck pulled by a motorcycle. Woody, a former scuba diver and our driver, waved, and we set off through Sihanoukville.
We arrived to All-Terrain headquarters, a home behind a walled fence, and checked out the quad bikes. Woody put eyes on them and gave them all women's names, after old girlfriends; we had Elena and Vicky. After giving us helmets, Woody showed us how to work the bikes. They couldn't have been easier to run; to make it go, you pushed a handlebar lever. Brakes were on the other side. It really was as simple as riding a regular bike.
As our guide, Nigel rode ahead of us. Woody restricts his tours to four people per guide; on cruise ship days when there are at least six people, both men go with the group. The safari promised us a drive out into Cambodian countryside and a visit to Kbal Chayy waterfall, which looked low key enough.
So when we pulled out into traffic, I felt a little alarmed. (We should have realized that the waterfall would be outside city limits.) Horns blared, scooters whizzed. Still, Nigel drove slow, and I soon realized that the Cambodians were adept at avoiding us, as long as we didn't make any quick moves (which you aren't going to do anyway on a quad bike). Relaxing, I started to look around.
Seeing Southeast Asia at street level is an entirely different experience than from a coach. People come into focus. Smells catch your attention. As we drove through the busy market, I could hear shoppers haggling and vendors cooking. Cambodia may be poor by Western standards, but life is still rich.
We pulled off the main drag onto a dirt road; this would take us to the waterfall, Nigel said. On the way, we stopped at an intersection near a few ramshackle homes, all open on one side with tin roofs. A group of kids surrounded our bikes, laughing and calling out in broken English. Nigel gave them some candy, as a mother looked on from the home. "We stop here all the time," he said. "They learned their English from us." We snapped a few photos; my husband gave out some high fives.
Although it was full of bumps, the dirt road was no match for our quad bikes as we drove into a swampy forest. Both sides of the road were flooded in one part, and we yeehawed as we drove the bikes through the muddy water. Eventually we reached a large lake, split in two by a levee. It felt surprisingly peaceful. "I could come out here with a boat and just live, without seeing anyone," Nigel told us during a break. We could see his point.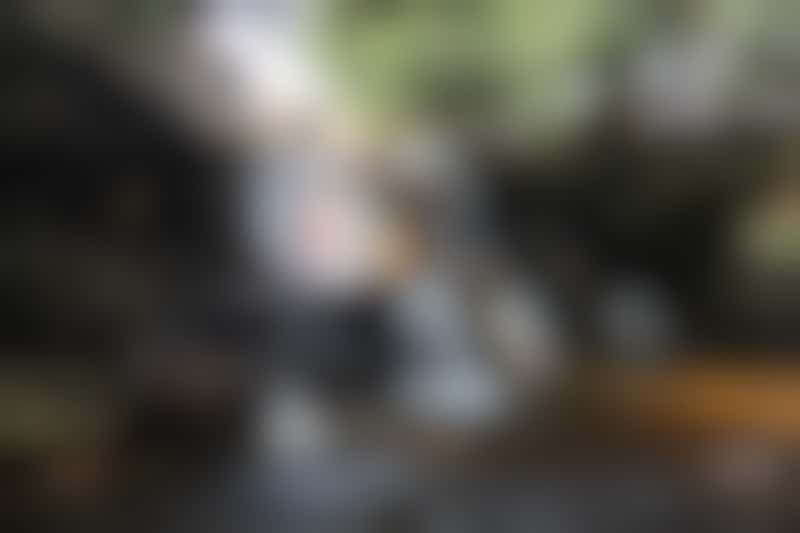 Waterfall in Cambodia (Photo: Chris Gray Faust)
At the waterfall, we parked our bikes, making sure to take all of our belongings (including the helmets). A festive group of food stalls marked the entrance to the park. Nigel explained that the waterfall -- although not well known among tourists -- is a big attraction for Cambodians, who come out on the weekends to rent hammocks and pavilions with family members, picnic and swim. While it was quiet on the weekday we were there, evidence of the weekend rush showed, with trash strewn all over, including in the water itself. The government is doing more to educate Cambodians about trash, Nigel said, but keeping things tidy is still not a priority (and it's noticeable, particularly when compared to more developed Thailand and Singapore). Although it was hot, we did little more than stick our feet in the water.
The next stop on our adventure: the beach. The country's coastline is small compared to its neighbors, but Cambodia's beaches are still top notch, and relatively pristine. The road back to the ocean took us past farmland and villages, comprised mainly of tin-roofed homes on stilts. Again, here we were driving on main roads, but after several hours on the bikes, we felt confident that traffic would leave us alone -- and they did.
After dipping our toes in the sea, our ride back to Woody's was uneventful. We cleaned up then went back to the port in Woody's tuk tuk, passing a colony of monkeys on the way. Although we had cleared the dust from our faces, dirt and mud remained on our legs, shorts and T-shirts; we received a few questioning looks from other passengers on our luxury cruise as we boarded. But that didn't matter. We knew the adventures we had on our quad bikes that day -- and would do it again in a second.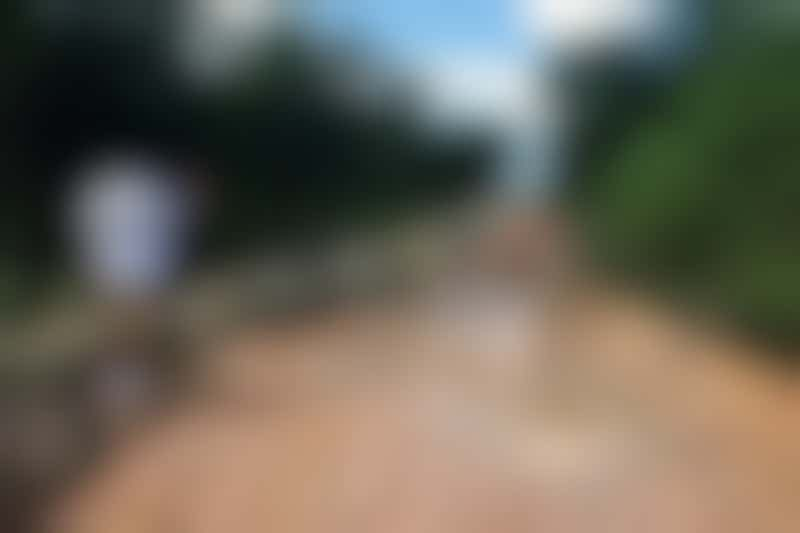 Driving down a muddy road (Photo: Chris Gray Faust)
Worth a Try?
Sure, as long as you have an adventurous bent and don't mind local experiences, such as using a squat toilet. Nervous types need not apply. The excursion would also not be good for someone who has medical issues aggravated by jostling, as the roads are sometimes very bumpy. You will also get dusty and dirty.
We're aware that we're listing a lot of caveats here, but trust us: Quad biking is really fun, and we felt we got as much out of our day with Woody as we did on more passive excursions. If you're looking for something different to do in Sihanoukville, give it a try.
Things to Note
Payment for the excursion is in U.S. dollars, which are available at all ATMs in Sihanoukville. You'll want to bring tissue for the aforementioned toilets. Make sure your sunglasses are wide enough to keep out the dust and ask Woody for a mask if you think the fine granules will bother you.