Samantha Brown's enthusiasm for travel is contagious. It's no doubt a big reason the noted expert has enjoyed a long career inspiring viewers of the Travel Channel. Fans of her shows are familiar with her positive personality and willingness to try just about anything -- traits that could spark wanderlust in anyone.
Brown, who said she believes travel should be accessible to anyone who chooses to do so, joined forces with Carnival Cruise Line in 2015. A long-time fan of cruising, Brown is hosting a video series, called "How to Cruise With Travel Pro Samantha Brown" on the line's YouTube channel.
The first series takes a "cruise 101" approach, tackling topics like, "What will I eat?" and "What's there to do?" All videos are short -- around 1 minute -- and are designed to educate new cruisers and debunk common myths. Brown said the project will take place over a two-year period. Up next? Cruise excursions.
We caught up with Brown on March 7, 2015 at the Washington, D.C., Travel and Adventure Show to talk about our favorite topic -- cruising. Here are her thoughts:
"Probably five years ago, I went on my first Carnival Cruise, and like many people I had a little trepidation. It had the reputation, probably six or seven years ago, of being the party line, being the booze cruise. ... I was so pleasantly surprised by the level of service that you got, especially from the crewmembers, who were outstanding, the families that were having a wonderful time, and this was all being done at the most affordable level. And for me, my goal, has always been to show how accessible travel is.
... Carnival is a wonderful company, and they came to me with this idea of doing a 101 series. ... They were very much interested in having a real person's voice rather than marketing speak."
On helping persuade those on the fence about taking a first cruise...
"I would ask them what I ask anyone taking a vacation: What are your expectations? Do you want to relax? Do you want to party? Do you want it to be athletic and active? Do you want it to be romantic? You know, you really have to do a personality test on the trip you want to have. And then, there is absolutely a cruise for you."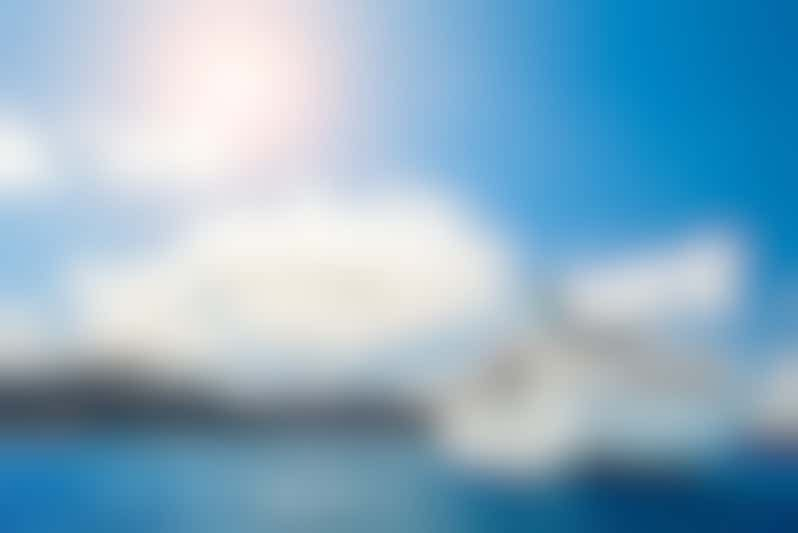 Big Cruise Liners Near the Greek Islands Santorini island, Greece(Photo: Olga Gavrilova/Shutterstock.com)
On what she loves about cruising...
"You just don't have to think. It really is difficult, when you go to Europe, when you go to South America, when you go to Asia, you are constantly thinking, 'What is the next step?', 'Do I have my tickets?' 'Do I speak the language?' ... Your thinking doesn't stop, and a cruise allows you to completely relax in a way that you wouldn't if you were in these places yourself.
"I know first-hand what it's like to change hotels every two days, three days, and it is no fun. It is exhausting. And when you don't have to do that, that again adds to the relaxation. So when I simply want to relax and spend the most time I can with my friends and family, I think a cruise is the No. 1 type of vacation."
"It was my first experience being on one of those megaships. ... Like most people, I was a like a teenage girl in a mall. The things that you can do on a cruise ship! What I didn't realize I would love so much about being on a cruise ship is the water approach to these cities. It really does give you a different perspective. You know, pulling into Venice, 12 stories above Venice, is a special experience."
On her favorite things to do ashore...
"I love to do something active, because I'm an active person. I love to hike. And I think that's, for me, always the downside of a cruise is you don't have that instant access to nature within the cruise ship. As soon as I'm on land, it's, 'Let's do something nature-wise; let's go for a hike, let's go tubing, let's find out what the geology and geography of this region is about.' "
On her favorite cruise tips...
"I feel like whenever I travel, it's all about getting to know the locals. And there are locals on a cruise ship -- the staff, the crewmembers -- from all over the world. And it's really wonderful speaking to them about their home. ... I always also find out where the kitchen staff is from ... and then you order that meal that they do, or you find out where they serve their food on the ship."
On finding a quiet spot...
"No matter how big the ship and how many people on the ship, there's always a quiet space that no one knows about. And that's always my goal when I first get onboard to do a full reconnaissance of the ship, to find a spot no one is going to be. Go exploring. Go wander. It's sort of the same advice I give people when you're in a city. Just wander, and find these places for yourself that no one really knows about. They really do still exist on a ship, no matter how big the ship is."