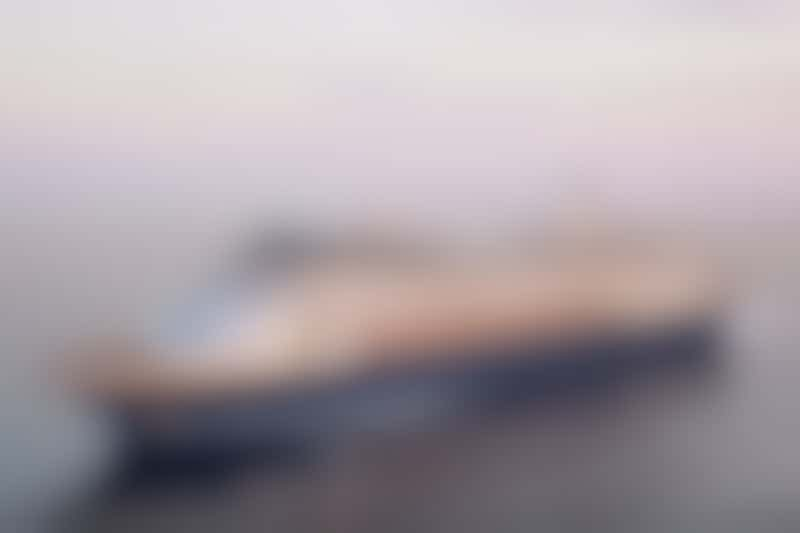 P&O Cruises' Pacific Eden (photo: P&O Cruises)
Brian Crisp spoke to the design team behind the re-imagination of P&O's Pacific Aria and Pacific Eden.
Tillberg Design Company partner and Art Director Fredrik Johansson said that what's planned for P&O's new ships will change Australian cruising forever.
Petra Ryberg, one of the Swedish company's Interior designers, spent three weeks sailing on Holland America Line's Ryndam, which will morph into Pacific Aria, and also visited Australia to formulate the design plans, which will take 18 months from conception to delivery in Sydney Harbour on November 25, 2015.
The transformed ship is set to look and feel like an upmarket residential style resort, and a lot of emphasis has been placed on delivering an enhanced food philosophy.
Cruise Critic: How important is cruise ship design in 2015?
Fredrik Johansson: First of all, the whole cruise industry has realised that design is a strong competition tool. I think there is going to be a big transformation in the cruise industry and the first people who dare to take that step -- like P&O Australia -- I think will gain a lot of advantage from that. They will attract a new and partly unexplored passenger clientele, and a market segment that hasn't been addressed by any cruise operators. It's a lot about flexibility and freedom of choice, but it's also about creating a seamless experience from booking, to checking in, to when you are onboard. It's less dictated by the ship -- what you can see onboard and what you can eat -- it's more personal. People want more freedom. You are not having a five-course meal anymore. You are dining at several outlets and having a much more diversified experience. It's people eating what they want and where they want it.
CC: Where did the residential concept come from?
FJ: It was a specific request from the owner to begin with that they wanted to move away from this formal, upright mass-market look and much more into the private, intimate -- more like a boutique hotel or a residential style. Historically, it's been a lot about designing timeless elegance because it is a big investment, and the design has to last for a long, long time. The cruise industry is beginning to realise that it has to follow the pace of land-based establishments, where there is a much quicker turnover of themes, concepts and food. Styles are much more short lived. I think if we design something here and now to be launched next year, it will last maybe three or four years before some of it will feel outdated and will need to be replaced. So why not make it nice and new and fresh now as opposed to something that looks timeless and elegant, but is dated already when you launch the ship? That's the new approach a lot of cruise owners are going to take. Design something that looks fresh and really inviting right now.
CC: Where did you look for design inspiration?
Petra Ryberg: We actually looked at hotels and restaurants for our inspiration, not other cruise ships. We don't want it to feel pretentious at all. We want it to feel very residential and resort-like -- a high-end hotel.
CC: You have created lots of different dining options. Can you share what's planned with our readers?
PR: The main dining room, the Waterfront, will be cut into three, and new restaurants Dragon Lady (Asian infusion) and Angelo's (Italian) will offer guests more diverse dining options. Dragon Lady will only be open at night. It will be dark and moody with screens that give diners some privacy. We are moving away from cramming in as many tables as possible. We want people to feel like they are sitting in someone's living room or at an upscale restaurant.
CC: The traditional buffet will be replaced on P&O's five Australian-based ships with the Pantry -- a marketplace of fresh food outlets, not unlike an upmarket food court where customers order and are served their meals. How will it change things?
FJ: It's bye-bye buffet, hello Pantry. We are moving away from eating as much as you can to eating what you enjoy. There will be no self-service. All food will be served over the counter. There will be 10 different outlets. There will be some similar features in each to bring it back to the brand. There will be different seating alternatives, including communal dining. We are moving away from the traditional cruise-ship style.
CC: Will the design appeal to a younger demographic?
FJ: I think it is less about physical age and more about being young at heart and young in the mind. That's the kind of approach that we have taken. It's not specifically designed for any age group. It's more about how you are as a person. It's about raising the quality of eating, drinking, entertainment and everything else, and I think that works for all age groups, but definitely a much younger age group than the average cruise ship. It is a deliberate step we have taken.