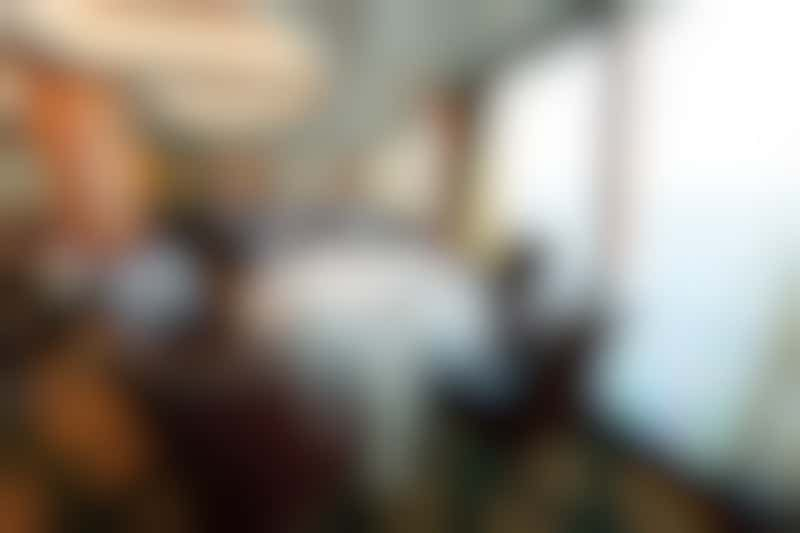 Polo Grill on Marina (Photo: Cruise Critic)
Enjoy the classic dining club experience with a meal at Oceania Cruises' Polo Grill. The line's signature steakhouse offers prime cuts of beef along with decadent starters like oysters Rockefeller, in a restaurant lined with photos of the posh game of polo.
---
Ambiance
Dark wood paneling, burgundy leather seats and white linens set the tone in Polo Grill, where depictions of the game of polo line the walls (depending on the ship). The clubby venue is perfect for an upscale night out for two, but also dinner with friends old and new. Tables are mainly set for four, with some two-seaters along the windows, and larger groups can be accommodated. A bar lines the back of the restaurant, and you get the feeling that the bartender would make a mean Manhattan. Tables continue into the back of the restaurant with a room that overlooks the wake at the very back of the ship. We felt that for a New York-style steakhouse, the lighting could have been lower -- overhead lighting took away from the atmosphere.
---
Meals
This is the place for beef, and all of it is USDA Prime: Choose from a 7-oz. filet mignon, 10-oz. New York strip, 12-oz. rib eye, 20- or 32-oz. porterhouse, or opt for the prime rib, which comes as a 16-oz. boneless Queen's Cut or a 32-oz. bone-in portion aptly called the King's Cut. Steak is taken seriously here -- you will be asked to cut your piece in front of your server to ensure that the cook is correct. Toppings include blue cheese crumble, crispy bacon or sauteed onions, and sauces run the gamut from bearnaise and hollandaise to creamy horseradish, au poivre and blue cheese. Sides range from light haricots verts amandine (French green beans with almonds) and asparagus tips to truffle mashed potatoes and lobster mac 'n' cheese. A Caesar salad made tableside is another nice option.
Starters are rich, and include lump crab cake, foie gras in dough with a port wine reduction, escargot in casserole and apple cider-marinated pork belly.
For anyone not looking for red meat, entree salads can be made plain or with jumbo shrimp, chicken or tuna (in addition to steak). Soups span New England clam chowder, navy bean and lobster bisque. The seafood comes just after steak in terms of extravagance -- order a whole Maine lobster (your server will assist you in plating it), a surf and turf with a 4-oz. filet mignon and Florida lobster tail, grilled jumbo shrimp scampi, salmon, swordfish and tuna. Other signature entrees are pancetta-wrapped filet of veal with Bay lobster tail served Oscar style, and a trilogy of sliders, which include Kobe beef, lobster remoulade and crab cake tartar, served with parmesan fries.
Lamb, chicken, pork and veal are also cooked to your liking at Polo Grill.
Sommeliers are on hand to pair any dish with a glass of wine (alcohol is additional).
If you've managed to leave room, the dessert menu (called Fine Endings) comes with fruit jellies and includes standards like New York cheesecake, creme brulee, chocolate cake, apple pie, a fudge brownie a la mode and Key lime pie. If you can't decide, opt for the Polo Quintet, a tasting of five of the most popular desserts.
Polo Grill is open for dinner only.
---
Menu
Note: This is a sample menu and is subject to change by ship and itinerary.
---
Price
Polo Grill is included in the price of your cruise fare, but reservations are required. Oceania passengers receive at least one guaranteed reservation in Polo per cruise (depending on the length of the sailing), with the chance for more, depending on availability. Suite passengers are allowed unlimited dinners, based on availability, in the Polo Grill. Diners might be asked to share a table.
---
Which Oceania ships have Polo Grill?
Polo Grill is available on:
Insignia

Regatta

Nautica

Marina

Riviera
See photos of Polo Grill on Oceania's Riviera.
Show Oceania Prices