What's It Like? My Polar Plunge on Scenic Eclipse II in Arctic Greenland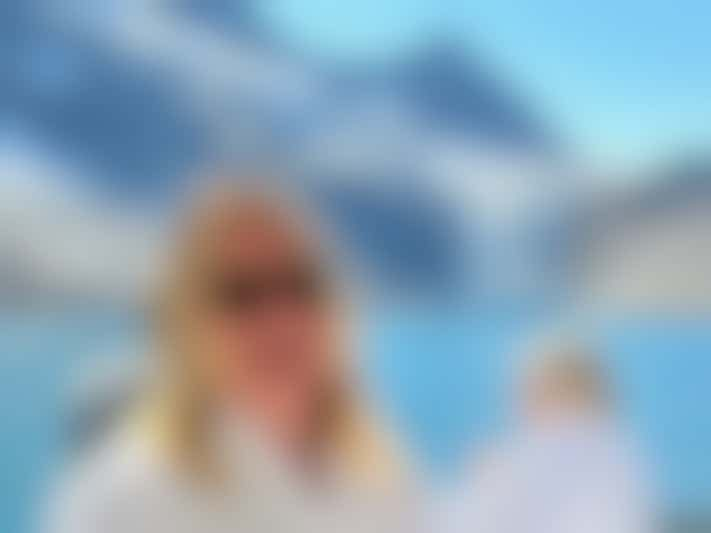 Chris Gray Faust getting ready for her polar plunge in Greenland with Scenic Eclipse II (Photo/Ted Sickler)
I'm a veteran of several polar expedition sailings, but had escaped the polar plunge. That's mostly because my previous cruises in polar regions -- Viking Polaris in Antarctica and Ponant's Le Boreal in Svalbard -- didn't offer it. On an Alaska cruise with UnCruise Adventures, I stood by sheepishly as my husband dared to dive without me. I vowed to do better -- someday.
But when that day actually came during my August 2023 Greenland cruise on Scenic Eclipse II, I felt little but trepidation. In general, I'd call myself a reluctant daredevil, the type of person who does a lot of hemming and hawing before doing any kind of crazy event.
And that's exactly what I did leading up to my polar plunge, until the moment I put on my bathing suit. I looked at my heart rate (59 bpm). I reread the last report from my cardiologist on my phone (all clear). I even took an EKG using my Apple watch (fine). In other words, there were no easy outs to be found.
The Greenland setting provided impossible-to-ignore inspiration. The ship had pulled up right in front of a glacier and the sun was out in full force. We were told that the water was a balmy mid-40s, while the air around us was maybe 10 degrees warmer.
In my bathing suit, I joined the 60 other passengers in bathrobes who were also making the plunge. Jumpers were divided into groups of 10 to go down to the ship's marina, where a platform had been set up. From the deck above, the rest of ship yelled and cheered as the first group went.
As part of the second group, I had a chance to see 10 people go before me, each plunging two by two. Scenic took proper precautions: safety Zodiacs were circling the water and jumpers were put in harnesses, just in case numbness set in before they could get to the ladder.
Suddenly, my group was called and the moment of truth arrived. "Just remember there are 17 kinds of whales," said my friend Ted, who had begged off plunging allegedly so he could take pictures of me doing it. "Unhelpful," I replied before heading downstairs.
At the marina, an atmosphere of festivity propelled us forward. House of Pain's party anthem "Jump Around" blasted over the loudspeaker as we stepped up to the platform's edge. "C'mon baby, let's do this!" my platform partner Elliot said. Laughing, I looked straight ahead and leaped into the water.
The sheer force of the temperature change hit me fast, but I wasn't breathless. The cold water felt bracing but not in a bad way. Part of my brain told me that I could stay out there swimming but the survival function overrode such nonsense and sent me scrambling over to the platform ladder.
As I scrambled up, I laughed hysterically, as I always do when confronted with extreme speeds or sports. My body buzzed with tiny pricks that seemed almost electric, but my mind was preternaturally calm. Suddenly the purported health benefits of cold plunging made sense.
A crew member steered me toward the Polar Plunge Bar, a table set up by the crew with shot glasses and a wide choice of liquor. What kind did I want? Vodka, iced, of course. I clinked the shot with Elliot. The alcohol coursed through my system. It was exhilarating.
After the jump, I spent some time in the ship's sauna and then made my way to the hot tub on the top deck, where many other plungers had taken refuge. A round of Champagne came from the bar and we all toasted our success. That night, I found a certificate from Scenic celebrating my achievement in the cabin.
Was the polar plunge worth the pre-jump stress? Yes, absolutely. Would I do it again? Yes, absolutely.