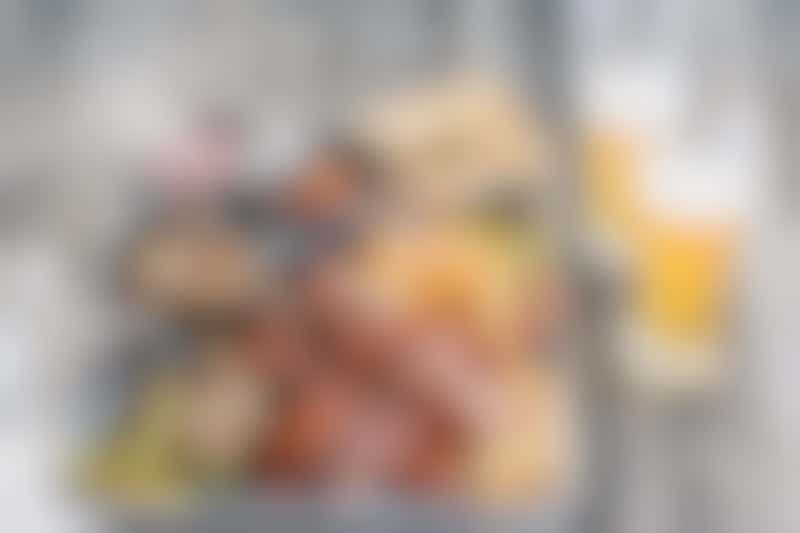 Planks BBQ on Princess Cruises (Photo: Princess Cruises)
Planks BBQ on Princess Cruises is a barbecue-lover's delight; diners roll out of this restaurant with stuffed bellies and satisfied taste buds.
Ambiance
Located indoors, Planks BBQ is a casual eatery with a laid-back steakhouse vibe. Plain wooden round or block tables are paired with silver studded leather-backed chairs, and tables are adorned with simple blue masonry jars with battery-operated tea lights inside. Decor is minimal, so as not to distract from the main attraction -- the massive plank of barbecued meats you'll be served.
Meals
Planks is a dinner-only venue with three courses included in the price. The only complaint you'll hear about Planks is there's just too much food on offer, which wouldn't be such a problem if the food weren't so darn good. You'll want to pace yourself or even skip the appetizer (although the potato chowder is pretty delicious) just so you have more room for the main course.
And what a main course it is. Diners choose four of six barbecued meats -- sou'wester pulled pork, chili-spiced roasted tri-tip, kielbasa smoked sausage links, Caribbean island smoked chicken drumsticks, hard cider BBQ pork ribs and chipotle BBQ meatballs. (If you're having trouble deciding, the tri-tip, ribs and sausages get the highest ratings.)
Though each diner pays for his or her meal, planks are combined so that one plank is served per couple (or friend duo), meaning each plank comes loaded with nearly six pounds of meat. Along with the meat, each plank also has a heaping serving of seasoned wedge-cut fries, calico three-bean chili, creamy confetti slaw, charred toast and dill pickles. Sauces -- tangy apple butter and cider, and steakhouse smoky bourbon and ale -- are served on the side, and you can always ask for more.
For those who think their appetites can handle an appetizer before the meat plank, choices are a wedge salad with iceberg lettuce, cheddar cheese, roasted corn and black bean salsa, cornbread croutons and a bacon ranch dressing, or baked potato chowder with chopped barbecued beef, pork and burnt ends, cheddar cheese and chives. (You can also get it plain if you'd like.)
And there's still more. If you've actually got room left after all that food, dessert is included in the cost of the meal. Choices are banana pudding, chocolate cake or a scoop of vanilla or chocolate ice cream.
A complimentary limited-item lunch is served in the space between 11:30 a.m. and 1 p.m. The lunch menu has nothing to do with barbecue, instead consisting of a DIY Caesar salad bar, corn chowder and some version of an open-faced grilled cheese sandwich.
Menu
Please note that this menu is a sample; actual menu is subject to change.
Price
Dinner at Planks BBQ carries a cover charge of $12 per person, which includes a starter, four meat selections and a dessert. You can add an extra meat selection for $4.
Ships
Planks BBQ is only available on Caribbean Princess.
Explore Princess Cruises