Apitherapy tour group (Photo: John Garay)
Upscale Oceania Cruises unveiled a shore excursion line of "Wellness Tours Inspired by Canyon Ranch" in April 2017, in partnership with the team behind their onboard Canyon Ranch SpaClub. The program was designed to carry out the line's ever-expanding spa/fitness/healthy living ethos off the ship and into port. We were among the first to sample the tour series, specifically "The Wonders of Apitherapy" outing in southern Spain, which hones in on a branch of alternative medicine dedicated to the health benefits associated with honeybee-derived products. Here's the firsthand report on just what all the "buzz" is about.
What It Is
The exclusive Wellness Tours kicked off in the Mediterranean with a portfolio of 16 tours in 14 destinations, available on Oceania ships calling on select ports in France, Spain, Italy, Monaco and Greece; plans are already underway to expand the offerings to northern Europe, Asia, Australia and the Caribbean. The most popular excursions thus far, based on bookings, have included tai chi on the beach in Palma de Mallorca; yoga on a terrace touting views of the sea and Mount Etna in Taormina, Sicily; and even a stress-reducing "laughter therapy" session in a restored Costa Brava farmhouse-hotel out of Palamos, Spain. Tours typically limit capacity to 16 to 28 participants.
Round it all off with a treatment at the Canyon Ranch SpaClub, where select spa treatments are proposed as complementary pairings to the individual Wellness Tours (though they incur an additional charge and are not discounted). For instance, the suggested pairing for the apitherapy excursion is an 80-minute, six-part "Naturally Nourishing Ritual" body treatment ($280), incorporating Finnish skincare traditions and massage. While not an intuitive tie-in to the nature of the tour, the treatment was chosen for its holistic approach to skin nourishment. As the program expands, Oceania and Canyon Ranch aim to roll out more fully customized Wellness Tour spa treatment pairings, unique to each excursion, in 2019; they'll be available for booking as an add-on to the tour.
Our Experience
When I first learned about the nature of this rather unusual apitherapy tour, I was intrigued. The tour seemed like a perfect opportunity to educate myself on the art of beekeeping (something I knew nothing about), while picking up a new idea or two for my bag of natural healing tricks.
We left the ship's riverfront dock in Seville for a 70-minute, guided van transfer through the pretty pastoral province of Cadiz, winding through impossibly far-reaching fields of sunflowers and the scattered vineyards of this noted sherry- and brandy-producing countryside.
Upon arrival at the Rancho Cortesano -- a family-run farm for three generations now -- we were cheerfully greeted by a handful of the nine adult siblings from the Garcia-Fernandez clan who, over the last decades, have transformed their longtime family farm into a public space, complete with a Honey and Bees Museum and an organic restaurant serving plucked-from-the-farm fare.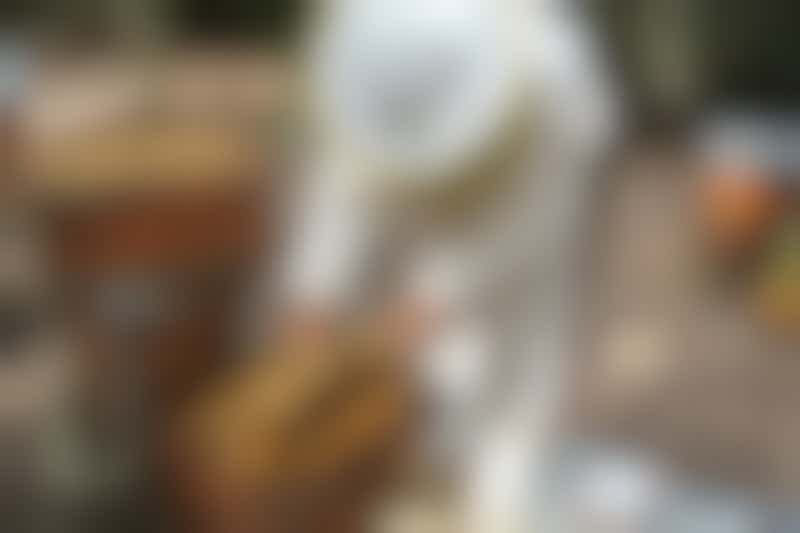 Beekeeper Jose Manuel Garcia-Fernandez giving a presentation (Photo: John Garay)
After a brief introduction to the beekeeping-dedicated museum, our small group was led into a screening room where the Garcia-Fernandez family led a slideshow presentation introducing us to the ancient beekeeping and honey harvesting practices behind apitherapy. The big takeaway?
Honey is far more than something to sweeten your tea! In fact, we learned, hive-derived products have been cultivated for their wellness properties for millennia.
Over about a 25-minute span, we discovered the different roles within the beehive colony (ahh, to be queen bee!), and then ran through the different honeybee products and their varying therapeutic characteristics. Raw honey, royal jelly, pollen, beeswax and propolis all present their own unique properties and benefits, it turns out, ranging from pain relief to immune system and energy boosting. We even discussed a whole branch of alternative medicine focused on bee venom treatments as therapy, by which intentional stings are administered (ouch!) onsite by a registered nurse.
Following the presentation, it was time to gear up: If you've ever wanted to don a beekeeping suit and get up-close to a beehive, here's your big chance. I offset my head-to-toe white garb with some fashion flair: some pink, strawberry-dotted slip-on booties (take that, Vogue!). The booties are mandatory, but other participants' shoe covers were white.
Then our sufficiently amused group was off for a short walk through the woods to the site of just a handful of the 2,000 beehives that the family farm manages. Here, we got to observe the honeybee stars of the operation in action, as a beekeeper tended to and soothed the colonies with smoke, allowing us to easily observe the hives up close. There was something wonderfully hypnotic about listening to the buzz of bees at work in nature -- under the unique circumstances of not having to worry about actually getting stung by one!
Next up was a thoughtfully presented honey-tasting session in the organic restaurant. Here, our taste buds had the chance to explore the distinct flavors of several different types of honey, along with propolis, royal jelly, pollen and a fresh honey-sweetened juice, all while learning more about their associated health benefits.
The tour rounded out with some free time to wander the museum shop and stock up on high-quality bee-derived products like soaps, creams, wax candles, chocolates, teas and, of course, honey in a multitude of flavors.
Worth a Try?
Definitely. While the farm is known locally for its appeal for families and school groups, they've put together a decidedly adult-friendly tour with its therapeutic/wellness slant. And, of course, there's the novelty of it: It's not every day that you get to rock a beekeeping suit! When I brought back home some small jars of honey as gifts, there was much boasting about the depths I had gone to procure such tasty souvenirs.
This outing, like others in the Wellness Tours portfolio, is especially well-suited to Oceania's health-minded clientele who embrace wellness as a lifestyle. It's also a great fit for more seasoned travelers who may be repeating visits to a destination, and who are therefore looking for more experiential tours that get beyond the bucket-list tourist sites. "Even for guests that have already been to these destinations, the tours represent a truly new and unique way to experience the region -- and a new way to cruise," said James Rodriguez, Oceania's Executive Vice President, in a phone interview.
However, while the majority of Oceania's Wellness Tours provide participants with immediate therapeutic wellness experiences, there are a couple -- such as this apitherapy tour or an aromatherapy-focused outing to a perfumery in Capri -- that are more educational than rejuvenating by design. (For these outings, you'll need to pay an additional price if you wish to purchase related therapeutic products to try at home.) Most tours, however, do center on activities with more instant health benefits, like tai chi, yoga, meditation, hikes, soaks in natural thermal waters, mud baths, hammam massages or even "laughter therapy." In many cases, tours are paired with a nutritional element, too, like detoxifying juices, herbal teas and/or healthy snacks or meals.
Explore Oceania Cruises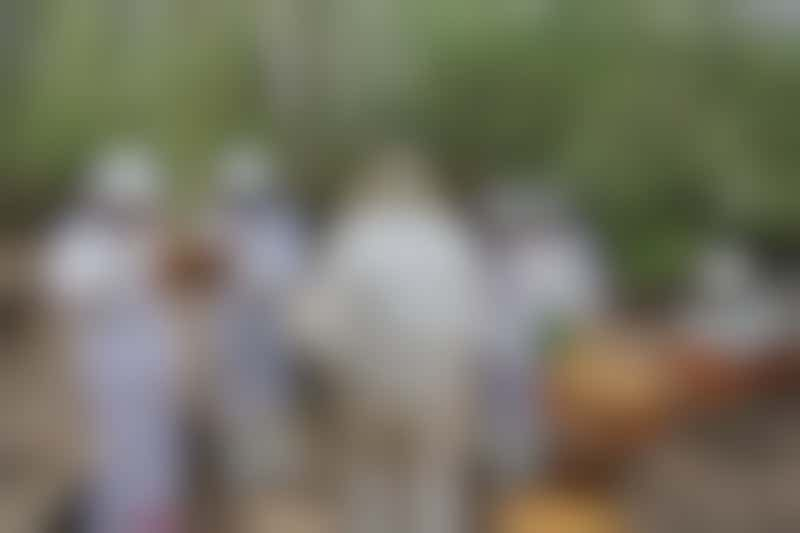 Tour group in beekeeper suits (Photo: John Garay)
Things to Note
The overall experience is lovely, due in no small part to the affable Garcia-Fernandez family who oversees it, but do be sure to not cut corners when gearing up in the beekeeping getup. My husband overlooked a small opening under his pants leg and got a bee sting memento as a result. (Good sport that he is, he chalked it up to a free bee venom treatment; others might not be so understanding.)
One other note: your inner Pooh Bear will understandably be out in full force. Honey is a wonderful souvenir of your visit, but remember that it comes in glass jars and therefore carries some risky mess potential should it break in transport. You might consider picking up some other, more travel-friendly honey-derived products (like candles or face cream) as a safeguard.
Wellness Tour outings range in cost from $149 to $299 per person. The 3.5-hour apitherapy tour, available from either the port of Cadiz or Seville in Spain, costs $169 per person.