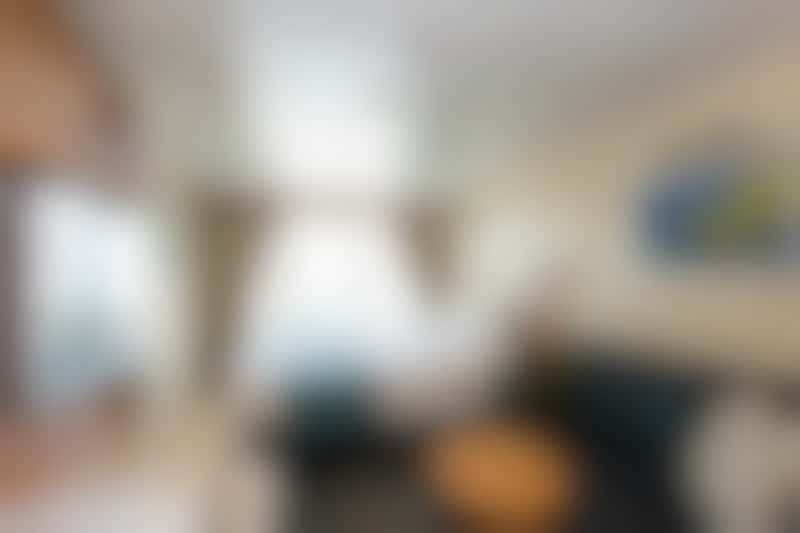 Superior Oceanview Cabin on Oasis of the Seas (Photo: Cruise Critic)
When Oasis of the Seas debuted, Royal Caribbean seized the opportunity to introduce fresh cabin designs, including the industry's first multi-level lofts. It also pioneered inside balcony cabins that overlook the ship's interior neighborhoods -- the Boardwalk and foliage-bedecked Central Park -- and interior cabins with portholes that face the busy Royal Promenade and are carried over from Freedom-class ships.
During a refurbishment in 2014, Oasis of the Seas added 10 suites overlooking the ocean, the AquaTheater and the Boardwalk. These included two Royal Suites, six Grand Suites and two Royal Family Suites that can each accommodate up to six passengers.
Here are some more details on Oasis of the Seas cabins and links to cabin pictures for an up-close view: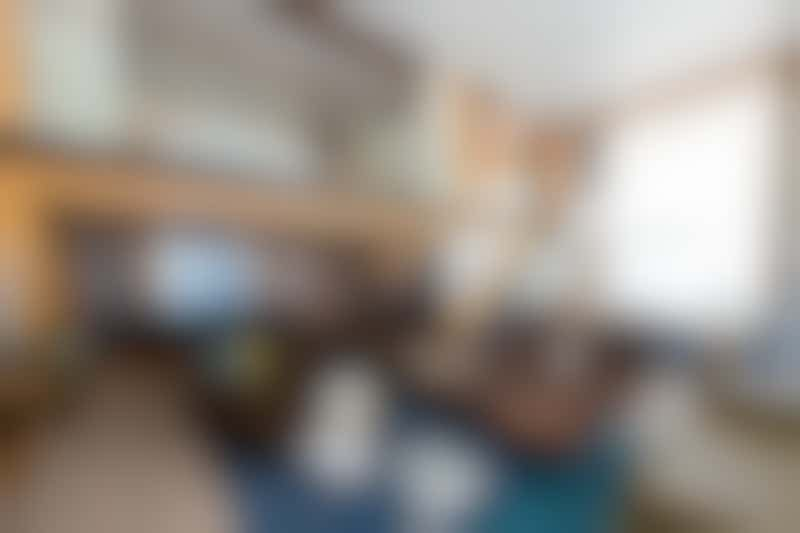 The Royal Loft Suite on Oasis of the Seas (Photo: Cruise Critic)
Loft Suites
The aforementioned Loft Suites are two-deck accommodations that have been lauded for their layout. Crown Loft Suites measure 540 square feet with 98-square-foot balconies and feature living spaces downstairs with pullout sofas and bathrooms. Master bedrooms and bathrooms upstairs each offer a shower large enough for two (his-and-hers shower heads), fog-free mirrors and limestone mosaic tile accents. The Sky Loft Suites add some extra space, clocking in at 724 square feet with 376-square-foot dine-on balconies and extra showers in the downstairs bathrooms.
Moving up, next you'll find the Grand Loft Suite, which sleeps four and has a private balcony with a Jacuzzi. The size is 972 square feet with a 163-square-foot balcony. The Owners Loft Suite has the same amenities but is larger -- 1,250 square feet with a 172-square-foot balcony.
The Royal Loft Suite is the most opulent accommodation onboard. At 1,599 square feet with an 875-square-foot balcony, it's the size of a modest home. When you enter the cabin on the main level, you'll find a Baby Grand piano, a dining area with a dry bar for entertaining, a bath with a shower, a living room sofa that converts into a double bed and a wraparound balcony with a dining area and private whirlpool. Upstairs, there's a master bedroom and a massive bathroom with a tub, shower, two sinks and a bidet.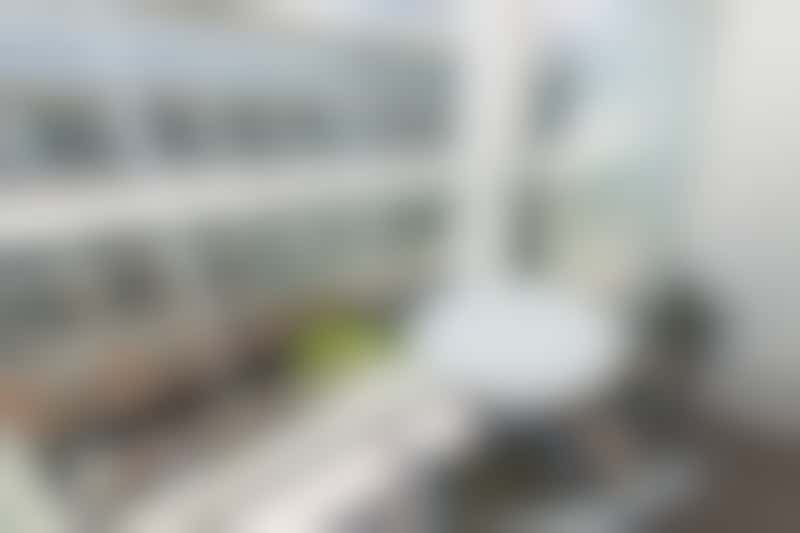 Central Park View Cabin on Oasis of the Seas (Photo: Cruise Critic)
Royal Suites
The refit saw the building of two new one-level Royal Suites on either side of the Suite Lounge -- where the Pinnacle Lounge and Pinnacle Chapel used to be -- overlooking the main pool deck. Royal has pulled back from the garish colors that characterized the Loft Suites and replaced them with grownup slates, dark grays, browns and black marble in the bathrooms; there's also a distinct absence of shiny chrome.
While these suites are on one level (as opposed to the loft suites), Royal Caribbean opted to give them a double-height ceiling. The suites are entered via a marble entranceway and have everything you would expect to find in a five-star hotel suite: huge dining/living room with L-shaped sofa, entertainment center with vast flat-screen TV, wet bar, special refrigerator to keep wine cool, and a master bedroom with a vast king bed and a couple of chaise lounges in the corners. The bathroom is accessed via a flight of steps and is completely open -- no separate door. There is a standalone shower room, plus a toilet and wardrobe.
AquaTheater Suites: The balconies of the two-bedroom AquaTheater Suites give new meaning to the word "wraparound," allowing 180-degree vistas of the Boardwalk, the AquaTheater, rock climbing wall and open ocean, with space for stools, tables, chairs and loungers. From your perch, you'll be able to see not only performances of the diving shows in the AquaTheater, but also the ocean -- a rarity on this ship that bears more than a passing resemblance to a mall.
Boardwalk and Central Park Cabins: Not in the suite mode? Then take a look at Oasis of the Seas' inward-facing Boardwalk- and Central Park-view cabins, the large majority of which feature balconies exposed to the elements. They're not that private, either; it's easy to spy on the balconies next door and across the way. The draw is the novelty of being able to look down at the Boardwalk's spinning carousel or live Central Park foliage. Because they're a curiosity factor, these cabins are often priced as high as -- or higher than -- more traditional balcony cabins with ocean views.
Boardwalk cabins have a few extra perks. Those that are located farther aft do offer sea glimpses, and you can still watch performances at the AquaTheater. Note that, although the Boardwalk area can get a bit loud and boisterous, you can hear virtually nothing with the balcony doors closed.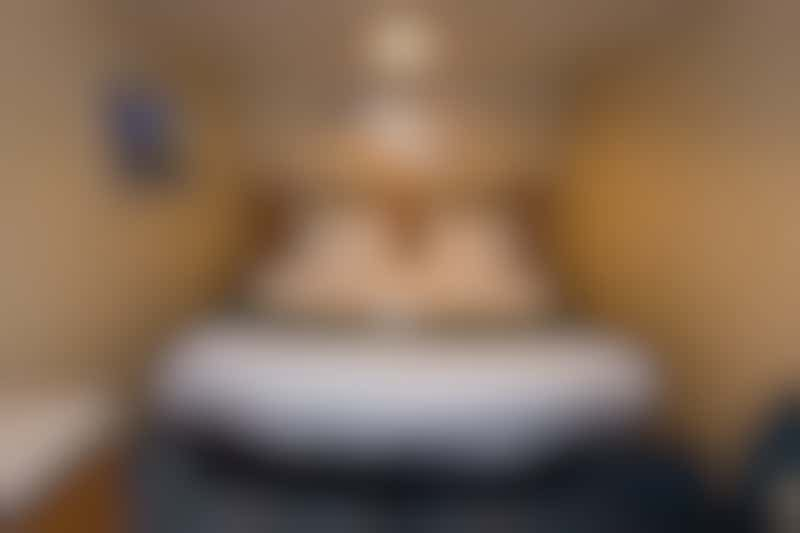 Interior Cabin on Oasis of the Seas (Photo: Cruise Critic)
General Cabin Info
Some cabins are configured with the bed(s) close to the closet doors, which can make it hard to get to your things, while others, especially in the twin configuration, have the bed(s) right up against the wall, which hinders easy access to the balcony if you have one. Ask your travel agent, or study your deck plans carefully if you have a preference. Cabins have good under-the-bed storage (important because the closets in the non-suite categories are not at all huge) and bedside tables.
Bathrooms, which are a bit on the small side, feature showers enclosed in clear glass with shampoo dispensers and footrests for leg-shaving, a welcome addition taken from sister cruise line Celebrity Cruises.
See more Oasis of the Seas cabin pictures.