Our Take
We arrived at Mr. Sancho's looking for a day of relaxation and perhaps a dip in the ocean. A drink, a book, a beach -- sounds great!
Reality proved different. Our first disappointment came when we realized the loungers didn't have umbrellas; while the tables are shaded, the loungers are not. We did our best to drag the loungers close to our table so we could sit without massive sunburn; we were somewhat successful. But then a table of 20-somethings arrived next to us with loud speakers in tow. So much for that nap.
The second disappointment came when we walked down to the beach to take a dip. Under the water, you'll find rocks -- so bring your water shoes if you plan to swim in the ocean.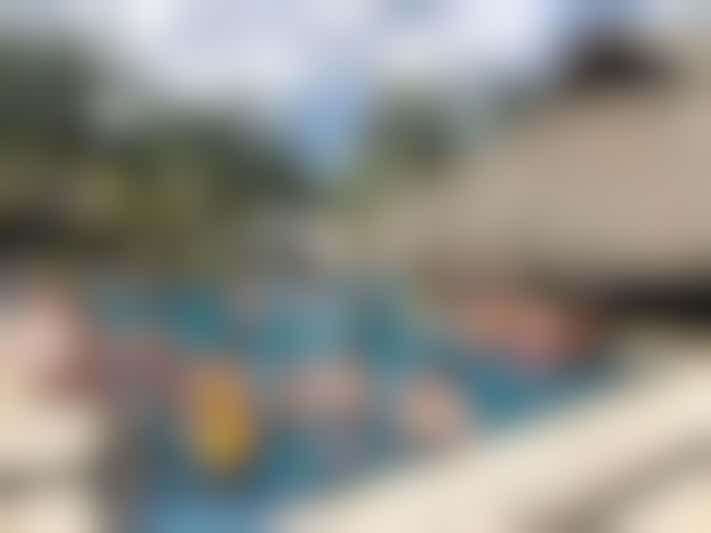 Finally, we found that the waiter system doesn't necessarily work if your assigned person isn't on top of things. We found ourselves having to flag people down for food and drink or get it ourselves at the buffet. Our waiter also didn't know the Wi-Fi password (every one he gave us didn't work), so we just gave up.
That said, who needs Wi-Fi when you have unlimited drinks? After doing a bit of exploring, we discovered the main scene is at the adult pool, which has a swim-up bar. There are loungers too, and from what we saw, many people never left the area. By mid-afternoon, the pool was packed with happy partiers.
Families were having a blast as well. The children's pool had many kiddos splashing around with their parents watching, drinks in hand. Parents with older children paid extra so they could swim out to the water playground, which includes giant inflatable slides, trampolines and other toys.