What sports event combines ground-rumbling noise, gasp-inducing life-or-death moments and decadent yacht parties? It can only be the Monaco Grand Prix. Held every May, the Formula One motor competition represents the pinnacle of auto racing -- and best of all, you can save money and hassle by seeing the event by cruise.
Cruising to the Monaco Grand Prix has been an option for race-lovers (and those who love them) since the 1990s. Windstar Cruises is the only cruise line to offer sailings where all passengers booked on the cruise actually receive tickets in the fare; other lines offer Grand Prix excitement through excursions (some of them quite high end).
In 2019, the Grand Prix will be held Sunday, May 26, with qualifying rounds May 25. In 2020, the Grand Prix race is May 24.
Here's a look at the options for Monaco Grand Prix cruises:
Windstar Cruises
The small ship line believes that it pioneered Monaco Grand Prix cruises, holding the first themed sailing in the 1990s. The line offers a true F1 immersive sailing, where everyone onboard receives included tickets to events. The ship docks overnight in Monte Carlo, with Section K seats for the Saturday time trials and an organized visit to the pits afterward. For Sunday's final, passengers receive higher seats with a program, poncho and cap. There's also a guest speaker onboard who explains the ins and outs of Formula One racing; a special Grand Prix-themed cocktail reception and dinner onboard and a gift package that includes program ticket holder, ear plugs, cap, high-definition binoculars and seat cushion. This is likely the most immersive option for a Grand Prix cruise.
2019 sailing: Star Pride, 212 passengers, round trip from Rome
2020 sailing: Wind Surf, 310 passengers, round trip from Rome
---
Crystal Cruises
Crystal Cruises offers a day at the Monaco Grand Prix as excursion options during Western Mediterranean sailing on Crystal Serenity and as an overnight stop for Crystal Symphony and the line's yacht, Crystal Esprit. The line offers three levels of experiences for Grand Prix fans. The Grandstand experience, which costs $1,599 per person, includes viewing the race from Grandstand K. Passengers also receive a catered lunch box, ear protection, seat cushion, map and souvenir ticket holder. The exclusive Belvedere Hospitality suite excursion ($8,999) includes a transfer to the Automobile Club of Monaco (ACM), which organized the first Grand Prix in 1929. Passengers receive access to the Belvedere VIP area with seats at the top of Grandstand L. A cold buffet that includes Champagne is available and there's also a visit to the Pit Lane. The top-tier excursion includes the Belvedere Hospitality suite and also adds a seat at the Gala Dinner, joined by winning drivers (and possibly, the Prince of Monaco). The event, which runs $15,999, has over-the-top entertainment, live music, dancing and fireworks.
While the Grand Prix excursions are optional, passengers on the intimate Crystal Esprit are apt to get a more immersive Monaco yacht party experience than those on larger ships.
2019 sailing: On Crystal Serenity, 980 passengers, round trip from Barcelona; Crystal Symphony, Rome to Barcelona (also bookable as Rome round trip or Athens to Barcelona); Crystal Esprit, 62 passengers, round trip from Nice
---
Silversea
Silversea is another line that regularly includes the Grand Prix on its itineraries. In 2019, Silver Shadow is spending two full days in Monaco for the festivities. A full two-day excursion, costing $3,349, is available. The line bases you at the F1 Monaco Dance Academy, where you can relax as the time trials and race go on. One perk for non-motorheads: the excursion includes a wellness center where you can have treatments from an osteopath, reflexologist, makeup artist, hairstylist and manicurist. There's also an F1 simulator, art exhibit buffet lunch, beverages and live music. The line also includes a special Q and A with ex-F1 driver Felipe Massa and a Grand Prix program. The Dance Academy is well-known for great views; it's above Sainte-Devote corner. This is also a good option if you're a race fan but are traveling with others who want nonrace diversions.
2019 sailing: Silver Shadow, 382 passengers, round trip Nice
2020 sailing: Silver Spirit, 540 passengers, Rome to Barcelona (or a longer sailing that runs Venice to Barcelona)
---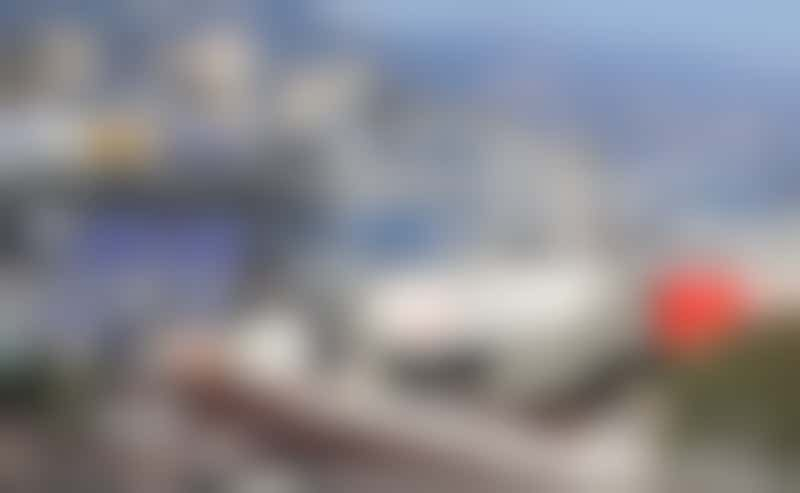 Azamara
Azamara offers two choices of Grand Prix excursion package for passengers on two different sailings. The two-day excursion package, available on Azamara Journey, costs $1,399 per person and includes one day of qualifying rounds and seats for the race itself. The one-day excursion, available on Azamara Pursuit, leaves from nearby Villefranche and costs $1,199. Seats are in Grandstand K.
2019 sailing: Azamara Journey, 694 passengers, Rome to Barcelona, or on Azamara Pursuit, 684 passengers, Nice to Rome
2020 sailing: Azamara Journey, 694 passengers, round trip Barcelona
---
Regent Seven Seas Cruises
Regent does not have a Grand Prix itinerary planned for 2019. In 2020, however, the luxury line will deploy its newest ship, Seven Seas Splendor, on an itinerary that stops in Monaco on race day.
2020 sailing: Seven Seas Splendor, 750 passengers, Rome to Barcelona
---
SeaDream Yacht Club
SeaDream I drops anchor in Monaco for on Grand Prix race day so you can experience the atmosphere, but the line doesn't offer any excursions; passengers who are interested work with the concierge who can arrange tickets. Still, the yacht is small enough that it will fit right in with the partying jet set.
2019 sailing: SeaDream I, 112 passengers, Rome to Nice
---
Star Clippers
While yachts are the traditional method of seeing the Monaco Grand Prix, a sailing ship is a pretty special vantage point too. The line's Royal Clipper has two ways to get involved with the Grand Prix. One voyage puts passengers in Monaco for the Thursday trials. And a second, with the same ship, is in the principality for the Sunday finals. The line doesn't sell tickets to the event.
2019 sailing: Royal Clipper, 227 passengers, Rome to Cannes, or Royal Clipper, round trip Cannes.
---
P&O Cruises
British cruisers also have special Grand Prix sailings available to them. Oceana has a sailing that stops in nearby Villefranche on race day, with a choice of three excursions that passengers can purchase. Standing tickets are £177 (about $230) and include a transfer, picnic box and ear plugs. The Grandstand package, for £599 (about $785), allow you to sit in the grandstands; you also get a picnic box and ear plugs. And finally, a VIP gold package (for £1,965 (about $2,580)) includes a day at the Club F1 Hospitality Suite at the Dance Academy.
2019 sailing: Oceana; 2,016 passengers; Malta to Rome
2020 sailing: Oceana; 2,106 passengers; Malta round trip
---
Fred. Olsen Cruise Lines
Fred. Olsen's Boudicca is docked in Nice on race day and offers a trip to the Grand Prix finals as excursion options. Tickets are available in Grandstand K, Grandstand T Higher as well as Le Rocher (general admission). The excursion, which includes transfers and a picnic lunch, costs £229 (about $300) per person. The line can also arrange for you to view the race from a private terrace, starting at £2,100 (about $2,780) per person.
2019 sailing: Boudicca, 880 passengers, Dover round trip