If you're a motorsports fan, chances are you've dreamed of being a spectator at the famed Monaco Grand Prix Formula 1 race. Logistics for getting Monaco Grand Prix tickets, hotel rooms and transportation can be challenging, which is why a cruise is an easy way to make the trip.
The Experience
We went to the Monaco Grand Prix with Windstar Cruises, which is the only line that treats the race as a theme cruise, as opposed to an excursion. The package seemed perfect for a Formula 1 fan: The fare includes tickets to Saturday's qualifying race and passes for a walk-through the pit lanes where the garages are and the race itself on Sunday.
Where you watch the race can make a difference on the Monaco Grand Prix circuit. Several cruise lines snag seats for their passengers in Grandstand K1, which is close to the Tabac corner; you can also see the race cars as they speed toward the swimming pool complex. From here, you can also glimpse the race cars going up the Avenue d'Ostende and -- if you turned your head and peered behind you -- a small section of Boulevard Albert l1er close to the beginning of the circuit. We also had a good vantage point for the TV screen and the harbor, filled with huge yachts and even a few chartered cruise ships (Seabourn Odyssey and SeaDream II, among them).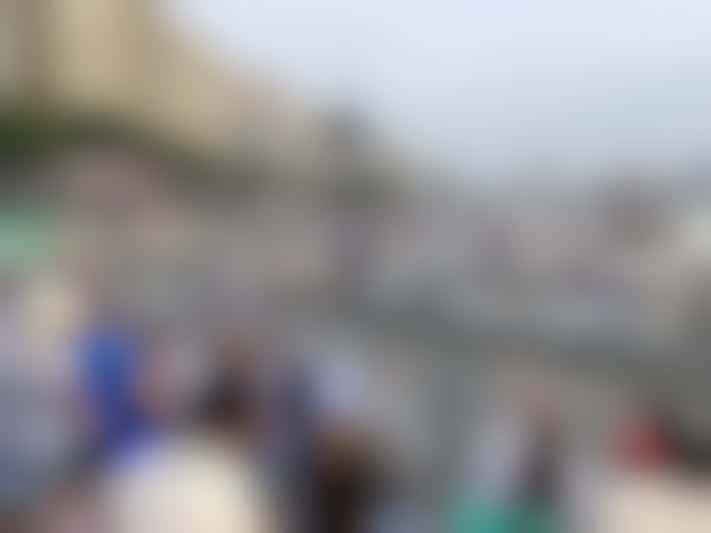 The qualifying races in Monaco are important, since it's well-known as a difficult circuit for drivers to pass (to have a shot at winning the race, a driver needs to do well in qualifying so they can get a good position). It's nice to be able to come over to the Grandstand on Saturday anyway, as the extra day gives you a chance to scope out the scene when it's less crowded. We were able to find our seats, the bathrooms, the water and beer stand, and the ice cream vendor -- as well as buy a fire-engine red Ferrari shirt for Race Day cheering.
Windstar's race package also included a pass to the pit lanes. Around 6 p.m., we lined up outside Grandstand K6, special silver metal passes around our necks. By the time fans get to walk through the pit lane, most of the important action surrounding the cars has already wrapped up. Still, we were able to see some mechanics and team members milling around. The real thrill came when driver Daniel Ricciardo, who won the Monaco Grand Prix in 2018, came running by. The Australian driver for Renault flashed one of his trademark grins for the happy crowd.
After a long day in the stands, we were pooped on Saturday night. But Windstar kept a tender running until 1 a.m., primarily so passengers who wanted to visit Monte Carlo's famous casino could do so. The rest of the cruisers relaxed at an onboard barbecue.
Sunday dawned with the buzz of helicopters overhead, shuttling VIPs from their fancy villas and yachts along the Italian and French rivieras into Monaco. Several cruise ships joined Star Pride at anchor, including Azamara Journey, Silversea's Silver Shadow, Star Clippers' Royal Clipper and Crystal Cruises' Crystal Esprit, Crystal Serenity and Crystal Symphony. We watched the comings and goings at a leisurely brunch; since the race doesn't start until 3 p.m., there's no need to rush over until noon.
Clad in our Ferrari gear, we tendered over to the Fontvieille Pier. Race Day is understandably much more crowded than the qualifying session, and the Monaco streets were busy. Luckily, we knew what to expect at security -- don't bring a water bottle -- and we were able to get to our seats in good time.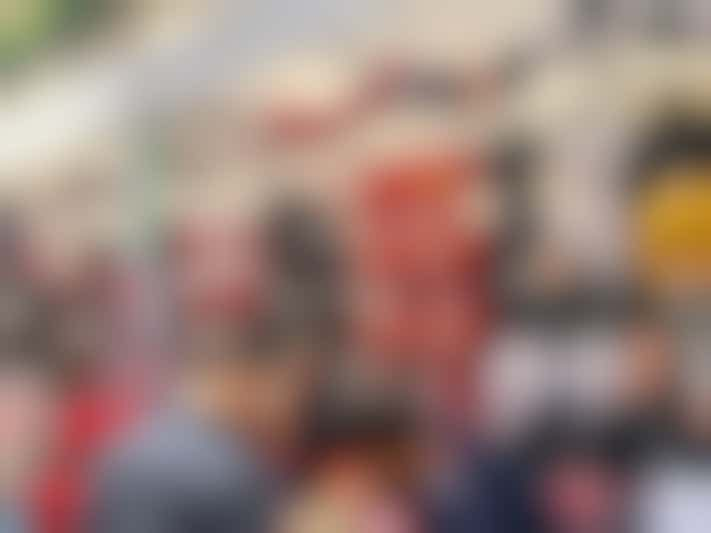 As with any sporting event, there's a bit of pageantry surrounding the Monaco Grand Prix. Around 1:30 p.m., the drivers pile into an open-bed truck and ride the circuit, waving to fans lining the streets and balconies, as well as the official grandstands. A TV interviewer is also onboard, and this is where you can get a sense of the drivers' personalities. Favorite Lewis Hamilton seemed sunny, while cranky Sebastian Vettel answered in a monotone. Crowd favorites were clearly veteran Kimi Raikkonen, the previous year's winner Ricciardo and Red Bull up-and-comer, Max Verstappen. Despite a poor performance in qualifying, Ferrari driver Charles Leclerc -- one of the few drivers to actually be born in Monaco -- couldn't contain his excitement about driving on his home course.
The pomp continued with a moment of silence for Niki Lauda, an F1 champion who had died the week before. Then two parachuters jumped out of a plane, holding a huge Monaco red and white flag. Prince Albert and Princess Charlene were on hand for the Monaco national anthem -- and then the roar of engines being started began.
The Monaco Grand Prix lasts only two hours, and while the winner is often the driver who starts in the pole position, there can be some surprises. For us, the gasps came when Leclerc's tire shredded after a puncture on the stretch right in front of our grandstand. Fans also kept a hopeful eye on the sky for rain, as a wet track can stir up the field. Unfortunately, we never received more than a few drops. A pileup almost occurred at one point as well, but the drivers kept it together and there were no ugly crashes.
True to Monaco form, the driver who won the pole position -- perennial Grand Prix winner Lewis Hamilton -- ended up winning the 2019 race. But a bit of drama came at the end: Hamilton in his Mercedes car had the wrong tires -- and there was a good chance that they would blow before he finished the circuit. Young gun Verstappen kept his car close -- so close, in fact, that he nicked Hamilton during one of the final laps.
Cruise ship passengers all waited for their tenders at the same pier and the mood overall was jubilant. For almost everyone on Windstar Star Pride -- and probably those passengers from the other ships who bought Grand Prix tickets as an excursion -- watching the race at Monaco was a bucket list experience. All would go home with fabulous memories and -- even better -- bragging rights.
Monaco Grand Prix Tips
Prepare to walk. Cruise ships can't dock at the main pier during the Grand Prix, so you'll be tendering to Fontvieille Pier, which is on the other side of The Rock of Monte Carlo. It's a good half-mile from the pier to popular grandstand areas, so if you have mobility issues, plan accordingly.
Wear casual gear. Monaco has a well-deserved reputation as the playground for the rich and famous, and we saw plenty of Monegasque walking around in designer suits, shoes and bags. But if you're on a cruise ship, it's more common to wear hats, shirts and jackets sporting the logos of your favorite team or driver. Don't worry if your current closet doesn't have anything -- you can buy gear themed to just about any team (even low performers like Williams) at kiosks around the circuit.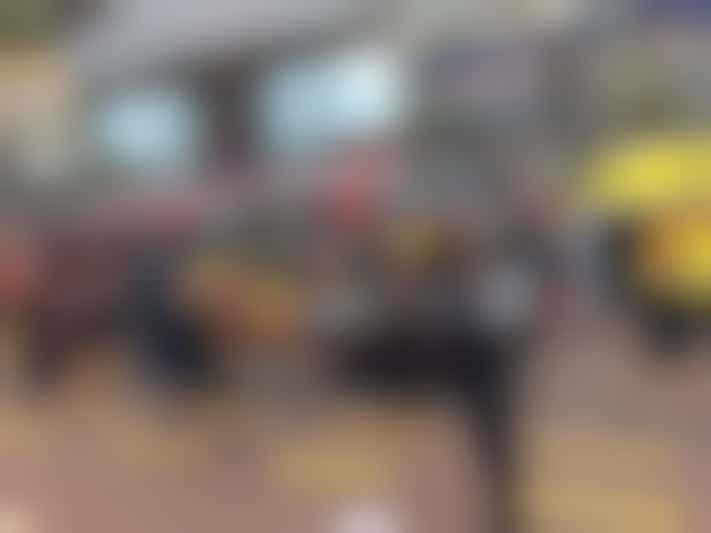 Bring race day essentials. While the race itself is only two hours, chances are you'll be sitting in the stands much longer. At minimum, you'll want ear plugs or headphones (possibly both), a lanyard to carry your ticket and a pair of binoculars so you can read the TV screen. We'd also recommend a seat cushion and all of your sun protection needs: a hat to keep out the sun, sunglasses and sunblock. If you plan on using your smartphone, bring a portable battery charger. Race fans live for rain at Monaco, as it makes the circuit more interesting; pack a raincoat that can be easily rolled up (with a hood, please -- umbrellas are frowned upon).
Bring snacks. If you're looking to snack in the stands, it's OK to bring a bag of chips or an apple; we saw plenty of people doing so. Or you can do as we did and fuel up with a big breakfast or brunch onboard that will keep you full until you're back on the ship.
Don't bring water bottles. Security to get into the race is tight, and you'll be subject to a bag check. We were surprised to have our environmentally friendly metal water bottle confiscated. Caps were taken off plastic water bottles, forcing people to drink quickly. Soda bottles and beer cans were also taken away.
Find lower food and beverage prices inside. Usually at a race, you'll find jacked-up prices for food and drink inside the event. Water, beer and ice cream were all surprisingly more affordable inside the grandstands than outside. For example, beers at the pizza place just outside the entrance were 13 euro (around $14.50), compared to 7 euro (around $8) inside. The Haagen-Dazs ice cream was almost exactly the same price as the gelato right outside. The three-course meal at the Heinekin beer garden, however, will set you back a pretty penny. Again, it's better to eat on the ship.
Take strategic bathroom breaks. In a pleasant gender twist, the lines for the women's restroom are far shorter than for the men's toilet. You'll also want to time your bathroom breaks so you're not getting up and down at the height of the racing action. That's considered bad form.
Don't be too set on seeing other attractions. If you're looking to take in the sites of Monaco during your cruise, you're better off coming at a time other than the Grand Prix, as many attractions are closed. One thing that's open that we wished we toured Saturday was Prince Albert's car museum, which is on the way from the Fontvieille Pier to the grandstands. Otherwise, the main streets of the circuit close for racing between 6 a.m. and 8 a.m., and don't reopen until all cars are gone, around 7:30 p.m.
Check out the casino. The famous casino does open during Grand Prix weekend; some cruise lines run special tenders so you can go Saturday night. You'll want to wear proper attire -- that's a jacket for men (although suits aren't required) and dressy attire for women.
Bring your patience and expect to queue. Allow yourself some time to exit the race grandstands, particularly if you're in Grandstand K (which is popular with cruise lines). The exit is right near the entrance to Monaco's train station, and it be very crowded getting out. The tenders, too, can be very busy as all of the cruise lines are coming and going from the same pier.
Monaco Grand Prix Cruise Logistics
Several cruise lines -- most of the small and luxury variety -- offer sailings to Monaco during the Grand Prix. Windstar Cruises has a special themed itinerary that spends two days anchored outside Monaco, and other lines offer excursion packages at varying price levels. Check carefully to see what each cruise line offers so you know exactly what you'll be getting (for a breakdown, check out Monaco Grand Prix Cruises).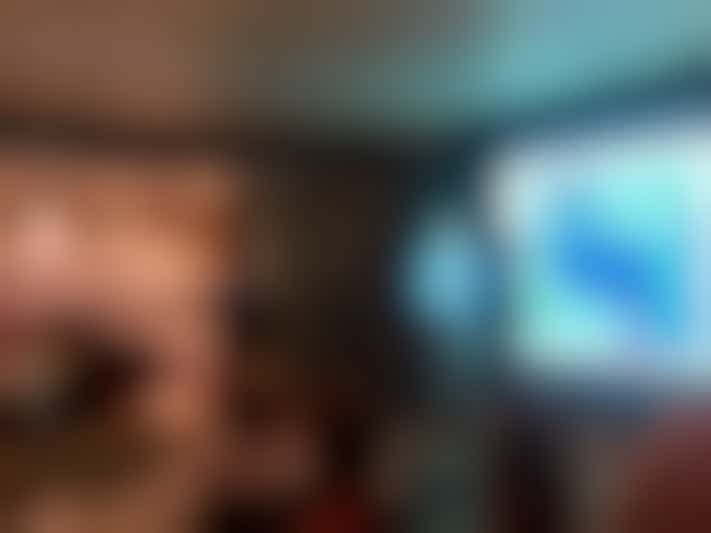 Bottom Line
A Monaco Grand Prix cruise is a must-do if you're a Formula 1 or motorsports enthusiast; you won't regret the money spent to make this bucket list experience happen.